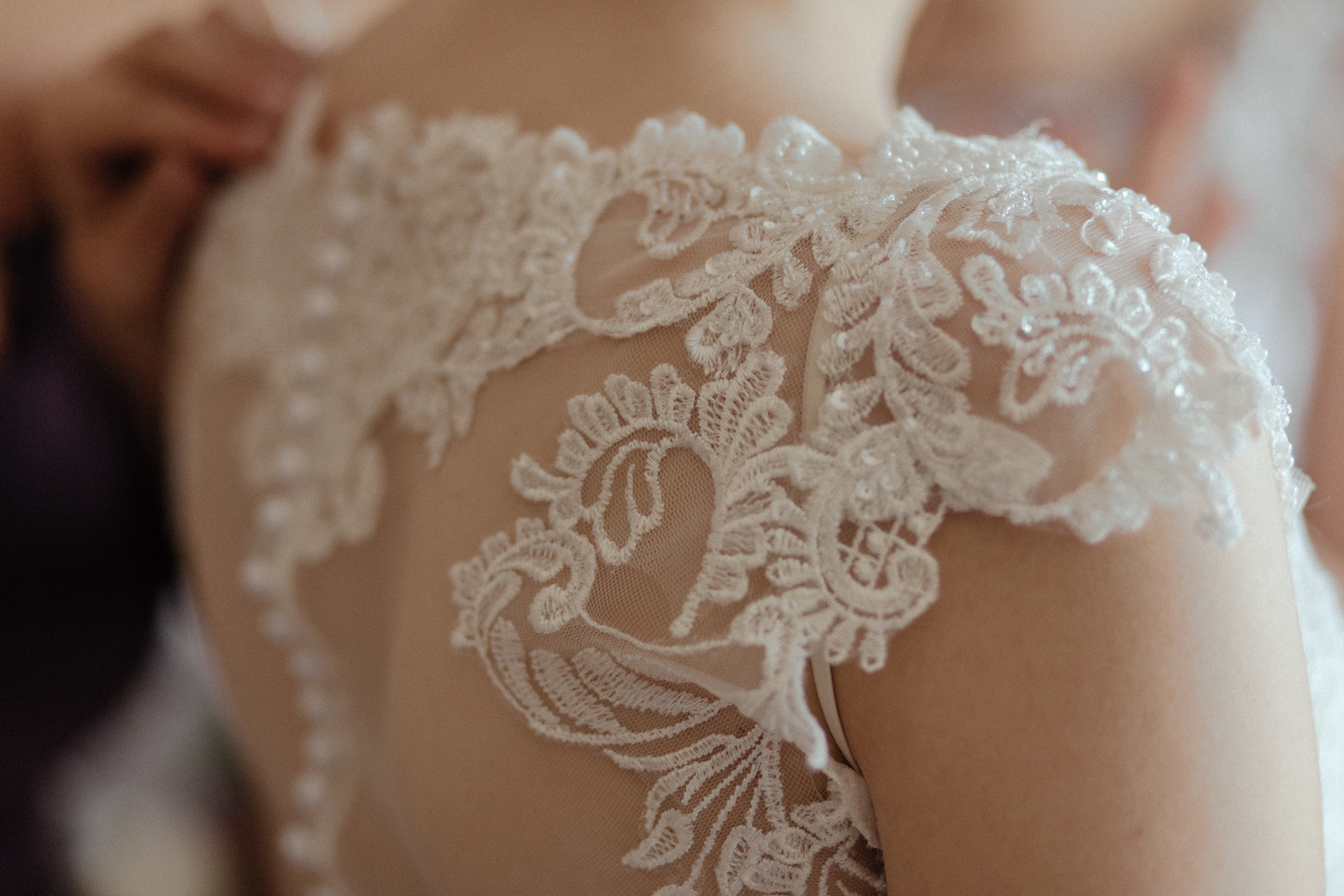 How to Create the Royal Wedding Look
---
Your wedding deserves the royal treatment, after all
We all love a wedding, but nothing quite hits the spot like a royal wedding. Decked out in vintage lace, heirloom jewellery and nine-foot-long trains, a royal engagement is one like no other. From Kate's stunning lace gown to Princess Beatrice's borrowed tiara, the brides of the British royal family dazzle while remaining their classiest. But how can we get the look for our own big day? We've put together the ultimate guide to creating the royal wedding look.
How to Create the Royal Wedding Look
Dress to impress
With many royal weddings being a public affair, the dresses worn by our favourite brides often match the spectacle of the occasion – without being flashy, of course. Think crisp white colour palettes, intricately detailed sleeves, dramatic trains and the fittingly named 'princess line' skirts. The result? Something entirely timeless and romantic.
Silhouette
We're spoilt for choice when it comes to wedding dress shopping these days. From mermaid, to slip to trumpet, the list seemingly goes on. Keen on tradition, however, the royal family most commonly opt for ballgown, princess line and A-line dresses.
View this post on Instagram
For her wedding to Prince Charles in 1981, Diana wore an ivory silk taffeta and antique lace gown designed by David and Elizabeth Emanuel. The design itself was nothing short of dramatic, with its large puff sleeves, frills, full skirt and 25-foot train taking centre stage. The Princess of Wales truly lived up to her royal title by choosing a ballgown wedding dress, which sat fitted at the bodice and flared out at the waist for a fairy tale finish. The gown quickly became one of the most famous in the world, setting a trend for wedding dresses that would last decades (and let's face it, we still love a puff sleeve).
You can find your own dramatic ballgown with British designer Vivienne Westwood, whose SS22 made-to-order wedding collection features multiple styles with a larger-than-life finish.
Bridal 2022: Vivienne Westwood's Made-To-Order Collection
Sleeves
In fact, most royal brides seem to have gravitated towards a sleeve of some description – whether long, short, laced or puffed. On her wedding day in 2011, the Duchess of Cambridge wore a dress designed by Sarah Burton, creative director of Alexander McQueen, which featured long, lace sleeves that extended over her shoulders, back and décolletage. The design added an elegant dimension to the classic wedding dress that has yet to fall out of style.
The look is still emulated by many wedding dress designers today, as seen with the ever-romantic Philippa Lepley. Brides donned in one of its lace, full-skirted wedding gowns will look right on a country estate or castle, adding to the royal aesthetic of the event.
View this post on Instagram
If sleeves really aren't your thing, however, you can try the next best thing: gloves. While modern royal have yet to be seen wearing gloves on their big day, they make many appearances at formal events and occasions. Royal glovemaker Cornelia James, which has kitted out the Queen and her family for decades now, offers a stunning selection of bridal gloves that ooze regal regalia. You can even order a swatch of fabric before deciding on a pair to see how the material matches your dress.
Veil
The veil is one of the oldest components of the bridal outfit, dating back to Ancient Greece and Rome. As such, it's also one of the most important parts of the finished look. Most royal brides don a veil (with the most recent exception being Princess Eugenie) – and typically, the long the better. Princess Diana's veil was 14o metres long, falling over her 25-foot train in a very long, elegant pillar. On her wedding day in 2018, Meghan Markle similarly adopted a longer veil, measuring 16 and a half feet and featuring flowers representing the 53 countries of the Commonwealth and a California Poppy to symbolise her American heritage.
View this post on Instagram
Your crowning glory
Tiaras
As expected from royal brides, they top off their look with a tiara. With many pieces handed down from the Queen herself, the younger generation of royals are spoilt for choice when it comes to headwear.
For her wedding, Kate Middleton wore the Cartier Halo tiara, a piece belonging to the Queen that features 739-brilliant cut diamonds and 149 baguette diamonds. The tiara itself dates back to 1936, having been a gift to the former Queen Mother from King George VI, who in turn gave it to Queen Elizabeth II to mark her eighteenth birthday. The Queen has never been seen publicly wearing the tiara, so its revival for the wedding of the Duke and Duchess of Cambridge added another layer of sentiment to the event.
Tiaras to Make You Feel Like a Princess on the Big Day
Similarly, Princess Beatrice borrowed a tiara (as well as her dress, making her the first royal bride to opt for a second-hand wedding gown) from the Queen for her big day back in 2020. Beatrice wore a vintage gown by designer Norman Hartnell, which the Queen had previously worn on several occasions in the 1960s. She paired the dress with a rather special headpiece: the Queen Mary Diamond Fringe tiara, which the Queen wore when she married Prince Philip in 1947.
View this post on Instagram
Something Old or Something Borrowed
As you may have noticed, a common trend in royal weddings is the reappearance of family heirlooms – whether dresses, veils or jewellery. While not all of us have crowns knocking about in the back of our mother's wardrobe, adopting a small token from your or your partner's family on your wedding day will no doubt have the same magic (and do less damage to your bank account, too).
But if neither of these options are available to you, another avenue to explore is vintage or rental. Hancocks London, for example, allows you to hire one of their beautiful vintage tiaras for a 24 hour period for one per cent of the retail value plus VAT. With multiple styles to choose from, there's no reason you can't crown yourself princess for a day.
See our guides to shopping vintage wedding dresses and vintage jewellery, as well as our roundup of the best bridal rental brands for more ideas.
The Royal Wedding Edit