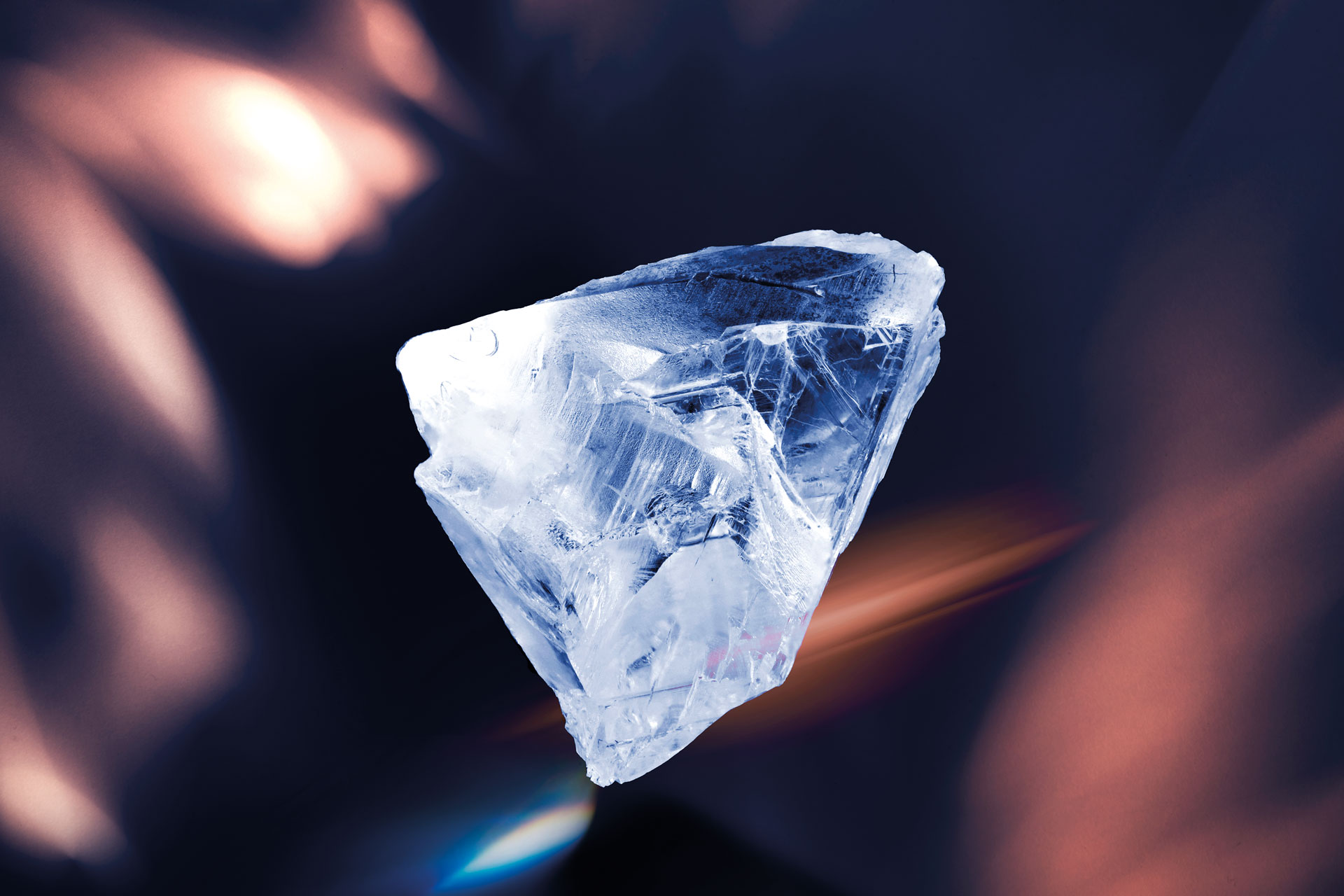 Rough Gemstones Are Creeping Back Into Fashion
---
Avril Groom explores rough gems and how jewelers use them to create beautiful pieces.
Avril Groom on the uncut gems bewitching a new generation of jewellery lovers
Rough Gemstones Are Creeping Back Into Fashion
We all know a rough diamond: someone – or something – unrefined and, to use another jewellery word, unpolished, but with the potential for brilliance. Ever since cut stones appeared the rough has not been part of the magic. What counted was the symmetry and sparkle of the finished gem, representing many hours of disciplined craft and human mastery over the most complex materials of the earth.
Yet in a world that now challenges accepted norms, and as jewellery enthusiasts delve deeply into gems' backstories, the rough has come into its own. Maybe that's why at this year's London Masterpiece exhibition one stand drew crowds.
In a bright white environment, perfectly lit vitrines displayed New York-based Fine Minerals International's brilliantly coloured specimens, like an über-cool geology museum. Some were vast, natural gemstone crystals, others other-worldly, a few borderline obscene. Every natural work of art was the latest collectable object, the rarest with price tags of around $2 million.
At jeweller Hirsh London's Mayfair HQ the intimate relationship between mineral and jewel is writ large, with giant geodes of amethyst and citrine like sculptures on display. Joint MD Sophia Hirsh is a third-generation collector. "We buy gemstones at the Tucson fair and invariably come back with a specimen too," she says. "They're our hobby though I've been persuaded to part with a few. We love meeting like-minded people who come in to chat and may invite us to view their collection or buy a rare jewellery piece."
Roughs in jewellery have a long history. Primitive cutting meant dependence on crystals' natural shape, like the diamond's prized octahedron, thought to protect its wearer, and emerald's hexagon, notably in the circa-1600, lidded, enamelled watch found in the Cheapside Hoard – a natural shape still used today, as Cartier's new high jewellery ring shows, its crystal softened into an angled cabochon, teamed with coral and diamond.
As improved cutting created more brilliant stones, roughs were viewed simply as raw material. That changed in the 1960s, says gemmologist, Antiques Roadshow guru and co-founder of Omne ̄que vintage and bespoke jewellery website, Joanna Hardy. 'Designers led byn Andrew Grima used roughs as beautiful objects which chimed with that era's art,' she says, 'but they were never diamonds, usually opals or agate.'
Hippies began wearing gem crystals for perceived healing properties, which she sees mirrored today. "My godmother was a gemmologist who had a shop selling mineral specimens and crystals so I'm used to it though not convinced," she says. "But I appreciate, after the pandemic and with current uncertainties, why you would want something beautiful that might help your spirit."
Influenced by Grima's work, in the mid-2000s New York based Kimberly McDonald began creating upscale, diamond- trimmed pieces with natural agate, opal and geode slices. "I believe these materials have an energy from the earth's core", she says. "The younger generation hadn't been exposed to that thinking but as concern for the planet grows, they are rediscovering it along with these stones' beauty. I am intrigued to see which stone a client chooses – I believe you will be drawn to one with the right energy for you."
Inspired by historic museum jewellery, in 2005 RCA graduate Ruth Tomlinson started using small, rough diamonds and ancient-looking encrusted gold. 'There's a preciousness in the unexpected yet it's everyday wear,' she says. "The earth presents these imperfect crystals, some of which could be waste, but I love their subtle colours and glow." She mixes roughs with toning faceted stones, small antique diamonds, hardstones and pearls while smaller pieces feature diamond pyramids or hexagonal, milky emerald baguettes. Each piece is a unique composition, and, like Kimberly's, all stones are ethically sourced and gold recycled or Fairmined.
'Talisman' collection in textured gold featuring small rough diamonds sparked with brilliants. It was a major hit, is still going and acted as a springboard for roughs in high jewellery.
Now designs like Cartier's 'Ryu' necklace, with an array of partially-cut yellow diamonds totalling almost 80 carats and surrounded by tiny brilliants, De Beers' 'Ascending Shadows' necklace where pale green diamond roughs form an organic edging with conventional cuts set in aluminium and titanium pleating, the large rough aquamarines or moonstones in Pomellato's 'La Gioia' collection, or Glenn Spiro's sumptuous cuffs of tumbled morganites the colour of pink Tudor bricks, mixed with cognac diamonds, raise the rough to the level of classic precious gems.
The latest game is to glory in exceptional roughs themselves. "In modern mining, big roughs don't break so often," says Joanna. "Under the old sightholder system they were sent for cutting before brands saw them but some years ago Graff, which has mining interests, started naming its big, top-quality roughs, like the 1109-carat Lesedi La Rona, and presenting them to clients who could then trace where their eventual gem came from." Other brands followed.
In 2017 Chopard revealed the 342-carat Garden of Kalahari which resulted in 23 flawless, large diamonds, five over 20 carats. In January it unveiled the 6225- carat Insofu emerald from Zambia, currently being worked on (see title page). Then there is Louis Vuitton's mysterious, 1,757- carat Sewelo diamond from Botswana, shown over two years ago but since shrouded in secrecy just as its potential is hidden under a layer of black carbon, leaving speculation over its true value.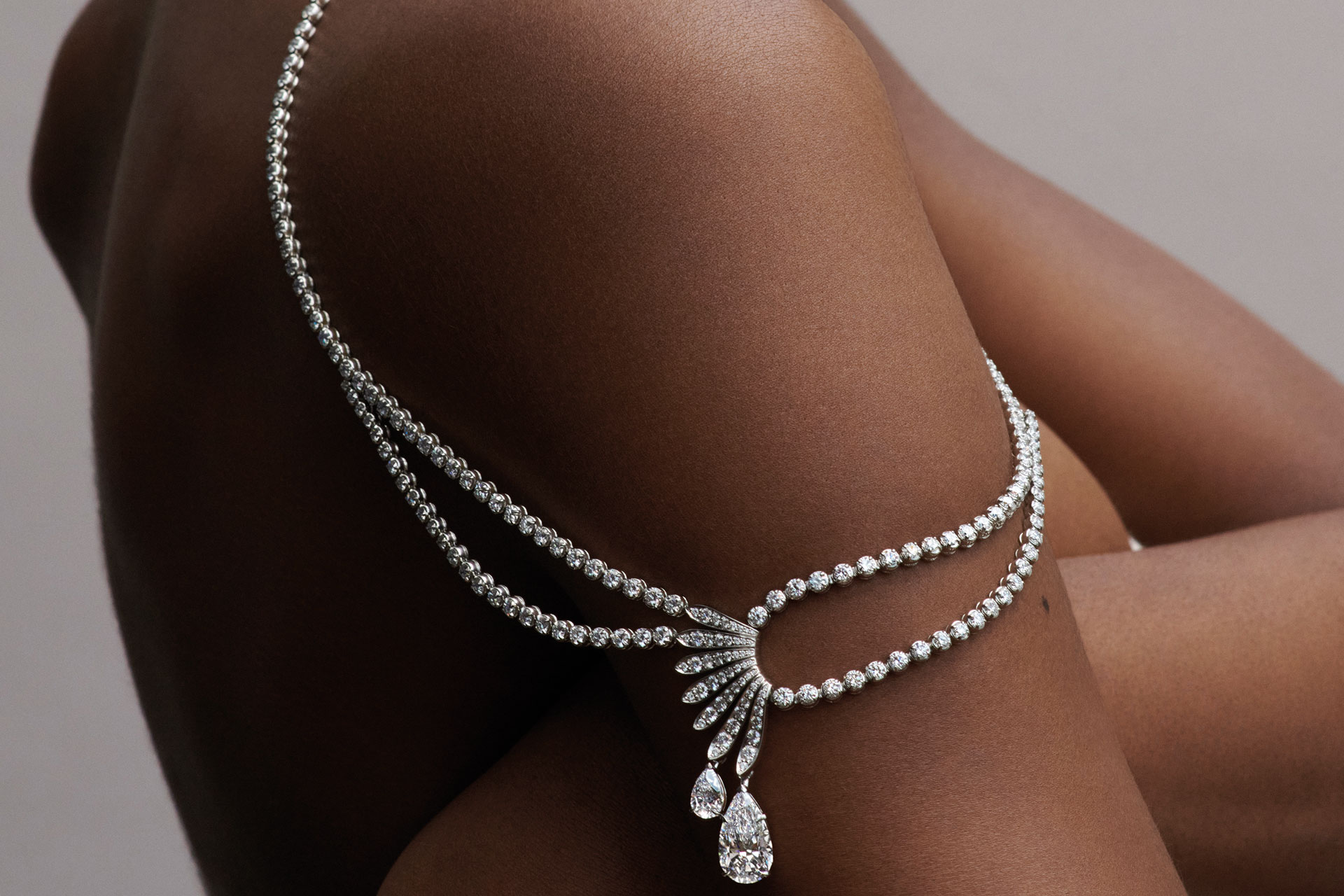 Boodles works with smaller roughs averaging five carats, from the legendary Cullinan mine in South Africa, source of the world's biggest-ever flawless diamond. Director Jody Wainwright says, "it produces superb, type 2A diamonds which cutters can recognise by eye. The roughs, which we bid for, are beautiful but too good to leave natural. Though hard to polish they have an extraordinary brilliance. We average two or three stones from each rough and try to keep them together – they are totally traceable." Valérie Messika has worked 15 major diamonds, including a 33-carat cushion cut, from a 110-carat Botswana rough into her Egyptian-inspired 'Beyond the Light' collection (see previous page)."Customers today want to understand the traceability of their stones and the journey from rough to final piece," she says.
Now, normally discreet house Van Cleef & Arpels has launched the 'Legends of Diamonds' collection made from one 910-carat, astonishingly brilliant, type 2A rough from Lesotho's Letšeng mine and 25 pieces featuring 67 stones cut from it, including gems of almost 80 and over 51 carats. They are paired with its signature mystery-set classic gemstones, where virtually no metal appears, and the deep-coloured stones acquire a velvety texture. The combination of rare craft and quality makes these items the nearest to cast-iron investments that jewellery can offer.
That is not the only reason for this unique collection. "We rarely work with rough stones; this is the first time in decades that we have been involved from extraction of the rough to the creation of a high jewellery collection, a four-year story," says CEO Nicolas Bos. "The mystery setting is one of our craftspeople's most complex techniques. Its texture references an emblematic theme, couture, and contrasts with the purity of diamonds whose physical and optical properties are unique. Drawing a parallel from the rough to the finished pieces enables us to pay tribute to the beauty of these true earth's treasures." In the end, the power of the rough – natural or cut – lies foremost in beauty.
Featured Image: Messika Paris