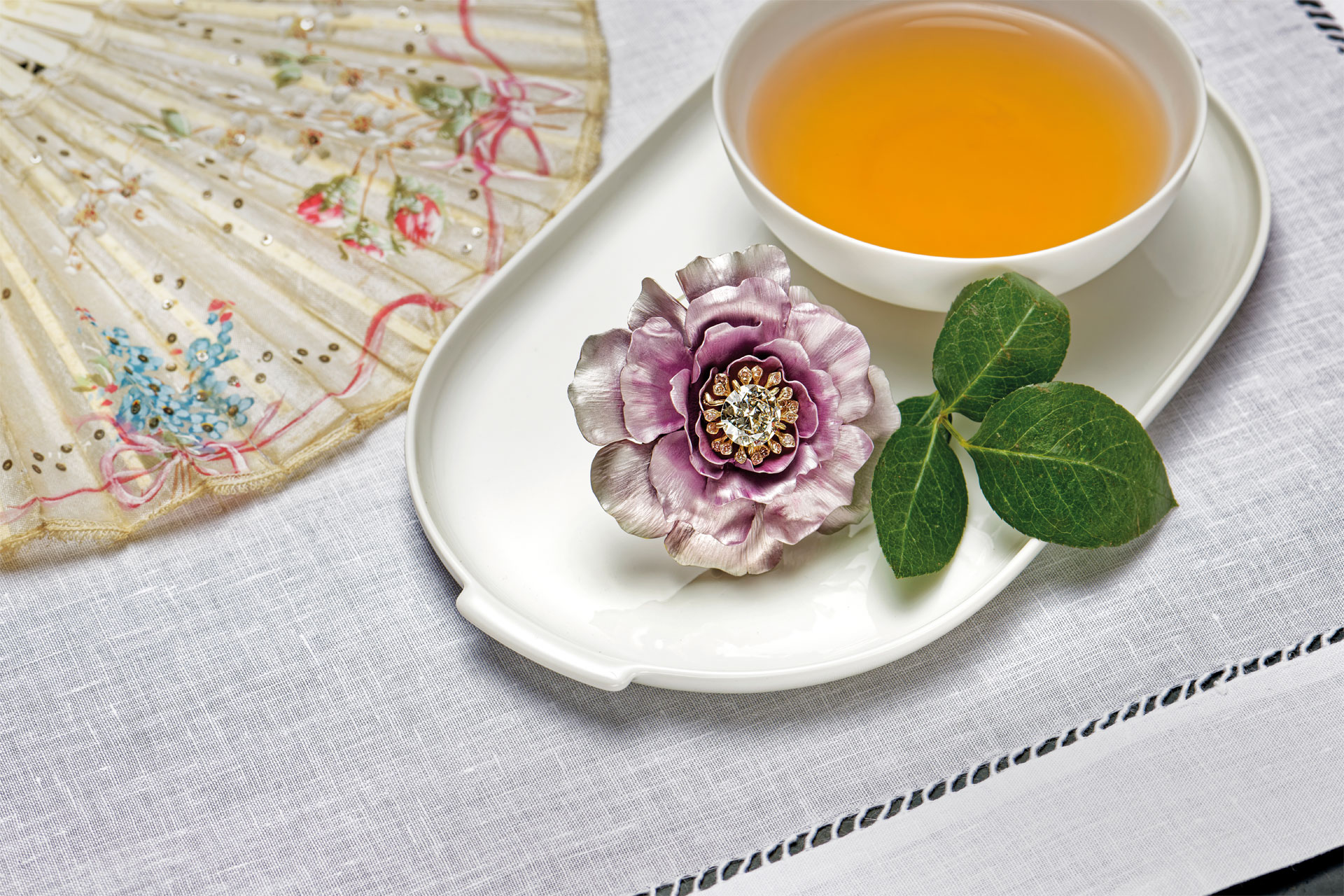 How To Start Collecting Jewellery Art
Jewellery is merging with the art world
By Melanie Grant | 1 year ago
Curating a collection is no new endeavour for those in the art world – and now the home gallery set have cottoned on to the brilliant aesthetic pieces floating around in the jewellery world. In fact, a new generation of jewellers are crossing that line between craft and art – with pieces fit for exhibition. Want to start jewellery collecting? Melanie Grant details the latest news in the art and jewellery market – and tells you the names you need to snap up now if you're to begin collecting jewellery. 
What You Need To Know About The Market For Jewellery Art
In dappled light at the entrance of TEFAF Maastricht this summer swayed a resplendent flower installation, akin to a modern-day Hanging Gardens of Babylon. It transfixed all who entered one of the world's most important art fairs. Here, art of all disciplines rested side by side, from the oldest of old masters to freshly crafted contemporary jewellery, giving cross-collecting buyers a visual feast of epic proportions. Master jeweller Hemmerle was showing its own bejewelled blooms in anodised aluminium, bronze and bisque porcelain as part of 'Infused Jewels', a collection inspired by herbal tea, and as I walked to its stand through the hushed aisles my heart rate soared. When jewellery transcends to art, I can feel it in my soul and, in its presence, I experience a physical reaction. I can't murmur innocuous words about its beauty because it means more, and demands more, than that. As a curator I'm always waiting for that bone-shaking moment when a seemingly simple combination of gemstone and metal rises up to become an expression of our collective humanity. Then my job is to make sense of if for those who need to know more.
Over the last couple of decades, world-class museums, auction houses and art fairs have cautiously welcomed jewellery (at the pinnacle) into their selective embraces. Jewellery, which once languished as a decorative art near the bottom of an unspoken hierarchy, has now taken flight. 'What greater validation than TEFAF?' asks Christian Hemmerle, fourth-generation family member. 'The gap is closing. People are not categorising anymore. There is now great design and not great design.' Jewellers such as Hemmerle, Taffin, Bhagat and Vamgard have overpowered precious stones, the harbingers of traditional value, with signature styles so compelling that the materials have become immaterial. None of these jewellery artists are easy to buy from and some are reclusive, making only a handful of pieces annually. Wallace Chan makes 15 to 20 unique pieces a year from his base in Hong Kong and if you appear unannounced at Joel Arthur Rosenthal's (known as JAR) Paris atelier, his door remains firmly closed. Specialist dealers and galleries create a relationship between the world's greatest jewellers and their congregation. 'We are frustrated collectors,' says Sophie Jackson, director of Symbolic & Chase, a London-based gallery that recently began offering the work of acclaimed sculptor and goldsmith Daniel Brush. 'The expansion of the fine art market has had a huge effect on jewellery.' Now that one can buy Jacqueline Rabun via The Carpenter's Workshop, wearable sculpture by the likes of Frank Stella and Ai Weiwei at The Elisabetta Cipriani Gallery and Theodoros at Symbolic & Chase, jewellery is truly merging with the art world.
None of these jewellers are making products to be sold as a commodity. They create, without compromise, for themselves. This isn't the sole preserve of independent designers, though. Push past the more commercial collections of some of the bigger houses such as Buccellati, Dior and Chanel and an array of art emerges. Boucheron is a rare example of a heritage brand that consistently combines independent artistic thought with global sales, giving its creative director Claire Choisne free rein. Many others choose to collaborate with fine artists to create that biting point between art and commerce – famously, Piaget worked with Salvador Dalí in the 1960s, Tiffany with a number of artists, most recently Daniel Arsham, but the division separating fine and jewellery artist in terms of respect and desirability is increasingly less relevant. A more democratic time is upon us so if you can feel the force, it is art no matter who makes it.
The market bears that out. At Sotheby's, the category of Jewellery now sits in third place behind Contemporary Art and Impressionist & Modern Art, and ahead of Old Masters and Chinese Art in terms of value. Jewellery sales at the auction house grew by a staggering 42 per cent globally to $440.5M last year. The most popular global houses for Sotheby's by volume are Cartier, Van Cleef & Arpels and Bulgari, and by value Harry Winston, Cartier and Bulgari. The top independents by value are Hemmerle, Reza and JAR.
This colossal appetite for bejewelled masterpieces has been fuelled partly by the pandemic driving online sales ever higher but also by younger buyers, with 30 per cent of jewellery collectors at Sotheby's now under forty. Asian buyers now account for nearly half of all jewellery sales. An art-jewellery sandwich is now on the menu. 'In terms of collectability we talk about rarity, provenance, quality and condition. All the same value points we use to evaluate art are applied now to jewellery,' says Frank Everett, Senior Vice President of Jewellery at Sotheby's. He cites the historic 42-lot sale in 2017 of Shaun Leane's designs, originally made for Alexander McQueen, as a milestone moment when two aluminium corsets were sold as sculptures for $711,000-$807,000 respectively.
In the East, where much of this growth is coming from, the stubborn notion of intrinsic value still holds firm. Stones like The De Beers Blue, a 15.10-carat fancy vivid blue diamond that
sold recently in Hong Kong for $57.5 million at Sotheby's still captivates the market but there is a new generation of designers worth collecting, too. In India Studio Renn mixes concrete with diamonds, in Hong Kong Nicholas Lieou creates almost invisible necklaces from rock crystal and the Lebanese designer Dina Kamal, with her baguette-tipped cuffs in smooth beige gold, represents a new type of modernism.
Artist jewellers of African descent – such as Jariet Oloyé who uses twisted gold wire and frosted glass, or those who mint their own gold coin jewellery in the case of Sewit Sium – show us that our appreciation of art itself is finally expanding beyond aristocratic European men. Art, after all, is about challenging the status quo. The Hanging Gardens of Babylon did just that in Iraq during the sixth century BCE, as one of the rumoured seven wonders of the world. They represented a gateway to a city known for its culture and learning. That metaphor made me smile as I marvelled at the jewellery treasures of TEFAF. The best of jewellery has finally come of age and art is all the richer for it.
Want To Begin Collecting Jewellery? Here Are The Names To Snap Up Now
Featured image: A piece from Hemmerle's 'Infused Jewels' Collection. hemmerle.com
This article is from our Watches & Jewellery Collector's Issue 2022. Buy here.