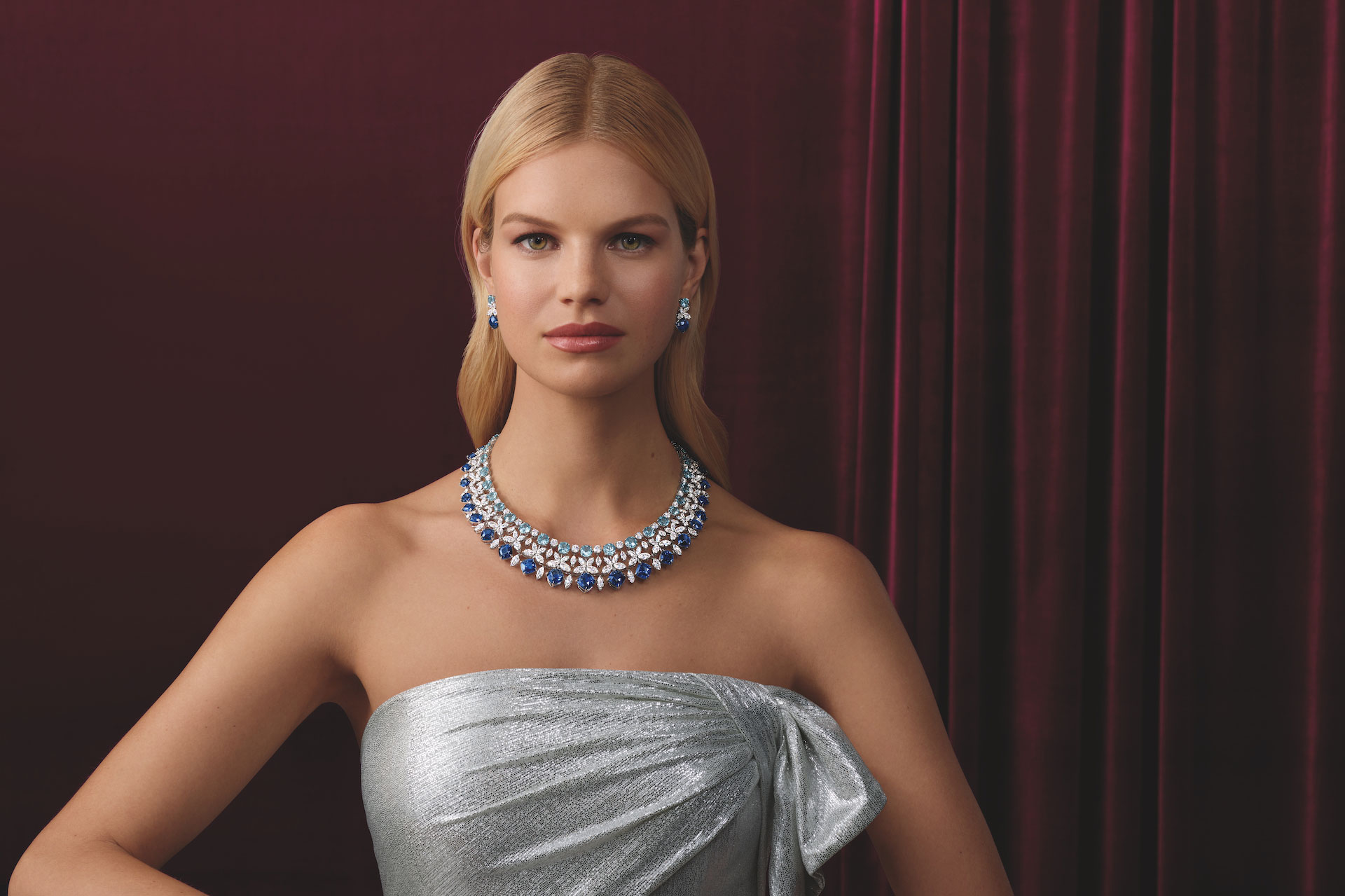 HOME
JEWELLERY & WATCHES
This New High Jewellery Collection is Inspired by Royal Jewels From Around the World
Jewels fit for a queen
Harry Winston's new Royal Adornments collection takes inspiration from royal history from every corner of the globe, reimagined with a touch of American gloss and glamour. 
Main image: Model wears the Princess Suite
The Story Behind Harry Winston's New Royal Adornments Collection
At the height of his career, jeweller Harry Winston was nicknamed the 'King of Diamonds'. And his connection with royalty doesn't end there: he was the first to loan his diamonds to the queens of the silver screen for the Academy Awards (Jennifer Jones in 1943); he designed bespoke pieces for royals such as the Duchess of Windsor; and he collected stones with royal histories from around the globe. According to Sotheby's, by the 1950s his collection of gems could only be rivalled by the British royal family, and included many famous pieces, including the Arcots Diamonds, the Hope Diamond, and jewels owned by Marie Antoinette.
Now, a new high jewellery collection celebrates the jeweller's royal connections, with designs inspired by royal jewels that passed through his hands.
Titled Royal Adornments, the collection also celebrates the kings and queens of all gemstones – rubies, sapphires, emeralds, Paraiba tourmalines and conch pearls, along with diamonds – through exquisite jewels that give a nod to the nobles, while maintaining a modern flair.
Take the Court Earrings, for example, which are inspired by an extraordinary emerald necklace that belonged to the Maharajah of Nawanagar. As Harry Winston explained to the publication American Weekly: 'The moment I saw the necklace, I knew I had to own it. The emeralds were the finest I had ever seen, extraordinary for their enormous size, colour and deep fire. Even though I have owned many historic gems, I knew that this unique emerald necklace would be the top ornament of my collection.'
The Court Earrings are an homage to incredible emeralds, inspired by the original necklace.
The Dame Necklace and Earrings were inspired by a queen of Hollywood, Dame Elizabeth Taylor, who once wore an exquisite set of rare pink and salmon conch pearls from the House of Harry Winston. 
And, finally, the King Brooches are inspired by the jeweller himself. In 1947, Cosmopolitan published a story about Harry Winston, called 'The King of Diamonds' For the article's title, the magazine put a creative spin on the font treatment and utilised an element of an archival Harry Winston necklace to emphasise the 'D' in 'diamonds.' The two King Brooches, in all-diamond or with diamonds and emeralds, take inspiration from this magazine design.
With 13 unique designs across the collection, Royal Adornments is imbued with both history and Harry Winston's love for the world's finest gems. See them all here: harrywinston.com