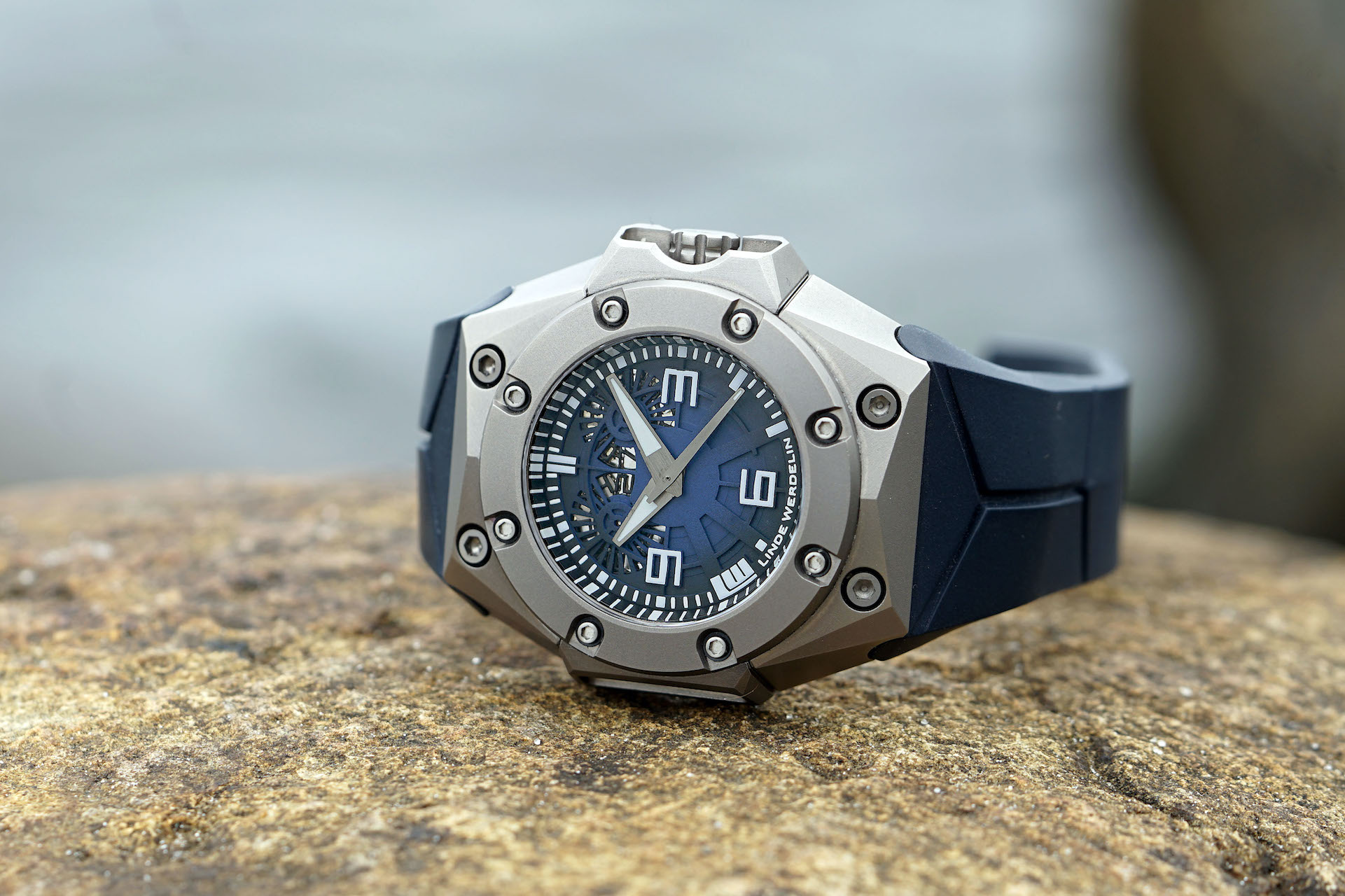 Super Iconic Watches: Linde Werdelin Oktopus
---
A deep dive into watchmaking history
As Linde Werdelin celebrates its 20th anniversary, Amy Wakeham uncovers the story of one of its most famous models.
Super Iconic Watches: Linde Werdelin Oktopus
It's a story that begins with a snowy mountain and a life-changing accident. In 2002, Jorn Werdelin, a keen mountaineer and off-piste skier, was caught in a storm, got lost, skied off a cliff and broke his back.
From the resulting period of recovery was born the kernel of an idea, developed alongside Jorn's childhood friend Morten Linde, who came to visit him often as he healed. Morten was a product designer, and Jorn's family had a history of watch retailing, meaning they were ideally placed for filling the gap they saw in the market for a practical sports watch that came with innovative and hard-wearing instruments that tracked things like heart rate, temperature, altitude, weather and compass readings.
It took the duo four years of intensive research and experimentation before they launched their first model. 'When we launched the first Biformeter watches and land instrument in 2006 we felt we had conquered more than a mountain,' recounts Jorn. This first Biformeter made history the next year when in accompanied world-leading climbers, Conrad Anker and Leo Houlding, on their free climb ascent of the famous North East Ridge of Everest.
Another important moment came in March 2009, when Linde Werdelin attended its first Basel watch fair. 'We fought both financial crisis as well as torrential rain to get retailers and journalists to see us,' he explains. 'That fair was seminal to us – we had developed the first SpidoLite case with a Svend Andersen-modified movement inside, and it was the watch everybody wanted to see. Forty four pieces sold out before we knew about it.'
Today, Linde Werdelin has built a reputation for its durable and reliable sports watches for skiing, climbing and diving, all produced in limited-edition ranges of no more than 100. All Linde Werdelin pieces have the same case size of 44mm (w) by 46mm (l) by 15mm (h), intended to fit the brand's accompanying digital instruments.
The First Oktopus
In 2010, the brand decided to divide its models into two lines, the SpidoLite and the Oktopus. Designed for divers, the latter watch comes in Moon and Double Date iterations. Both feature an innovative case construction, guaranteeing water resistance and solidity, using carefully selected materials such as rose gold, ceramic and titanium to beat corrosion.
The Oktopus Moon line, launched in 2010 and always limited to 59 pieces, features the watch brand's in-house moonphase complication, offering an easy way for its wearer to track the full moon and plan the best time for night dives. The Oktopus Double Date complication, meanwhile, was developed with Dubois Depraz, a 4th generation Swiss movement manufacturer.
In The Field
Each of the brand's watches is minutely examined for performance and reliability, with models tested by collaborators like the renowned freediver and underwater cameraman, Jacques de Vos.
However, the Linde Werdelin Oktopus series underwent its toughest field test in 2015 when it was commissioned for the Danish Frogman Corps, an elite group of combat divers.
The brief was to construct a very discreet yet legible watch, to be used during the Frogman Corps' missions. The resulting design of the Oktopus Frogman features a sandblasted titanium case to avoid any unwanted reflections in the water and solid cut-out LumiNova hour numbers, to enable the soldiers to see the numbers clearly in the dark.
The Next Generation
To celebrate its 20th anniversary, Linde Werdelin has launched a new model, the Oktopus Moon 3DTP Black Ink, in a strict limited run of 20. The case is made from pioneering 3-Dimensional Thin Ply Carbon, making it super lightweight as well as super strong, and the dial comes in a shade of intense, non-reflective black paint, which was invented specifically for the anniversary model.
'We are very excited about presenting this particularly iconic timepiece marking our 20th anniversary – I think it shows the essence of Linde Werdelin and our quest for challenging what we have done in the past while focusing on our evolution,' sums up Jorn. 'Being 20 years old/young means that life is ahead of us and we, to some extent, have only just started – just wait and see.'
Linde Werdelin Oktopus Moon 3DTP Black Ink, £19,200. lindewerdelin.com
READ MORE 
The Internet is Obsessed with Welded Jewellery / These Watches Are Doing More For The Planet