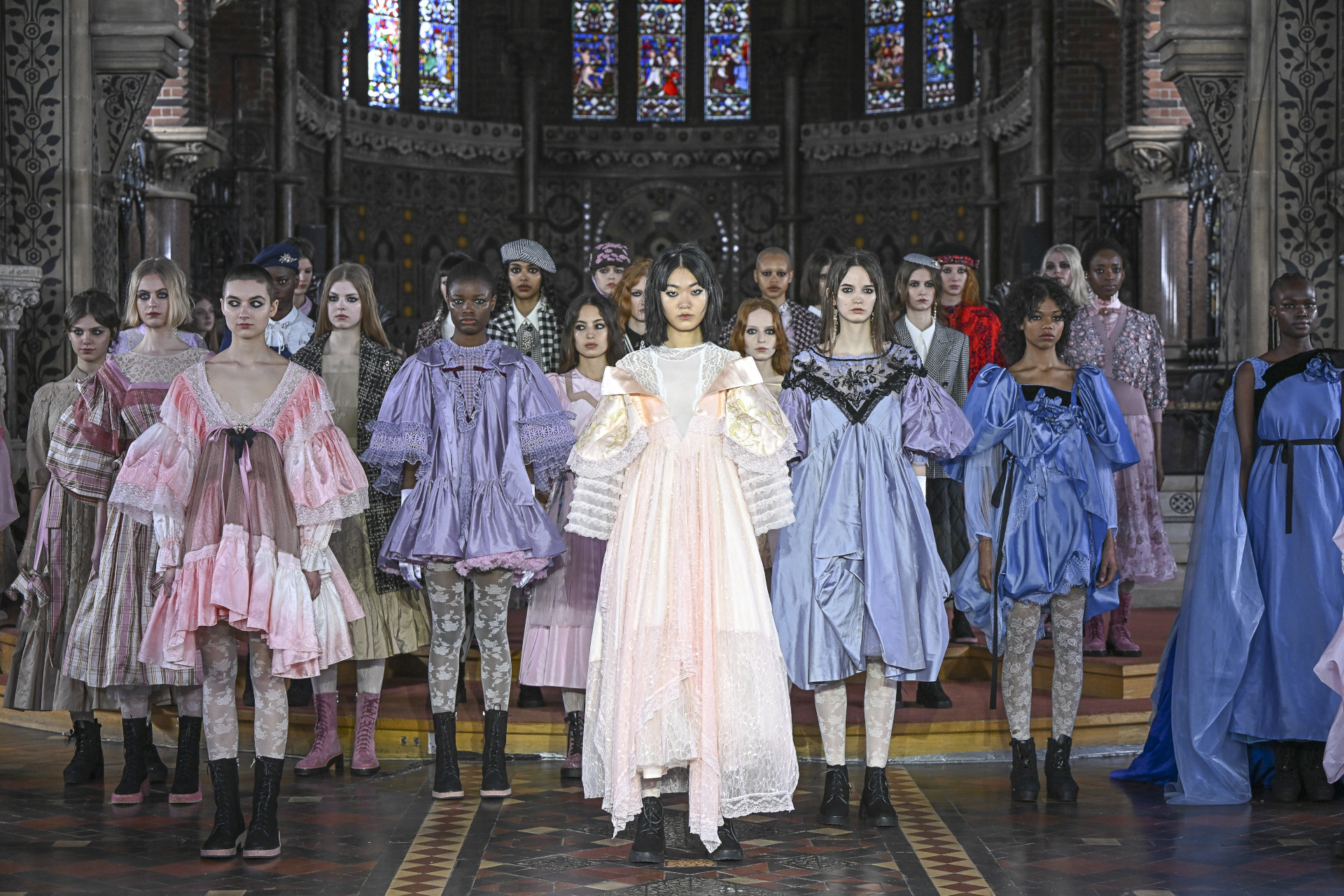 Head-Turning Moments at London Fashion Week AW22 So Far
---
The AW22 shows that have everyone taking note
London Fashion Week is back in full force with live-streamed spectacles, digital presentations, and (most exciting) real-life shows. The front rows have been filled and designers have put on showcases most definitely worth waiting for. From RIXO's Hollywood bash to Simone Rocha's fairy tale catwalk, these are the head-turning moments of London Fashion Week so far.
Head-Turning Moments at London Fashion Week AW22 So Far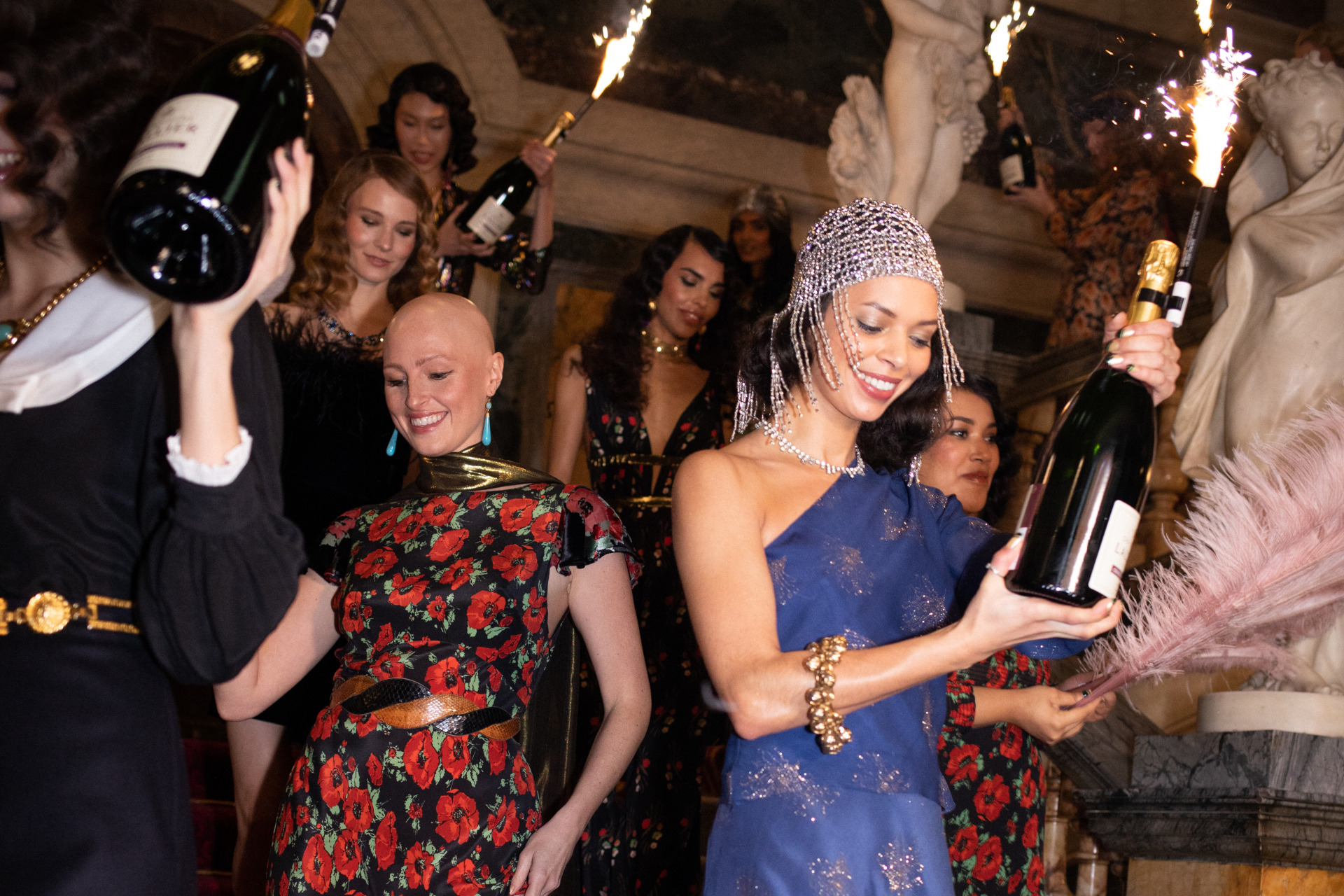 Vintage-inspired brand RIXO kicked off London Fashion Week with a bang, taking audiences back to the glamourous party era of the 1930s. Setting up in Goldsmith's Hall, RIXO put on a party with a live jazz band, cocktail bar and champagne tower. The opulence of the setting was mirrored by the looks on show, which combined stylistic influences from Hollywood's golden era with RIXO's signature flair for colour and pattern.
RIXO Founders Henrietta Rix & Orlagh McCloskey on London Fashion Week AW22
Inspired by London's Portobello and Camden market in the late 80s and 90s, Molly Goddard fused her trademark tulle and ruffles with baggy silhouettes, army jackets, clashing prints and trainers to create a grungier aesthetic more befitting the time period. When describing the collection, Molly commented: 'Our mum's best friend when we were younger was very central to the Portobello social scene then and the collection is somewhat based around her. I would describe her from what I can remember as a cross between Marilyn Monroe and Mick Jones — big bleached blonde hair with a flower in it, red lipstick, a 50s dress with an army jacket and trainers.'
Simone Rocha imbued her collection with fairy tales and cautionary warnings with her AW22, described as a kind of 'melancholy beauty'. Taking inspiration from the Children of Lir, which sees four children turned into swans for 900 years by their wicked stepmother, the collection played on the transformation from human to bird – think feathers, pearls, velvet and curved silhouettes. Held at the Lincoln's Inn, Simone Rocha used spherical runways to mimic the lake the children were cursed in.
Bora Aksu went back to Renaissance Europe with its AW22 offering, using St James' The Less Church as the show's backdrop. Inspired by the life of writer, poet and historian Christine de Pizan – who is considered Europe's first feminist – the collection played on the boundaries between masculine and feminine silhouette and colour palettes which fed into the romantic aesthetic of the French courts.
Temperley London took to the catwalk with Double Edged Cowgirl, which the brand describes as 'this season's ode to the west'. The Cowgirl is an entity shown to straddle the line between multiple spaces: parties and stables, fields and subways, masculinity and femininity. For the collection, the brand played on western archetypes, fusing the likes of prairie dresses, tailcoats, leather jackets and tuxedos to outline a new, multi-faceted rendition of the Wild West – and those who inhabit it.
Featured Image: Bora Aksu
READ MORE
The Designers to Watch at London Fashion Week / London Fashion Week: Must-Watch Films & Documentaries for Fashion Fans