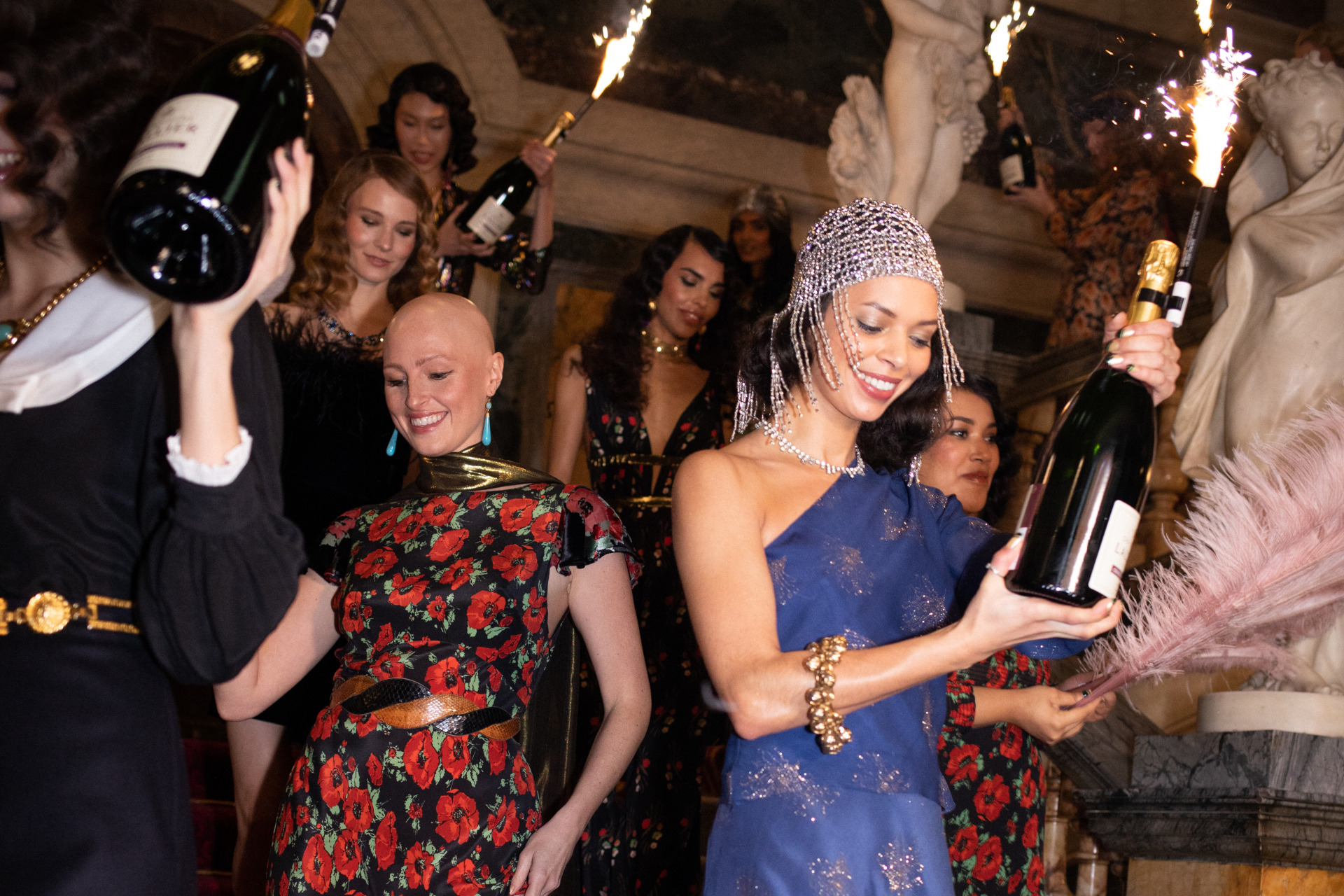 RIXO Founders Henrietta Rix & Orlagh McCloskey on London Fashion Week AW22
---
On LFW, sustainable fashion trends and #humansofrixo
London Fashion Week is finally in full swing, much to the relief of style gurus and hungry creatives. With talent swelling in the UK capital, it's only right that we shine a light on some home-grown talent. Meet Henrietta Rix and Orlagh McCloskey, the founders of Britain's rising fashion star, RIXO.
Founded in 2015 by then-students Henrietta Rix and Orlagh McCloskey, RIXO is a brand born from a love of vintage clothing. Think classic silhouettes, trend-less statement pieces and enough pattern mixing to make William Morris dizzy. Henrietta and Orlagh have worked hard to bring the brand up into the ranks of London Fashion Week, successfully securing RIXO's name on the lips of excited show-goers and connoisseurs alike.
We sat down with Henrietta and Orlagh in the lead up to RIXO's London Fashion Week presentation to talk inspirations, show preparations and Hollywood icons.
RIXO Founders Henrietta Rix & Orlagh McCloskey on London Fashion Week AW22
Can you tell us about the idea behind RIXO's new collection?
We were inspired by the glamour of 1930's Hollywood films massively in this collection. We sourced vintage 1930's screen prints and reworked them on silks and metallic jacquards. Everyone is definitely in the mood to go out and celebrate with friends and family this year, and the September collection represents this. We are so inspired by vintage and it has been so fun creating another collection that really sticks true to our vintage inspired aesthetic. We can't wait to see everyone wearing it later in the year!
What kind of person do you see wearing these garments?
We're incredibly passionate about the fact that anyone can be part of the #humansofrixo community and wear our clothes whilst looking and feeling amazing. It's been a while in the making because it was so important for us to perfect the fit, but this collection will be sized from a UK6 to UK24. It's a proud moment for us to be able to offer this and that even more people can wear RIXO. In terms of who we imagine wearing the garments, we also picture people of all ages wearing the collection – something that we try to represent in our shows and campaigns. We love scrolling through the #humansofrixo tag on Instagram and seeing all the different people that wear our pieces.
Some of the collection is really occasion-centred. We saw such a demand last winter for these sorts of pieces – we think it's where everything opened up again – and people just wanted to have a good time. We picture party pieces like the Lara in pink sequin and the Kelly skirt being worn to winter weddings and Christmas parties, as well as so much of the collection being worn everyday – whether it's work, dates or holidays!
Which pieces from the collection would you steal for your own wardrobe?
O: I can't wait to wear the Milly Coat in pinstripe! It's such a gorgeous fit and shape and I'll be wearing it every day come winter.
H: I'm so excited to be able to wear the Sienna, it's such a versatile piece that you can wear in lots of different ways, something that we find really important. You can wear it open over jeans and a simple top in the daytime and then or do the buttons up, pair it with your favourite heels and then you've got the coolest evening outfit.
How do you both prepare for London Fashion Week?
The lead up to London Fashion Week is so busy. It's so exciting when all the samples for the collection start arriving in the office, I think that's when it starts to feel really real that the show is around the corner. In addition to finalising the collection and aspects of the actual RIXO LFW presentation, we are also busy showing press previews and having interviews. The lead up to the show always goes so quickly and before we know it, we're at the venue waiting for the first guests to arrive. The lead up to fashion week is hectic but it's so much fun, it's definitely one of our favourite times of the year. Plus, it's been so great doing events and meeting people in person again!
Who are your Hollywood icons?
O: My Hollywood icons are Veronica Lake and Grace Kelly. I'm also such a lover of Cher's vintage looks.
You've collaborated with rental platform Rotaro in the past. Besides renting, what do you see cropping up as future trends in sustainable fashion?
We're really passionate about providing collections that contain high quality pieces that are transitional throughout the year. We want our customer to buy a dress in the summer and then as we head into winter pair it with tights and boots and layer it with a jumper and a coat. We think this way of shopping and wearing clothes will only become a bigger trend, having more of a curated wardrobe with pieces that you make work throughout the year – of course mixed in with a few special occasion pieces, but really making your wardrobe work harder and buying better.
What message do you want people to take away from RIXO's London Fashion Week presentation?
We want people to leave feeling like they've had the best time, and that they were transported back to the 1930's for a few hours! We hope that our guests use it as an opportunity to catch up with people they might not have seen in the while and add a few things to their wish list for when the collection launches in September. For us, London Fashion Week is an important way to say 'thank you' to all the people we work with in the industry for their continued support of RIXO.
This or That with RIXO
Trends or classics?
Classics
Sequins or velvet?
Sequins
Plain or pattern?
Pattern!
Buy or rent?
Buy – but buy better quality pieces that will last you a lifetime.
Hollywood or London?
London
WATCH
You can find all of the details and looks from RIXO's London Fashion Week presentation at londonfashionweek.co.uk
READ MORE
Talking About Rental Revolution / The Designers to Watch at London Fashion Week