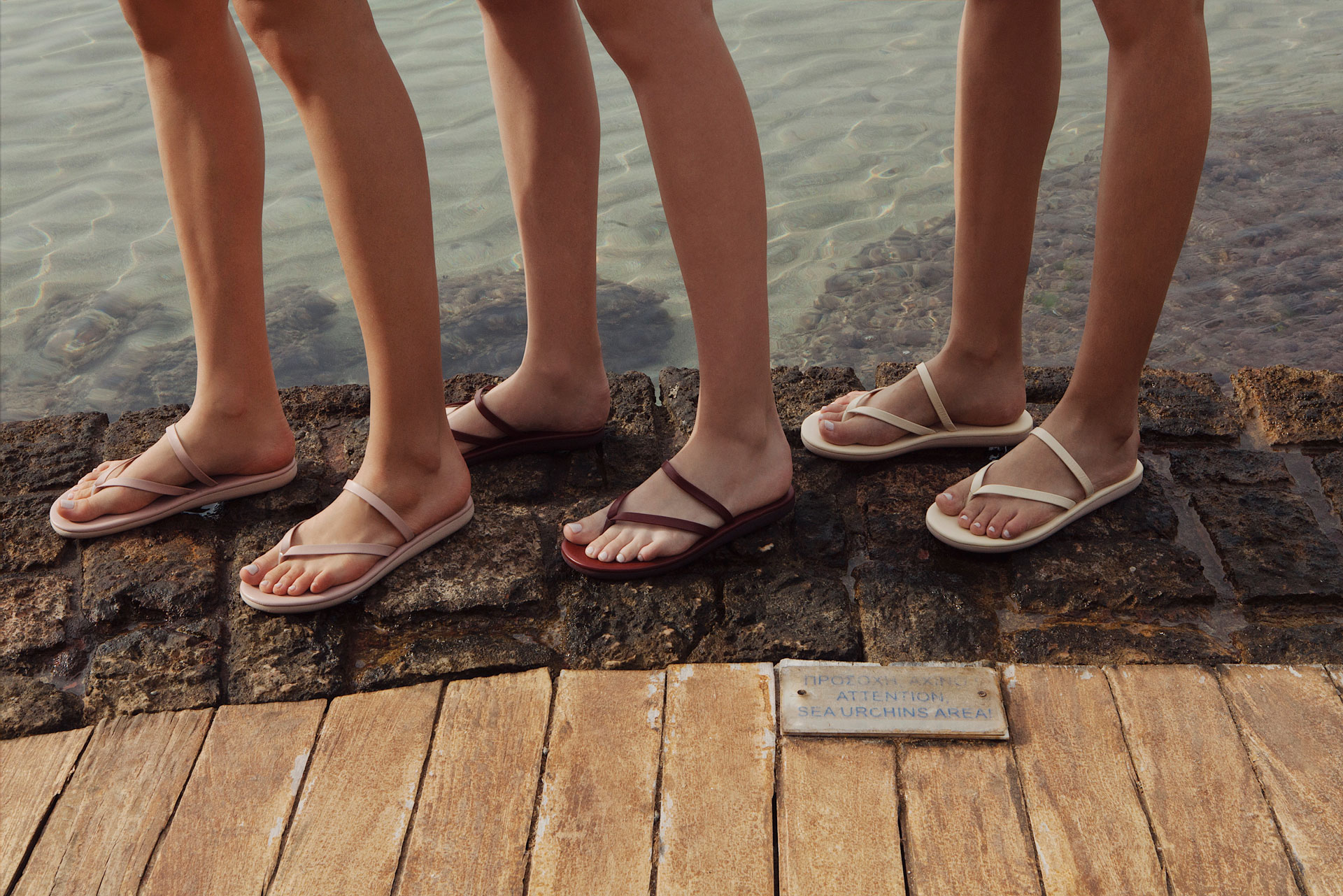 My Style: Christina Martini, Creative Director of Ancient Greek Sandals
---
A style Q&A with the designer
Christina Martini, co-founder and Creative Director of Ancient Greek Sandals has a wealth of design experience, having trained at Cordwainers College and worked at Balenciaga, Louis Vuitton and Iris Srl. Since founding Ancient Greek Sandals, Christina's collections continue to go from strength to strength, each season collaborating with a range of other brands on capsule edits. Recent collaborations have been with Italian hotel Le Sirenuse Positano, Australian jewellery designer Lucy Folk, Mary Katrantzou on her Athens show and a number of Greek jewellery designers, creating special edition sandals sold exclusively at the Ancient Greek Sandals flagship store in Athens.
My Style: Christina Martini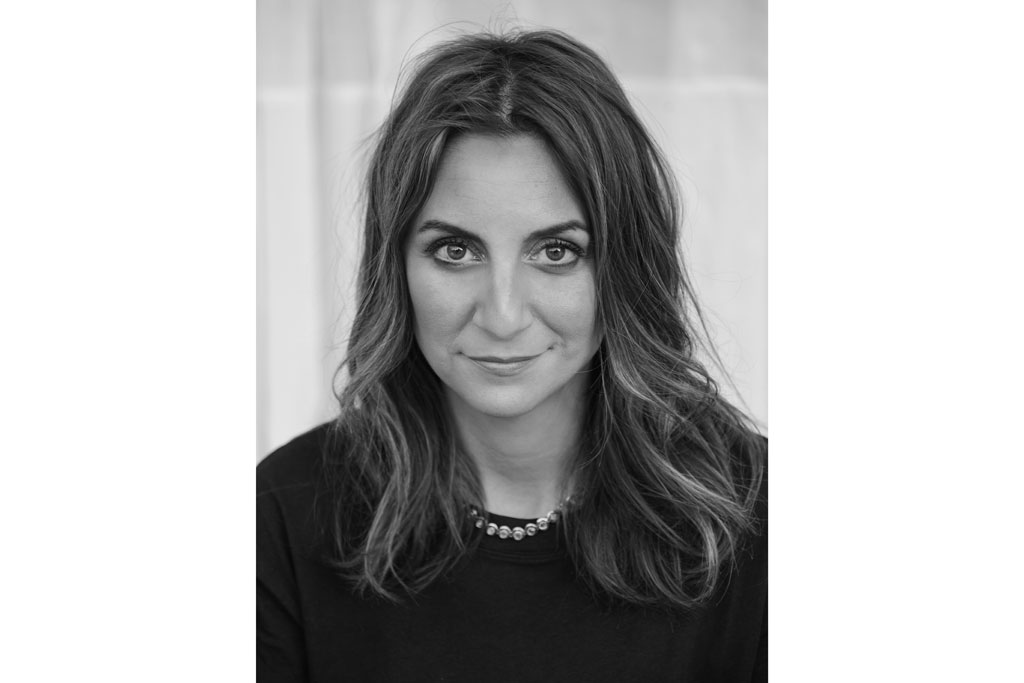 What was your inspiration  behind your current S/S 20 collection?
S/S20 it was the first time that the inspiration wasn't drawn directly from any Ancient Greek domain. This season was all about experimentation with new materials that could replace leather; such as cork and bio-synthetic leather. We also tried out new constructions such as; espadrilles and flatforms, as well as new decoration techniques such as the whip-stich. I would say that the new styles in this collection were definitely 'craftier' than in past seasons but also keeping a part of the collection more subtle. Other updates include our classic styles with new colours and a new python print.
What are your favourite pieces from the collection and why?
For SS20 we have collaborated with Le Sirenuse Positano – I really love this whole collection, especially the wavy sandals in white, blue and lilac mix, reminiscent of the beautiful colours of Positano. I also love our new flip flop construction, the Kansiz: it's a barely-there sandal with a padded Nappa insole and rubber sole, so light it feels like you are wearing nothing at all.
What can we expect to see from you next season A/W 2020?
As we don't have an AW20 collection, our High Summer '20 collection will be our next. It is a more elaborate collection, with Swarovski crystals, gold chains – which can serve as anklets – and a brand new style, the Ofis, which is snakes elegantly around the ankle and leg with a leather-covered metal coil.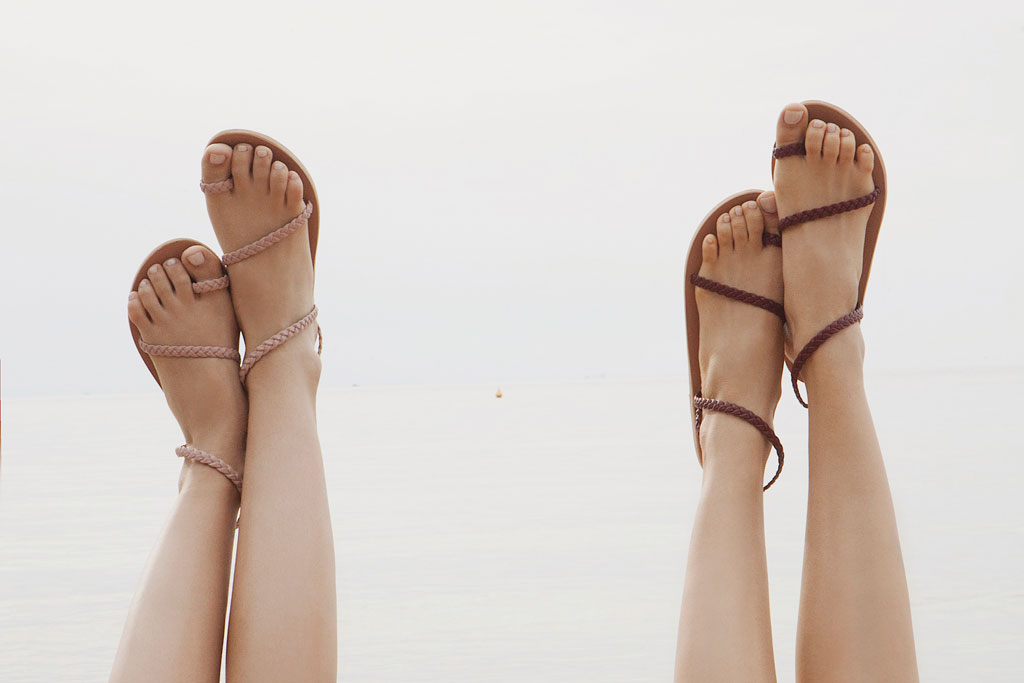 Do you have a muse?
I don't have one muse in particular, but there are nine Muses in Ancient Greece. They were the inspirational goddesses of literature, arts and science. My muse has many faces and different styles.
Whose style do you really admire?
I admire the style of many different women. I really admire those that are confident with what they like to wear, incorporating some fashion pieces every season to their original style.  Melina Merkouri is my all-time style icon.
As you're working from home, what is your daily uniform?
It was leggings or sweat pants and a t-shirt, but now that the weather beginning to warm up, I will start wearing my kaftans and printed maxi skirts, pairing them with my Ancient Greek Sandals Comfort slides – the perfect at home sandal!
Do you have any words of wisdom for working from home?
Like many mothers in the lockdown, having kids and working from home is extremely difficult. At the start, I envisioned doing my work when they were completing their homework, but I found it impossible to concentrate! I found that I was most productive and calm in the afternoon after spending the morning with my children, home-schooling or working on projects around the house.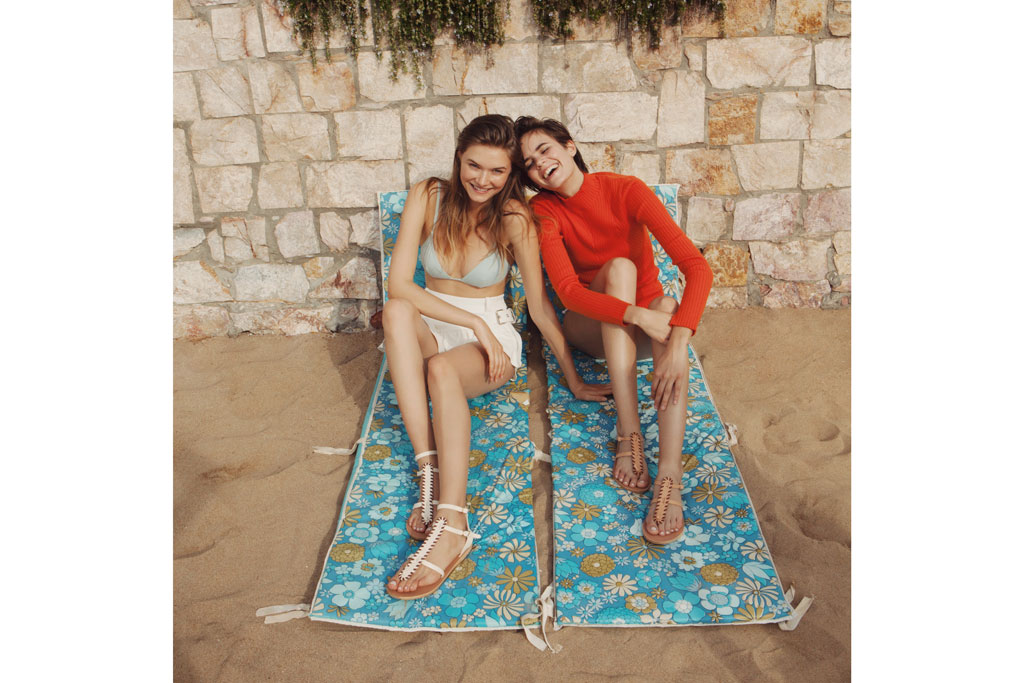 What outfit is making you feel your best self at the moment?
I am pleased that after two months, the lockdown in Greece is over – so I can now go out prudently. Even if it is just a trip to the office, where I am alone, I will get dressed up in printed dresses or skirts. My son and husband think it's a little much!
What are you wearing for any Zoom/Skype meetings?
Something colourful and happy!
What have you rediscovered in your wardrobe?
I found some dresses that I have worn maybe only once, so I am enjoying rediscovering old pieces and bringing them to life again.
Power dressing: what outfit makes you feel like you can conquer the world?
My navy Prada pants and a stripy, canvas Chloe blouse with puffy sleeves.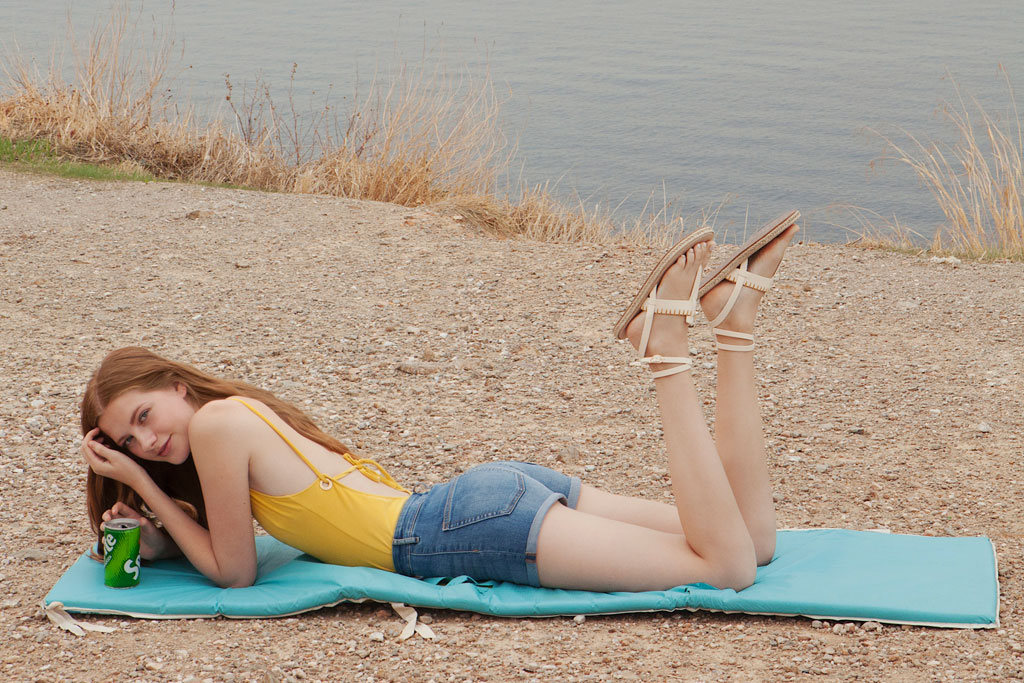 Has being at home made you think about the way you buy or consume products?
At the start of the lockdown, I went through my closets to really take stock of the clothes I had. I felt guilty for forgetting about pieces that I didn't wear often or handbags that I might not have used in a while – and debated selling some of these pieces on sustainable sites such as Vestiaire Collective. But as the days went on, I realised I was really lacking in activewear, so I ordered some athleisurewear to wear around the house and now the weather is warming up – I live in Corfu – I have realised I need to invest in some shorts and summer trousers. I like to think twice before buying something, and not just purchasing clothes impulsively.
Three items that would really pick you up if they were delivered to your door?
An YSL canvas crossbody camera bag with their distinct logo, Loewe x Paula's Ibiza tie-dye dress and a Lito hand painted eye necklace, because I lost mine and it hurts to be parted with it.
What are you wearing for your daily exercise? What are your tips for getting motivated?
Leggings and a t-shirt… I exercise in the late afternoon, it is my 'me time' so no motivation is needed – I look forward to this time of day so much!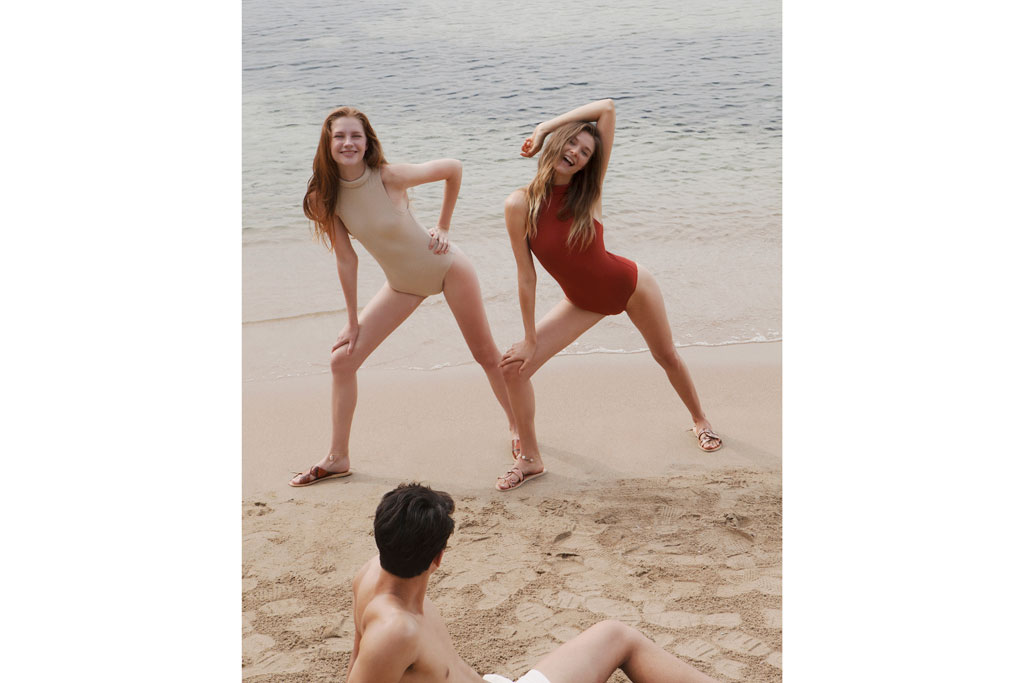 What are you most enjoying about WFH?
The opportunity to get more sleep!
When you are able to go on your next holiday where will you go and what 3 items do you never go on holiday without?
A Caravana multi-purpose sarong, which can be worn as a dress, poncho or sarong. My Ancient Greek Sandals string lace up sandals and sunglasses.
What will you be wearing for the party when we're all allowed outside again?
A fringed Jacquemus skirt with my the new snake sandals in bronze. I can't wait!
MORE MY STYLE:
Mary Katrantzou / Alice Temperley / My Style: Anine Bing / Sophia Webster