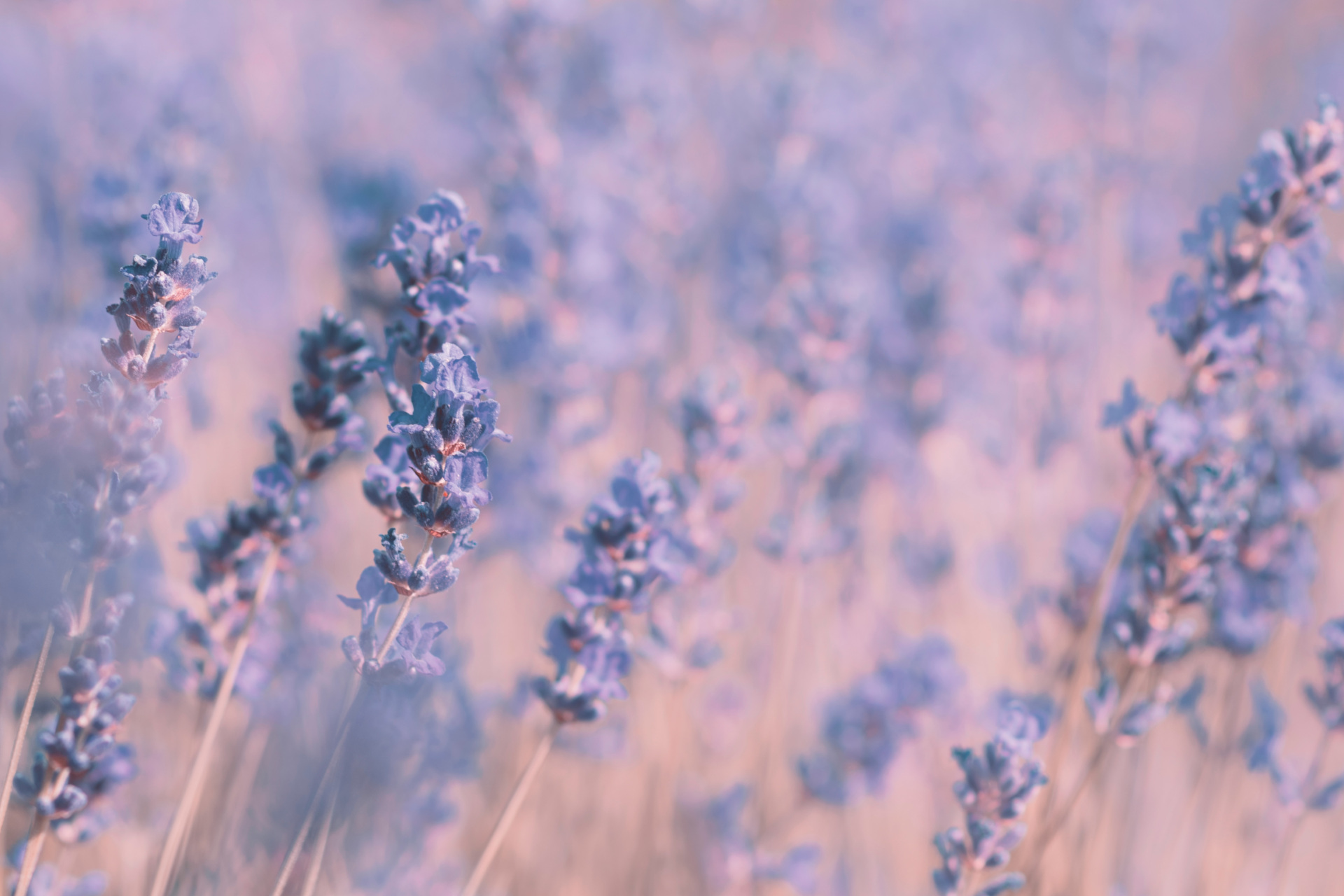 Meet The Positive Luxury Awards Nominees For 2023
---
The 2023 edition of the Positive Luxury Awards is teeming with talented individuals determined to make a positive change on a global scale. While the winners have yet to be announced (make a note of Wednesday 26 April in your diaries), we have the full list of shortlisted nominees right here. Get to know them, and the awards, below…
What Is The Positive Luxury Awards 2023?
The Positive Luxury Awards is an annual celebration of brands that are acting for the greater good within (and outside of) their business.
'The Positive Luxury Awards recognise innovation, accountability and action,' says Amy Nelson-Bennett, the co-CEO of Positive Luxury. 'We seek out the companies that are going beyond compliance and leading by example. The Awards are unique in their focus on sustainable innovation across the luxury industry – celebrating the full value chain from material suppliers and manufacturers, to brands and retailers.
'The application requirements are rigorous, with the shortlist for each award chosen by a panel of Positive Luxury's sustainability experts and an independent judging panel of experts across business, academia and sustainability assessing and choosing the winner for each of our six awards,' says Amy. 'We give profile to the shortlisted and winning companies to recognise and reward their actions and inspire other companies to believe that they too can be part of the solution and help us shape a sustainable future.'
Read More About The Awards In Our Interview With Amy Here
Who Are The Nominees?
There are six awards up for grabs for this year's Positive Luxury Awards, with three nominees per category. Without further ado, the nominees are…
Environmental Innovator of the Year
According to the Positive Luxury Awards: 'This award recognises entrepreneurs, developers, agencies, suppliers, brands and other organisations that have demonstrated technological innovation within an environmental sustainability initiative or project.'
Nominees:
Kleiderly
Mashpi Lodge
Victor
Social Innovator of the Year
'This category rewards organisations within the luxury space that have shown strong leadership and that operate as a force for good. They will be recognised for uplifting underrepresented communities, for driving social change, and for making the luxury world a more equitable place.'
Nominees:
BAV TAiLOR
Canada Goose
Itinerance Mediterranee
Material & Manufacturing Innovation of the Year
'The Positive Luxury Material and Manufacturing Innovation of the Year is awarded to a material supplier or manufacturing business that has demonstrated innovation anywhere from design, research and development, production, supply chain and logistics management through to end of life management.'
Nominees:
Chateau Galoupet
Keel Labs
Zone Creations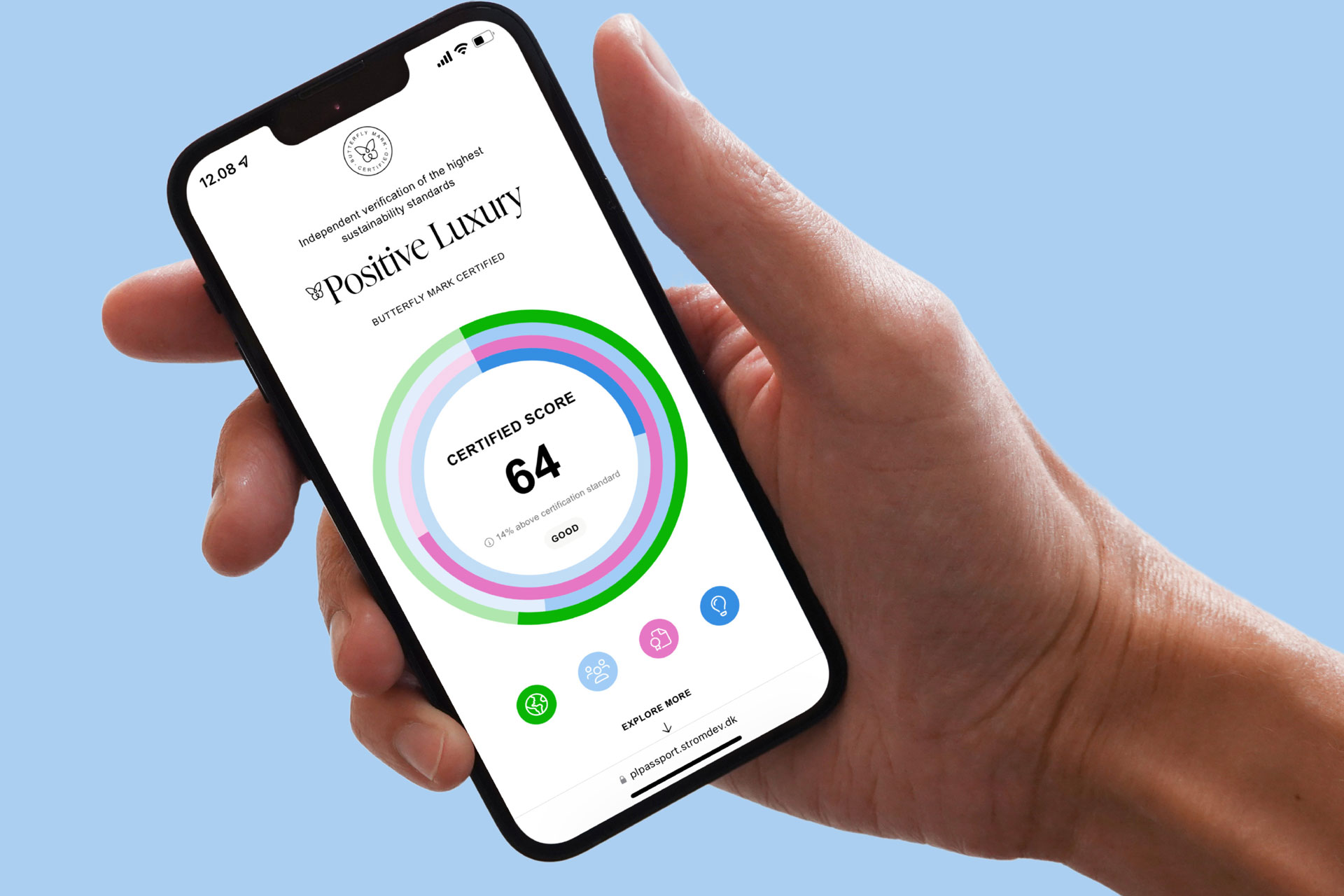 Product Innovation of the Year
'The Positive Luxury Product Innovation of the Year is awarded to a product that is driving genuine change across all aspects of the ESG+ (Environmental, Social, Governance, and Innovation) criteria in the Luxury sector.'
Nominees:
Abigail Edwards
Bamford
YY Nation
Breakthrough Business of the Year
'This award recognises young companies that are playing a leading role in driving innovation in sustainability with clear purpose beyond profit. The judges are looking for quantifiable impact and commitment to the key areas of holistic sustainability: environmental, social and governance.'
Nominees:
Cult Mia
Saywood Studio
Thread & Tonic
Responsible Luxury Business of the Year
'This award is for the luxury business we deem to have achieved more than any other reshaping its business model toward a fully sustainable one in the last 12 months. They will have fully embedded sustainability into their end-to-end business operations and it will be apparent in all aspects of their business – from product design to supply chain, packaging to ethical social practices.'
Nominees:
Albiva
Monica Vinader
Stephen Webster
Meet The Positive Luxury Awards Nominees For 2023
Ahead of the awards ceremony, we sat down with some of the brands nominated. Get to know them, and the incredible work they get up to, below.
Cult Mia | Breakthrough Business of the Year Nominee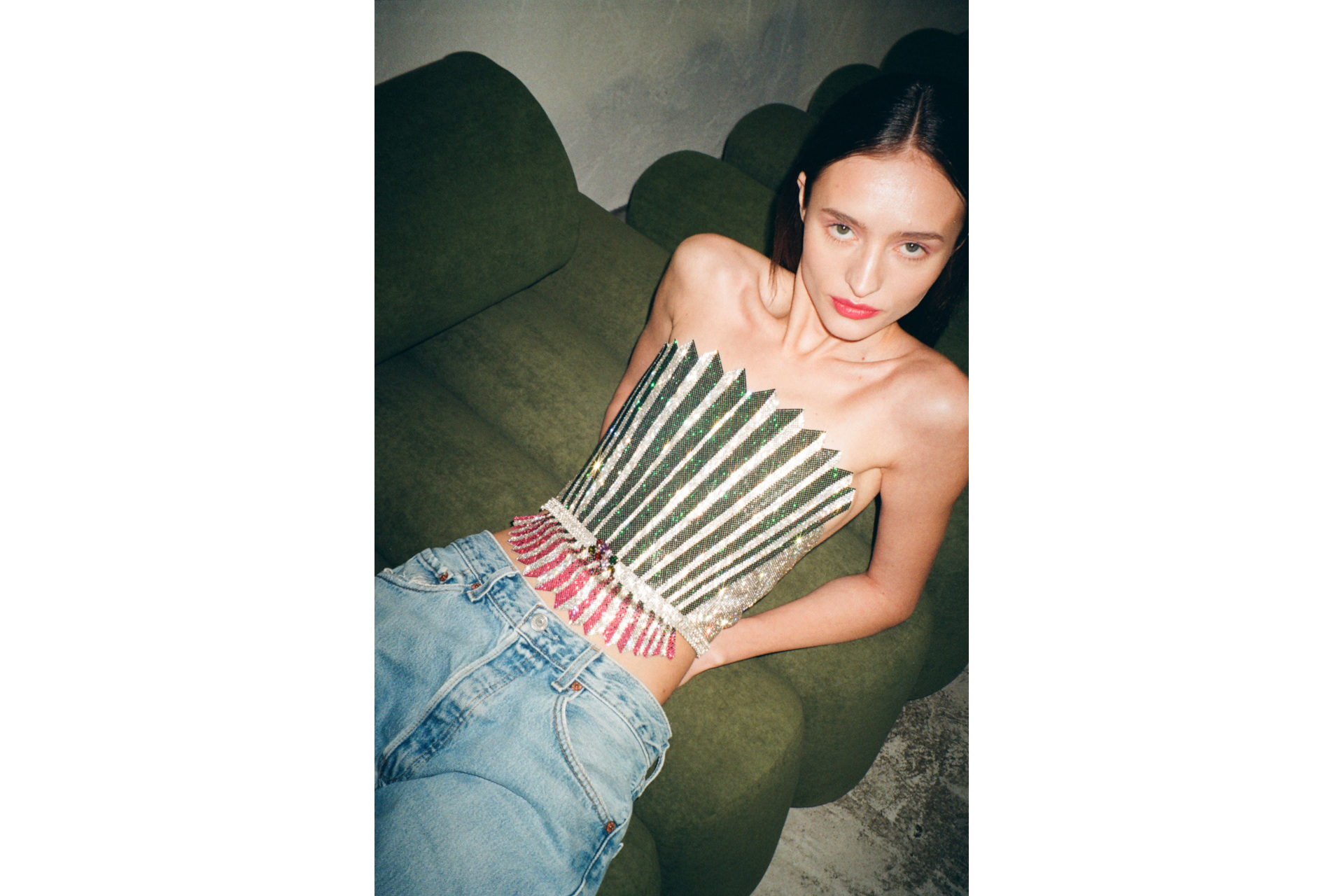 Can you please introduce yourself and your brand?
Hi, I'm Nina Briance, the Founder and CEO of Cult Mia. We're the marketplace building the leading fashion platform to shop ethical and sustainable brands from across the globe. Prior to setting up Cult Mia in 2019, I worked on luxury e-tailer Moda Operandi's global sales team,on the UN's Women & Trade team focusing on ethical fashion, and in tech and consumer private placements at UBS Investment Bank and Goldman Sachs. Despite having been through quite a few different career lives, I always knew that I wanted to start a business – my first entrepreneurial venture (Food2Campus) was at the age of 19 when I was a student at Stanford University. I am thrilled to see where Cult Mia is today and even more excited believing that we have just scratched the surface of our growth journey!
How does it feel to be nominated for the Positive Luxury Awards 2023?
Last year for Cult Mia was centred around ensuring that we were truly a values-driven shopping platform, and with Positive Luxury's guidance and certification process, we came leaps in bounds in building the right sustainable sourcing framework and identifying areas for improvement. We see Positive Luxury as a true partner in enabling our sustainability journey, so receiving this nomination is both humbling and energising to continue learning and prioritising our sustainability journey.
What does 'positive luxury' mean to you?
To Cult Mia, positive luxury means making a commitment to accelerating sustainability efforts. We have committed to this as a platform, but equally important to us is encouraging and enabling the independent brands that we work with to also join us in this stance. To us, it doesn't mean that everything is already done positively and perfectly from the outset, but rather a guiding value that is embedded at the core and prioritised throughout business growth journeys.
What would you like your brand to be known for?
Our mission is to give access to limited edition, unique, global fashion, safe in the knowledge that all of the products and brands align with the values that you care about. We want to be known as the trusted destination for millennial shoppers, and as the number one luxury fashion platform for ethical and sustainable shopping.
Any messages for your fellow nominees?
We are inspired by your journeys and would very much like to team up together! Whether via listing your brands that we know our sustainable shoppers would be excited to discover or advocating for your products. We believe in the power of Positive Luxury's community and the positive knock-on effects it has.
EXPLORE: cultmia.com
Abigail Edwards | Product Innovation of the Year Nominee
View this post on Instagram
Can you please introduce yourself and your brand?
I'm Abigail Edwards, a surface pattern designer with a background in interiors styling and founder of my self-titled studio. I hand-draw patterns for wallpapers, and more recently, fabrics, rugs and tiles. My designs are inspired by the soothing colours and shapes of nature, ancient woodlands and the fairy tales that I adored as a child.
How does it feel to be nominated for the Positive Luxury Awards 2023?
I am absolutely thrilled that my wallpaper has been shortlisted for a Positive Luxury Award. Creating a long-lasting product that will enhance a space without releasing toxins into the home, or the environment when its life span is eventually over is incredibly important to me and increasingly to my customers too. Being shortlisted makes me even more determined to continue to enhance the environmental credentials of my products where I can and to encourage my customers to see the benefits in decorating their homes in this way.
What does 'positive luxury' mean to you?
To me, positive luxury means beautiful, exquisitely made, timeless design that can be trusted to not contain harmful chemicals and to be playing a positive role in restoring nature and reducing our collective carbon footprint.
What would you like your brand to be known for?
Creating unique, delicate hand-drawn designs, that will bring calmness to your home. Environmentally responsible, beautifully produced products that tell a story. All my wallpapers are printed at one of the few remaining traditional wallpaper printers in England, using non-toxic water-based inks with papers and non-woven substrates sourced from sustainably managed forests.  The idea of home as a haven is important to me. I want my designs to contribute to a calm and nurturing environment and to offer respite from the overwhelm of modern life.
Any messages for your fellow nominees?
I am honoured to be shortlisted alongside brands that I look up to and am thrilled to be in their company, especially Bamford, whose facials I love!
EXPLORE: abigailedwards.com
Château Galoupet | Material & Manufacturing Innovation of the Year Nominee
View this post on Instagram
Can you please introduce yourself and your brand?
My name is Jessica Julmy. I am the Re-Founder of Château Galoupet, following its acquisition by Moët Hennessy in summer 2019. Château Galoupet is a Cru Classé de Provence overlooking the Golden Isles on the French Riviera: a progressive wine estate with 77 hectares of protected woodland and 69 hectares of vineyard, which will be certified organic in May 2023.  It's a natural ecosystem shaped by the winds between the Massif des Maures and the Mediterranean Sea – a future sanctuary for biodiversity, home to a vast array of flora and fauna, and one of only 12 queen bee fertilisation stations in the world. We aim to express the full potential of this exceptional terroir in complex, full-bodied rosé wine with total transparency on sustainable practice from ground to glass.
How does it feel to be nominated for the Positive Luxury Awards 2023?
We feel proud and grateful to have been nominated, especially less than a year since Château Galoupet's official launch. We spent the first three years reconnecting all the beneficial life on the estate and designing a brand that would epitomize positive luxury. The Butterfly Mark has always been on our radar. Part of our team comes from the luxury sector, so we know how privileged we are to be included in this award community.
What does 'positive luxury' mean to you?
For us, positive luxury is a masterful blend of nature and craftsmanship in a product that gives back more than it takes throughout its whole lifecycle. Château Galoupet aims to have a positive impact every step of the way, from soil to bottle, on local communities and the environment as a whole.  We are working with local wildlife associations to advance biodiversity across the estate and have the ambition to open a biodiversity trail to the public in the coming years. We want to share and protect the nature of Provence for future generations. Positive luxury is at the heart of our strategy. As a global player in the wine industry, we have a global responsibility too. As soon as we learned that packaging represents 40 percent of a winery's carbon footprint, we had to look for more sustainable solutions: cue the lightweight amber bottle for Château Galoupet Cru Classé Rosé, which is made from 80 percent recycled glass and weighs just 499g (vs. 770g on average). Our commitment to nature goes far beyond organic certification, we are also aiming for carbon positive target for 2030.
What would you like your brand to be known for?
Challenging the status quo in the wine industry from ground to glass. We are cultivating biodiversity to craft exceptional wines that express the full potential of the terroir, with total transparency on sustainable practices.
Any messages for your fellow nominees?
Château Galoupet is all about teamwork. It's a collaborative adventure, a shared journey. We believe that all the nominees for the Positive Luxury Awards are a team too. We inspire each other. We have a collective responsibility to protect the precious resources of our planet and make a positive impact on the environment for future generations.
EXPLORE: chateaugaloupet.com
Discover More
You can read more about the Positive Luxury Awards 2023 at positiveluxury.com
Featured image: Noemi Szabo, Unsplash