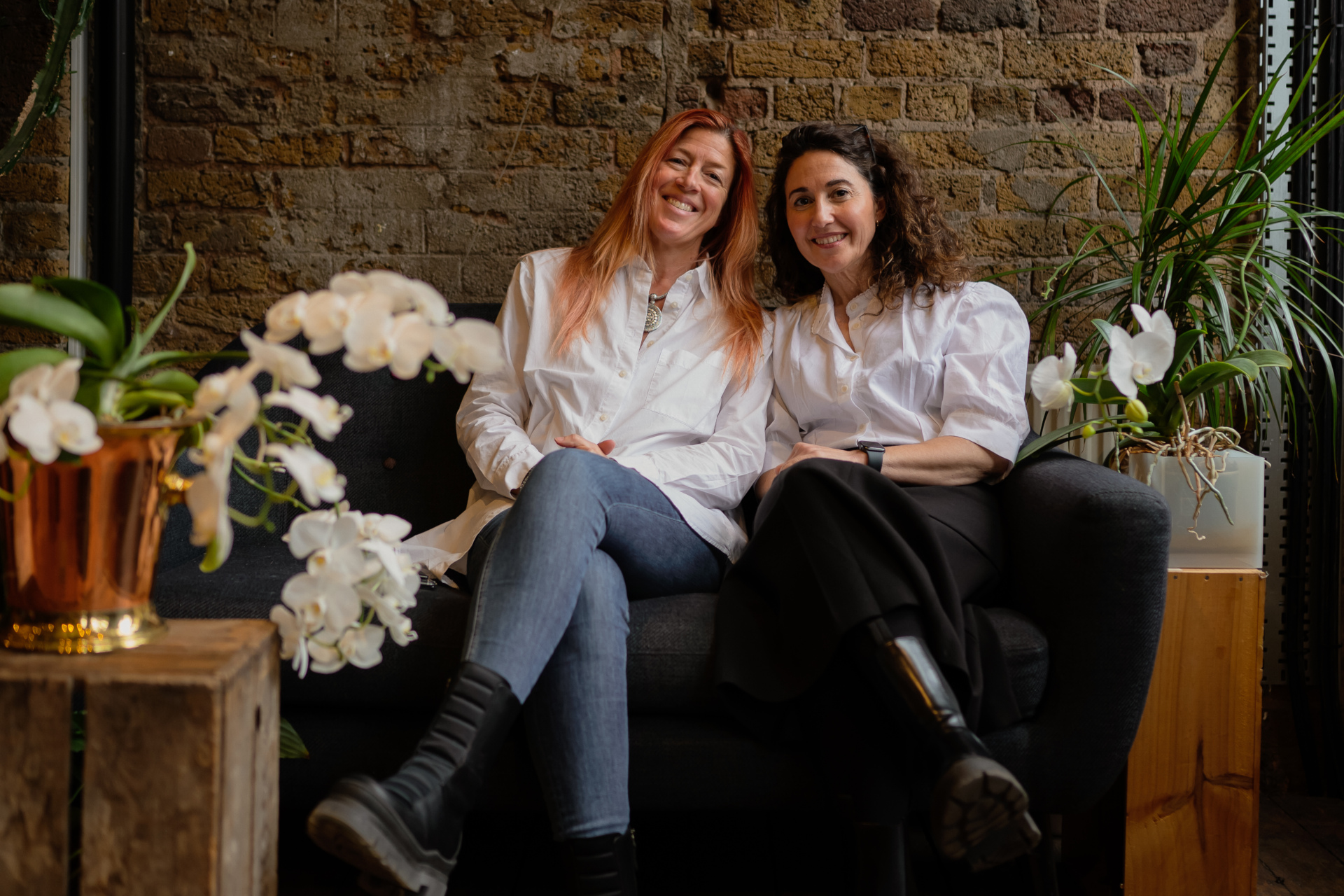 'These are more stories of hope': Amy Nelson-Bennett On The Positive Luxury Awards 2023
'The Positive Luxury Awards recognise innovation, accountability and action'
The luxury landscape is changing – and for the better. Driving this change are trailblazing brands and the certifying bodies who put a spotlight on them. We sat down with Amy Nelson-Bennett, co-CEO of Positive Luxury, to find out more about the amazing brands shortlisted for the Positive Luxury Awards 2023.
Amy Nelson-Bennett On The Positive Luxury Awards 2023
Hi there, thank you for joining us today! Can you please kick us off by introducing yourself?
Hi, thanks for having me! I'm Amy Nelson-Bennett, the Co-CEO of Positive Luxury.
For those that don't know, what is Positive Luxury?
Positive Luxury provides the only sustainable and environmental, social and governance (ESG) programme designed specifically for the global luxury industry. We are home to more than 300 of the most progressive, trusted companies and individuals in luxury, united in redefining luxury and shaping a sustainable future for our industry and its investors.
Positive Luxury's co-founders, Diana Verde Nieto and Karen Hanton, chose luxury as a niche when they founded the business in 2011 because they felt luxury was so aspirational it had the greatest potential to inspire other companies and industries to make positive changes. The Butterfly Mark, the globally respected trust mark we award to companies who have strengthened their operations and value chain to demonstrate high standards across our ESG+ framework, was inspired by a chance meeting between Diana and Sir David Attenborough and his story of the Large Blue Butterfly – which died out in the British Isles in 1979 – and the dedication of the scientist who successfully reintroduced it by unravelling the intricate web of interdependencies necessary for its survival. It's a story of hope.
What Is Positive Luxury & The Connected Butterfly Mark?
The 2023 edition of the Positive Luxury Awards is coming up soon – can you tell us a bit about it?
The Positive Luxury Awards recognise innovation, accountability and action. We seek out the companies that are going beyond compliance and leading by example. The Awards are unique in their focus on sustainable innovation across the luxury industry – celebrating the full value chain from material suppliers and manufacturers, to brands and retailers. The application requirements are rigorous, with the shortlist for each award chosen by a panel of Positive Luxury's sustainability experts and an independent judging panel of experts across business, academia and sustainability assessing and choosing the winner for each of our six awards. We give profile to the shortlisted and winning companies to recognise and reward their actions and inspire other companies to believe that they too can be part of the solution and help us shape a sustainable future.
What made you want to launch the awards?
Our approach at Positive Luxury is not to scare companies to take action, nor to name and shame. Instead, we choose to recognise and reward the trailblazers. Their actions have the power to inspire other companies to believe that they too can be part of shaping a sustainable future. The Awards is one of many ways Positive Luxury celebrates and gives profile to companies delivering solutions to the challenges of climate change and social inequality. Ultimately, these are more stories of hope.
Sounds exciting! How did you decide on the award categories?
The options were vigorously debated as we started coming out of the pandemic in 2021 and looked to re-introduce the awards. We ultimately landed on six awards, fewer than we'd done in the past, but three pairs that we felt examined the critical areas for innovation across luxury: environmental and social, process and product, companies young and old.
When will this year's winners be revealed? 
The winners will be announced on Wednesday 26 April 2023, coinciding with an Open House for our community at our offices in Shoreditch in London.
We can't wait. Are there any previous award winners we'd know?
Absolutely. Well-known winners in 2022 included Monica Vinader, Bamford and Belvedere Vodka. But do not miss the amazing work being done by 2022's less well known (but still very cool) brands Sheep Inc, Original Beans and Tracemark.
And are there any shortlisted brands for this year that you're excited to tell our readers about?
There are 18 inspirational business on the shortlist, and we are excited by every single one of them. A third of these business are from within the Positive Luxury community, so it's critical for me to not be biased toward those. But I will say that Mashpi Lodge in Ecuador, shortlisted for our Environmental Innovator of the Year Award, is now firmly on my bucket list for places to visit.
Who or what inspires you to drive positive change?
The brands we see doing great things. Who wouldn't want to come into a job every day where you play a part, however small, in shaping a better future? Having said that, I am at heart a businessperson who ran for many years the type of luxury businesses we now support. I firmly believe that those companies who embed ethical and sustainable business practices across their organisations and supply chains will be the business who will win – they will have the greatest consumer relevancy, the proudest and most productive employees, the shareholders with the least risk and reliable returns.
Is it possible to create products that help the planet, rather than harm it?
Yes, 100 percent. We see evidence of this day in and day out working with our members. Whether it is through low-impact production processes, innovative material choices, the power of biotech and other technological advances, or supply chains that support and provide work at fair pay to those communities most in need… I could go on and on and on, but there are so many ways in which products can be nature-positive and society-positive. Combine this with a more conscious approach to consumption – which companies can do by evolving their business models to extend the life of their products and minimise waste – and we'll all be moving forward in a far more positive direction.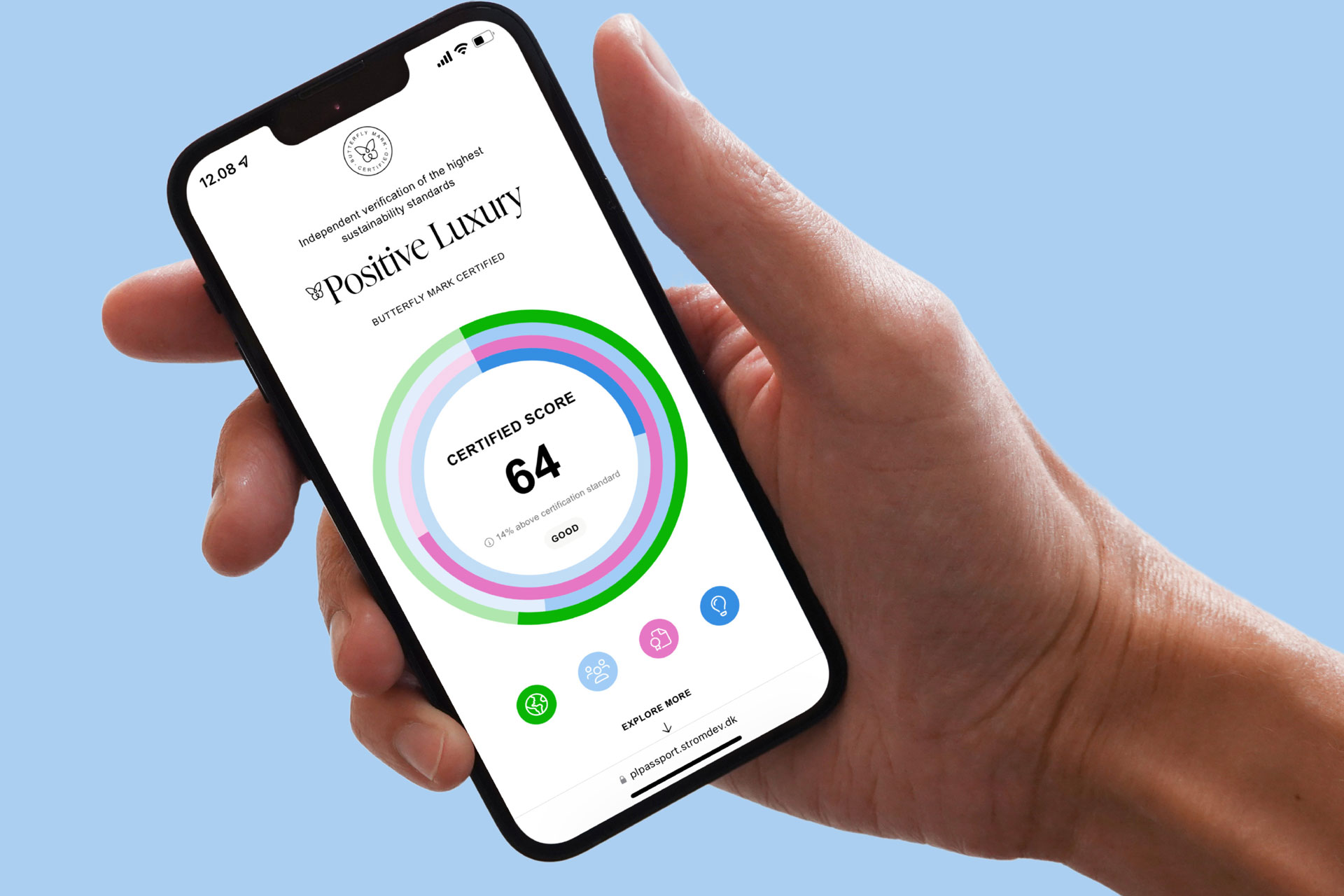 It can be hard to tell what's genuinely good for the planet when it comes to the luxury industry – how can shoppers keep a critical eye out for greenwashing claims?
Consumers should be wary of the all-too-common nebulous commitments and look instead for action. Is a company measuring its impact, setting clear targets for improvement and reporting on progress against that? It's important to also only believe claims that are clearly backed up by clear evidence. Have the brand's practices been verified by a third-party, such as the Soil Association, Wool Mark or Positive Luxury? Our community members who have earned the Butterfly Mark certification embed the Connected Butterfly Mark, a digital trust-building tool, across their channels and products through widgets, QR codes or NFT tags. A simple click and a brand's detailed ESG performance is available to a consumer so that they can feel confident trusting the brand and its products. This type of deep, data-led transparency is what we should be expecting of luxury – no different than a nutrition label for food.
We agree! Before you go, can you tell us if there's anything else exciting lined up for 2023?
Always. We just established our first satellite office in France and will be doing the same in the US later this year. We're also updating our assessment framework in line with evolving global standards and growing legislation to ensure our community stays at the forefront of sustainability best practice. In terms of sustainability issues, we're very focused on biodiversity as a topic as it brings together so many important issues, both environmental and social. It's a relatively young area of sustainability practice – far behind topics like carbon – but critical for our members to begin to understand their true impact and dependencies so that we start taking actions to protect and restore nature.
Any parting words you'd like to leave our readers with?
A very encouraging research study published last year suggested that we as citizens have direct influence over 25 to 27 percent of the emissions savings needed to avoid climate crisis. So look at your lifestyle and your consumption habits, and know that the changes you make can have a positive impact. But less, buy better. And, of course, look for the Butterfly Mark as evidence of brands you can trust.
EXPLORE
Learn more about Positive Luxury at positiveluxury.com
Featured image: Courtesy of Positive Luxury