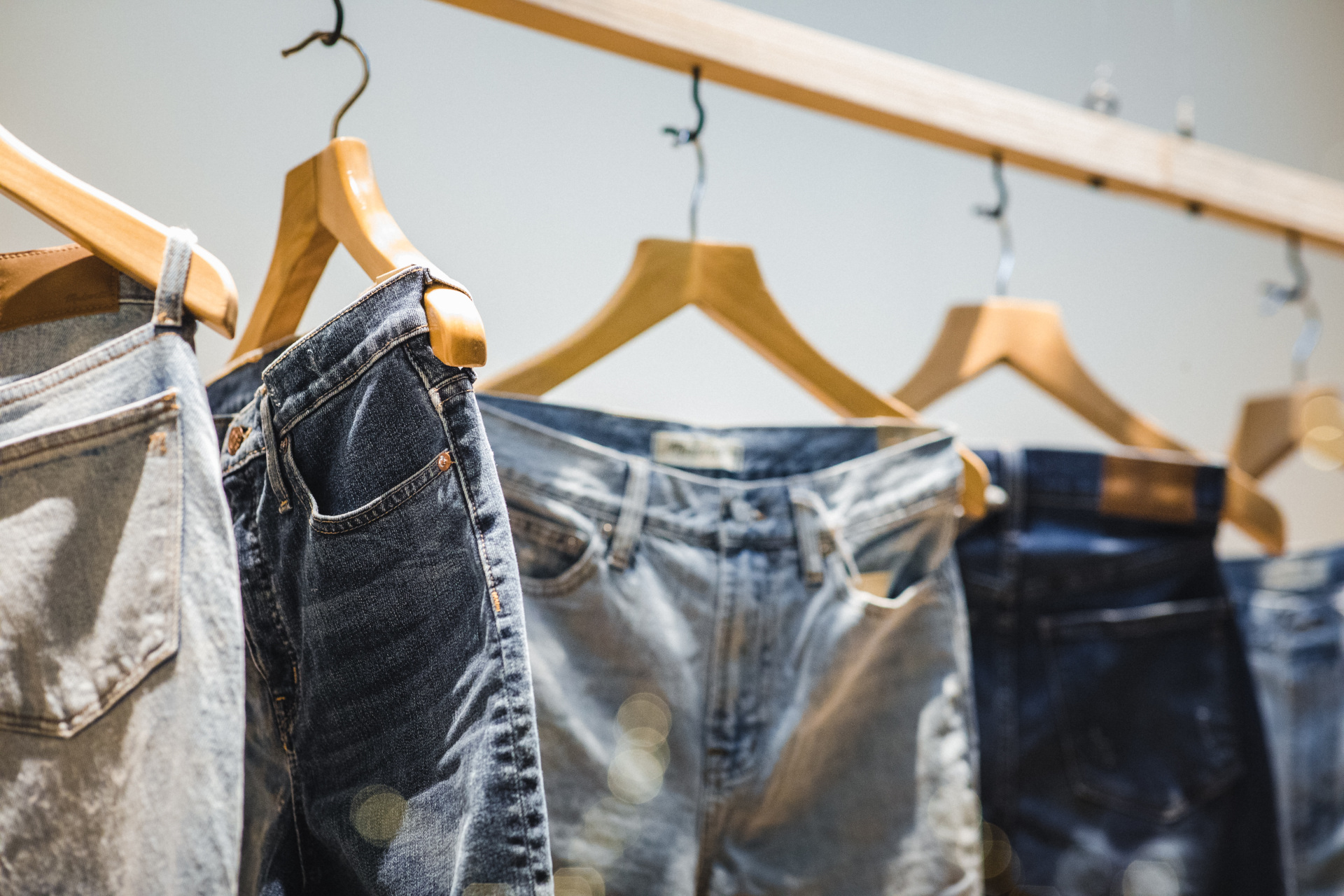 How To Shop Vintage Denim
---
We want yesterday's denim, and we want it now
There's nothing quite like a good pair of jeans. A wardrobe staple for decades, denim in all its forms – from jeans and skirts to jackets and dungarees – seems to go with anything. Shops up and down the high street are packed with denim products of all shapes and sizes, but when it comes to shopping vintage the options don't seem so clear-cut. We've called on the help of Eibhleann McMahon of London-based vintage shop Rokit to get you started.
A Guide to Shopping Vintage Denim
What should we have in mind before looking to buy vintage denim?
Before buying vintage denim consider either the style you wish to emulate or indeed the functionality of the denim post purchase. For example, if you're looking for an everyday jean opt for a soft, supple well worn pair, something that has been 'broken in' by a previous owner and will prove comfortable from the outset. If you're interested in a particular era do a little research in terms of silhouette and wash.
For a classic James Dean or Marilyn Monroe 50s vibe, opt for a Levis 501 jean and quintessential denim jacket. When it comes to the 60s or 70s then it has to be a mid blue flare followed by double or even triple denim, with a fitted jacket and denim shirt. 70s denim tends to be a little more rigid so it's not always the most comfortable – at first try it may feel very different to modern poor quality textile but persevere and you won't go back to high street reproductions! If you're into the 80s or 90s the fit is much more relaxed, with washes tending to be lighter. Think tapered, balloon or straight leg and if you want a good turn up remember to buy your jeans too long. Jackets were worn oversized as were dungarees. For an authentic baggy look, go up a size or two. By the end of the 90s mass produced denim dropped in quality, which is fine if you are thinking in terms of trend over substance. Conversely, a reaction against bad quality led designers to utilise traditional methods and produce raw indigo styles often indicated by a selvedge and a darker wash.
You can't talk vintage without mentioning brands – Levis, Lee, Wrangler or Calvin Klein. Get to know which brands work for your shape and which historically emulate your style. Before you shop you may wish to do a bit of digging in terms of dating denim and brand tabs. For more on Levis tab check out our blog here.
What should we look out for when browsing the rails?
The first thing to do is get a feel for quality. Vintage denim is far superior and as you familiarise yourself, spotting good denim can be achieved through vision alone. Vintage denim was produced with superior cotton and is usually a heavier gauge. It did not contain synthetic fibres or elastane and was ultimately built to last. Modern alternatives may feel more comfortable from the start but the lower quality means the denim will degrade (not in a good way) and the fit will quickly loose shape. Vintage denim may feel a little stiff to begin with but once it's worn to your shape it's the most comfortable and flattering textile that won't disappoint.
If you don't feel confident about gauging denim by feel, just check out the label and only buy 100 per cent cotton (y2k bootleg excluded!). Then there's the stitch. Look for sturdy top stitching (remember, denim was traditionally a workwear fabric so look for the detailing that suggests resilience). The traditional stitch will be in a bronze colour, with gold thread tending to be rare. The cheaper and newer the denim, the worse the stitch.
As mentioned, do a little research in terms of branding and tabs. For example, Levis tabs changed throughout the 20th century, look out for 'Big E's' or Orange tabs.  Next, think hardware. Button fly's are typically older than zip, and check out the rivets – just like the stitch, good rivets were there for purpose. Finally, there's size and fit. Know what works with your shape and don't go by vintage sizing. Denim will naturally shrink with wash and the old sizes do not correspond to what we know today. A 60s' 14 may fit more like a modern size eight. With denim you always need to try and try but once you've discovered your ideal style, there's no comparison. Buy tight to break in to your shape, or buy comfortable for a relaxed fit.
Where are the best places to buy vintage denim?
You may get lucky in a charity shop, but they tend to be full of modern fast fashion and people generally keep good denim for life. It's always best to source denim in a vintage store. Rokit is renowned for denim. In fact, Rokit begun with a vintage denim stall back in 1980s Camden, so it's ingrained in our heritage and brand. We stock a huge selection of vintage Levi 501's alongside every other shape, style and fit imaginable. If you cannot get to a store and you prefer to shop online, then be prepared to try several styles and sizes. Don't be put off, it takes a while to find the perfect partner but once you do you'll be friends for life.
What does Rokit look for when sourcing its vintage denim pieces?
We always select and grade according to quality, rarity and demand. Rokit knows everything there is to know about denim and we source predominantly from the motherland of denim – North America. We look out for the best textile and brands and whilst we will always source rare and collectible denim, we also look for trending shapes and styles. Fashion's circular nature means historic trends will always repeat and we strive to source what our customer wants whilst maintaining a strong line of classic pieces.
If we can't buy vintage, what should we do instead?
It's always best to mix vintage denim through your wardrobe, but if you need to supplement with new remember to look for quality and sustainability. Always check the care and composition labels. Opt for 100 per cent cotton (or natural fibre blend such a bamboo) and try to buy organic or fair trade. If the denim contains synthetic fibre look out for recycled yarn. Remember, polyester is plastic so if you want denim that is both hard wearing and biodegradable it's best to choose a natural fibre. Virgin polyester will not break down once you're done with it, and scarily, it'll shed plastic fibre in every wash. We suggest avoiding stretch denim – unless of course it's vintage and you're saving it from landfill.
As denim is such a durable textile it lends itself perfectly to reworked garments. Many brands are deconstructing and reconstructing post consumer denim to produce repurposed styles. This means you can invest in the quality of vintage denim within a modern context. Rokit's sister brand Rokit Originals is our in-house reworked label so check out our range for fresh styles produced with vintage denim. No good denim should go to waste so always think vintage or reworked before buying new. It may feel a little inconvenient to start, but nothing great comes that easy. Persevere and you won't look back. And remember, vintage denim is more often cheaper than new. Quality and individuality at a great price, that's why we love vintage.
Featured image: Jason Leung, Unsplash