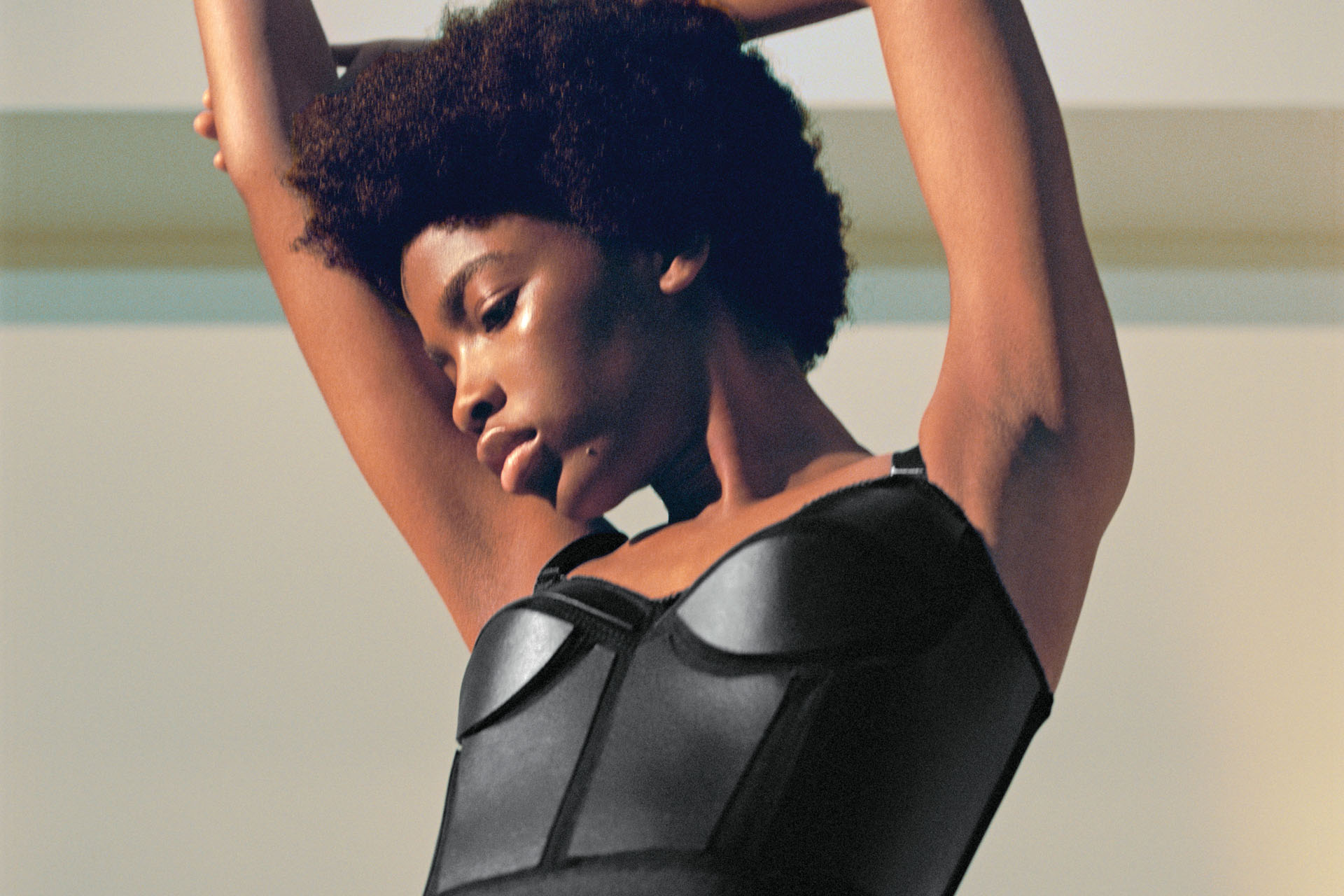 These Sustainable Materials Are A Fashion Gamechanger
---
Is that mushroom you're wearing?
From mushrooms to seaweed, Sofia Tindall examines how the fashion industry is turning to innovative new sustainable materials that are better for the planet.
The C&TH Sustainable Fashion Hub
Sustainable Materials To Know Now
Are you longing for a wardrobe overhaul? Can't wait to give athleisure the kick? Buying something new and sparkly is a post- lockdown treat we can all get on board with but, given humanity's next epic task is the race to Carbon Zero, I'm determined to achieve it in a planet-friendly way.
The statistics of the fashion industry make for grim reading. Currently, an estimated £140 million worth of textiles, weighing 336 tons, ends up in UK landfill each year, taking anything from 20 to 200 years to decompose. Globally, the industry annually uses 79 billion cubic metres of water, makes 10 per cent of carbon emissions and 20 per cent of waste. Disconcertingly, current advertising guidelines suggest a garment can be labelled 'recycled' with only 30 per cent recycled material in it. But while many are still hooked on their synthetic Boohoo fix, a quiet revolution is taking place in the luxury fashion arena, with the use of innovative new materials that don't cost the earth.
Immaculate Vegan was founded by Annick Ireland in 2017 after she saw a gap in the market for a platform curating sustainable luxury fashion brands, many of which are now ditching leather and other carbon-intensive materials in favour of plant-based ones. One of these is Desserto, a cactus leather first showcased in 2019 at Lineapelle, the International Leather Fair. 'Cactus leather is really sustainable because cacti need so little water,' Annick explains, 'and it doesn't use pesticides like some other crops.' A leather-look alternative for totes and shoes, it's also partially biodegradable and grown natively on an organic plantation in Mexico without harming the region's biodiversity.
The Best Sustainable Fashion Brands
Piñatex
Piñatex is another 'cradle to cradle' circular material, generated from waste pineapple leaves that are a by-product of the harvest. 'It tends to look really good in metallic – several couture designers have used it in gowns for the Oscars,' says Annick. And then there's Vegea, which is made using waste from the wine industry and makes a mean leather-look trench or pair of statement trousers. (An excuse to drink more wine? I'll take it…). These new 'bio' materials do much more than look good. 'Using plant content doesn't divert necessary resources for food farms or animal feed,' explains Helen Farr-Leander, who founded vegan bag and accessories brand, Watson & Wolfe in 2016. Along with cork and cactus leather, she's been experimenting with an eco-leather derived from renewable corn. The advantages? 'It comes from entirely renewable sources and it's carbon neutral,' Helen explains, 'so has a substantially lower impact on the environment.'
Mushroom Leather
One of the most exciting new developments currently making waves in the industry is fungi- based 'mushroom leather', which is grown from mycelium and agricultural by-products in a carbon-negative process and boasts 100 per cent biodegradability. In November 2020, MycoWorks, a Californian start-up that produces mycelium sustainable materials, raised financial backing to the tune of $45 million – and the A-list are already flocking to get involved, from actress Natalie Portman to musician John Legend. Stella McCartney has just unveiled an entire collection based on a variation called Mylo by Bolt Threads, with armoured bodices and utility trousers. Hermès too, famed for its notoriously expensive Birkin, has re-imagined the classic Victoria bag in mushroom-based 'leather'.
The C&TH A-Z of Sustainability
So far, so good. But while these fabrics all present compelling solutions to the fast fashion dilemma, they're not (yet) perfect. 'One of the key things we still need to think about is regulation of water usage, biodiversity and carbon emissions,' says Kieran Miles, co-founder of Duco, which makes clothes and accessories from ocean plastic and recycled materials. Two resources to be addressed are seaweed – which needs stricter regulation around farming and growing – and bamboo. 'It doesn't quite yet have stringent regulation for reforestation and replanting,' Kieran explains, 'and it can be quite destructive removing it from the ground. So it's not perhaps as clean-cut as it could be.' But he's quick to point out that these fabrics are on a journey of improvement and play a critical role in developing sustainable practices. 'Every one of these brands is taking a step in the right direction, which is worth celebrating,' emphasises Kieran. 'However, there needs to be clearer regulation.'
'Any time you use a new or recycled material it's not going to be perfect,' echoes Steve Tidball, who launched Vollebak in 2015 with his twin brother Nick. Working around the principles of longevity, recyclability and biodegradability, its range includes a 'plant and pomegranate' hoodie made from eucalyptus trees that, at the end of its life, can be chucked on the compost heap where it will biodegrade within 12 weeks. There's also the 'garbage watch' made from some of the 50 million tonnes of electronic waste thrown out annually. 'We like to think of our clothing in terms of how it can solve a problem,' Steve adds. But he's emphatic that, as well as using innovative, space-age materials, one of Vollebak's missions is to encourage us to buy less by creating pieces we'll only ever need one of. The brand works with scientists and innovators to find solutions and create future collections. 'Over the next 100 years or so there will be big changes to the planet,' Steve says. 'We need to problem-solve.'
The Best Luxury Resale and Rental Sites
Landfill To Fabric
Another effective waste-transforming approach is to salvage material from landfill and oceans to engineer new materials. Bottletop was co-launched by Cameron Saul, son of Mulberry founder Roger, after he saw artisans making bags from bottle caps in Uganda. With an exoskeleton of chainmail made of aluminium ring-pulls, Bottletop bags exemplify a whole new market that's being carved out: the sustainable luxury category. To this end, in 2002 it joined forces with Mulberry, creating a bag that became its global bestseller of the season. 'We're always setting out to incorporate upcycled materials wherever possible,' says Cameron. For him, that means repurposing and reimagining waste materials, and carefully sourcing materials that are either upcycled or on a journey of improvement. On Global Recycling Day in March, Bottletop's #togetherband campaign, supporting UN global goals, launched its debut loungewear collection made from 60 per cent recycled cotton and 40 per cent recycled PET, marking its first foray into clothing.
Where would he like to see the industry in five years' time? 'It's exciting seeing where technology is taking us in terms of reducing negative impact, while also keeping handcraftsmanship as part of the process,' he reflects. 'But what we've experienced, particularly through the pandemic, is that we no longer have the luxury of time on our side. For me, the most important thing is for brands to place sustainability at the heart of their decision-making.' He adds: 'Brands
only exist because of the consumer and the consumer has the power to shape that.'
Which brings us neatly back full circle to you and me, and what's hanging in our closets. Most of my wardrobe consists of the staples that can survive both the commute and the transition from office to evening – so this seems a good place to start. What do staples made with sustainable materials look like in 2021? First, the 'everything bag' is undoubtedly Luxtra London's modish Maya tote in chestnut 'cactus leather' – with enough room to accommodate laptop, keys, face mask and gym kit. Secondly, trainer junkies will fall heels over head for Yatay's low-top Neven trainers that, paired with Caes' leather-look trousers, make a dream back-to-office combination. And finally, what wardrobe would be complete without that little black dress? Neu Nomads Tencel slip dress, worn layered over a tee, has got you covered for an on-trend Nineties vibe.
Turns out all we need do to help the planet is to look to vegetables, buy with passion and conviction, and keep wearing the new pieces in our wardrobes. It's no hardship on the evidence of the designers featured here. 'What I think the fashion industry does better than anything is excite, captivate, reimagine and articulate things in a way that can really build the appeal,' says Cameron. We always knew mushrooms were magic.
READ MORE
The Best Sustainable Fashion Brands / The Best Luxury Resale and Rental Sites / The C&TH A-Z of Sustainability