24 Hours In Johannesburg
This city oozes soul
Luke Abrahams shakes off his hesitancy in exploring 'scary' Johannesburg, and delves into 24 hours in South Africa's largest city.
Read the C&TH Guide to Responsible Tourism
24 Hours In Johannesburg
With the end of legislative apartheid in 1991, Johannesburg, thanks to a rising crime rate, quickly became known as the most dangerous city on earth. Recent years, thankfully, have been a little more kind. The economy has boomed and neighbourhoods that were once off limits are now booming, too. In fact, it's scandalous just how overlooked Johannesburg is. I always dismissed it as one of those layover spots; the kind where you just got a quick kip during a transfer before jetting off to somewhere else. Alas, I have done this six or so times in my life because, in all honesty, I had no desire to visit the place due to its bad rep. 'Dangerous', 'scary', and 'unsafe' are just some of the words used to describe South Africa's largest city. Top that off with a South African family who continually turn their noses up at the place, and you'll understand my apprehensiveness.
Earlier this year, however, while en route to Mozambique, I decided to ignore all the bad press and venture out of my Jo'burg hotel for the first time for a full-on 24 hours of exploration. Was I surprised? Of course I was – hence writing this piece. Far more than a mere stopover city for your next bank account busting safari, the new 'Jozi' is a shapeshifting city full of surprises, from classy hotels to exceptional dining and sexy boutiques. Yes, it's raw and not as polished as Cape Town, but it's got one thing its coastal sister lacks: soul. Here's how to spend 24 hours in this historic and fiercely creative metropolis.
Where To Stay In Johannesburg
The Saxon
Obviously. It's all very tucked and hidden away, just off the tree-lined avenue of Joburg's trendy (and very bougie) Sandhurst neighbourhood. Historic and storied, Nelson Mandela once lived at this boutique dream and wrote his autobiography, Long Walk to Freedom, here during its former life as a private home.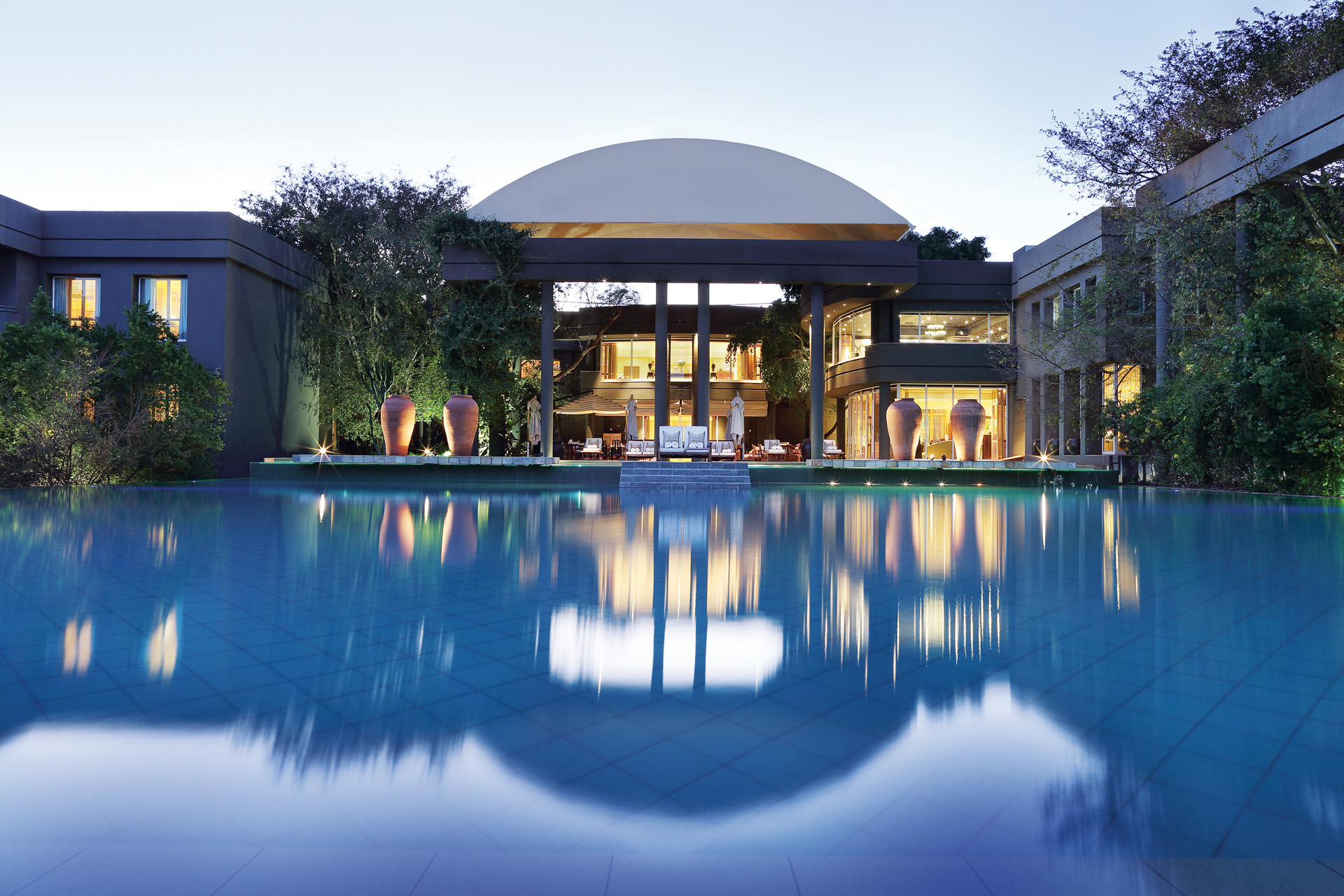 Odes to the former South African leader are dotted throughout in the form of photographs and portraits alongside other dignitaries and celebrities, Oprah included. Grand, but not OTT gratuitous, a celebration of African décor reigns supreme. Artefacts, paintings and wood carvings wow amongst all the hotel's neutral shades and palettes.
The rooms and suites are the real deal. Think mammoth (and refreshingly quiet) open-plan spaces dotted with geometric prints and all things Africana and marble. Gourmet grub is locally inspired using homegrown seasonal ingredients from pan-fried linefish to hearty Sunday brunches at headline restaurant Qunu.
Another major reason to stay comes courtesy of the Saxon Spa, a gem of a spot set over two balmy floors. Massages are a godsend post-flight, and should you need a mani or pedi, the nail bar has got you covered whatever state your cuticles are in. The pool is rather lovely, as are the six acres of gardens to roam around in too.
BOOK IT: saxon.co.za
Spots To Explore
The beauty of Johannesburg is that it's so wonderfully diverse – in every sense of the word. Melville, one of the city's most centrally located suburbs, is home to a stretch of fun and out-there coffee shops filled with eclectic types and high-brow academics. Linden, fast becoming one of Jo'burg's big foodie hotspots, offers a crash course in world cuisines. Gorge on local eats from South African to Asian, Mexican, Indian and Italian grub. Linden's Craft Beer Library is also worth a stop for a vast selection of local beers and lush pub-style food.
Then there's Rosebank, one of the few Jo'burg suburbs with its own station. The mall is what draws in most of the locals, but for tourists like me, the Avant Garde arts scene is the real pull. Spend a few hours exploring the fashionable block of galleries that line the Keyes Art Mile. The CIRCA gallery is also worth a spin. But perhaps the coolest neighbourhood the city has to offer is Maboneng. Boutique chic best sums the place up. Expect one-of-a-kind shops (streetwear, especially); Little Addis, a popular spot for delicious Ethiopian bites; and a medley of cute arcades.
The Tour To Know
'Local is lekker' (awesome) goes a popular South African saying. The beauty of this part of the world is that independents well and truly rule the city roost, and born and bred Jo'burger Kennedy Welani Tembo knows this better than anyone else. The corporate suit turned pro travel guide runs his own cycling tour company, Micro Adventure Tours, and specialises in whizzing in first-timers like me around the city by bike.
His new venture all began post Covid. Bored of his corporate life, the family man began his own campaign to inspire transient visitors to discover the fruits of his cosmopolitan metropolis. 'History and cuisine are our biggest sellers,' he tells me as we whizz through Rosebank on his so-called coffee tour. 'Johannesburg is fast becoming a global city. It's the true African city where the foods of the continent and artistic creativity shine,' he insists.
View this post on Instagram
Typical tours will whizz you around at Imagination Coffee shop at Rand Steam, Bean There at 44 on Stanley, Hillbrewed, Home of The Bean and Cramers coffee shops. The whole thing is designed to give you a fleeting introduction to Jozi architecture, its long and fascinating gold mining history, its peoples, and of course, the major indie coffee trend sweeping the South African capital along the way. It's fun, in no way stuffy, and really opens your eyes to the city through the eyes of a very proud local. microadventuretours.co.za
Where To Eat In Johannesburg
If there's one spot worth dining at, make it chef David Higg's Marble restaurant. His open kitchen serves up quality meats and fish that all hit the flames of the restaurant's mighty barbecue grill. The décor is Instagram porn personified. Think twilight views of the city's most manicured digs and dramatic portraits by Krisjan Rossouw. Portions are huge, so come here with a belly ready to eat. marble.restaurant
The Final Word
Forget all the headlines. After just a day, I was quick to realise just how wildly misunderstood this vibrant city is. Creative and innovative, Johannesburg oozes more soul than some of the world's great metropolises – London and New York included. This city has talent, and the refreshing thing is, it's in no way afraid to show it.
BOOK IT
Virgin Atlantic flies direct between London Heathrow and Johannesburg with return fares starting from £667 per person. For further information visit virginatlantic.com