A Comprehensive Guide To Valencia
Where to stay and what to get up to in this beautiful Spanish city
Valencia is a city with a life well beyond tourism, says Anwer Bati. Here's where to stay and what to do in this beautiful Spanish city.
Read the C&TH Guide to Responsible Tourism
Guide To Valencia
Valencia has recently become so popular for short breaks that it's difficult to believe that there was a time, only 15 years ago, that you couldn't actually fly there directly from Britain. It wasn't by chance that people started visiting: around that time, Valencia invested in eye catching events, such as hosting the European Grand Prix and the America's Cup to attract international attention.
Not to mention so much else: a fascinating old town, broad public beaches, some of the best food in Spain, and architectural treasures not only old (Valencia was ruled by both the Romans and the Moors) but also firmly modern in the shape of the City of Arts and Sciences. Another attraction is that it remains a city with a life well beyond tourism, with important industries and a major port.
And much as increasing visitor numbers – to which the city has enthusiastically catered – has brought prosperity, it has also brought predictable problems. So today, rather than rely on international events, Valencia is trying hard, by restoring old churches and other historic buildings, to avoid the problems of Barcelona and attract more people there for its history and culture and fewer for sun and sangria.
Where To Stay In Valencia
Unusually, there are very few hotels by the sea, so you'll find the best choices in the old town, most of them small and privately owned. Be sure to check a map when you book, as many hotels are in the business area or other locations well away from the centre of town.
The Caro
The Caro, very much a pioneer of luxury boutique hotels in Valencia, where guests have included Richard Gere and Bono, is high on many lists. In the former mansion of the Marqués de Caro, it is not only central, in the heart of the old town and walking distance from many of the main sights, but is redolent of the city's history. Although the palacio itself dates from the 19th Century, it is built on part of the old city walls – dating from both the Roman and Islamic periods – which are left exposed in some of the rooms and public areas.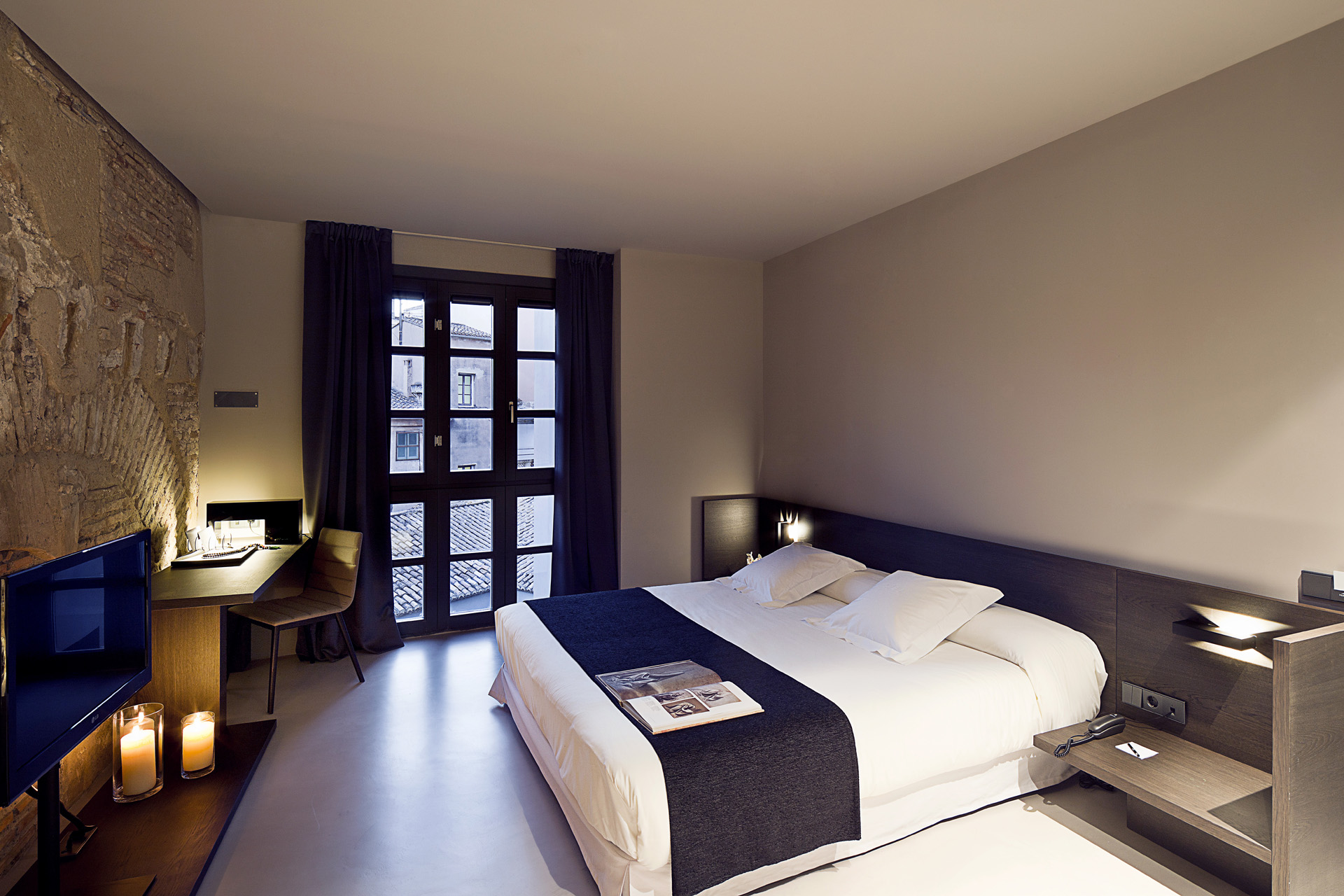 There are only 26 rooms, simply and individually decorated in monochrome, the modern, minimalist uncluttered style contrasting with the splendour of the building. Try to get one of the lighter ones at the front. There are 30 staff, young, friendly and enthusiastic to look after you. To make up for the fact that there are no kettles or coffee machines in the rooms, ring room service and they will bring you a pre-breakfast cup at no extra charge. Breakfast itself is an extensive buffet, served in the restaurant.
The centre of life at the Caro is the stylish bar, with an outdoor terrace featuring a small pool. The hotel is in the middle of building an annex in a house across the road, with a larger pool, a spa area and more rooms.
BOOK IT: Double room with breakfast from £200 per night. carohotel.com
Where To Eat In Valencia
Alma del Temple
The Caro's fashionable restaurant, Alma del Temple, in the basement, is partly divided by a 12th Century wall from the Moorish period, adding to the atmosphere. Run as a separate business (it also has a street entrance), it's one of the best in town for modern Spanish cuisine.
La Pepica
Valencia is, of course, the home of paella (traditionally only eaten at lunchtime) and other rice dishes, a legacy of Arab rule, and one of the most celebrated places to eat them, among many other dishes, is La Pepica, by the beach, going since 1898 and once a haunt of Ernest Hemingway and the great Valencian painter, Joachin Sorolla. lapepica.com
Veles e Vents
Nearby is the Veles e Vents ('Sails and Winds') building, designed by British architect David Chipperfield for the 2007 America's Cup, where, on the ground floor, you will find La Maritima, also known for rice dishes – with views of the impressive marina and the spectacular sunset. veleseventsvalencia.es
La Lola
La Lola, near the cathedral, is a bright and buzzy place with a small terrace for a drink, tapas and other Spanish specialities. lalolarestaurante.com
Casa Montaña
But for the best tapas in town head to Casa Montaña near the port, founded in 1836, and one of the oldest and most renowned places in Spain. Family run, it's tiny but the food showcases the very finest ingredients, and the wine list is equally special. emilianobodega.com
Mercado Colón
One of the liveliest places to eat is in the Art Nouveau Mercado Colón, a former market, now full of small restaurants and high quality food shops. Try the casual and fun Bar Mi Cub for snacks and tapas. Or try Ma Khin Café, owned by Brit Steve Anderson, for a menu of south east Asian dishes using locally sourced produce, a homage to his Burmese great-grandmother.
Riff
A few minutes' walk away is the Michelin-starred Riff, the restaurant of German chef Bernd Knöller, drawn, like Anderson, to Valencia's burgeoning food scene, and serving inspired and beautifully presented food including impeccably fresh fish and seafood. restaurante-riff.com
Ricard Camarena
Top of the city's food tree is Ricard Camarena's two Michelin star restaurant is part of the restored Bombas Gens, a former pump factory which is now an art gallery and cultural centre with a pretty garden. It's a little out of the centre, but worth it to experience his set menus in a modern room with an open kitchen. Camarena also owns Habitual, serving much more affordable and simpler Mediterranean food, and the even more casual Bar X – both in Colón market. ricardcamarena.com
Things To Do In Valencia
Cathedral
Valencia's main sight is the 13th century grand cathedral, built on the site of a mosque. It is primarily gothic, but there are many additions in later styles. One of its many treasures and claims to fame is that it is home to the supposed Holy Grail. Another is that you can climb the 207 steps of the tower to get an unbeatable view of the city.
Mercado Central
Valencia's main food market, Mercado Central, built in Art Nouveau style, is equally unmissable for many visitors. It is the largest fresh produce market in Europe, with 1,200 appetising stalls. And if temptation gets too much for you, Ricard Camerena's Central Bar is the place for a glass of wine or some tapas. If you like Art Nouveau, also take a look at the lovely railway station, by the city's fine bull ring.
Lonja de la Seda
Opposite the market is the magnificent Lonja de la Seda, the 15th century UNESCO listed former silk exchange, dating from a period of great prosperity for the city, and one of the finest civil gothic buildings in Europe, with a restful garden. There is also a museum celebrating Valencia's long history of silk trading a short walk away.
National Museum of Ceramics
Ceramics have been a major industry, and the National Museum of Ceramics, the former home of the Marqués de Dos Aguas, with its extraordinary Baroque façade, takes you from the 18th century to the present day with works by Picasso, among others.
Santos Juanes
Also by the market is the notable church of Santos Juanes, dating from the 13th century in the Gothic style, but mostly rebuilt as Baroque after a series of fires. It is one of the most impressive in Valencia, and is being steadily restored to its former glory.
San Nicolás
Perhaps the finest church in Valencia is the small but extraordinary San Nicolás, with its 1,900 sq metres of frescoes. The splendid decoration of the vaulted ceiling has led to it being called 'Valencia's Sistine Chapel', and its recent vibrant restoration has made it an obligatory stop for art lovers.
Art Galleries
At the Museum of Fine Arts – the second largest in Spain – housed in a former seminary just outside the old town, you will find works by Goya, Sorolla and many other major Spanish and European painters. For modern art, there is IVAM, and for contemporary work, head for the Centre del Carme – a gallery and performing arts venue in a 1th Century former monastery.
Beaches
Valencia's beaches and marina are some way from the old town, but are easily reached by public transport (the city has a good metro system), reasonably priced taxis or Uber.
City of Arts and Sciences
No trip to Valencia is complete without a visit to the City of Arts and Sciences, the eye-popping and architecturally stunning series of buildings designed by internationally famous local boy Santiago Calatrava and Madrid-born Félix Candela, opened in 1998, but not finally finished until 2005. A popular film location, the futuristic complex consists of Europe's biggest aquarium, an opera house, an IMAX cinema, a lively science museum and a mini boating lake – and plenty more, including good bars and restaurants. It is on part of the bed of the river Turia, which was drained (and diverted) after disastrous floods in 1957, and is now an urban park stretching five miles through the city.
It's a good idea to get a Valencia Tourist Card for unlimited public transport use and free or reduced entry to museums and attractions. visitvalencia.com
What To Buy
There are several branches of the El Corte Inglés department store in central Valencia – but for Spanish luxury goods, head for Poeta Querol street (where there is a ceramics shop from local, but internationally known, brand Lladró ). For design and fashion, the area near Calle Colón and Colón market are the places to go. If you're looking for craft shops, make for the circular Plaza Redonda, and the area around it – including handmade fans from Abonicos Vibenca; and Ensedarte for hand printed silk items. The nearby area around the Mercado Central is also full of charming artisan shops. If you like jewellery, don't miss Vincente Gracia's shop in Calle de La Paz. The affable Gracia is celebrated around the world for his lovely pieces – some of them surprisingly affordable – with clients including Darryl Hannah and Andie MacDowell. The entrance to the shop is small, but upstairs is an eye opening workshop. Much of his work is inspired by Spain's Islamic heritage.
BOOK IT
Several airlines, including British Airways, EasyJet and Ryanair fly direct to Valencia.