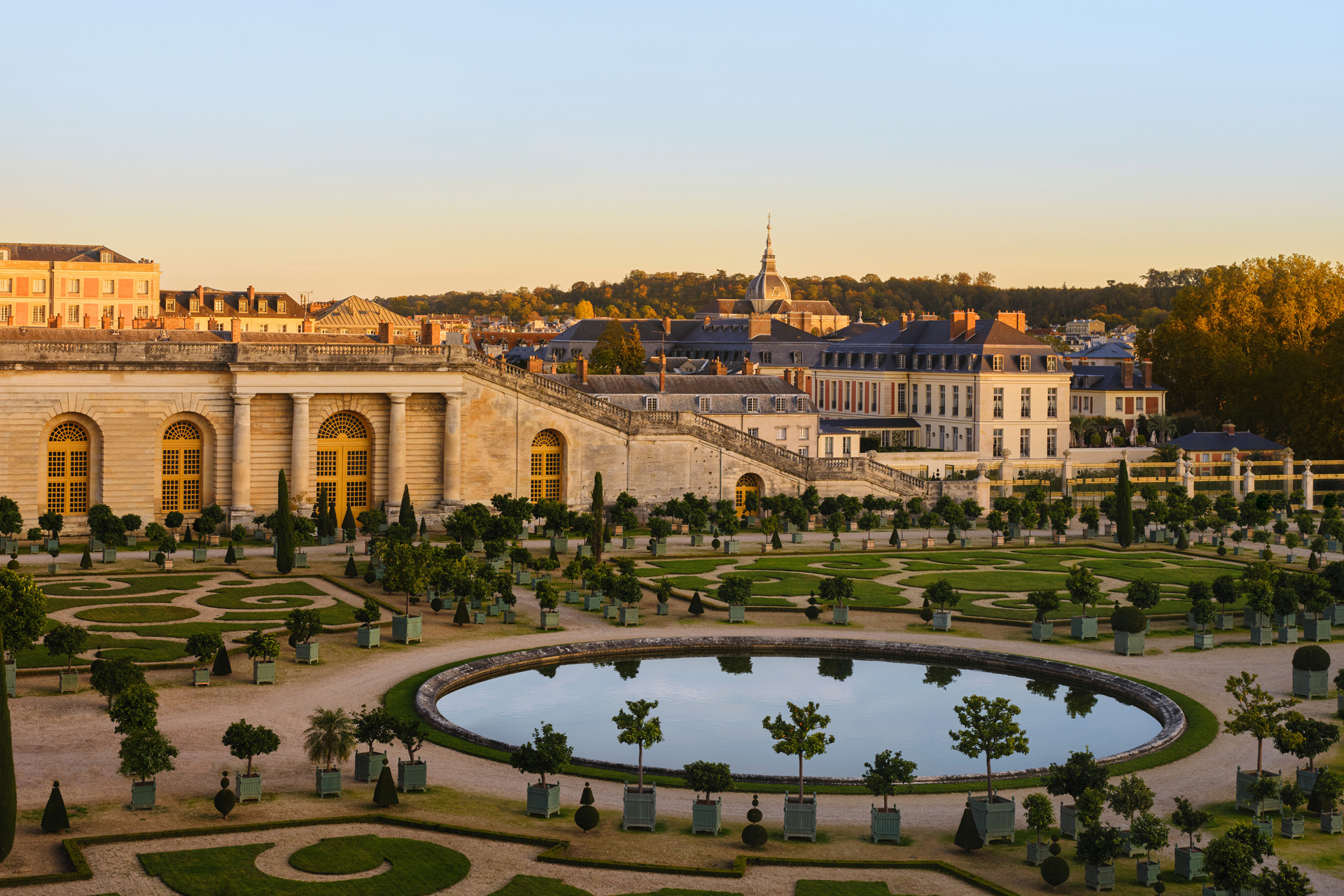 An 18th Century French Fantasy: Airelles Château de Versailles, Le Grand Contrôle – Review
---
Nicole Trilivas is whisked away to the fairytale Airelles Château de Versailles, Le Grand Contrôle
The world's first and only hotel on the grounds of the Palace of Versailles, Airelles Château de Versailles, Le Grand Contrôle offers a magic-tinged trip back in time – to pre-French Revolution 1788, to be precise. Expect the kind of gilded decadence not seen since the reign of Louis XIV, says Nicole Trilivas.
Read the C&TH Responsible Tourism Guide
Hotel Review: Airelles Château de Versailles, Le Grand Contrôle
STAY
Le Grand Contrôle does not do things by half measures. Here, the pastel macarons are Maison Ladurée and served on silver, the period-perfect baroque décor is antique, and candlelit, champagne-fuelled feasts – and we do mean feasts – come with the opulent, Michelin-star-gleam of Monsieur Alain Ducasse.
The 13-room hotel overlooks the topiary gardens of the Orangery, built by Louis Le Vau in 1663, and flanked by two palatial stone stairways known as the Cent-Marches. Take a spin around the 2,000-acre grounds in the early hours before the Palace opens in one of Le Grand Contrôle's customised fleet of golf buggies. Then, of course, there are the after-hours private tours of the Palace – completely devoid of all other tourists. A moment you will never forget? Waltzing under the shimmering chandeliers in the Hall of Mirrors in the kind of holy, celestial quiet usually reserved for empty cathedrals.  
The Palace of Versailles dazzles, and none of the stately-but-fanciful magnificence has been spared within the walls of Le Grand Contrôle. Built in 1681 by Louis XIV's chosen architect Jules Hardouin-Mansart as a home for the king's comptroller (which is where the name Contrôle originates), the site has been painstakingly transformed into a Marie-Antoinette fever dream of old-world French style by Christophe Tollemer, whose work can also be enjoyed in other Airelles hotels, such as Les Airelles Courchevel, resplendent with an Austro-Hungarian imperial theme.
With ornate candelabras, rich oil paintings, and rosewood furniture, 70 percent of the interior trappings are from the eighteenth century, while other elements are carefully created reconstructions (see: the custom Maison Pierre Frey wall hangings, based on patterns sourced from château archives and the Palace itself, and the staff wardrobe by Parisian atelier Terre & Ciel Studio of thick cloaks, brocade justaucorps, and silk stockings).
Each of the 13 rooms is individualised (we like the Necker Suite with triple-aspect views, canopied bed and four-metre-tall ceilings) but, whatever room you choose, be sure to start your day with the 'Royal Awaking' wake-up call. Not to spoil any surprises, but it involves baroque music, a butler with a glowing lantern, and steaming mugs of oak milk infused with honey and orange blossom. 
DO
The private tours of Versailles are what make Le Grand Contrôle stand apart, but that's just the beginning in terms of the exclusive experiences on offer. Go for a picnic and horseback ride along the garden's Grand Canal, watch the summertime fireworks with saucers of champagne in hand, or have a photoshoot in period costume. Within the hotel, there's also a charming underground spa – all Carrara marble and candlelight – with treatments by Valmont and a deliciously warm swimming pool, plus sauna and hammam.
EAT
With Monsieur Ducasse at the helm, expect decadence. Expect expertise. Expect to be very, very full. An almost never ending Sunday brunch (christened 'Le Grand Banquet') is an embarrassment of riches with viennoiseries, pâté, cheeses, and tiers of patisseries – all served on Bernardaud French porcelain, a replica of King Louis-Philippe's tableware at the Tuileries Palace. 
However, it's the dinner – 'Feast by Alain Ducasse' – that's the main event, starting with eggs crowned with caviar and draped in gold leaf and finishing with a trio of desserts, including a blackened lemon served over dry ice in silver coupes (it tastes better than it sounds).
If you have any room, head to Le Bar de La Chapelle for a decadent digestif of Rémy Martin Louis XIII cognac (€700 for 4cl), or perhaps just a stomach-soothing tisane.
THE FINAL WORD
A trip back into another century (but with all the luxury of the modern age), Le Grand Contrôle is unlike anything else on the market – thanks to its location on the grounds of Versailles. Check in and live out your wildest Marie Antoinette fantasies.
BOOK IT: Rates start from €2,000 per room per night. airelles.com
All images courtesy of Airelles Château de Versailles, Le Grand Contrôle.