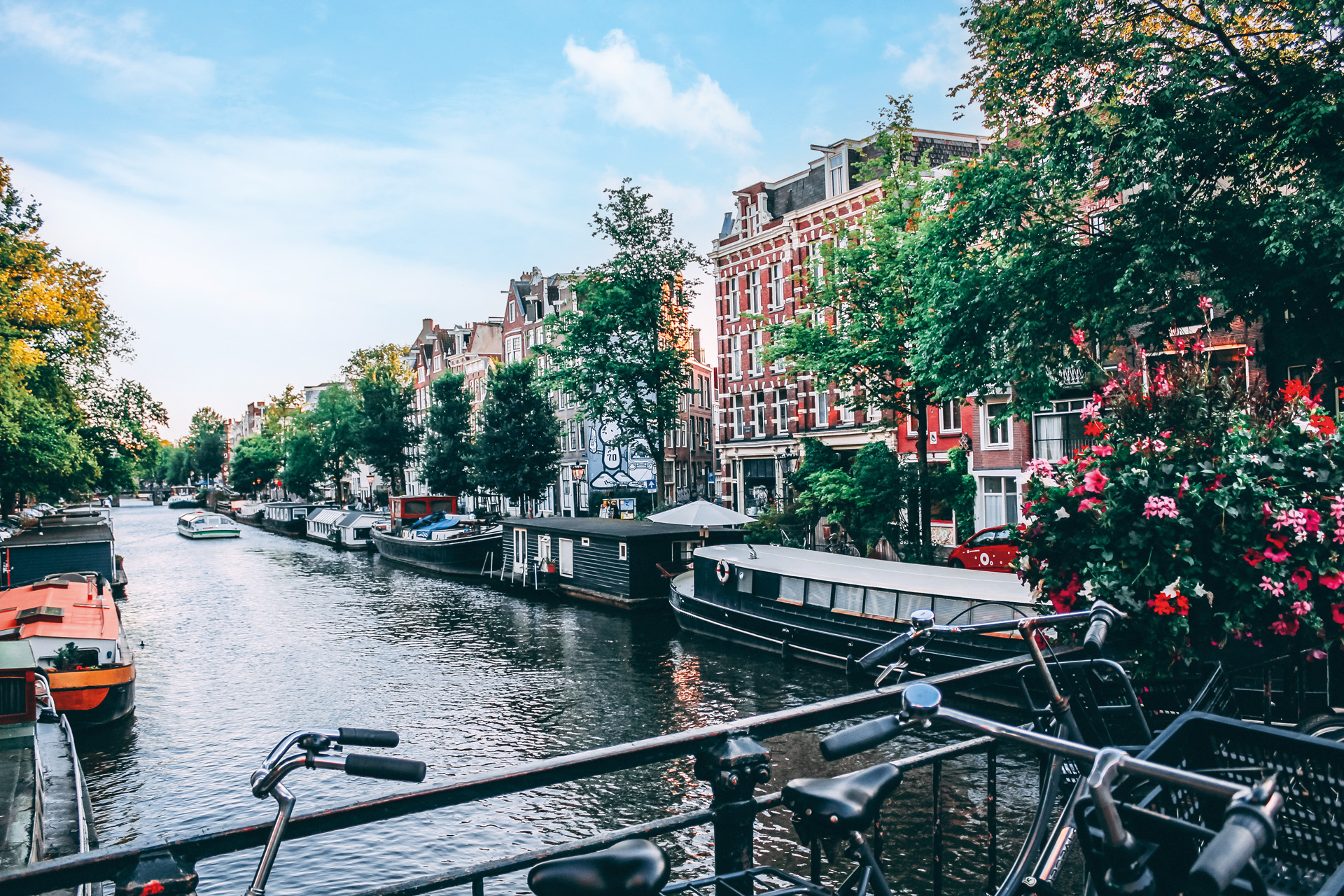 Canalside Cool: The Best Hotels in Amsterdam
---
Fiona Duncan explores Amsterdam's hottest spots
No longer just a destination for stag parties (in fact, they're positively discouraged), Amsterdam has reinvented itself as Europe's capital of cool – and culture. Fiona Duncan goes to stay in some of the city's vibrant new boltholes to discover the best hotels in Amsterdam.
Read the C&TH Responsible Tourism Guide
The Best Hotels in Amsterdam
Amsterdam has become adept at repurposing old buildings as hip hotels. You might choose The Crane by Yays, a vintage crane in the former Eastern Docklands (achingly romantic) or Sweets, a collection of bridge operator cabins all over the city, converted into independent hotels suites (cute). Or you could opt for one of these four rather less unusual but nonetheless fun and vibrant hotels, which all make excellent bases if you are lucky enough to have tickets to the once-in-a-lifetime Vermeer exhibition at the Rijksmuseum, on until 4 June. Even if you haven't managed to bag a ticket, the exhibition has put Amsterdam in the spotlight, reminding us what a wonderful place it is for a short break.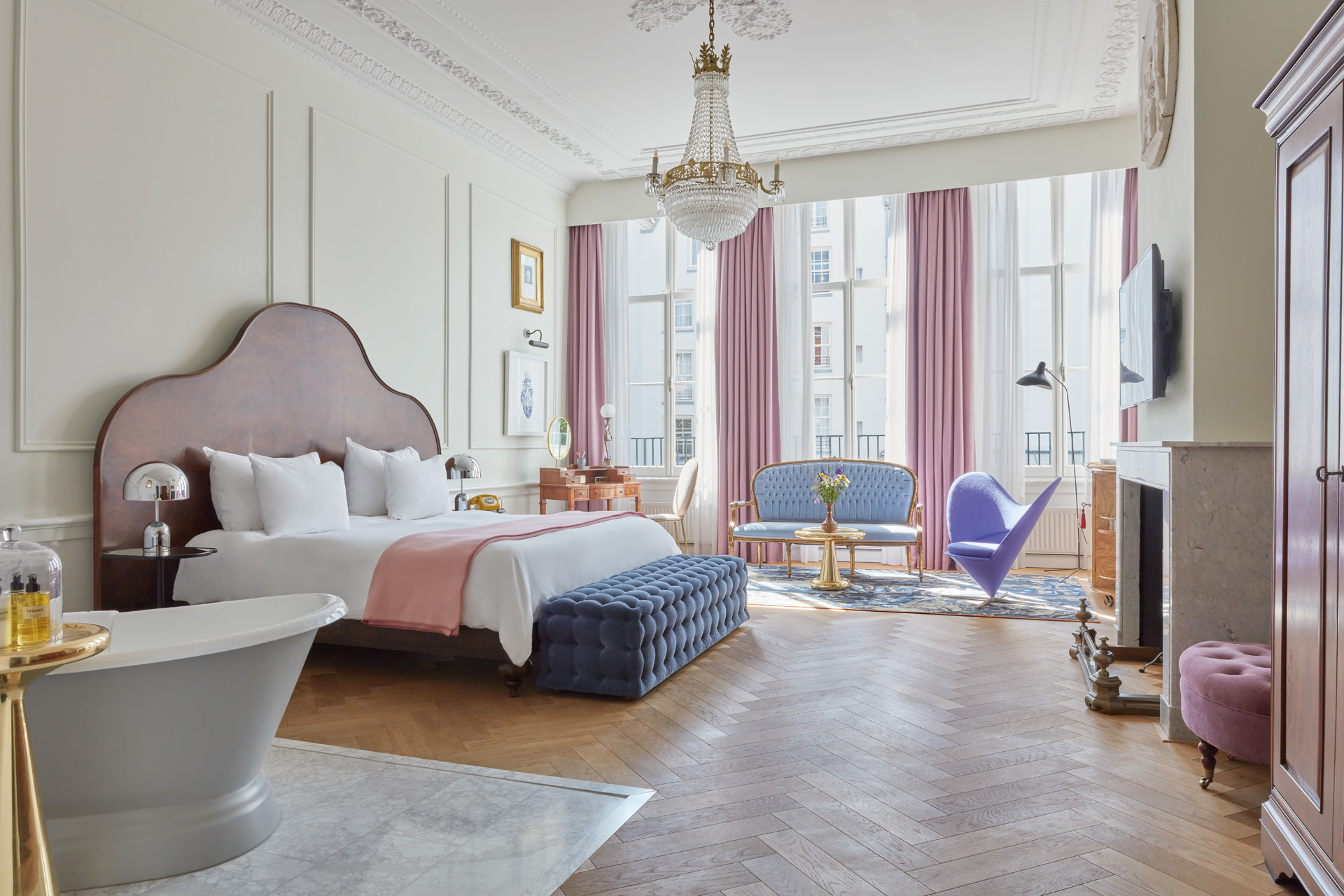 Pulitzer Hotel
Canal house luxury. The Pulitzer consists of not one but 25 adjoining 17th and 18th century canal houses, each one different externally but knitted together internally to create a fabulous 225-room hotel fronting gracious Prinsengracht and Keizersgracht in Amsterdam's best bit: the charming and buzzy Nine Streets neighbourhood. The location is perfect. Back in the early Sixties, Peter Pulitzer was the first to fashion a hotel out of canal houses: he purchased ten, which grew eventually to 25. In 2016, they were reimagined by Jacu Strauss of the Lore Group, which perfectly mixes quirkiness and character, including historic references, with a fresh, contemporary feel. The hotel is full of surprises, from zany decorative touches mixed with original features and colour palettes taken from Vermeer's masterpieces to sudden open spaces, including the tranquil inner garden hidden in the heart of the hotel and two classic boats for touring the canals. The food's excellent too: popular neighbourhood restaurant Jansz serves modern Dutch dishes and the sultry bar is a great place for a cocktail.
BOOK IT: Doubles from €399. pulitzeramsterdam.com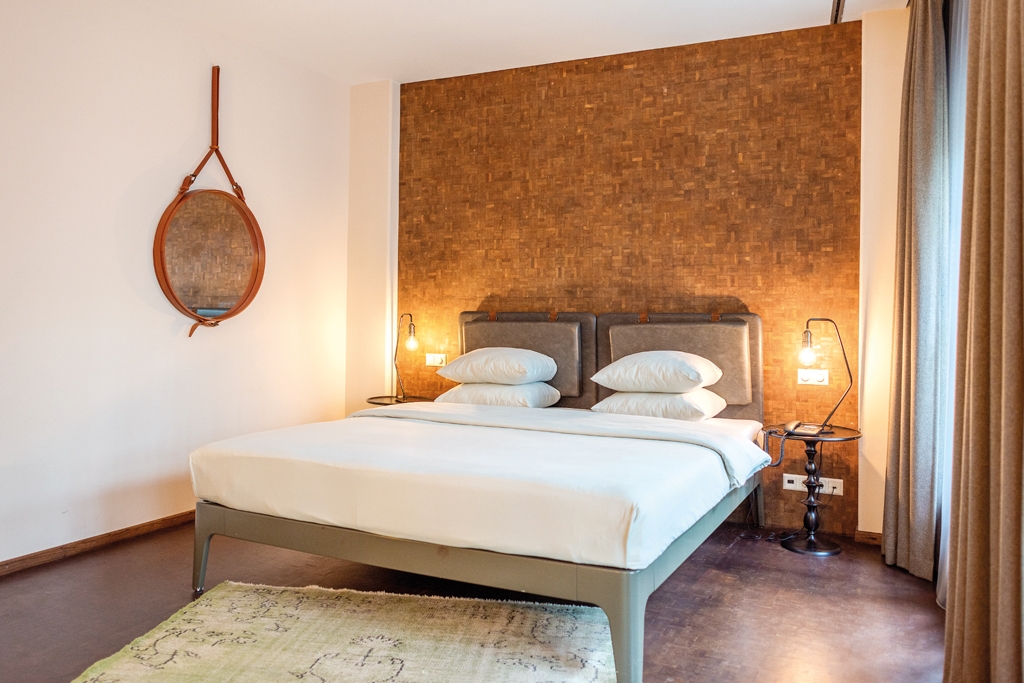 Hotel V Nesplein
With a location in the middle of Amsterdam's theatre district, here is a repurposed office building with a funky new look, typical of nicely unpredictable modern Dutch design, employing retro furniture, mustard yellow walls and old theatre posters plus a chandelier hung to waist height and a hearth suspended from its own chimney. The Lobby bar and restaurant, always buzzing, spills onto a large terrace. 
BOOK IT: Doubles from £196. nesplein.hotelv.com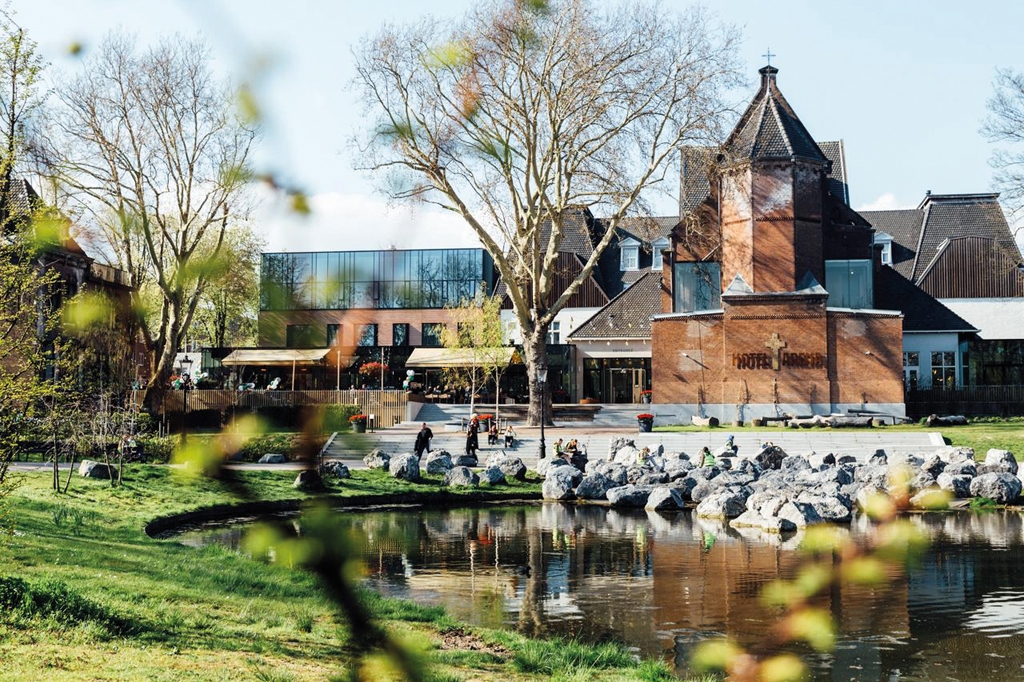 Hotel Arena
Built as an orphanage, Arena is now an airy contemporary hotel in an equally airy location overlooking Oosterpark. Inside, there's a glass-walled café/restaurant (brilliant buffet breakfast) and cool minimalist-meets-Seventies interior design. 
BOOK IT: Doubles from £172. hotelarena.nl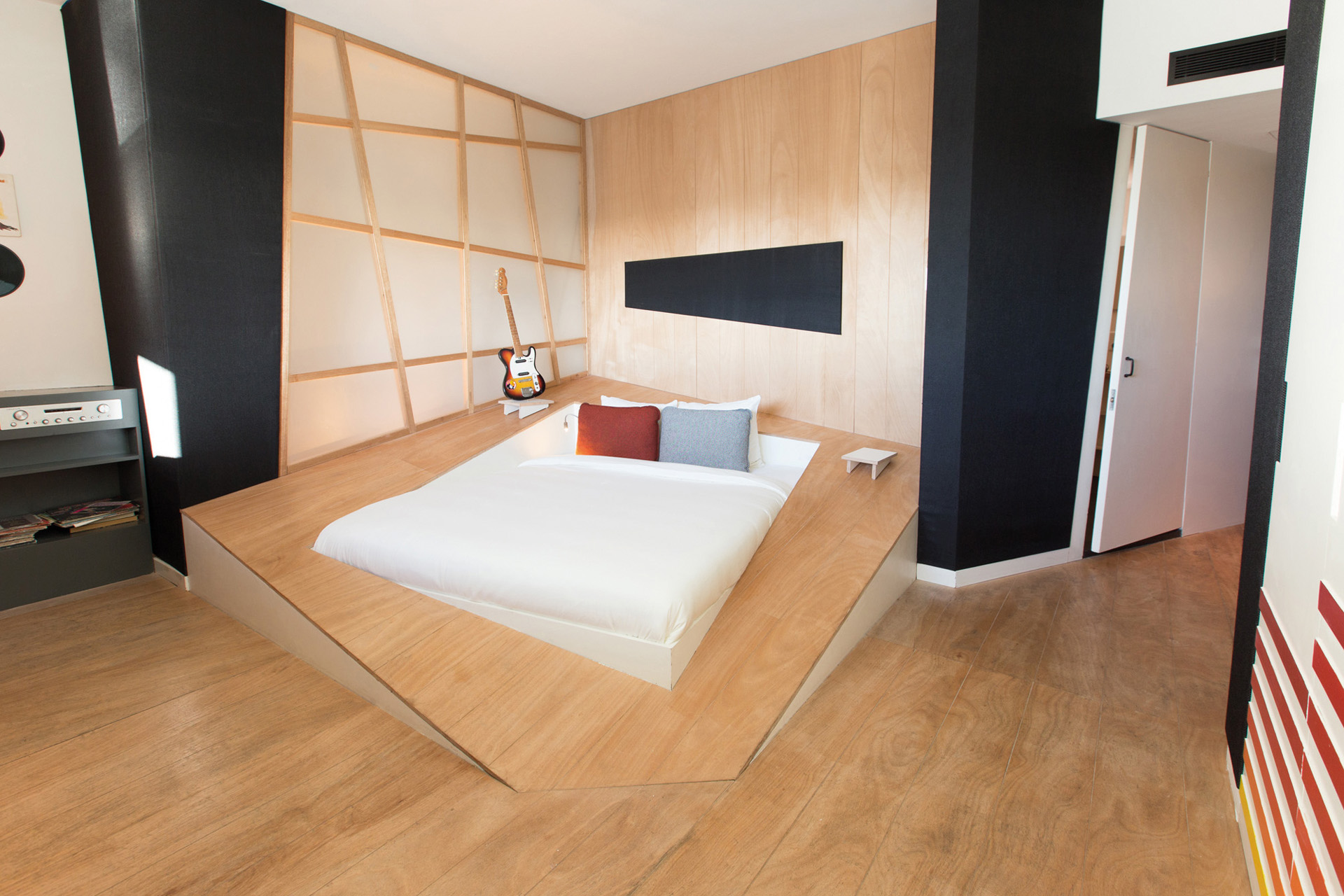 Volkeshotel
In the former offices of De Volkskrant newspaper, this is a 'place for everyone, a hotel of the people' according to Volkshotel and that's just what it feels like. Canvas, the rooftop former canteen becomes a nightclub at weekends; there's artists in residence; communal tables in the lobby; live music, newsprint wallpaper, people working; people chatting; people eating and drinking – you get the drift. Rooms are simple, rational and comfortable. An affordable, artistic hub. 
BOOK IT: Doubles from €112. volkshotel.nl 
Don't Miss…
Amsterdam is the ultimate easy destination for a weekend break, with a thriving cultural and foodie scene.
Best Cultural Spots In Amsterdam
House de Brakke Grond is the first port of call for contemporary Flemish arts, including experimental theatre, live poetry and performance art. Meanwhile, Mediamatic's interactive installations and events blur the boundaries between art and biotech, and De Appel encourages new curators to create something different.
Best Historical Spots In Amsterdam
The Grachten Museum tells the story of how a fishing village turned into the modern capital. The Het Scheepvaartmuseum explores Holland's naval history. The Verzets Resistance Museum displays tales of the Dutch Resistance in WWII, as well as Amsterdam under German occupation.
Best Foodie Spots In Amsterdam
Make your first pitstop Saint Jean, a hip bakery serving up stylish caffeine fixes and plant-based pastries. Break for lunch at Louie Louie, washed down with cocktails. For dinner, make a reservation at Michelin-starred Green, which offers a gourmet vegan menu and fab views from its top-floor spot on Amsterdam's innovative new Valley building.
Best Nightlife Spots In Amsterdam
Head to Mata Hari (named after the exotic dancer and double agent) for cocktails or beers by the side of the canal. Wine fans will love GlouGlou, a natural wine bar serving bottles from the Netherlands and beyond, while those wanting to go out-out need to add Murmur to their list.