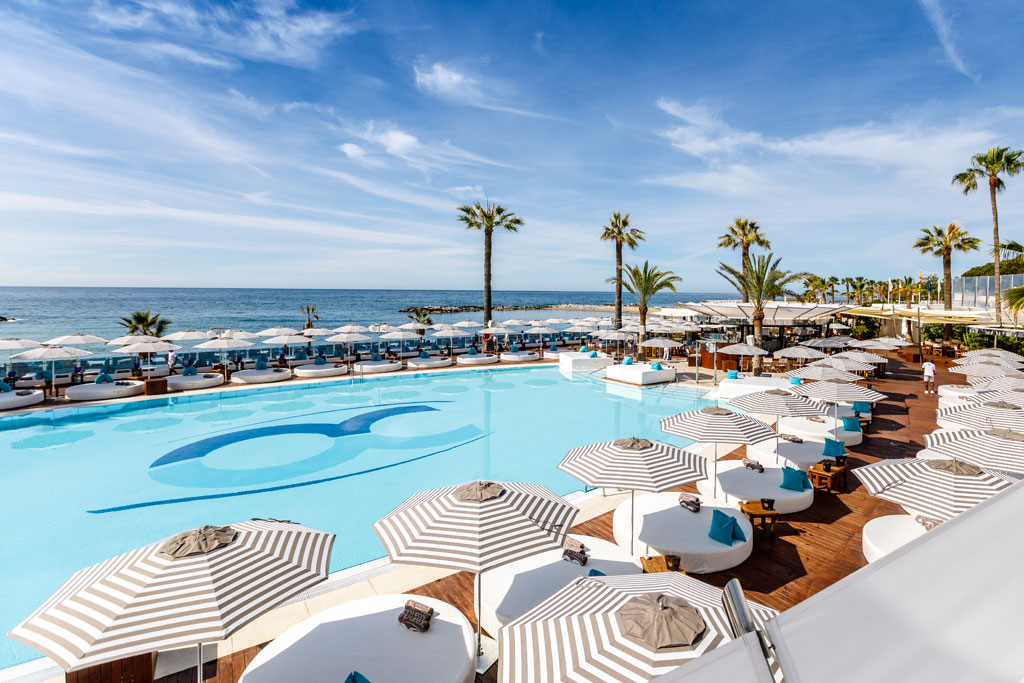 4 of the Best Beach Clubs in Europe
---
Ibiza, Marbella, Greece or Italy? Whatever your vibe, spend your days in the sun at one of these beach clubs
We're dreaming of a post-lockdown beach break. Are you? If spending long sunny days lounging on a day bed having food and drinks brought over to you, while you listen to the sound of the ocean and dip in and out of cool blue pools appeals to you, you need to plan your next beach club visit. As the season draws to a close, start planning 2020's great escape with our round-up of some of the best beach clubs in Europe, from Marbella to Zakynthos.
UK Sea View Rentals To Book Now
Post-Lockdown Travel: Best Beach Clubs in Europe
Ibiza: Atzaro Beach Club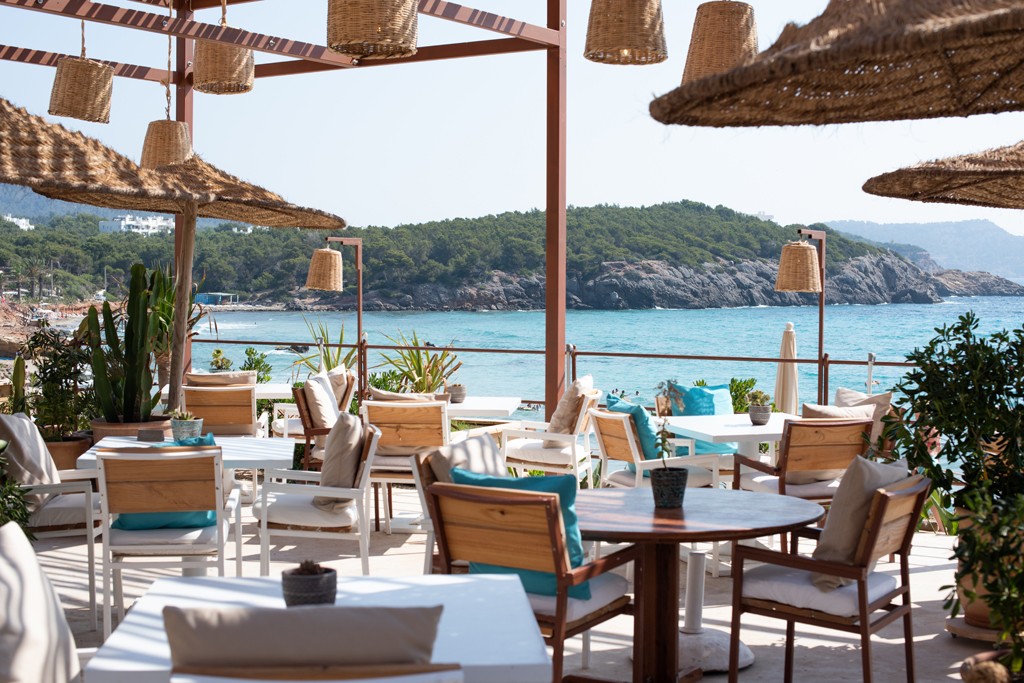 Atzaro Beach club and restaurant can be found on the north-east side of Ibiza on the beautiful beach of Cala Nova and celebrated a big year in 2019 with a chic new look and concept. Reminiscent of traditional 70s Balearic style, the Atzaro Design team have created a super relaxed, chic environment with a combination of natural woods and rattan, terracotta pots alongside beautiful local plants cacti and palms. The soft neutral colour palette accompanied by the sound of the crystal-clear waves gently breaking over the beach creates a tranquil environment in which to while away the lazy summer hours. The relaxed seating areas, day beds and soft cushions create a casual relaxed lounge feel by day or a more vibrant energetic vibe by night. The menu includes healthy, vegetarian, light salads, paella and seafood with locally sourced ingredients and an emphasis on sharing plates. Review by Nicole Smallwood
HOW? atzaro.com
The C&TH Guide To The Maldives
Italy: Maxi's Beach Club, Portopiccolo Sistiana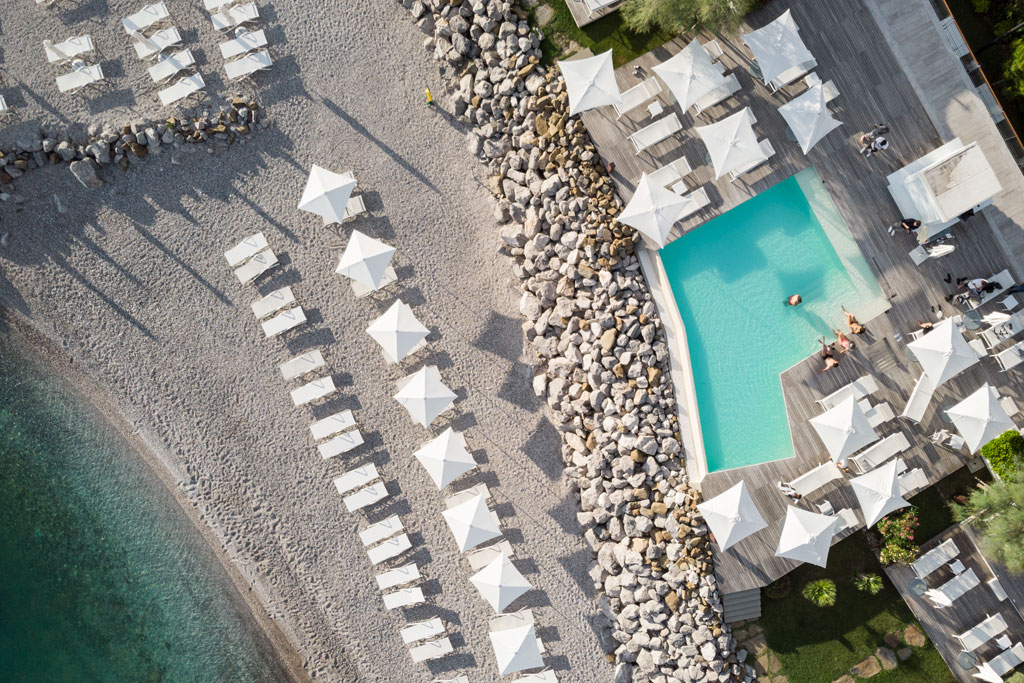 Situated on Portopiccolo's white shingle beach is Maxi's Beach Club, one of Italy's most exclusive beach clubs. With panoramic sea views, comfortable sunbeds and gazebos, this is the perfect spot for long summer days spent lounging in style. All ages are welcome at Maxi's, with games and entertainment on offer to keep younger guests happy. Keep an eye out for pool party dates and guest DJ spots.
Zakynthos: Peligoni Club
Lighting up the quiet north-eastern coast of Zakynthos for more than 30 years, The Peligoni Club is the perfect combination of picture-perfect white-washed cliff-top lounging and family-friendly entertainment for those travelling with kids. It has the rare capacity to please both those travelling with and without kids, offering all-level watersports, multiple lounging areas and options, varied excursions and evening entertainment. There is a real family feel at this beach club, where you'll feel at home within hours of your arrival – and whether you're visiting for the day for a spa treatment and a cocktail or setting up camp on the white-washed cliff-top decking, few fail to return after the Peligoni beach club experience.
HOW? Reopening 4 July 2020 | Membership Rates start at £140 in low season and £315 in high season., with watersports upgrades available. peligoni.com | 0208 740 3001
Marbella: Ocean Club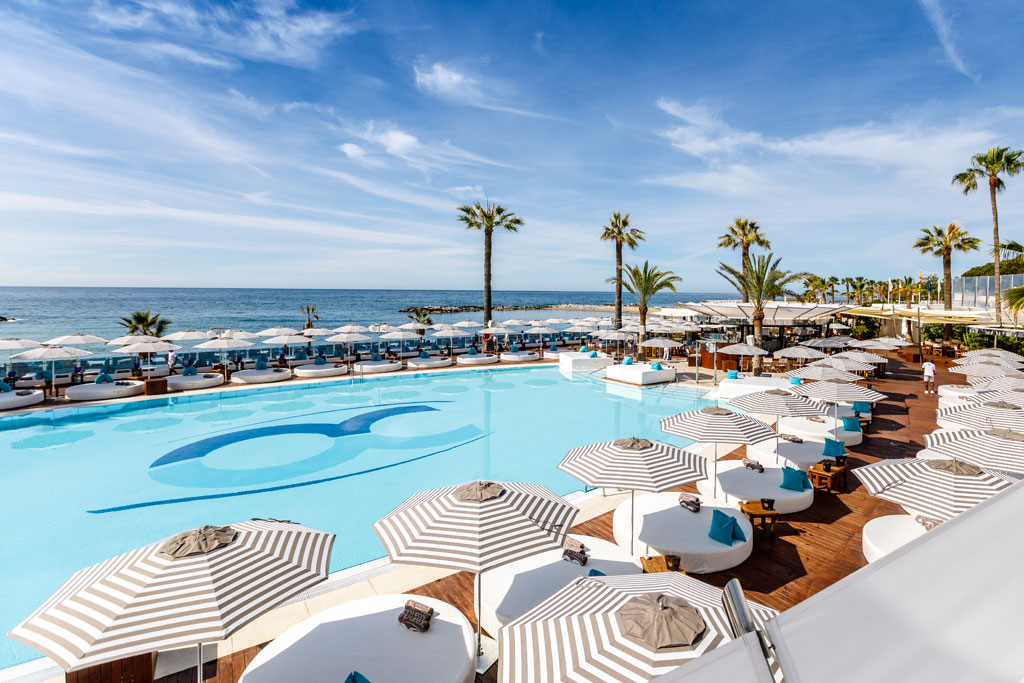 Some beach clubs are great for people watching, others deliver fantastic food. Some have a beautiful sea view, others an enormous, salt-water pool for swimming in. Ocean Club, Marbella has all of the above. With fresh, delicious food available from 12pm from the Amai kitchen and champagne in abundance, it's the perfect place for a day well spent lounging on one of the enormous day beds. It's also well worth checking out the season calendar for party nights and guest DJs – the themed club nights are amongst the most extravagant in Marbella (and usually sell out fast).
HOW? Reopening 2021 | Ocean Club, Marbella offers a starting rate of €135 for a small round day bed for maximum 3 people and goes up to €975 for a Super VIP Square bed for maximum 12 people (which includes 3 bottles of Dom Perignon champagne and carries an additional minimum spend of €1,500)| oceanclub.es