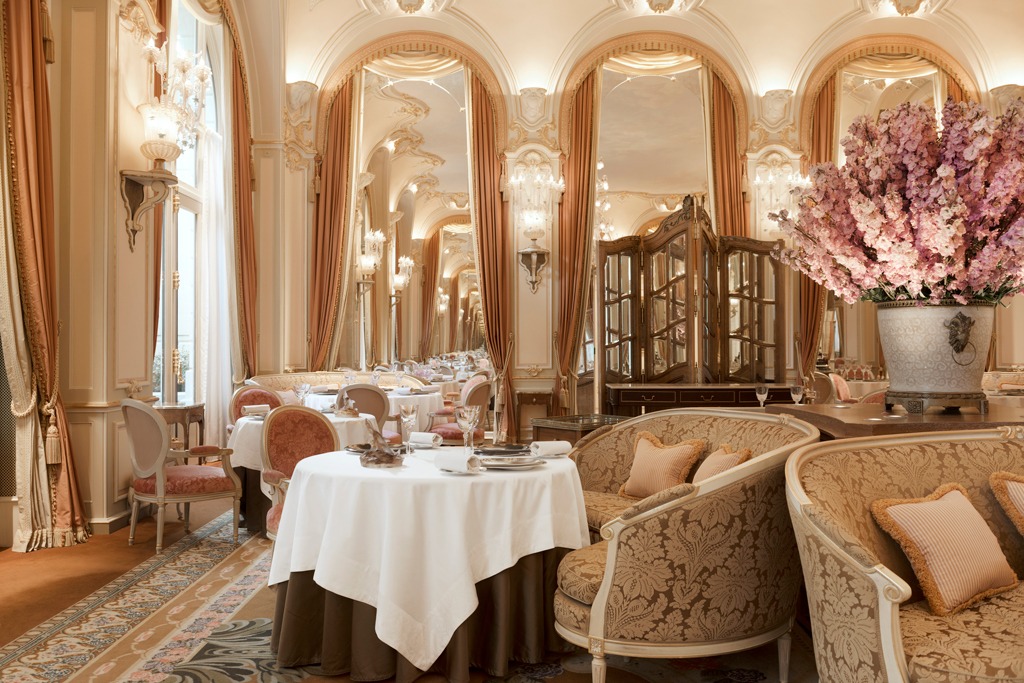 The Best Hotels in Paris To Fall In Love With
---
The City of Light always deserves our attention. It's had a tough time recently but its revolutionary spirit lives on. From historic haunts to designer digs, art-lovers' delights to trendy new boltholes, this is the definitive round-up of the best hotels in Paris. 
The Best Classic Hotels in Paris 2022
BEST PARIS HOTELS: FOR ART
Le Royal Monceau, Raffles – 8th arrondissement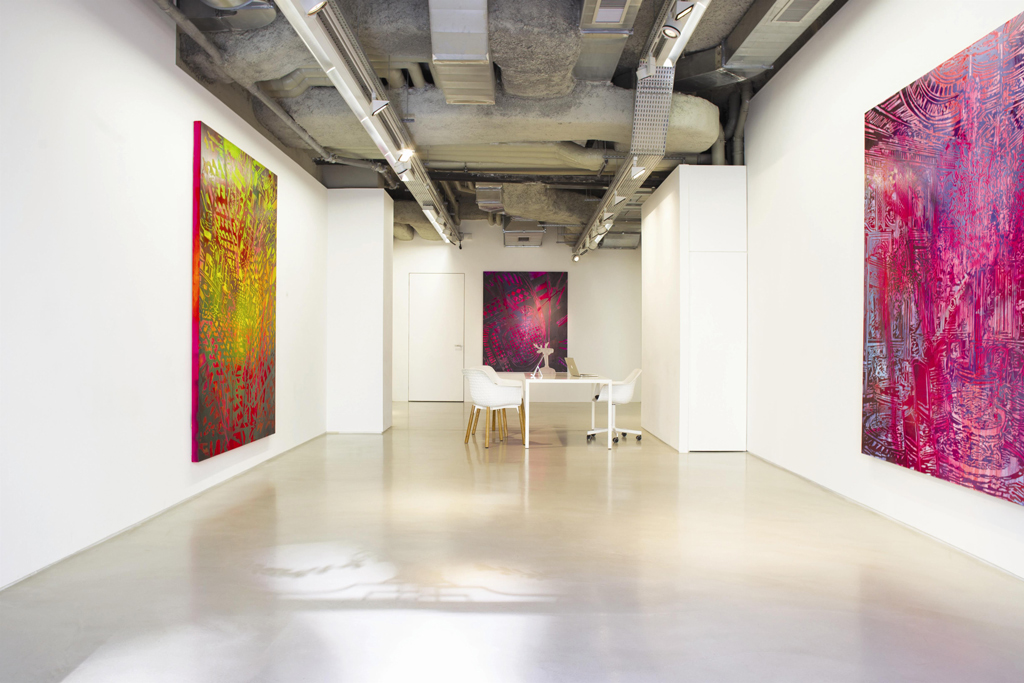 Even before you've clapped eyes on Russian artist Nikolay Polissky's installation of life-size wooden elk and deer on the first-floor landing, it's hard to miss the fact there's a serious art thread running through this heavenly hotel near the Champs-Élysées. Rooms are adorned with works from the hotel's impressive private collection (book in with the art curator for a tour) alongside coffee table art books from the in-house book store (there's an art gallery on site too) and handcrafted furniture by Philippe Starck. There's a cinema for watching art house flicks, where you can munch on caramelised popcorn by Pierre Hermé; a pure white Spa My Blend by Clarins, with the longest (23m) pool in any Parisian hotel; and a fresco of hand-glued shells decorating the Michelin- starred Italian restaurant, Il Carpaccio.
BOOK IT: raffles.com
BEST HIDDEN DESIGN GEM
Hotel 9Confidentiel – 4th arrondissement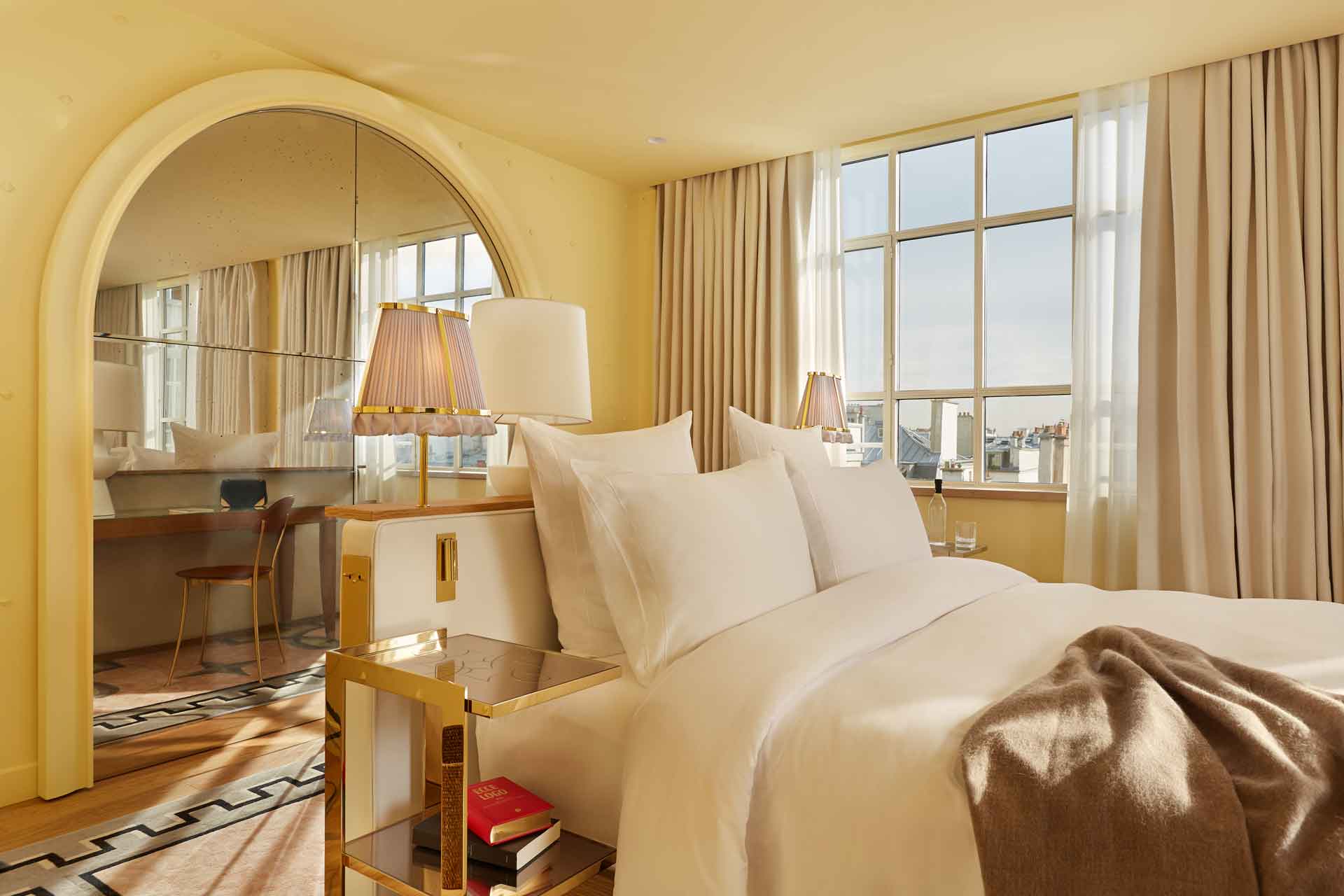 If you're seeking the pomp and flamboyance of Paris' luxe design scene, minus the fanfare, check out one of the newest (and chicest) hotels in the capital. Designed from start to finish by superstar Philippe Starck, this 29-room, three-suite petit hotel is nestled in a 1925 art deco building, which stands out in its elegance from its surrounding buildings only on closer inspection, and if not for the vintage car parked in front of the hotel to mark its position, it would blend in altogether. Starck's flair is evident throughout, with pastel tones contrasting with brass and bronze, inspired by the roaring twenties and the Hollywood starlets of yesteryear (indeed, each room is named after a former female cinema star). Rose-tinted mirrored walls create space and light (and an infinitely more appealing reflection) in the bathrooms, while the cosy bar is a nice spot for a cocktail away from the hustle and bustle of trendy Marais. Review by Rebecca Cox
BOOK IT: www.preferredhotels.com
BEST PARIS HOTELS: FOR TASTEFUL GLAMOUR
La Reserve – 8th arrondissement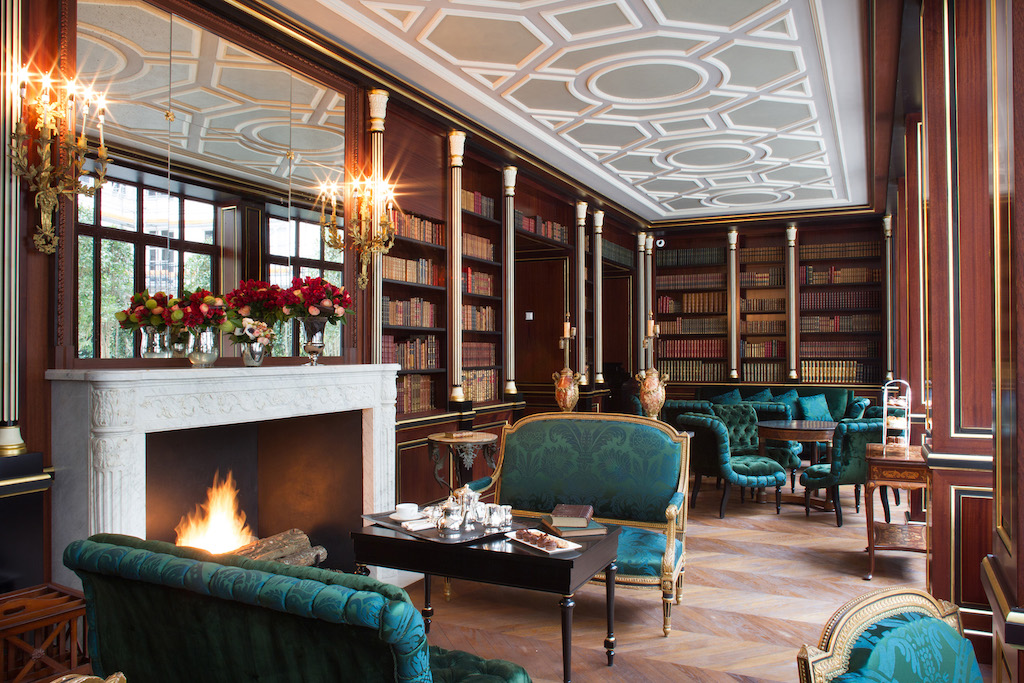 Rubbing stately shoulders with the Elysees palace and the Champs Élysées, La Reserve, the Rolls Royce of Parisian hotels with its Napoleonic splendour and Palace status, has a discreet yet generous philosophy on luxury. Once the home of Napoleon's half-brother, the building's Belle Époque bones have been rattled into the 21stcentury with designer Jacques Garcia's extravagant overhaul, one that neatly stitches state-of-the-art tech and smooth contemporary lines into the arresting historical opulence. Dusty french fancy is banished in the large suites for sumptuously modern velvet sofas, clean cut desks and an enormous contemporary style bed, expertly set against those Haussmann wall mouldings that prompt clichéd squeals of delight from tourists. The outcome of such a delicate blend justifies Parisian hotels' reluctance to operate as museums – satiating the romantic aesthetes and design crowd in equal measure. A soft, sophisticated library spills into a charming courtyard and conceals a plush secret smoking room (imperial-era opium haunt one suspects). Destination restaurants Le Gabriel and Le Pagode de Cos, both overseen by Executive Chef, Jérome Banctel, integrate Japanese cuisine into seasonal French fare amid grandiose pillars and gold embellished detail. To pinch the apt prose of French poet Baudelaire, 'Là, tout n'est qu'ordre et beauté, Luxe, calme et volupté: 'there is nothing but order and beauty, Luxury, calm and delight'. Review by Rosalyn Wikeley
BOOK IT: lareserve-paris.com
The Ritz – 1st arrondissement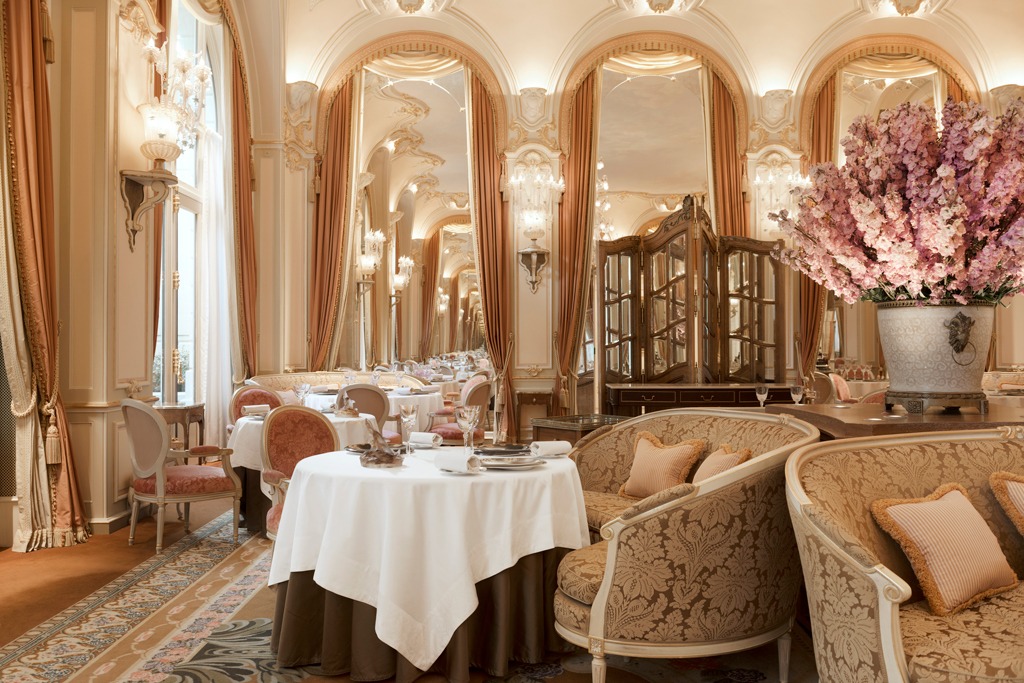 Fresh from a four-year overhaul, this beloved grande dame emerged last year all subtly spruced up and singing, with as much old-fashioned glamour as before. Rooms are still a cocooning vision of cream with antique furniture, period oil paintings and glass chandeliers, while new suites are named after the literary and artistic characters who once stayed here: Marcel Proust, F Scott Fitzgerald and Coco Chanel. The world's first Chanel spa has opened as part of the Ritz Club with specially created facials that leave skin glowing; the Salon Proust has been added for French afternoon tea; and Bar Hemingway is the spot for cocktails – full of memorabilia, including the author's original letters to his wife. A legendary hotel with five-star service that feels like stepping back in time.
BOOK IT: ritzparis.com
BEST HOTEL: FOR TRENDY PARISIAN CHIC
Hotel Des Grands Boulevard – 2nd arrondissement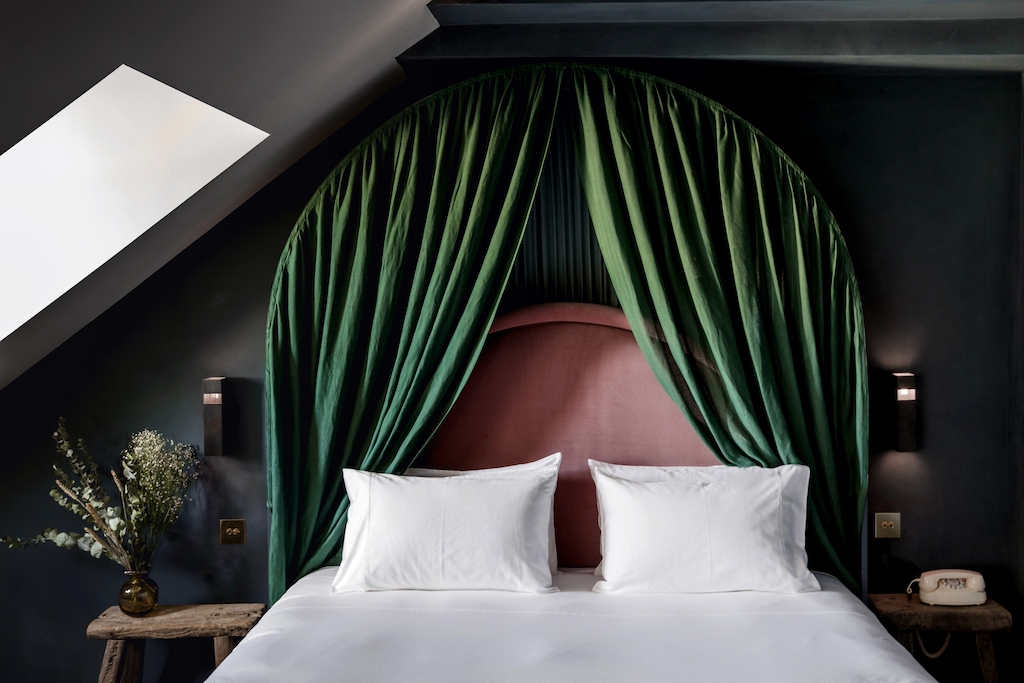 If you have yet to get to grips with Paris' new chic, Hotel des Grands Boulevard is a good place to start. The latest 50-room hotel from the Experimental Cocktail Group (as famed for its founders' childhood friendship as it is for its clipped hipster design) neatly exemplifies the city's new relaxed identity, more aligned with East London's polished bohemia than fussy French hospitality. Nestled in an undiscovered residential corner of the 2nd'arrondissement' and flanked by Faubourg Montmartre theatres and the Opera House; the hotel is the perfect launchpad for scaling this romantic city. The discreet entrance, secret passageway and relaxed reception area smack of the ECC brand – everything is easy, unpretentious and painfully cool. In a sun-soaked atrium enveloped in green plants, a modern story unfolds with suited-and-booted types talking business over frothy coffee, 'I work in tech' 30-somethings perching up at the bar and coiffered grand-mamams processing the new buzz from red cushioned benches. Working with Dorothée Meilichzon, the ECC group have spun an eclectic scene of Louis XVI splendour with the simple aesthetic of Revolutionary France (an ode to the arrondissement's history), not forgetting a hint of their own retro trademark. The canopy beds, Scandinavian lighting, rustic stools and dark moody walls blend vibrant romance with minimalist gusto, serving up an elevated simplicity fast conquering Paris. The breakfasts here cater to a spoiled international palate (you can forget 'just croissants'), while the lunch and dinner menu take heed from the aforementioned 'simple luxury' mission statement – the options are minimal and hedonistic (try their gnocchi with lamb ragout and chocolate tart with cereal ice cream: all lip-smacking stuff). Post dinner drinks can be found up on the roof terrace, a magnet for trendy Parisians defeating the cool winds with outdoor heaters and experimental cocktails aplenty. Review by Rosalyn Wikeley
BOOK IT: grandsboulevardshotel.com
BEST NEIGHBORHOOD HANGOUT
Le Pigalle – 9tharrondissement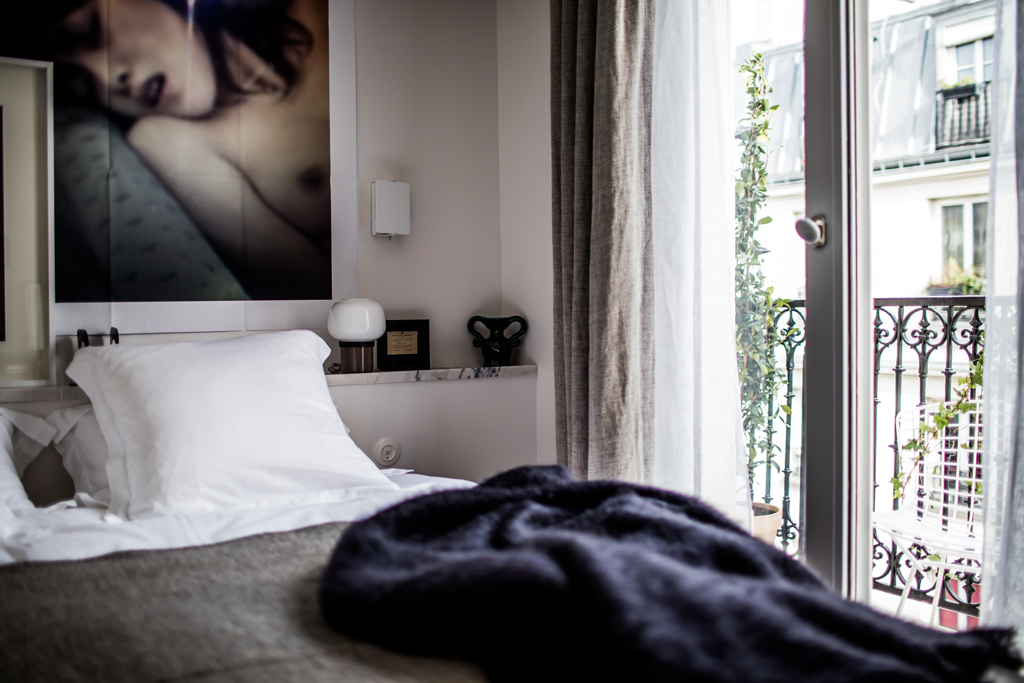 Le Pigalle, located near the Moulin Rouge in an area historically renowned for its seductive mix of seedy and sensational, assumes the character of a private members' club for a fashionable crowd – bashed-up leather chairs, low-slung sofas and phone-gazing hip young things. The reception morphs into dining space and a marble-topped island serves as bar and eaterie. It's hard to distinguish staff from guests. Inside, designers Charlotte De Tonnac and Hugo Sauzay have blended vintage and contemporary; bedrooms are cosseting pods with marshmallow beds, books, souvenirs and saucy snapshots of neighbourhood life – some have cocktail bars, turntables and a stack of vinyl. It's like staying at a friend's stylish Parisian pad, albeit one who makes a fine home-made terrine, sprinkles tomato dust on burrata and sources the best local croissants for breakfast.
BOOK IT: lepigalle.paris
BEST PARISIAN SPA HOTEL
Four Seasons George V – 8th arrondissement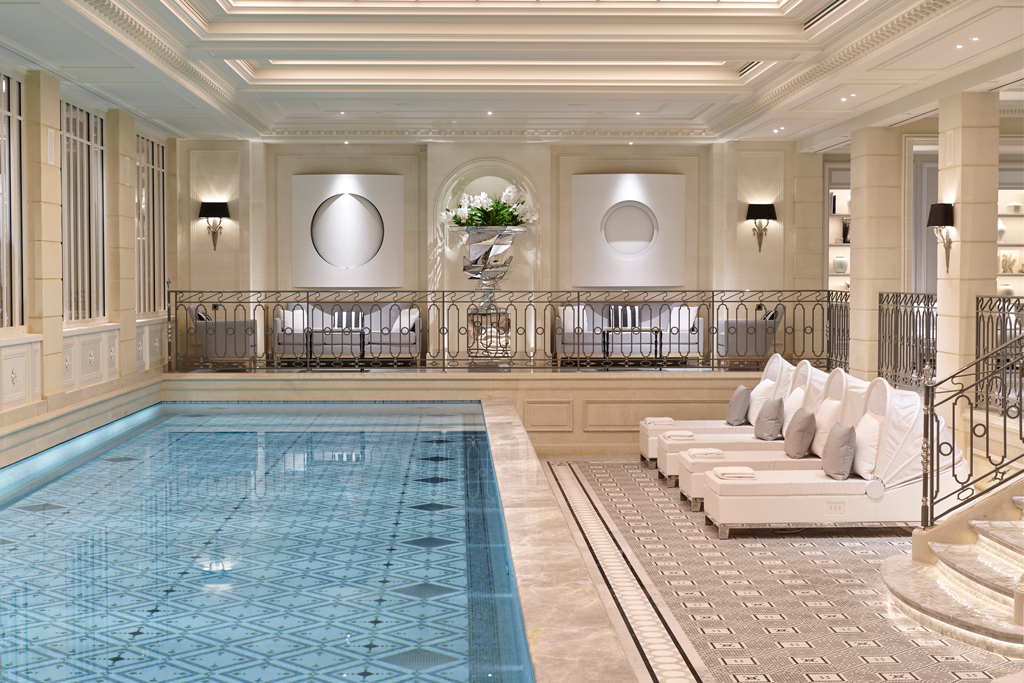 As poised and polished as the day it opened in 1928, the George V is Rive Droite at its best: 17th-century Flemish tapestries, marble mosaic floors, crystal chandeliers, wildly extravagant flower displays and spectacular artworks. It's no wonder Gwyneth Paltrow (right) just spent her honeymoon here. The 244 rooms are quintessentially French in classical Louis XV style – and huge by Parisian standards, more like a pied-à-terre. Wake up in the morning and head downstairs for a suitably extravagant breakfast, including quite possibly the best hot chocolate on the planet. The three restaurants have a galaxy of Michelin stars and the spanking new marble-clad spa is incredibly elegant, bringing with it a splash of contemporary. There's an enormous pool plus two hammams and a Technogym-equipped fitness centre.
BOOK IT: fourseasons.com
BEST HISTORIC HOTEL IN PARIS
Hotel Lutetia – Saint-Germain-des-Prés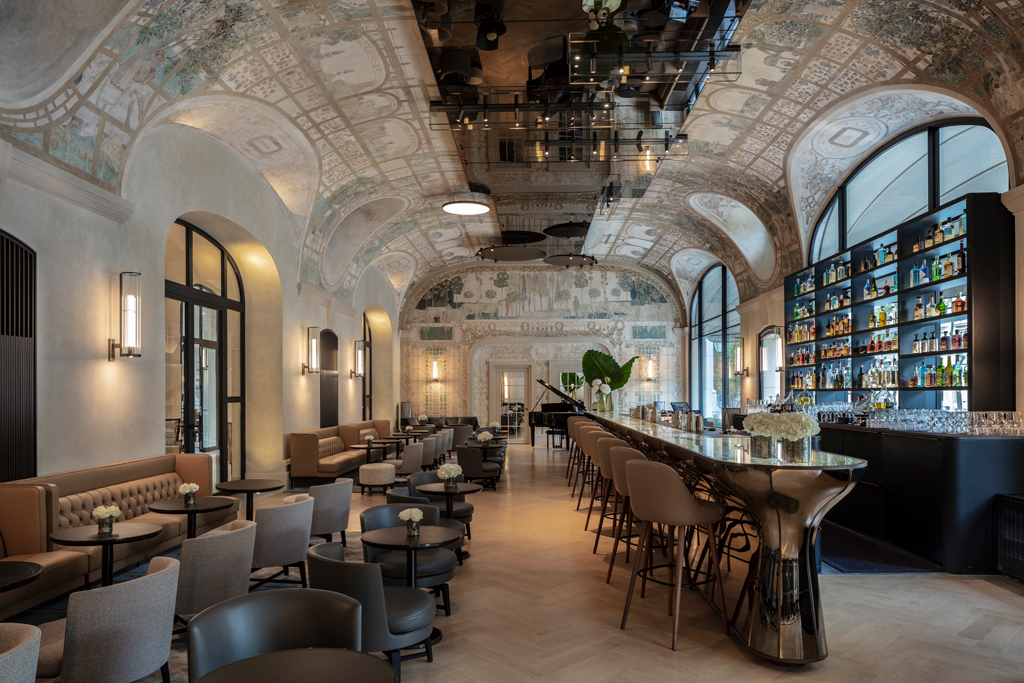 After a £177m four-year revamp, all eyes were on this Paris icon when it reopened its doors in July 2018. Architect Jean-Michel Wilmotte was the man in charge – and he has done a sensational job, injecting cool contemporary features while keeping the spirit of the historic building intact. For this is a place with a storied past. Built on the Left Bank by the founders of Le Bon Marché department store, the hotel was loved by the likes of Picasso, Matisse and James Joyce. Following occupation by the Nazis, the Taittinger champagne family bought the Lutetia in the 1950s, soon counting Serge Gainsbourg and César as regulars. The buzz is now back. Bar Joséphine is packed every night with a glamorous crowd (Brigitte Macron is a regular). The 184 rooms are understated, in shades of beige and blue with Murano glass wall lights, brushed oak floors and all- marble bathrooms. The swathes of marble continue in the super-slick new Akasha spa.
BOOK IT: hotellutetia.com
BEST HOTEL IN PARIS FOR EUROSTAR TRAVEL
Hotel 25Hours, Terminus Nord – Gare du Nord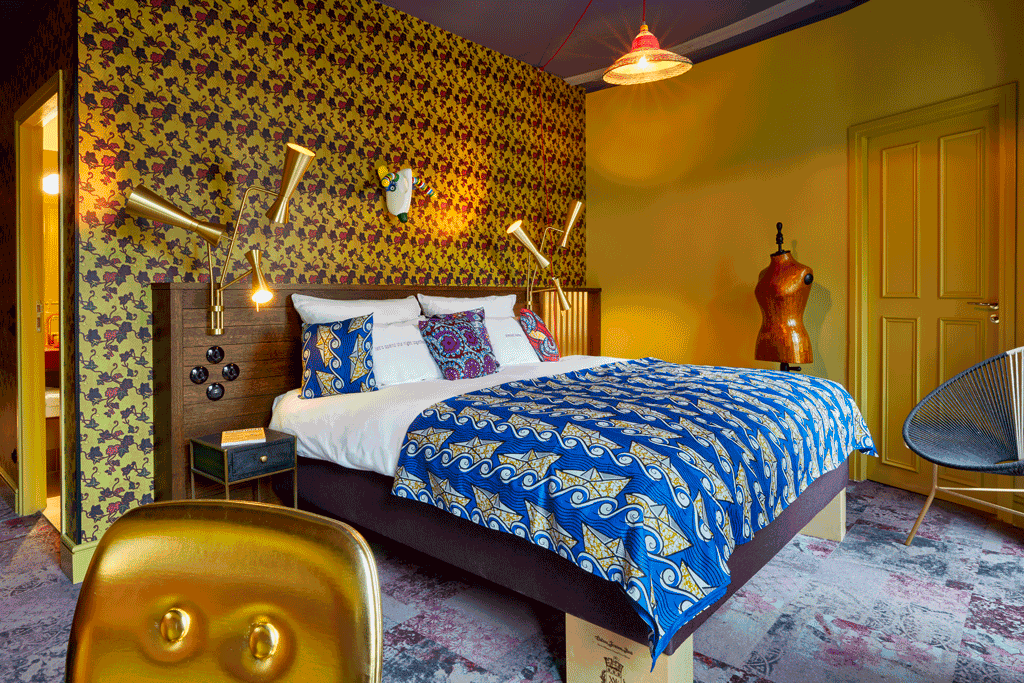 Part of the 25Hours collection, Terminus Nord is a game-changer for the Eurostar traveller. The hotel is discreetly sandwiched between too cafés, directly opposite opposite Gare du Nord in the 10th – a no-go arrondissement ten years back that is now defining Paris' 'woke' revolution. Terminus Nord itself personifies the new wave of Parisian design culture. Laid back functionality marries comfort, design is both conscious and soulful and the lines between work and play are blurred. From the boutique selling local brands by the reception to the extensive dining and café area, the spaces flow and industrial edges are softened with inviting sofas and chairs. A vivacious décor pervades and nods not only to the neighbourhood's cultural heritage – a North African, Middle-Eastern medley – but uses local fabrics, prints, products and even local stories in their coffee table books to support the community. In the evening, these 'petite boudoir' rooms really come into their own. The deep red fabrics lift the crimson sunset over Gare De Nord's imposing rooftop statues, and the dim, naked bulbs serve up a warm and sultry cocoon amid Paris's hustle and bustle. The cultural thrust behind the interiors spills onto the menu, a kitsch broad-sheet style contraption teeming with Middle Eastern and North African favourites – from beef cigars Moroccains to Israeli style Hoya's prawns – along with more worldly 'hipster' dishes international travellers are accustomed to. An extensive dining room and café area blushes with West Anderson pink, velvet chairs recalling Jeff Koons pink balloons, and exposed copper pipes and ventilation. Breakfast is kaleidoscopic, indulgent and more European. Laptops are welcome. This is a progressive hotel apace with the demands of modern life while summoning a bygone community spirit. Upon leaving I pass a group of teenagers playing cards across the farm kitchen-style table in the clipped café space. Such is the spirit of 25hour Terminus Nord. Review by Rosalyn Wikeley
BOOK IT: 25hours-hotels.com 
BEST LUXE HOTEL IN PARIS
Nolinski – 1starrondissement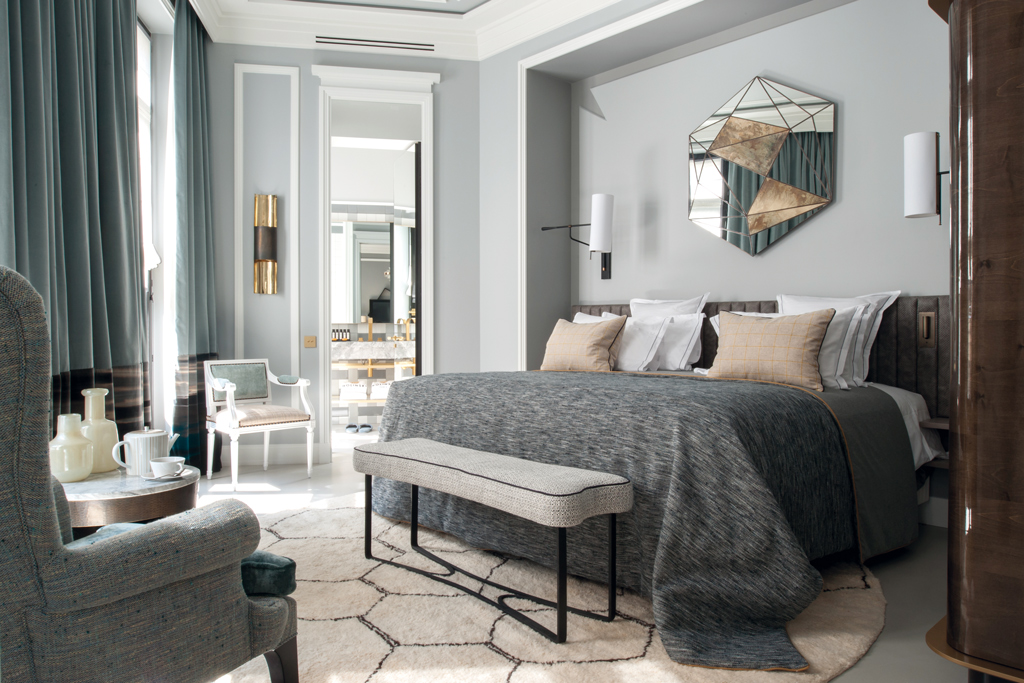 Sandwiched between the Garnier Opera House and the Rue Saint-Honoré, the Nolinski oozes a contemporary Parisian cool typical of architect Jean-Louis Deniot, who has flawlessly blended avant-garde design with the old bones of a grand Haussmannian building. It's as though you've been hauled off one of the city's busiest streets into a silkier dimension, with blue and green hues, smooth lobby music and provocative art, such is Deniot's intention in creating a space more reminiscent of a fictional traveller's plush home (Nolinski's) than a hotel. Jagged geometric mirrors, standalone cube minibars and zigzag cornicing arrest the eyes, while lavishly-sized beds, marble bathrooms and Juliet balconies remind guests of the first arrondissement postcode. Dare to break the serene mirage as you dip into the pristine pool, reflected on the mirrored ceiling. Review by Rosalyn Wikeley
BOOK IT: nolinskiparis.com
The Best Art Exhibitions in London | Great British & Irish Hotels | London's Best Jazz Bars