The Best Hotels in Tuscany
---
You next Italian getaway, sorted
Tuscany, a region in central Italy known and loved for its rugged landscape, rolling hills, olive groves and vineyards is a favourite getaway for many. Full of romance, history and charm, here are some of the best hotels to book – from grand castles and nature reserves to an ancient inn.
The Best Hotels in Tuscany
Villa Lena
Calling all foodies, Villa Lena is Tuscan hideaway for you. Located just south of Pontedera, Villa Lena offers a creative agriturismo experience in the Tuscan countryside, between Pisa and Florence. Having recently opened the farm-to-table restaurant, Osteria San Michele, fresh produce is at the heart of it, and it's grown in their organic orto, overseen by Head Gardner Pierluigi (he has 25 years of experience working on the land). The menu includes strawberries, cucumbers, eggplants, zucchini, watermelons, and potatoes in the summer through to cavolo nero, beetroot, radishes, and white truffles in the autumn. This is complete with organic wines, and specialty cocktails, spearheaded by Head Chef Marco Baldeschi.
'Villa Lena is about bringing a contemporary and creative flourish to the traditional Tuscan lifestyle, and we are delighted to see this coming together perfectly in our restaurant,' says Lena Evstafieva, owner, and founder of Villa Lena. 'Both organically and by design, Villa Lena has always been a hotbed of creativity and collaboration, so working with such an incredible and eclectic team to create a new restaurant is the perfect reflection of this central ethos. As so often is the case, the outcome is even greater than the sum of its parts.'
For a reset, try their Create and Restore Program that includes a three night's stay on half board (breakfasts and dinners included), creative ceramic workshops with artist in residency Eloise White, yoga classes, a guided hike, pasta and cocktail making classes, as well as olive oil and wine tastings.
Book it: villa-lena.it
COMO Castello Del Nero
The first European property by COMO Hotels and Resorts, Castello Del Nero is nestled within a 740-acre estate in the Chianti hills of central Tuscany. The grand twelfth century castle oozes luxury inside and out with an interior that merges Renaissance frescoes and contemporary design by Paola Navone. There's plenty on offer for the mind and body, from the deluxe spa — the region's first Asian-inspired wellness facility, the COMO Shambhala Retreat, as well as a heated outdoor pool and fitness area named the Forest Gym, tennis courts and walking trails.
Then there's Michelin-starred at La Torre, which is overseen by Executive Chef Giovanni Luca Di Pirro. Here, there's an ever-changing menu of Italian dishes made with local ingredients, while the atmospheric La Taverna serves signature Tuscan favourites in the castle's original kitchen, dating back 900 years. A collection of curated culinary experiences also allow guests to learn and taste the Tuscan produce, from a truffle hunt to wine tasting in the castle cellar.
Book it: comohotels.com
Oasyhotel
A pioneering nature-immersive wilderness retreat, Oasyhotel is situated within the protected Dynamo Oasis Nature Reserve in the San Marcello Piteglio region, and offers 16 lodges that's ideal for families, friends, couples and solo travellers alike.
Combining environmental conservation, social responsibility and positive responsible tourism, the family-owned and privately run, Oasyhotel is a non-profit organisation with all hotel revenue going towards the conservation of the Oasi Dynamo reserve.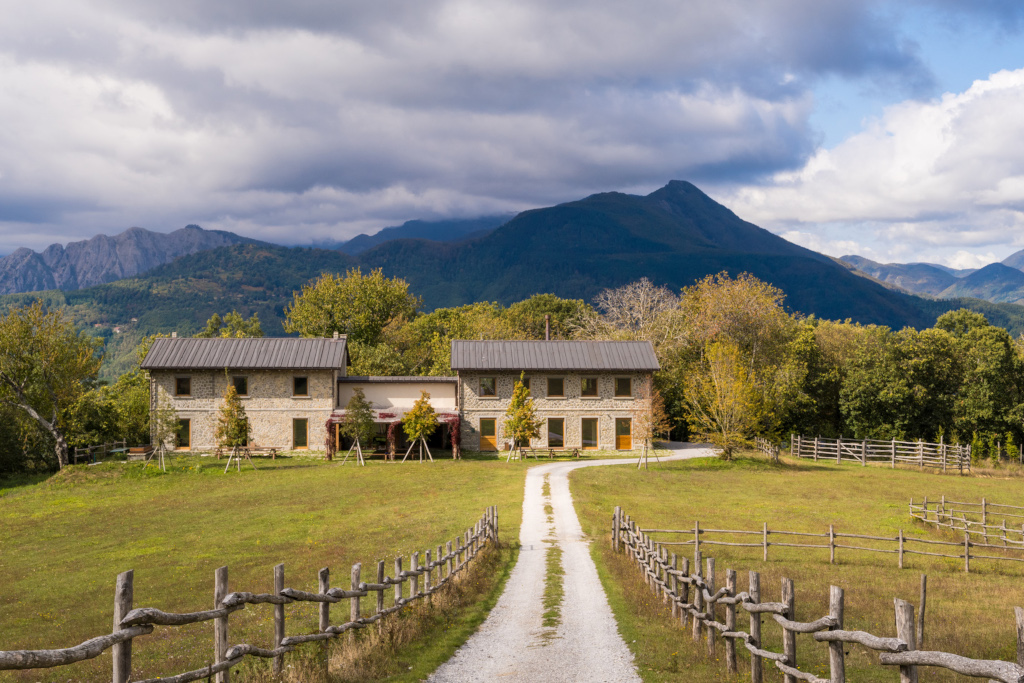 The expansive 1,000+ hectares of land consists of forest, farmland, lakes and rivers with rare plants and a huge range of biodiversity along with wildlife including wolves, deer, and wild boar. There's a whole host of active outdoor adventure and wilderness wellbeing activities (from wolf tracking to horse riding, foraging, forest therapy, kayaking, and meditation).
Guests can also become a Tuscan farmer for a day at its Oasi Dynamo Farm with an interactive farm tour and cheese-making classes, which is then eaten for lunch. Farm-to-table cuisine is popular here too, with two main restaurants for guests to choose from, Le Felci which is located in a stone farmhouse close to the lodges, and the open-air Casa Luigi that's a perfect spot for long Tuscan-style lunches overlooking the nature reserve.
Book it: oasyhotel.com
Lupaia
Located on a hilltop overlooking Montepulciano and the surrounding countryside, Lupaia offers a tranquil escape, Tuscan style. Set on a country estate, the small but perfectly formed hotel promises an intimate and romantic hideaway with just 12 rooms and suites that are all unique, and spread across five ancient farmhouse buildings.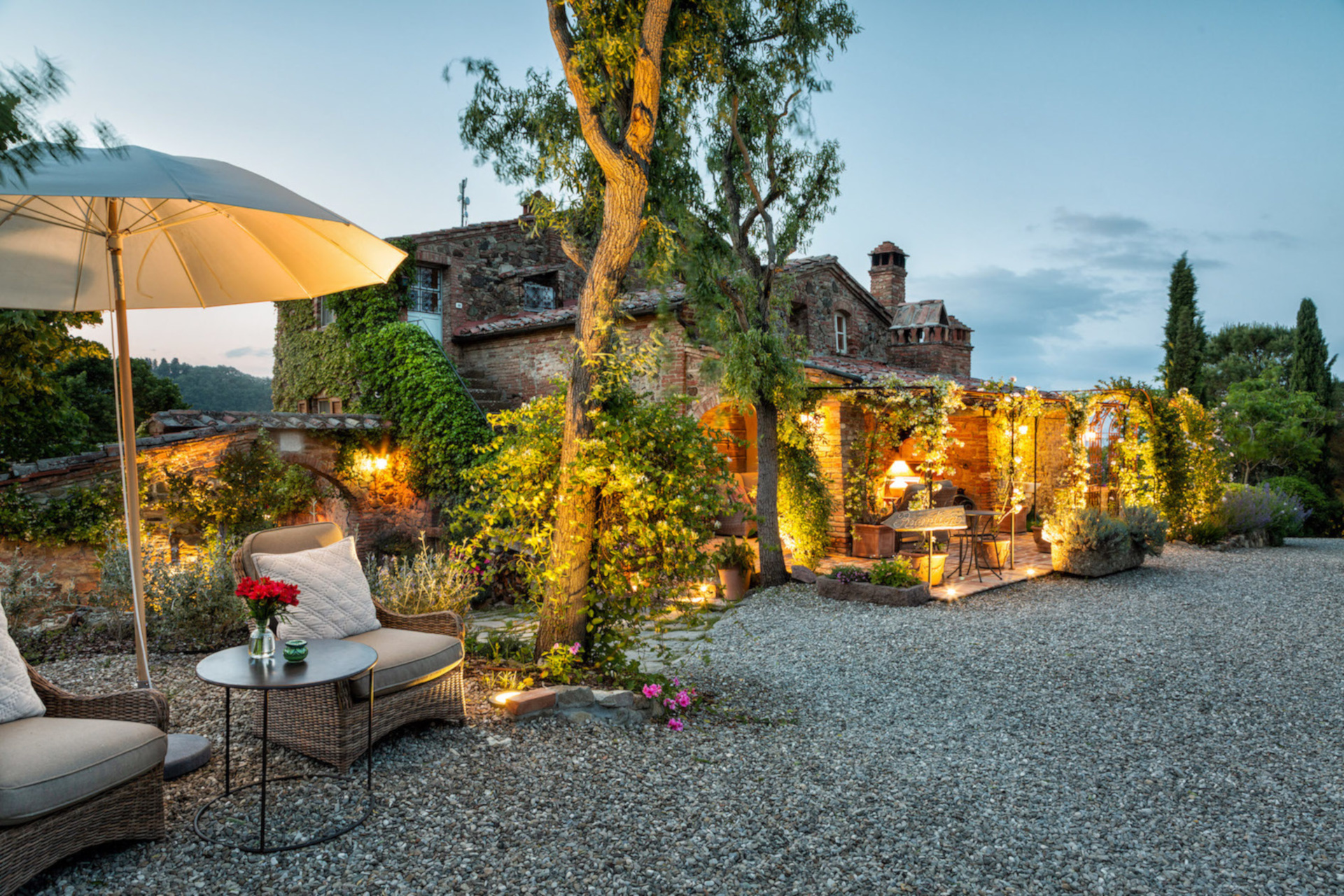 At the heart of the hotel is the main house and annex that dates back to 1622, with an open kitchen where guests meet every evening for an authentic home-cooked, four course menu, with ingredients from their organic vegetable garden and the local markets. The menu changes every day and includes traditional Tuscan dishes and classic Italian favourites.
For exploring, Lupaia is close to the historic towns of Siena, Arezzo, Florence and Perugia, and for relaxation try out the hotel's infinity pool that has views of the village of Montefollonico and rolling hills.
Book it: lupaia.com
Castello di Casole, a Belmond Hotel
Romance galore, the Castello di Casole property by Belmond is set within 4,200 acres of land that includes a game reserve, vineyards and olive groves. When it comes to the accommodation, the hotel consists of 39 indulgent rooms, and be sure to check in the Limonaia suites (a converted lemon barn) that come with their very own gardens, living room and there's a split-level layout, or the rich in history Tinaia suites, that are close to the chapel and don original stone walls complete with mosaics.
For those wanting to keep active there are walking and cycling trails, fitness centre, croquet lawn, and a heated outdoor infinity pool that's built into the hillside and overlooks the valleys of Siena. There's also a cinema, games room, and a wine cellar-turned-luxury spa that has high vaulted ceilings, restored stone walls and Etruscan artifacts, Roman-bath-inspired plunge pools, treatment rooms, plus a garden terrace for morning yoga sessions. As for drinks and dining options there's an array to suit your mood from the pool bar, wine cellar and Bar Visconti (named after the previous owners), to the purely Italian restaurant Tosca and the elegant Emporio.
Book it: belmond.com
Featured image: Castello di Casole
DISCOVER MORE
A Brief Guide To Puglia, Italy / The Weekender: Perugia, Italy