Tuscan Go-Slow: Borgo Santo Pietro, Italy – Hotel Review
A halcyon spot
Life rolls at a snail's pace at Borgo Santo Pietro, a halcyon spot amidst hills and vineyards, an hour from Florence, says Carole Annett.
Read the C&TH Guide to Responsible Tourism
Hotel Review: Borgo Santo Pietro, Italy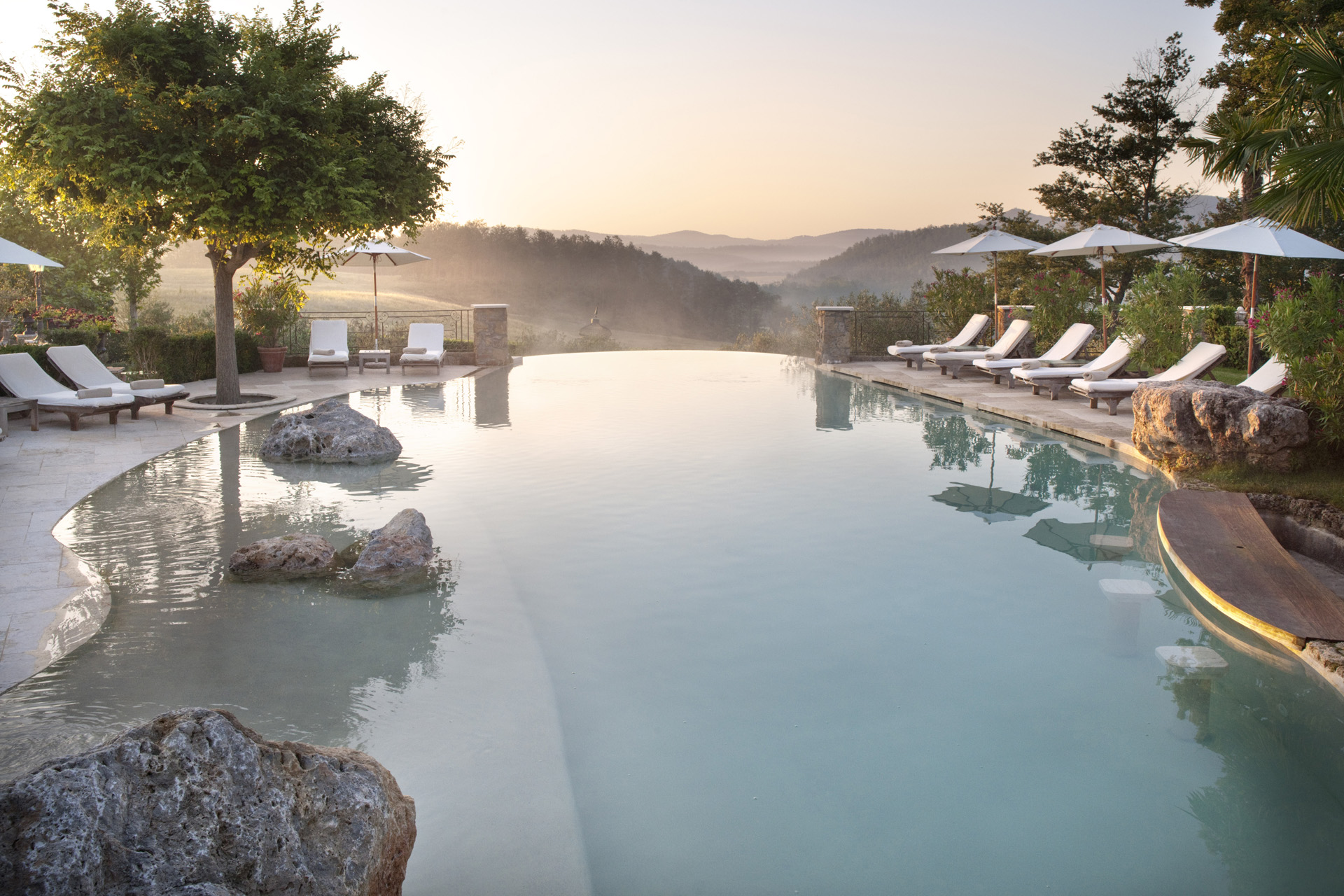 I awake to the sound of a soft gong and in a dream-like state, am unable to establish my whereabouts until a chicly-clad masseur whispers that my treatment has ended and I realise I've nodded off during an afternoon in the spa. Temporary amnesia is part of the charm of Borgo Santo Pietro, whether daydreaming in an armchair, getting 'lost' on a forest walk – the estate is dotted with 'This way home' signs – or simply forgetting when you arrived.
Acquired by Danish couple Claus and Jeanette Thottrup in 2001, Borgo was originally a healing stopover for medieval pilgrims. Along with a renovated main house the estate now comprises a 300-acre organic farm, cookery school (overseen by a fabulous 80-year old nonna), vineyard, two restaurants, manicured gardens and 22 suites. But the concept remains the same, to offer a restorative sanctuary for modern souls along with an unwavering dedication to sustainability and organic living. Claus and Jeanette have also added a large dollop of luxury and fine living – after the spa treatment I returned to my suite to find a warm bath filled with flowers.
An architect by trade, Claus designed the buildings, collaborating on the interiors with Jeanette, whose background is high-end fashion. Having stayed in many five-star hotels themselves, they have woven their experiences into Borgo, creating a seductively beautiful destination in a quest for the ultimate interpretation of the good life. Decor is grand yet intimate – velvet sofas to flop into, linen-covered tables to dine at and furniture positioned for bucolic views, from well-tended gardens to meandering hills. The main house hosts eight rooms, the rest of the accommodation in cottages, accessed via cedar-lined paths, all featuring lavish beds, antiques and frescoed walls, many with private gardens and pools. Jeanette's baby is the estate's Seed to Skin skincare range used in the spa and in bathrooms.  All the herbs are grown on site and you can visit the laboratory-come-shop across the road in the village.
Food here is sublime, mostly created with ingredients bred, nurtured and grown on site. Saporium, the main restaurant, led by head chef Ariel Hagen, offers inventive cooking grounded in principles of biodiversity and regenerative agriculture. Thoughtful and carefully prepared dishes such as pigeon with langoustine, lemongrass and charcoal-grilled spinach delight as much in presentation as in flavour. At the less formal La Trattoria sull'Albero, built around a majestic oak tree, classic Tuscan dishes include zucchini parmigiana, in-house prosciutto and fresh line-caught fish and, of course, pizza.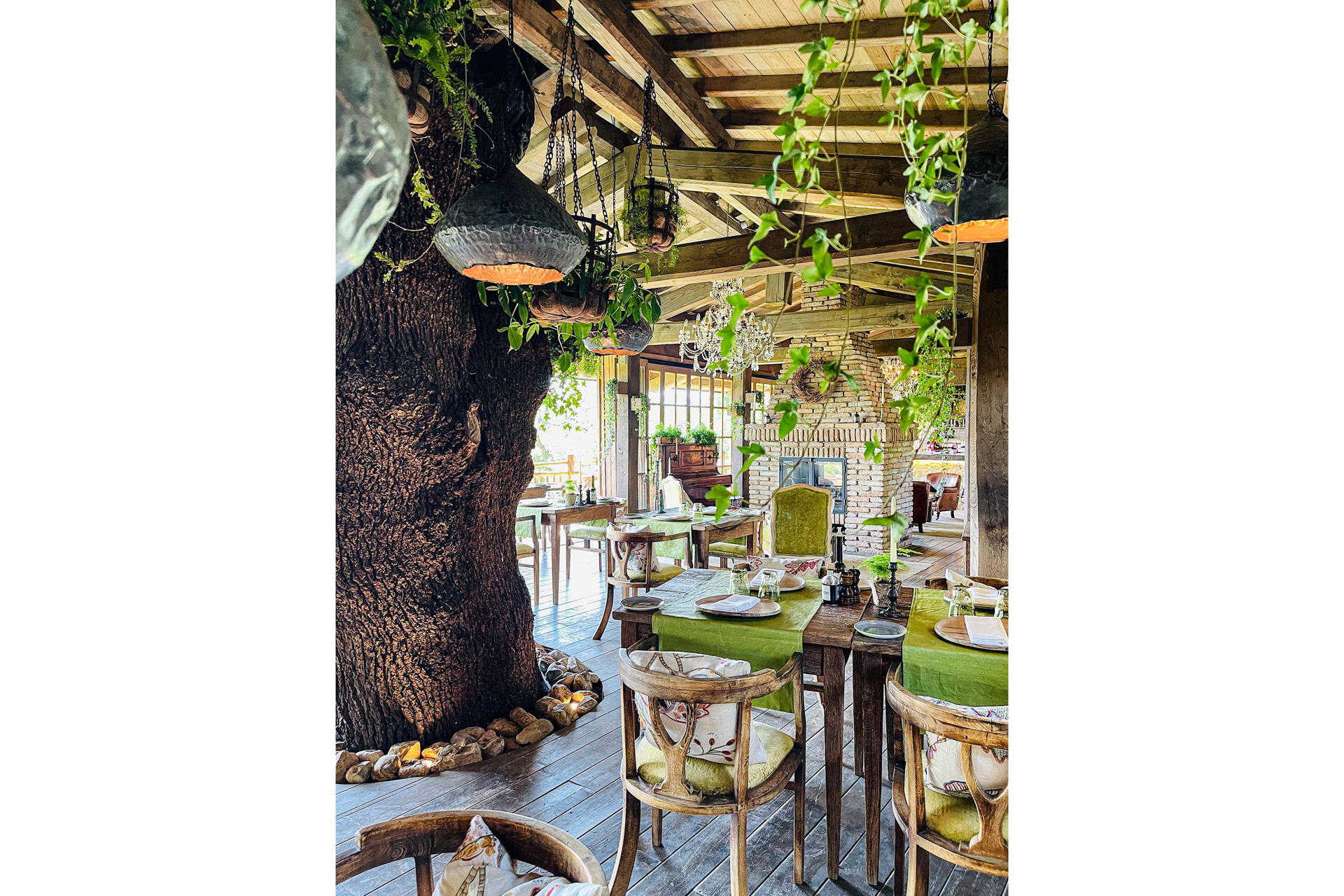 The joy of Borgo is having nothing to do but walk, eat, sleep. You can wander around the estate greeting chickens, play hide-and-seek with goats and hum along with busy bees going about their day before enjoying a dip in the river. For those wanting something more energetic, the cookery school offers cooking lessons – expect to drink the estate's own sparkling wine as you learn pasta-making and ragus before sitting down to eat the results. To venture further, road bikes and Vespas sit ready and waiting on site. There is even a bespoke yacht, Satori, for further adventures. Florence is a short drive away and the hotel has a sister restaurant in the city. My advice? Do the city first and then head to Borgo for total R&R allowing yourself to succumb to life in the slow lane, Borgo-style. You'll leave renewed and refreshed, just like the original pilgrims all those years ago.
BOOK IT
Starting rate at Borgo for a deluxe double room is Euro 935. Junior Suites start from Euro 1,190. The hotel closes on 26 November 2023 and reopens on 2 May 2024 until the end of October 2024. borgosantopietro.com