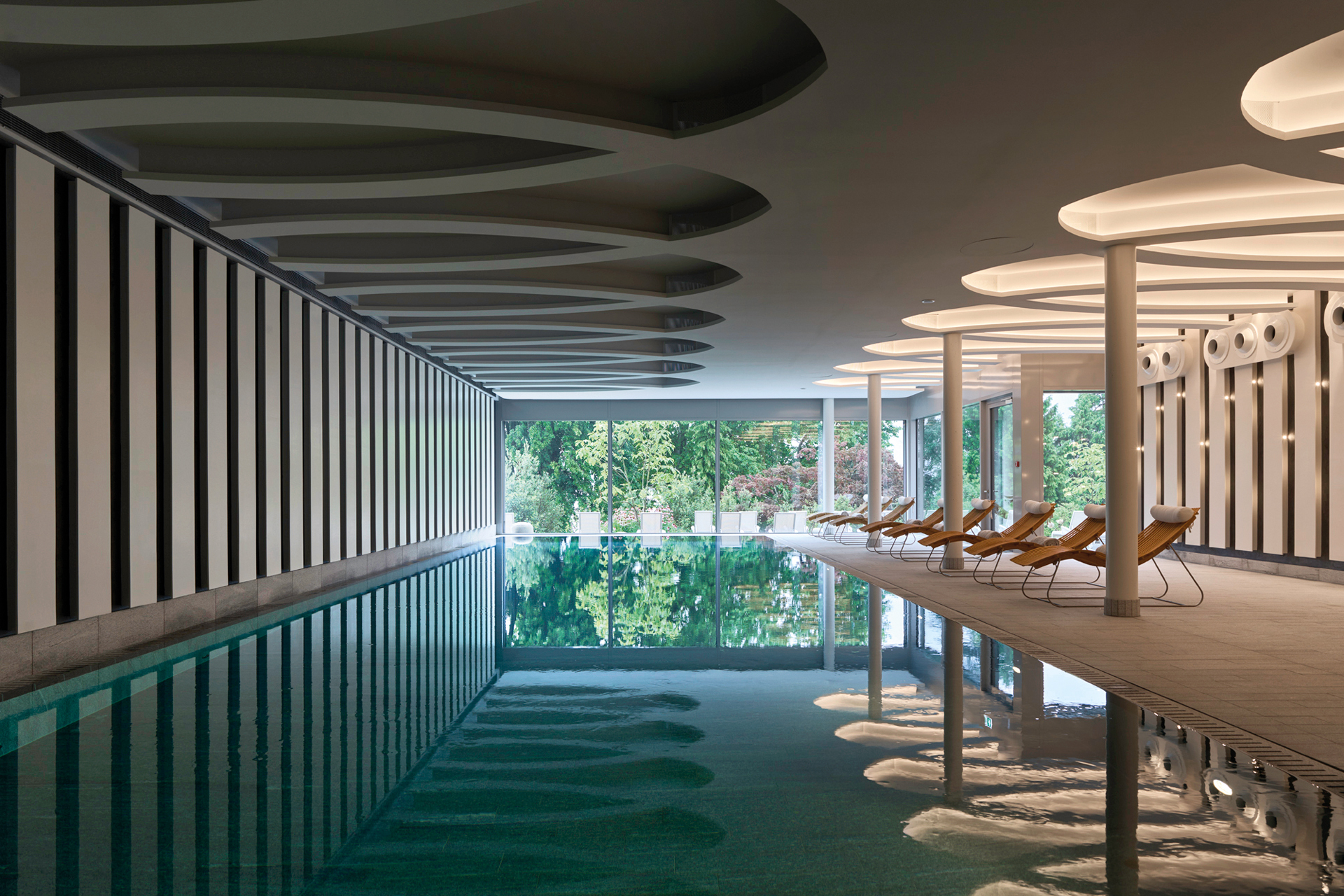 Spa Trek: Chenot Palace Weggis – Review
---
Take a trip to Switzerland's detox mecca
Rediscover your joie de vivre at Chenot Palace Weggis, a powerhouse of a preventative health spa, says Lucy Cleland
Review: Chenot Palace Weggis
'Being here… it's like when you have a virus as a child,' smiles Dr George Gaitanos, in his soft Greek lilt, as we sit sipping lemongrass tisane and stare out at a mesmeric Lake Lucerne. The 64-year-old COO of Chenot International, the parent company whose rippling, softly interiored, pumping heart is detox mecca Chenot Palace Weggis, is not entirely joking. While seemingly nothing could make you forget a nasty bout of the flu – or a pandemic, come to that – faster than being enveloped in the swirling (I swear everything from carpets and lamps to vases and bucket chairs has undulating lines), 'high-touch/high-tech' environment of this stellar spa, it's the emulation of a mother tending to her sick child with comfort, rest, the right food and kindness (the staff radiate it) that underpins the ambition of Gaitanos, who wants no less than for Chenot to be the absolute 'leader in wellness'.
This ambition was ignited by the visionary work of Henri Chenot, who created his original Chenot Method at Palace Merano in Italy back in 1980. The move to Chenot Palace Weggis afforded both men the opportunity to reinvigorate their offering, and although Henri died in December 2020, he did get to see six months of their work in operation – Weggis opened in June of that year. 
Gaitanos credits Chenot's 'foresight all those years ago to fuse an Eastern and Western approach to healing through detoxification'. This translates into your experience here being a blend of treatments based on Traditional Chinese Medicine (think cupping, acupuncture and meridian line massage, which he tells me with a wry smile, 'other spas try to emulate the technique of but can't'), combined with science-based ones using super high-tech machines, and the daily toxin-dispelling hydrotherapy regime (detox bath with salts and herbs, mud wrap for sweating and a rigorous cold hose-down). This triple-pronged approach is calibrated down to the tiniest detail to help you make the most of your stay. Even the food (exquisite) is so finely balanced and contrived as to provide you with every necessary nutrient, fat, protein and carbohydrate measured down to the last kilojoule.
Weggis has doubled down on the tech and science (some machines costing northwards of $100,000). The options are mind-boggling – you can chill in the cryochamber (great for inflammation and pain reduction); reclaim your joie de vivre as you pound the antigravity treadmill with the freedom of your teenage years (think Chariots of Fire euphoria); and up your body's efficient use of oxygen by exercising in an altitude room. You can even get your biological age checked by analysing the activity of specific genes – which will give you a glimpse at your future health trajectory, with time to intervene. Your timetable quickly becomes busy, busy, busy…
Luckily then, it's just as lovely to retreat to your cocooning room (plentifully spacious) to read a book, rest or just stare out of the window; or if you do have a free afternoon, it's definitely worth taking to the plein air – a chilly dip in Lake Lucerne awaits, as do some stunning hikes.
What Weggis does not do – and Gaitanos is clear about this – is cure you from chronic illness or acute stress. For such afflictions, he recommends a more medically focused spa. Weggis, he says, is more about prevention and education. 'We don't call it our lifespan anymore, we call it our healthspan.' 
This resonates deeply; how we eat, exercise, deal with our stress and addictions will have an impact on our health outcome, however good our genes are. A week at Weggis then will help us understand how we can influence that, and give us a chance to reset and charge up our batteries, ready to 'not just be observers of our health but participants in it'.
BOOK IT: From approx. £6,750pp for a seven-night minimum stay, including one of the extensive Chenot wellness programmes. chenotpalaceweggis.com
READ MORE:
Exploring Dramatic Norway Scenery with 62°NORD / Wet & Wild: Exploring Estonia