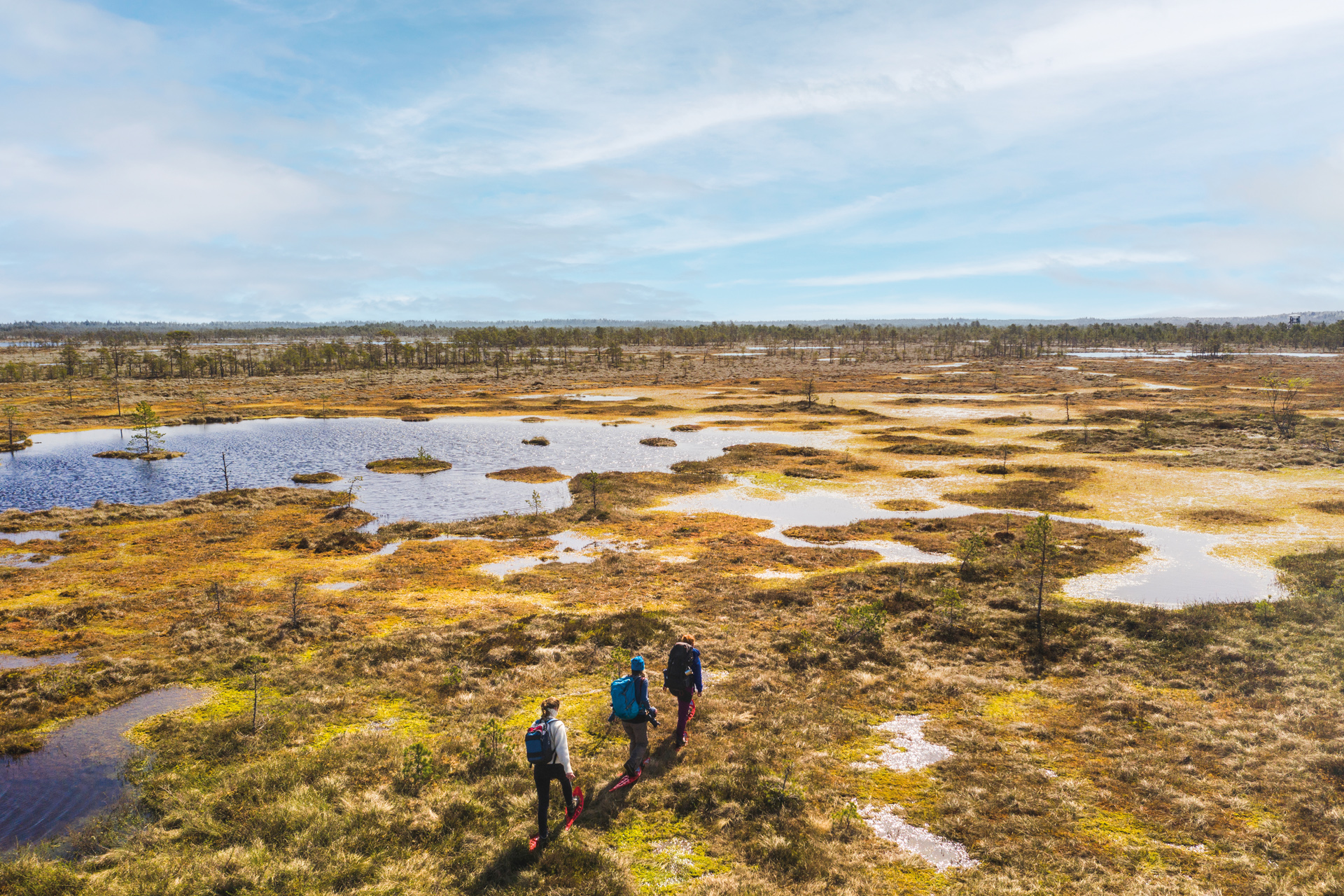 Wet & Wild: Exploring Estonia
---
'Simply put, it's perfect for your next travel destination'
Caiti Grove heads to Estonia to discover a Scandi-esque landscape of serene wilderness, secretive peat bogs and rejuvenating sauna culture
Wet & Wild: Exploring Estonia
Take a Look Inside C&TH's July/August 'Regeneration' Issue with Emma Appleton
'From the bottom to the brain,' I chant, whisking my naked back with a bunch of birch leaves. Next to me, two journalists I've just met do the same, low lighting and a hammam towel upholding some dying embers of British prudishness. We all wear felted hats the shape of cones in different colours. Eda Veeroja, proprietor of this sauna in Estonia, leads our group as we lash our bodies. The idea is to transfer our thoughts back into our conscious minds, to be more balanced and happy.
'The sauna is our chapel,' Eda explains. She begins to beat a drum to summon her ancestors' spirits from the woods around us, and encourages us to call ours too. We are sitting in a cabin made of logs; a fire has been burning wood for six hours, heating a pile of rocks. Smoke escapes from these and gathers on the ceiling. The sauna is a tradition of Old Võromaa that dates from the 13th century, now on the UNESCO-protected list of 'Intangible Cultural Heritage of Humanity'.
As the eldest woman in her family, Eda inherited the right to lead women's sessions 20 years ago. Mixed groups come here too before a wedding or funeral or during a divorce to cleanse the soul and spirit, smoke out the old entangled self and start anew. It starts with cleansing, a series of chants and songs led by Eda. She sings in her mother tongue, Võru, songs of sadness and hope to call upon our ancestors for guidance. Every half an hour, a nude dip in the big pond outside – a chilly 12°C – gives a euphoric high after the 80°C humidity inside. Post swim, I run, freezing, back into the warm embrace of the sauna. This carries on in a loop for hours, intending to invigorate the soul ready for the challenges life brings.
Read: Regenerative Tourism with Sir Tim Smit, Founder of the Eden Project
After cleansing, the second section focuses on creativity, remembrance or resilience. After a rubdown with salt and more whisking, we cover ourselves in honey and reflect on ourselves – old habits and past relationships, the need to honour them and leave them behind. We take turns to lie down for an individual session of birch tree whipping at Eda's own expert hand, British embarrassment a distant memory. To finish we blow through mint leaves, breathing new, invigorated energy into our renewed souls. 
Almost five hours after arriving we retreat to the changing cabin to get dressed. A newly risen moon shines down on the still water outside. Eda presents a jar of clear liquid with an adder at the bottom and hands it round to drink. Adders are protected now but this antique one will, so says folklore, give us protection and strength. We leave feeling elated and exhausted.
The next day we venture out to Soomaa National Park in the south west of Estonia, where forest surrounds a wide expanse of squidgy moss. Soomaa means 'land of bogs' and this 40ft deep peat bog was created 10,000 years ago when trees decayed into the earth. The present-day trees are sparse – it is too acidic for them, really – but cranberries grow by the handful while the peat beneath absorbs millions of tonnes of carbon every year into the springy earth. Rewilding is in full swing in this unique wetland wilderness. Previously drained, the uniqueness of this land is now celebrated and Estonia is returning the bogs to their natural soggy state. Like in Ireland and elsewhere, locals did use peat as fire fuel but with more widespread concerns for climate change it's become a practice of the past.
Expert and tour guide for this wilderness Aivar Ruukel helps us wrestle our boots into snowshoes and don waterproof camo and sticks to prepare to tackle the murky terrain ahead. Walking through the forest we spot Disney-esque little red mushrooms with white spots and deer that run hesitantly into the bracken. The forest of spruce, birch and aspen stops at the edge of the bog to reveal a huge expanse of flat, textural soft moss. It squishes and compresses under foot while more cranberries grow beside a big marshy lagoon. The treeless landscape, combined with the silence and the jelly-like ground underfoot, gives the whole place a magical aura, as though spirits really do live here. Maybe Eda is right after all. 
Afterwards we drive across to the riverbank where lunch on the bank of the Navasti river awaits us – a traditional barley porridge dish laden with bacon and cheese. Afterwards, we kayak down the river past woods and fields and a few ramshackled saunas on the banks at either side. 'Look at a map,' insists Aivar – 'you are not in "Eastern Europe". We are a Nordic country, our roots are one with our Scandinavian and Finnish neighbours.'
It's true – but we and Estonia cannot ignore its neighbour to the East, an aggressor all too near. But the country has been a NATO member since 2004, and an enthusiastic member of the European Union ever since a convincing referendum in 2004. It may have to rely on its solid alliances with Europe as protection from Russian expansionism in the coming years. 
Read: Does Carbon Offsetting Actually Work?
Returning from the bogs and thoughts of conflict, we head to the Hedon Spa & Hotel in nearby city Pärnu where minimalist rooms look out to a beach and the Baltic Sea beyond. In the hotel's Restaurant Raimond, the à la carte menu reveals the country's modern palate; trout with pak choi and oysters, wild deer sirloin, Jerusalem artichoke ice cream. Edible flowers and cloudberries sit atop dishes – it's all very Michelin and considered.
Estonia is a place where old meets new. Tradition, folklore and a deep connection to nature sit alongside modern cuisine and innovative new thinking for the country's future. Simply put, it's perfect for your next travel destination. 
BOOK IT
Sauna experience is €250 for up to eight people (mooska.eu). Wilderness trip, €95 for canoeing and bog-shoeing (soomaa.com). Hedon Spa & Hotel, from £70 B&B (hedonspa.com). Learn more at visitestonia.com
READ MORE:
Regenerative Tourism: The Top Destinations Leading the Way / The Weekender: 48 Hours in Tel Aviv