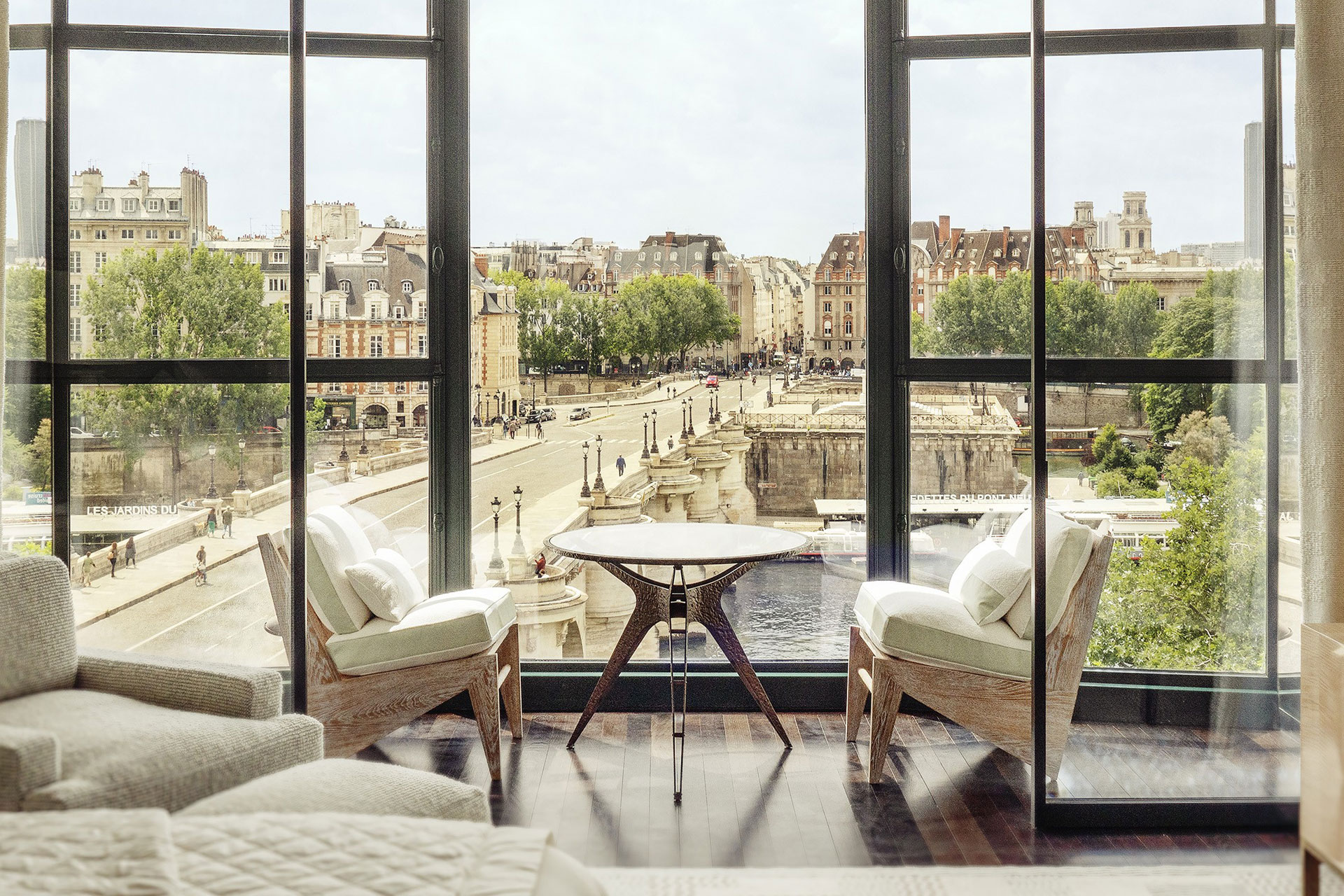 LVMH Comes Home To Roost: Cheval Blanc, Paris – Hotel Review
---
Take a lesson in luxury with Rosalyn Wikeley at Cheval Blanc Paris
The sumptuous Cheval Blanc Paris, outpost is a lesson in how to do luxury – how could it be otherwise?
Read the C&TH Responsible Tourism Guide
Hotel Review: Cheval Blanc Paris

STAY
Occupying the 1930s Pont Neuf side of the legendary Samaritaine department store (beloved by all Parisians), LVMH-owned Cheval Blanc Paris has rattled the city's luxury hotel scene. The bass note is casual contemporary-chic – trainers pace through the rather austere, art-clad entrance, though they are most likely Celine or Fendi. The striking Samaritaine deco exterior remains, while inside Eduard François has worked his architectural magic, carving out vast, airy rooms and indulging his inside-out hallmark to thrilling effect. Suites' winter gardens tip over several city landmarks and the Seine's daily bustle below, while inside Peter Marino enlisted an army of artisans to layer exquisite fabrics into a deceptively minimalist and calming picture, with lashings of contemporary art. The lavish use of rich materials in restrained hues throughout echoes the futuristic family homes of the modern elite, where avant-garde coffee tables, pricey art and multitudes of marble are softened by multi-generational antics.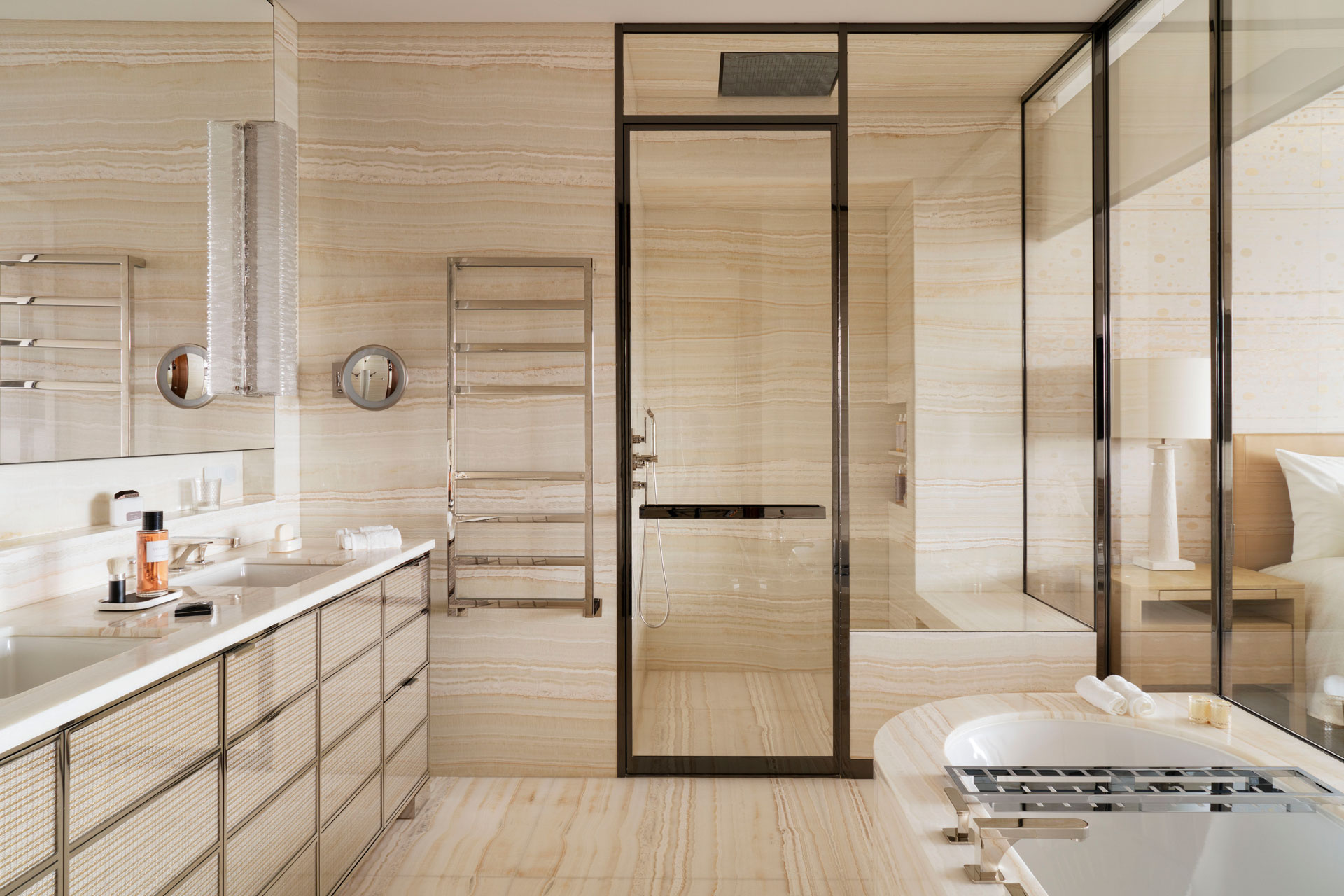 Splashes of primary colours add a playful, artistic edge (not the bohemian type) and nowhere more so than in the lively Le Tout Paris restaurant, where tiles, coasters and leather chairs recall a Calder mobile. Cheval Blanc Paris' glory lies several floors down in the spa: Europe's longest hotel pool with digital art rendering the wall invisible with an animated would-be view of the Seine. From the leather-bound flasks filled with ginger and mint infusions before bed to the special fridge for Evian face sprays, the attention to detail is staggering, and seriously raises the bar for future hotel stays. 
This is the French-owned conglomerate's wildly luxurious and successful hospitality project coming home to roost, where many of its Saint Barths, Saint Tropez or Courchevel clients live and socialise. As such Peter Marino commissioned several French artists and sewed local reference points throughout the design project: Thierry Drefus's digital art installation animates the lift and Vik Muniz's commissioned painting of the Eiffel Tower hangs in the lobby. Courtesy of its previous life as a department store, Le Jardin is a rooftop Eden of geraniums and hydrangeas for pretty Parisian sunsets. If you're looking for Sun-King splendour, head to the palace hotels surrounding the Arc De Triomphe, or accept that a modern Marie Antoinette would probably drop her bags here instead.

EAT
Having sprinkled Cheval Blanc St Tropez' La Vague d'Or in Michelin stardust, Arnaud Donkele now oversees three of the city hotel's six restaurants. This includes a proud and polished Milanese seafood joint, Langosteria, convivial hot-spot, Le Tout Paris and three Michelin-starred Plènitude – a high-octane brothy, saucy show with a contemporary, crinkle-wooded take on a wine cellar, and a secret cheese room. 
Serving breakfast, lunch and supper, Le Tout Paris is the beating heart of the hotel with splashes of Calder-like primary colours and sweeping Parisian views, from Notre Dame to the Tour Eiffel. Well-dressed locals and hotel guests mingle for haute riffs on French brasserie classics, such as steak frite (done three ways) and pocket-sized potato dauphinoise. The comte-stuffed Madeline garnished with a hazelnut tree flower sets the pitch of this 'brasserie', as does the lavishly marbled bar lined with glasses of Ruinart. 
Just off the lobby, Limbar shows off Maxim Frederic's pastry game during the colder months with afternoon tea, whereas Le Jardin is a summertime affair – a vast, green space with a birds-eye view over the very best of Paris. Menus take their cue from tomatoes and strawberries, which are whipped into elaborate plates of tomato carpaccio or french toast and Iberico ham on a bed of gazpacho. Cocktails also embrace the summer theme (go for the Verbena olive oil pisco sour).   

DO
Throw on a robe and deep cushioned slippers embroidered in golden thread and head down to the Dior spa for the gold-standard of potions and treatments. Thimble-sized glasses of superfood juices greet guests on the Dior cushion-studded sofas before they float behind a therapist up a buttermilk corridor. The signature microdermabrasion uses a high-tech (quick results)  tool which gently vibrates over layers of dead skin. Or choose one of the three scents from fragrant silk coils in glass jars, which are skillfully worked into weary muscles and tense shoulders. Room themes delve into Dior's heritage, such as the Granville, named after Christian Dior's childhood hometown. A marble steam room and spacious sauna can cocoon spa guests for hours. 
Having riffled through bathroom beauty drawers and lathered on every delicious hair mask and body scrub designed by Dior perfumer  François Demachy, guests can make the most of the neighbourhood (a boon for those less enamoured by Paris' Arc-de-Triomphe crowds). Cheval Blanc Paris sits between the trendy Marais, the Louvre (an art-lover's labyrinth) and Isle de La Cité, where the iconic and slowly recovering Notre Dame sits amid a cluster of restaurants and independent boutiques. Head to Musée des Artes Décoratifs for high-octane exhibitions of fashion designers' life and works, such as Elsa Schiaparelli or cross the river into Saint Germain's ancient streets, thrumming with design shops and low-key brasseries. Serious shoppers are granted private access to La Samaritaine's haul of designer garbs from the hotel, through a Narnia-like door. 

FAMILY FRIENDLY
Despite an austere design mission, Cheval Blanc is surprisingly family-friendly. Few Parisian palace hotels have mastered the kids club, or even entertained the notion, but Cheval Blanc's nirvana of fancy dress, pet salamanders and toys galore is a hit with families. What's more, elsewhere in the hotel, brightly-coloured pool floats line up next to flawlessly white sun loungers, nappies and a changing mat sit alongside marble loos with heavy, mirrored doors and smoky-scented hand creams. The message is clear: parents shouldn't forgo the exquisite Cheval Blanc experience (and the hotel is wise to observe a cultural shift with well-to-do families increasingly travelling with sprogs in tow). 
THE FINAL WORD
As a group, Cheval Blanc has mastered softening extraordinary and wildly elaborate scenes with a smart-casual code. Its aloof, gallery-like interiors and angular furniture thaw with this tangible mood, which renders everything, from the golden-topped beauty balms to the intricately layered pain au chocolat, even more phenomenal. 
BOOK
Doubles from £980. chevalblanc.com
Featured Image: Cheval Blanc Paris Suite.