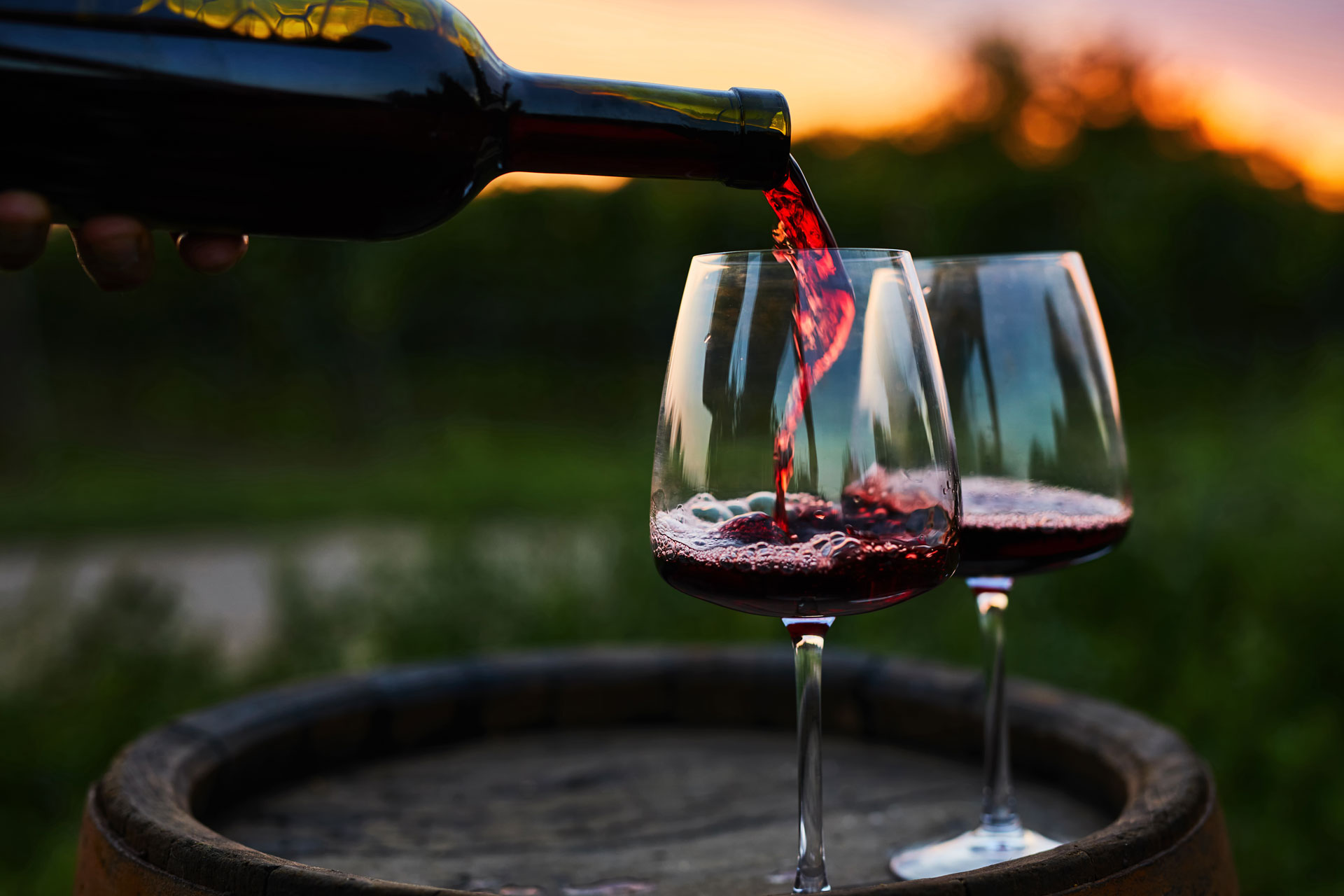 English Vineyards To Visit Now
---
Destinations for wine lovers across the country
Cindy-Marie Harvey, owner of wine tour company, Love Wine Food Ltd, shares some of the most idyllic English vineyards to visit.
English Vineyards To Visit Now
A glass of chilled fizz in hand as you relax on a terrace enjoying the view across rolling hills lined with perfectly manicured vineyards, glistening in the sunshine. Dazzling white chalk soils that urge you to reach for your sunshades, before a gastronomic lunch at an estate. Images that have seduced many a wine lover to visit the classic vineyards from Champagne to Burgundy, Franciacorta to the Dolomites.
But instead, closer to home, welcome to the exciting world of English wine. Cindy-Marie Harvey, owner of wine tour company, Love Wine Food Ltd, explores this in her new book, Watercress, Willow and Wine. It's full of suggestions of English wine estates to visit alongside irresistible recipes matched with wines from award-winning sparklings to seductive Pinot Noirs. She also discovers delicious English charcuterie and cheese pairings throughout. Here are just a few of her English vineyard recommendations.
Sandridge Barton
Located in the beautiful Dart Valley in Devon, the estate is home to Sharpham wines. With a limestone ridge vineyard that echoes the Côte d'Or in Burgundy, among its range is a delightful Pinot Noir as well as Pinot Gris and Madeleine Angevin. The estate also makes wonderful cheeses including its Triple Cream Elmhirst from Jersey Cows milk, perfect for a picnic by the river with a glass of their Estate White Selection. Do visit the Winery Restaurant, Circa, in the converted dairy barn for dishes such as Smoked Haddock Chowder with Quails Eggs or Beef Carpaccio with Sloe Berries. sandridgebarton.com
Coates & Seely
This vineyard produces glorious food friendly sparkling wines in Hampshire. It's situated not far from Winchester, the ancient capital of England, and surrounded by crystal clear chalk streams. Virginia Coates welcomes visitors to taste its perfectly balanced sparkling wines with a dazzling array of her canapés featuring local produce, such as the locally made Tunworth Cheese, described by Raymond Blanc as 'the best camembert in the world'. Look out for its classic restored vintage coach, Albion. coatesandseely.com
Nutbourne Vineyards
This one is tucked away down a leafy country lane in West Sussex. Owned by Chef Peter Gladwin and his wife, artist Bridget Gladwin, the family run estate is the perfect place to relax on a sunny English afternoon. It's fascinating to learn about the different styles of vine growing and the eight grape varieties they have planted. Nutbourne's white Sussex Reserve captures the essence of the countryside with notes of elderflower. Enjoy a picnic of locally made trout paté & flavourful Nutbourne tomatoes overlooking the vines. nutbournevineyards.com
High Clandon
Although owned and worked by a charming South African couple, Bruce and Sybilla Tindale, this boutique estate could not be more quintessentially English. In a designated area of outstanding natural beauty in the Surrey Hills, the vineyard is flanked by a truffle wood and wild flower meadow. A welcoming cellar door tasting barn offers visitors the chance to taste their sparkling cuvées, the perfect match for Sibylla's irresistible Gougères, stuffed with truffle cream. Look out for their art in the Vines event, where sculptures & artwork are dotted across the estate, with its spectacular views across to the London skyline. highclandon.co.uk
Henners Vineyard
On the edge of the Pevensey Levels Nature Reserve in East Sussex is Henners Vineyard, just four miles from the coast. With the South Downs way running close to its property, Henners is an ideal place to visit after a morning's walk for a reviving glass of wine. Planted with the traditional trilogy of Champenoise varieties of Chardonnay, Pinot Noir and Meunier, it produces not only vibrant sparkling wines but also still wines including the Native Grace Chardonnay featured in the book. Look out for foodie events at the estate, and do try the vineyard's estate Gin, distilled from its own wines, in copper pot stills, which creates a cloudy style in the glass thanks to the natural oils in the botanicals. hennersvineyard.co.uk
Gusbourne
Gusbourne is situated near Appledore in Kent, although the company also owns vineyards near the Goodwood estate in Sussex. Winemaker Charlie Holland creates stunning English sparkling wines, with a wonderful purity of fruit in the glass, such as the amazing Blanc de Noirs, but Cindy-Marie chose their wonderful still Pinot Noir as the featured wine in her book. A glorious expression of this ethereal variety, bursting with red fruits, as well as notes of black cherries and warming spice, it's an ideal foil for the Goose Gratin in the book. If planning a visit, Gusbourne offers both casual platters or full lunches. gusbourne.com
Watercress, Willow and Wine (whitefox, £25) by Cindy-Marie Harvey is available across selected major retailers including Waterstones, Amazon and Cindy-Marie's website lovewinefood.com.
Featured Image: Getty Images