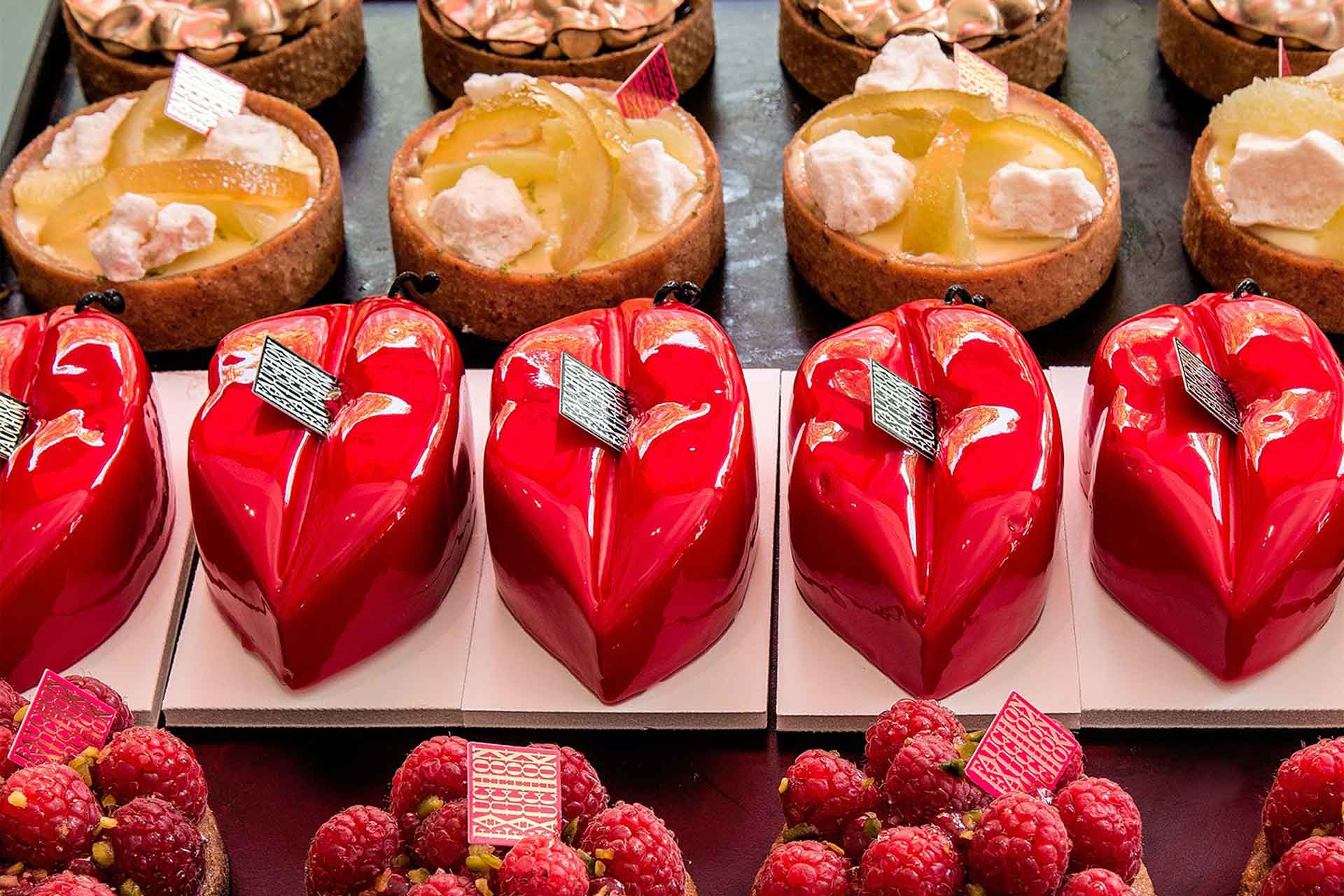 Fauchon L'Hotel Paris: Is This the Ultimate Foodie Hotel?
---
First stop, the most enticing mini bar in France…
There tends to be an overuse of superlatives in discussions about the culinary scene in Paris, but as foodie hotels go, Fauchon L'Hotel does offer something pretty special. The French gastronomy brand has been making luxury produce for more than a century, so its first hotel offering was always going to be a mouth-watering prospect. But as far as being the ideal venue for the ultimate culinary weekender in one of the foodie capitals of the world, does the Hotel Fauchon Paris fit the bill?
Fauchon L'Hotel: The Food
Let's start with the important bit: the food itself. A stay at Fauchon L'Hotel begins with a welcome drink in the form of one of the brand's signature teas served as a refreshing alcohol-free cocktail. Upon entering your room, the fun really begins. You will discover the Sasha Lakic-designed Fauchon Gourmet Bar. It is this, the Gourmet Bar, that makes a stay at the hotel feel truly indulgent. Stocked with some of the brand's signature Parisian treats from madeleines, macarons and chocolate truffles to tapenade, foie gras and brioche toasts. You can even pre-inform the hotel staff of your particular tastes to ensure the contents perfectly match your requirements. The included bottle of Fauchon champagne will start your stay off in style – and you can afford to be a glutton, since the treats are included in the room price and restocked each day of your stay. Our tip? Say 'yes please' to the cheddar mini crepes (and stock up at the Fauchon shop next to the Eurostar for train snacks).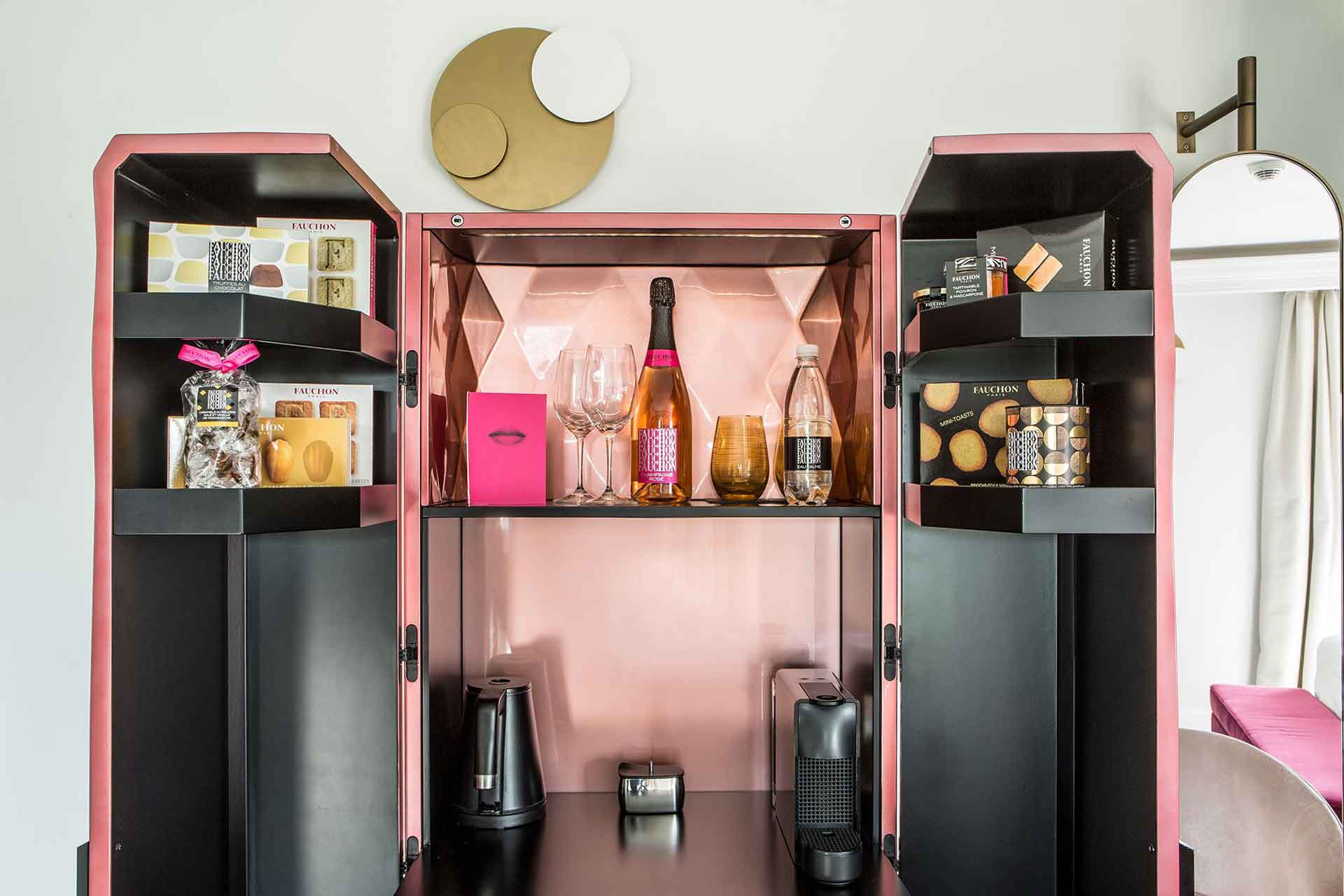 The other dining experiences offered at the hotel are similarly indulgent, the breakfast a pastry-heavy affair (although perfectly-cooked eggs are also a good choice), and dinner at The Grand Café Fauchon a great way to finish off a day of culinary delights (if you'd rather not stray too far from your Gourmet Bar treasure trove to explore the city's numerous dining options). Finish your meal with the beautiful (and delectable) Bisou Bisou dessert and then head back to your room for a chamomile tea and just one last macaron before falling into (an extremely comfortable) bed, and a food coma.
Fauchon L'Hotel: The Verdict
There are two elements that make Fauchon L'Hotel worth the (relatively steep) price-tag. The first is, of course, the beautiful in-room Fauchon Gourmet Bar, pleasing to look at and even more pleasing to raid upon arrival and throughout your stay. The second is the staff. The Parisian foodie set have something of a reputation for loftiness, but from the second you step into the lobby you will be treated as an old friend. In fact, through the course of the stay we witnessed several returning parties inviting staff to join them for a catch-up over coffee or even dinner, no mean feat in a hotel just one year old. Fine food and French friends, c'est le savoir-faire Fauchon.
We spoke to Chef Fréderic Claudel at Fauchon L'Hotel for his insider's view (and a few tips on what not to miss):
What sets the culinary offering at Fauchon apart from the rest of the amazing food scene in Paris?
Fauchon stands out from the crowd with its delectable delicatessen. Here at Fauchon l'Hotel Paris we embrace the French "savoir faire" with our handmade macarons, our Foie Gras Fauchon, our special Tea selection (only available at the hotel or Fauchon shop) and a selection of seasonal specialities in celebration of special events (Christmas, NYE, Valentine's day etc.)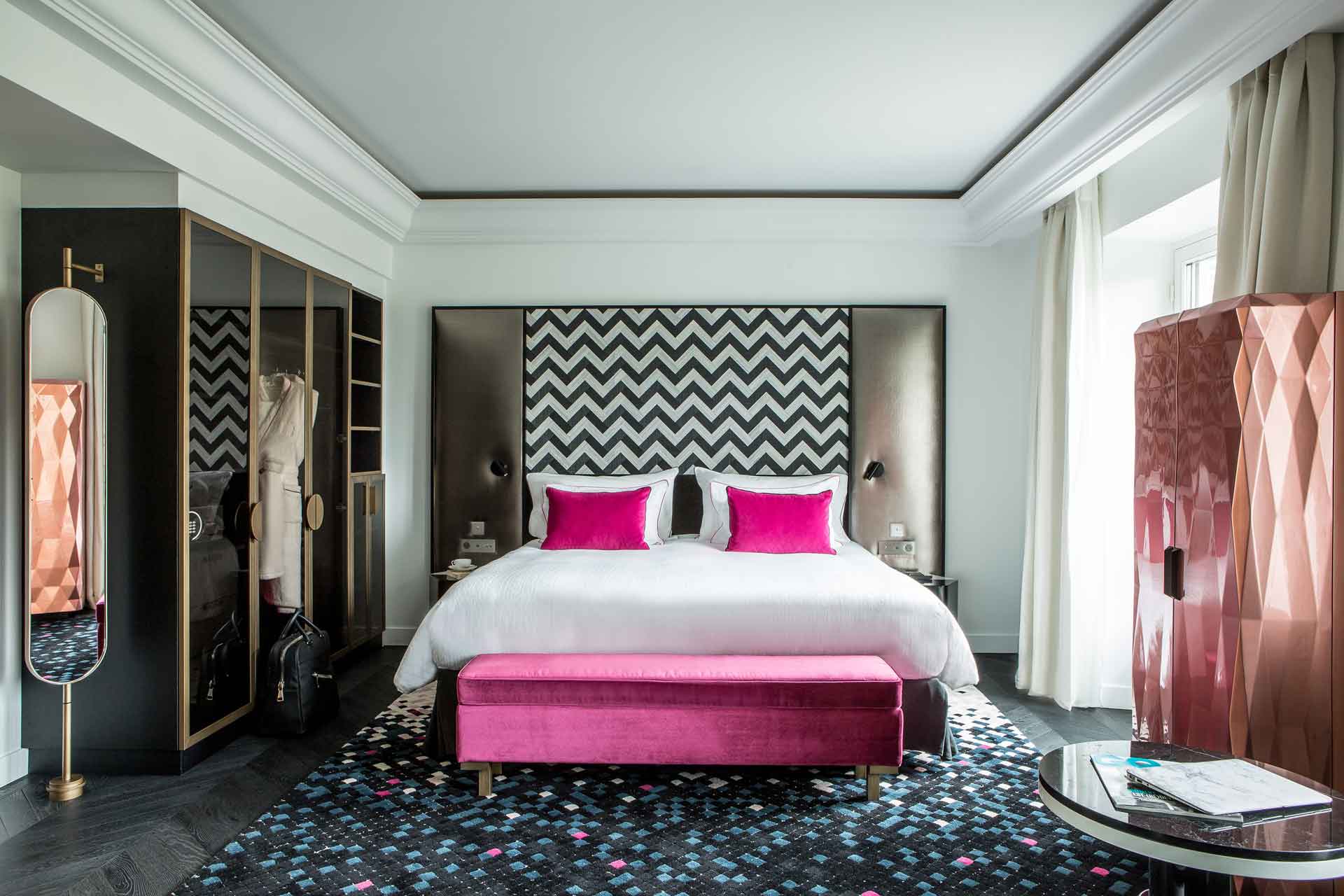 What are the must-try dishes at Fauchon L'Hotel?
You can't visit Fauchon without trying our macarons – they've been a signature dessert at Fauchon for many years. The Riso Pasta "like a Risotto" is also one of our iconic dishes and best sellers – in summer we use Homard and in winter we use truffles. The Fauchon tea is also very popular and highly recommended – whether it's used to make incredible cocktails or enjoyed cold for delicious iced tea in summer, you will find it everywhere at the hotel (especially in our Tea Garden…)
What does Fauchon do best?
Fauchon refines rench products with its "savoir faire" and has been a house of innovation and excellence since 1886. Fauchon is always setting new trends in French luxury and cuisine.
Where else should you visit on a foodie weekend in Paris?
The pastries of Cedric Grollet at The Meurice, the ice Cream of Stéphane le Saouter at La Glacerie de Paris, a wine tasting at La Cave Fauchon and a visit to Beaupassage (a street full of French restaurants and artisans).
Your top tip for a stay at the hotel?
Opt for an Eiffel tower view with our Eiffel tower suite, enjoy a Bisou Bisou, experience tea time at the Tea Garden and a massage at the SPA Carita.
BOOK
Visit hotel-fauchon-paris.fr
Want more ideas for a culinary weekend in the French capital? Check out our guide to the best food & drink in Paris.