A Parisian Icon: Four Seasons Hotel George V, Paris – Hotel Review
A historic hotel with Michelin-starred food and palatial interiors
Opened in 1928 and named after the then King of England, celebrated Parisian hotel Four Seasons Hotel George V is renowned for its grand interiors, impeccable service and clutch of Michelin stars. Siobhan Grogan follows in the footsteps of everyone from The Beatles to The Kardashians and checks in.
Read the C&TH guide to responsible tourism
Review: Four Seasons Hotel George V, Paris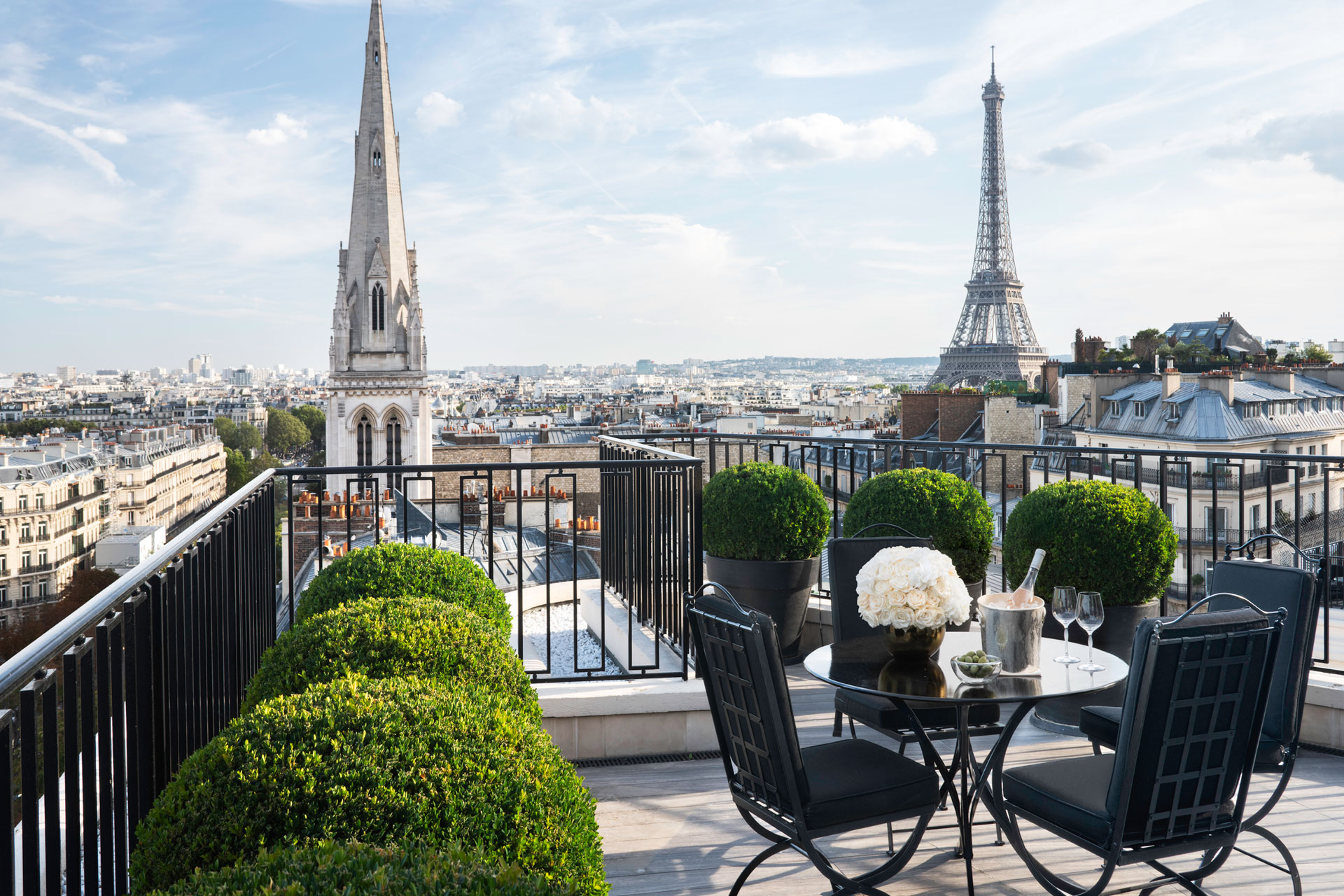 GETTING THERE
Don't even think about travelling to Paris on anything but the Eurostar. With 90 percent fewer carbon emissions than the equivalent flight, the train takes a little over two hours from London St Pancras, you can bring two suitcases on board and there are no tricky liquid restrictions. Perfect if you plan on splurging on Chanel perfume or French wine to bring home as souvenirs. 
STAY
Prepare to be wowed. With a team of nine in-house florists led by celebrity designer Jeff Leatham, the hotel is famous for its extravagant lobby displays which draw crowds of Parisians each month hoping to see (and photograph) the latest installations. The towering wall of deep purple hydrangeas and gladioli that greeted us on our arrival was nothing short of spectacular – and smelt incredible too. Beyond the blooms, this Art Deco hotel is dazzlingly decadent, with polished marble floors, antique tapestries and gleaming chandeliers. But it's the hotel's staff that really stand out – startlingly efficient yet genuinely welcoming, they seem to know every guest by name and always have time to chat.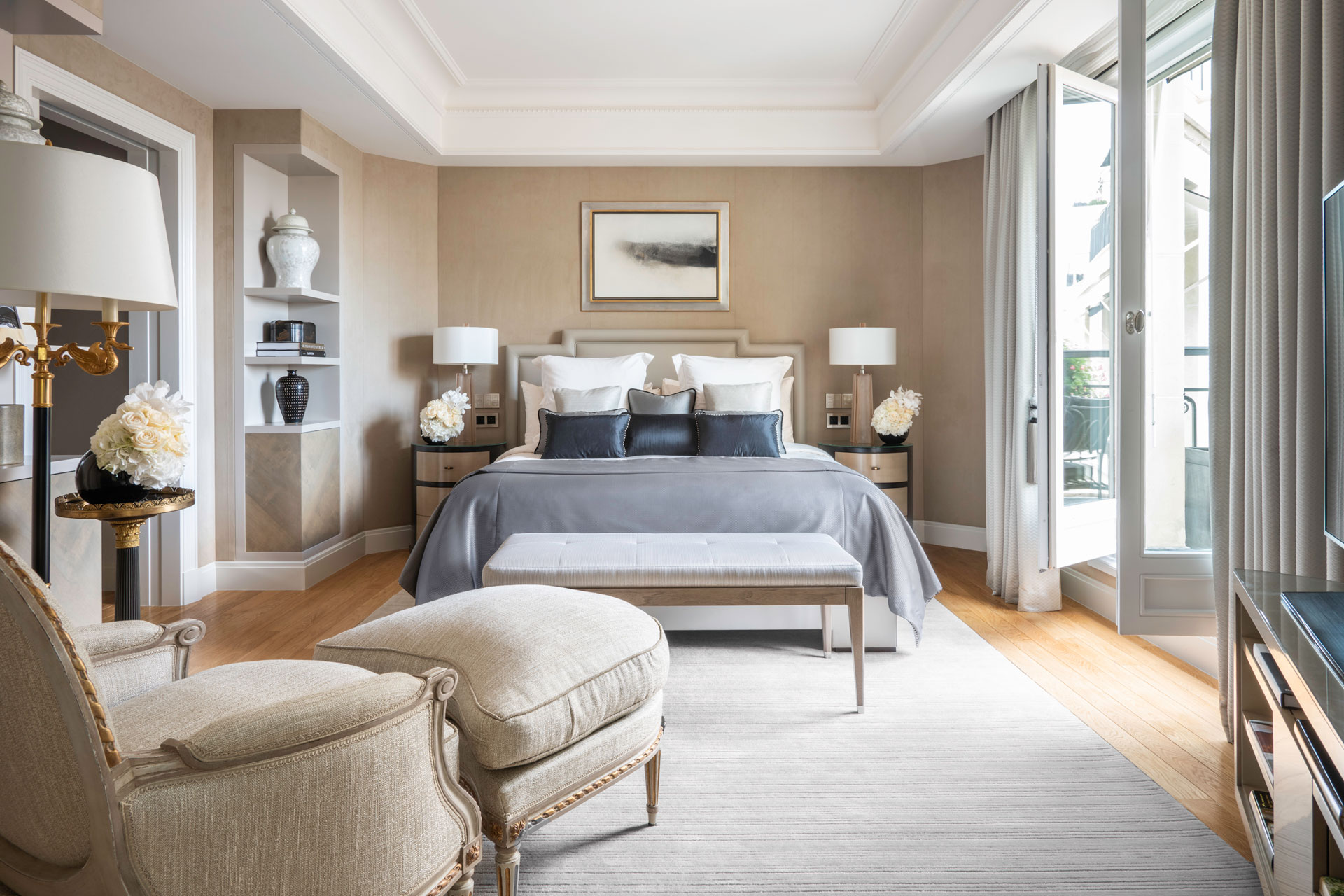 Rooms are just as lavish but tasteful too, like your very own stylish Parisienne apartment. Shades of beige, caramel and soft gold make them supremely relaxing, while gold-edged tables, chic Louis XV chairs and a vase of fresh white roses bring the requisite glamour. Most have terraces or balconies while bathrooms are equally opulent with traditional lamps, Guerlain bath products and thoughtful touches like a crystal ring holder. If money's really no object, you could also opt for the famous penthouse suite with its infinity bath, private conservatory and staggering Eiffel Tower views. 
Despite the obvious grandeur, the hotel is not stuck in the past and there's an extensive range of sustainability initiatives in place that make a real difference. Energy comes from renewable or carbon-free sources, rainwater is reused and there are extensive recycling and energy-saving systems. The hotel takes its responsibility to the local community seriously too. Staff volunteer at a nearby children's hospital, products from local artisans are used extensively throughout the hotel and linen and furniture are donated to local charities.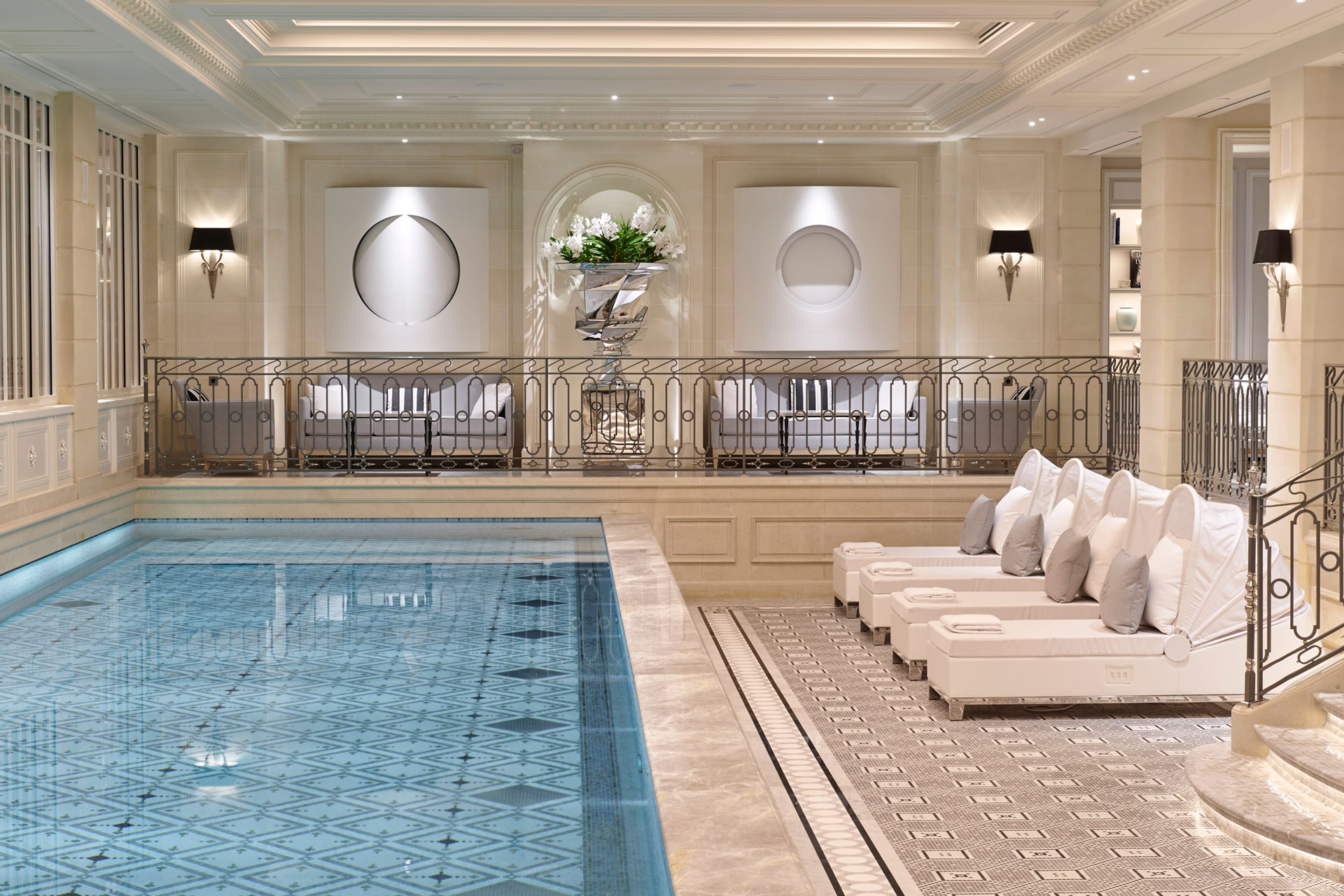 DO
It's not difficult to hit the must-see tourist spots from Four Seasons Hotel George V. Turn left out of the hotel and the Champs Elysees is a short stroll away, complete with the Arc de Triomphe and the city's designer megastores, including the enormous flagship stores by Dior and Louis Vuitton. Turn right instead and you'll reach the river with the Eiffel Tower stretching to the sky on the other side of the bridge. We opted for a guided tour to climb to its summit (from £72.67 from Viator), avoid the queues and hear about its history. This was a great way to discover how the Eiffel Tower became the most visited monument in the world and find out all about Gustav Eiffel himself, plus endless quirky, fascinating stories about the rest of Paris as we looked down over it from the Tower with our guide. 
After a walk along the Seine for yet more photos of the Eiffel Tower, we headed back to the hotel's basement spa to relax. With fireplaces, a mosaic floor and even more fresh flowers, it's easily one of the most impressive hotel pools I've ever seen – and as warm as a bath. There's a hammam and whirlpool too, while treatments include exclusive toning Kobido facials which date back to 15th century Japanese imperial court.
EAT
Food is everything here. The hotel is the first in Europe to have five Michelin stars under one roof, with three separate Michelin-starred restaurants. Le Cinq has an incredible three stars alone – though you'll need to book far in advance to nab a table. Mediterranean restaurant Le George has one star and offers calamari and champagne risotto, homemade pasta and exceptional desserts in a chic white room under a show-stopping Baccarat chandelier. The final star is for L'Orangerie which focuses on light plant-based and fish dishes and overlooks an elegant marble courtyard. 
Food is also available in the all-day dining lounge La Galeria, where French classics and afternoon tea are served surrounded by 19th century art. Sustainability is important in all the restaurants too. All dairy is locally sourced while vegetables come from the biodynamic and chemical-free kitchen garden, which has its own beehives. Organic waste is turned into compost and used in the gardens in Versailles, while spent coffee grounds are repurposed as fertilizer to grow the hotel's mushrooms. 
THE FINAL WORD
Whether you're a foodie, a family or a film star, there's nowhere quite like Four Seasons George V Paris. Its prime location, fairytale flower arrangements and wealth of fine dining choices make staying here feel like a dream come true, but it's the exceptionally attentive and considerate staff that really ensure this hotel is every bit as special as the city itself. 
BOOK IT
Rooms at Four Seasons George V, Paris start from €2850 including breakfast. Book at fourseasons.com. Find out more about the hotel's sustainability initiatives at Eurostar operates 17 trains a day from London St Pancras International to Paris Gare Du Nord starting from £39 one way. All tickets are now flexible, with no exchange fee on changes up to seven days before departure. Book at eurostar.com. Eiffel Tower Skip The Line Summit with Host tickets start at £72.67 from Viator.