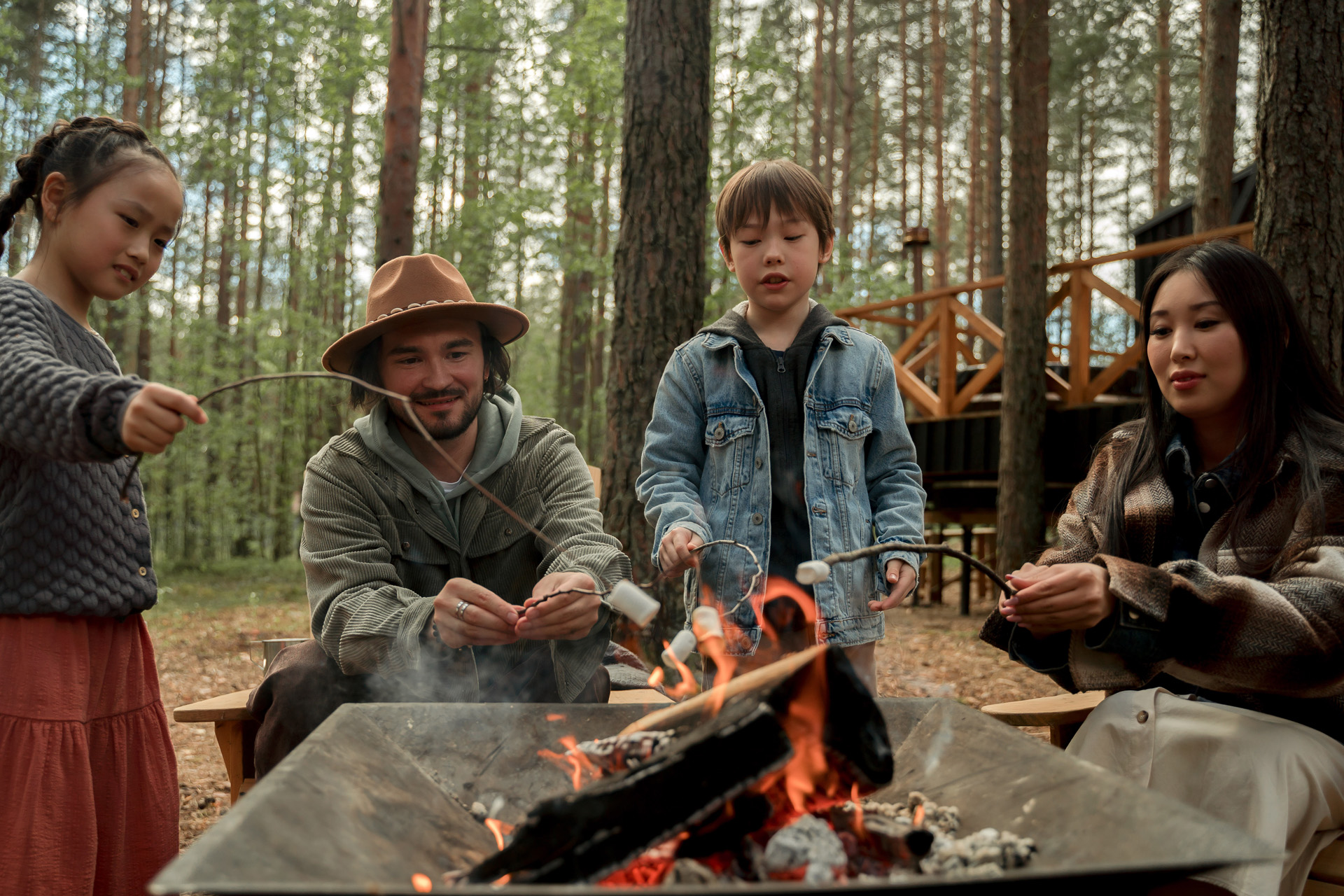 A Guide to Camping With Kids
---
11 activity ideas to make your family camping trip go smoothly
Planning on enjoying the great outdoors this year with a family camping trip? 'Camping with Kids' by Simon McGrath gives 400 inspirational ways to have fun as a family, so if you're looking for camping tips, here are 11 ways to have fun this season, come rain or shine. (And if it still doesn't appeal, try glamping.)
Read the C&TH Responsible Tourism Guide
Camping with Kids: The Ultimate Guide
Section 1: Getting There and Pitching Up
In-Car Entertainment
Audio books are great for young minds to visualise stories. Roald Dahl and David Walliams stories are particularly good when read out loud, and books with pop-up pictures add an extra dimension to reading. Reusable children's stickers can be great on rear windows to create imaginative games and stories.
Find The Tap!
Most large campsites supply a handy map of the site. Ask if you can have one for each young camper and set a challenge to be first to find the drinking water tap. Or get into teams and allocate a list of places to find. If someone in each group has a smartphone, take a selfie as proof that you found them. Better still, give each team a camera to use. Or for more creative campers, challenge them to draw their own site map (remember to pin it to your fridge back home as a reminder of your camping adventure).
Take Your Compass
Why? Because if you pitch the tent with the front door facing east, the rising sun will warm the living area and work its way through the tent. It's far nicer to poke your head out of the tent early in the morning and feel the warmth of the morning sun on your face than unzipping the door to a chilly side that's cast in shadow.

Glamp Up Your Tent
Dream up ways to glamp up your own tent with the help of your little ones. Think plush, think unnecessary. Think bean bags, rugs, warm blankets and scatter cushions. Forget minimal packing – glamping is about going overboard with added style. Solar-powered fairy lights are widely available and don't need batteries. Buy a plain tipi and decorate it with your own funky artwork (using waterproof paint, of course). Paint empty jam jars and use them for tea lights, keeping them outside for warm evenings. Smarten up the table with a colourful cloth and napkins. Take along a small chalkboard and write an inspiring thought for the day, a list of birds and flowers to spot or a family activity challenge. Avoid writing the list of chores – you're glamping after all. And you don't have to head to a campsite. Why not step outside the backdoor and go garden glamping?
Section 2: Reconnecting with Nature

Learn Tracking Skills
You can really hone your outdoor skills by learning to track wildlife. The best starting place is to sign up for one of the ranger-led activity sessions that are held across the country and include some night-time walks when the wildlife will be quite different from that you'd find during daylight hours. Rangers have a wealth of knowledge about the local wildlife to share and teach tracking skills. It's exciting to spot an animal track in the ground, identify the creature and follow its path. Often it will lead to a waterhole, where other animal footprints are likely to be found. Although you may not get sight of the creature itself, it's still rewarding to be able to identify the telltale signs that an animal has recently been on the same track as you.
Learn A Basic Breathing Technique
The Hakini Mudra in yoga is said to help boost thinking and concentration, and can be easily practised anywhere. Hold up your hands in front of your chest, palms facing each other, but do not touch. Bring the fingertips of your right hand towards the fingertips of your left hand so that they are touching. Move your gaze upwards. Inhale while placing your tongue against the roof of your mouth. Then exhale while allowing your tongue to relax. Practise these steps several times. It's helpful when you've forgotten something momentarily and want to recollect it.
Section 3: Relearning Ancient Skills
Build A Tipi
A tipi-shaped den is perhaps the most common den structure and the easiest to construct. To make one that leans against the base of a tree, find some large branches of similar size and place them around the tree trunk or part of it (ideally, choose a tree with a trunk that is not too wide). Overlap and interlock the branches at the top for added stability and then weave some smaller branches horizontally between the main supports. By starting at the bottom and working up, there will always be a lower level to support the new layer you are making. On top of this frame place piles of leaves and twigs and continue to weave longer sticks into the frame to make a protective lattice. You could also build a freestanding tipi away from a tree by ensuring that the main supporting branches are well interlocked and by tying them securely together at the top where they connect.

FFF (Family Fantasy Fable)
Write exciting words on pieces of paper – for example 'giant', 'shipwreck' or 'exploded'. Fold them up and put them into a pot. Each member of the family picks one out and has to create a short story around the word. Alternatively, one person picks out a word to start the story and after two minutes, the next person picks out a new word to continue the tale. Repeat this process until everyone has had a turn and the last person creates the ending. You've created your own family fantasy fable.
Section 3: Games and Activities
Make A Collage
Set the children the challenge of collecting a variety of natural materials from a list, ticking them off as they find them. Consider things such as daisies, pine cones, twigs and leaves (remembering to identify the type of tree at the same time). Have a large clean sheet of paper to hand and glue or tape the objects down, or they can just be laid out on top of it. Try to recreate the scene outside the tent door using the foraged materials. Or make an imaginative 3D map of the campsite. Take the collage a step further and use the materials to create a fish or ladybird shape. The fish's scales or fi ns could be made from a collection of cockle shells, for example. Or craft a ladybird from tiny stones painted red and black, with twigs for the antennae. Alternatively, find a bugshaped pebble and paint it bright ladybird colours, adding googly eyes to help bring it to life.
Rose Petal Perfume
To make your own fragrance, courtesy of Mother Nature, you'll need a small plastic bottle with lid or a clean jam jar (labels removed) to store the scent plus a couple of handfuls of rose petals, a sieve, pan and stove, and one-and-a-half to two cups of water. First ensure the petals are clean. Then bring the water slowly to the boil. Add the rose petals and simmer for a couple of hours. Allow the water to cool, and then sieve the water. Give the now cool petals a squeeze in the sieve to remove further scent. Pour it into your bottle ready for use. Dream up a name for your perfume and design a label to stick to the bottle. Why not experiment with different scents by blending ingredients together? Try flower petals such as daisies and lavender, pine needles or even fruit.
 Section 6: Classic Campfire Cookery

Crumble In A Package
Make a tin-foil parcel. Add a mix of ingredients such as rhubarb and strawberry, apple and cinnamon, or apple and chocolate, and a splash of water. Place in the embers of the fire and cook for a few minutes (about three minutes for rhubarb and strawberry, while apple and cinnamon would need approximately eight minutes). Open up and fold the edges of the foil down to create your own bowl. Then crumble good-quality ginger biscuits into each parcel, add a blob of crème fraîche and spoon straight from your makeshift bowl.
Classic S'mores
S'mores are simple and delicious. Take two digestives and place a square of chocolate on both biscuits. Spike your marshmallows (maximum of two) onto a skewer or stick. Toast them over the campfire or barbecue, ideally turning them until hot and they start to brown. Place them onto the bottom half of your biscuit and chocolate and add the identical top layer. Push down so the hot marshmallows begin to melt the chocolate and, using that same pressure, remove the skewer (remember the marshmallows will be very hot, especially in the middle). Give the s'more a little more time to melt the chocolate and  also cool down – and then scoff! They're messy to eat and the marshmallow sticks to your fingers and clings to your chin, so just go with the flow – there's no elegant way to eat one. S'mores don't have to be toasted on a campfire. Gas stoves will also do the job but the heat will be a lot fiercer.
Camping with Kids by Simon McGrath is out now.
Featured Image (c) Ron Lach via Pexels.