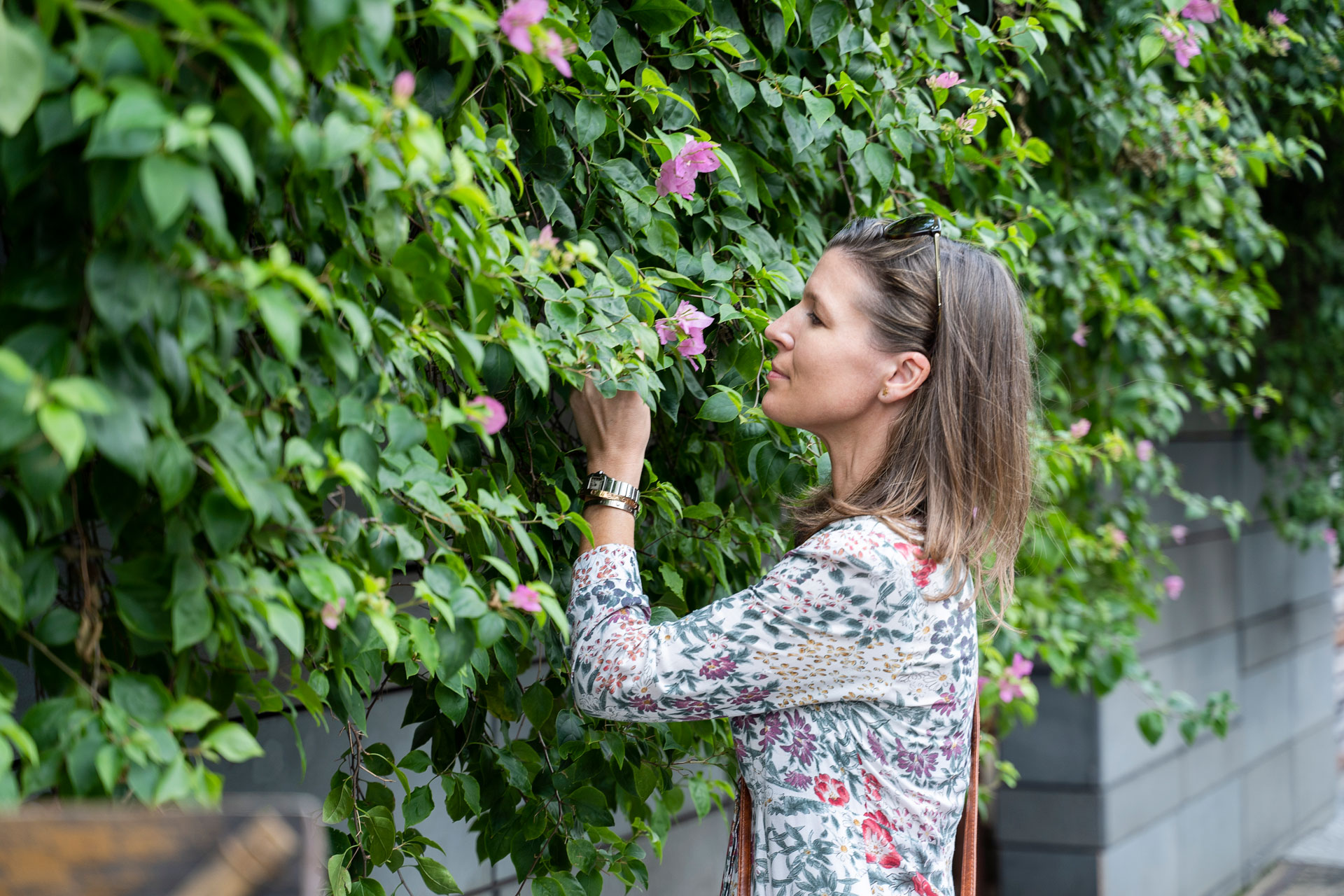 How To Spend Time In Saigon
Kate Crofton-Atkins and her inspiring journey through Saigon
By Kate Crofton-Atkins | 1 year ago
Kate Crofton-Atkins left L'Oreal for the scents and seduction of Saigon. Her stay there led her to create scent brand Cochine, inspired by the incense-filled temples, French architecture, woody forests, balmy warm nights and seaside rural areas of Vietnam. She tells C&TH how to get the best out of a stay in Saigon.
Read The C&TH Responsible Tourism Guide
How To Spend Time In Saigon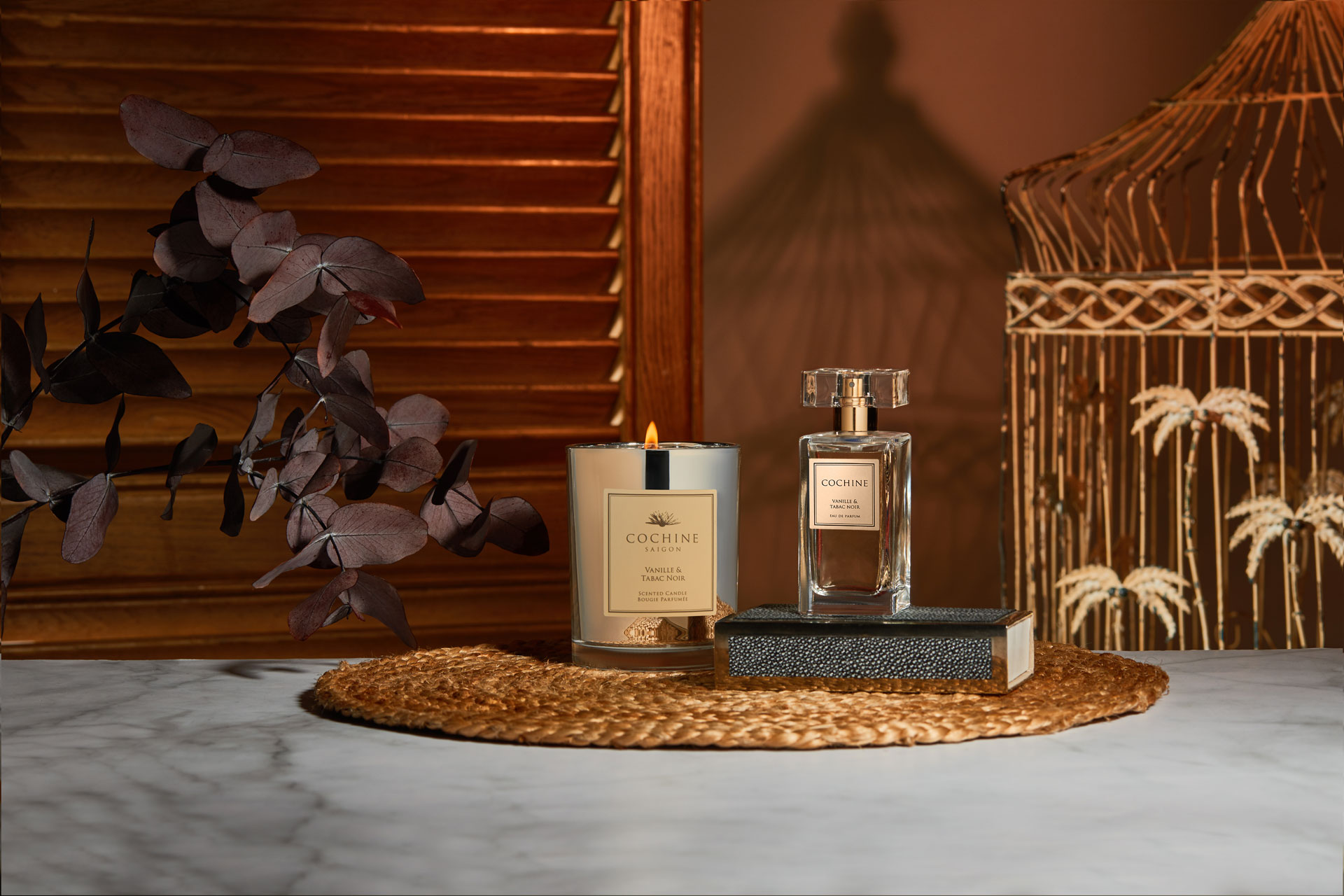 What To Expect
Saigon is a busy, bustling city, but it's also got a wonderful feeling of timeless elegance about it. Think beautiful old French buildings with pale green shutters, (the inspiration behind our brand colours and packaging), wide avenues lined with palm trees, little hidden streets dappled with warm, afternoon sun and gardens filled with jasmine and frangipani. When I first arrived in Saigon over 10 years ago, it really took my breath away. I loved the mix of Asian and French influence, the shabby chic elegance and the real feeling of time gone by you can find in its majestic hotels and villas. I knew very quickly that I wanted to create fragrances that captured the essence of this truly special place, and so I created Cochine – a range of fragrances and home fragrances inspired by life in Saigon and South East Asia.  
Where To Stay
For old-world glamour – and location – you can't beat the Park Hyatt. It sits right in the heart of the city, with its grand façade, beautiful shutters and stunning garden and pool. It really does feel like an oasis of calm amidst the bustling city life on its doorstep. For a more boutique alternative I'd stay in Hotel des Arts. It has a fabulous rooftop bar overlooking the city.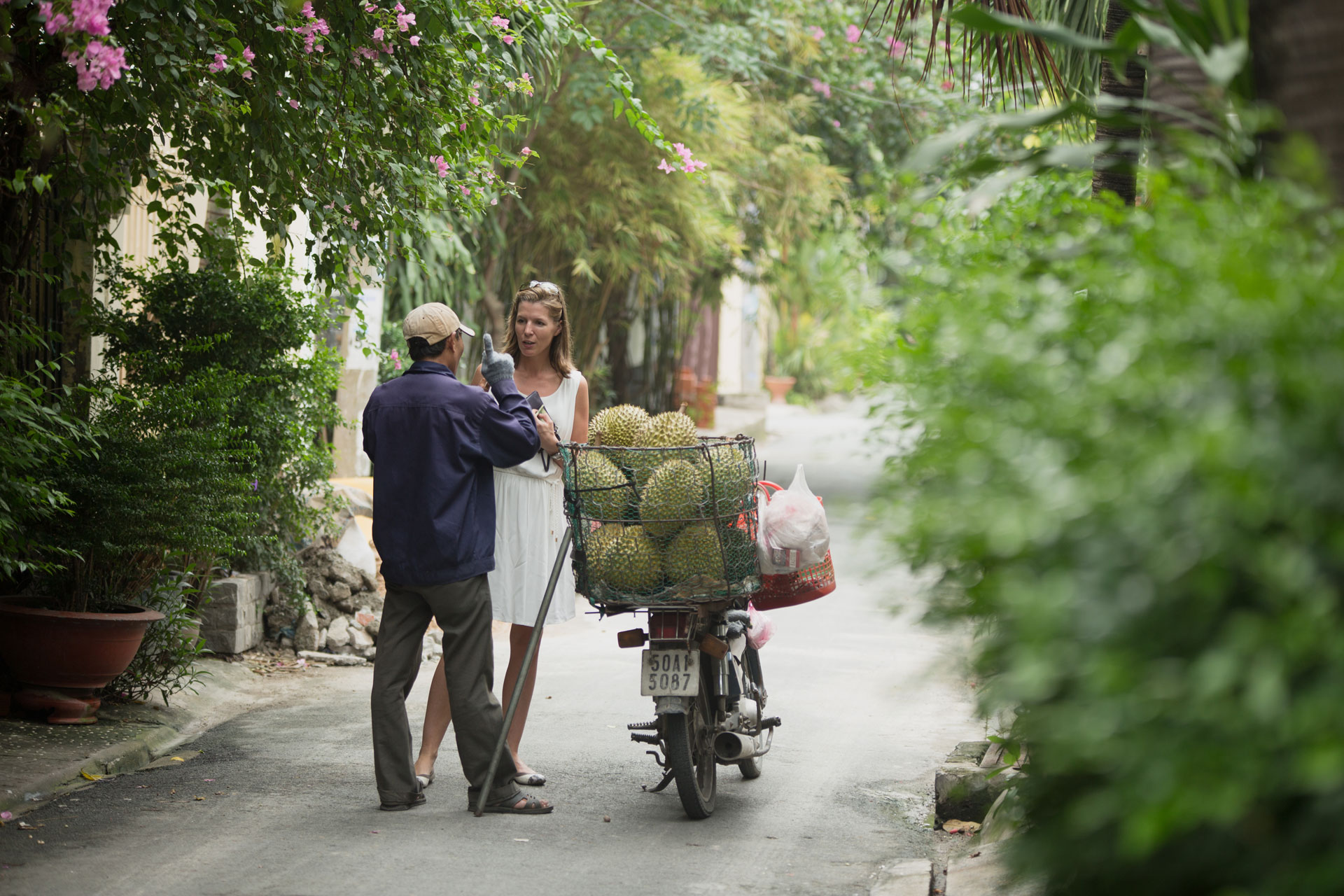 How To Get Around
To really get the feeling of Saigon, you need to walk and wander. Set off on foot to explore the magical little side streets, and take a peek through the grand gates of the wonderful old villas in the centre of the city. The traffic is quite manic with everyone zipping around on mopeds, so crossing the road can be quite an adventure – but that's all part of the experience.


What To Do
Saigon really does deliver on the shopping front. No one should miss out on a trip to the indoor food and spice markets, where you can find everything from food to fashion, beautiful trinkets to fabulous fabrics. You can even find some tailors to whip something up quickly for you. If you're after a quieter shopping experience, head to L'Usine. Their stunning stores are a haven calm and chic, covering both fashion and home, along with our range of candles and reed diffusers.  
Where To Grab A Quick Lunch Bite 
Although there are lots of great French bistros in central Saigon, I tend to stick local and go for Vietnamese. If I'm in a real hurry it will be a bowl of pho in a little spot on a side street, but my favourite place is Cuc Gach Quan, also known as The Brick. Housed in an old villa in District 1, you have to climb a ladder to eat on old tables in the rafters and the food is simply amazing. Their soft-shell crab and Thien Ly flower are particularly good! 
Or How About A Slap-Up Supper?
My favourite restaurant for a treat dinner is The Deck.  It's just a 10-minute taxi ride from the town centre, and once there you find yourself in a completely different setting – a beautifully designed, airy space right on the banks of the Saigon River, where you can sit out on the deck, watching the boats go by and sip a delicious martini. The food is Asian-fusion, but a real combination of the best of Vietnamese, Cambodian and Thai – all with a modern twist. Their salt and pepper squid and fresh tuna rolls are worth a visit in themselves. 
Foodie Treats 
I can't get enough of the fresh spring rolls in Vietnam. Made with the thinnest rice paper, packed with veg and fish, and eaten with a sensational chilli dipping sauce, they are just delicious. Another hugely popular treat is a Banh Mi – a snack that brings the best of France (a baguette!) together with delicious Vietnamese fillings.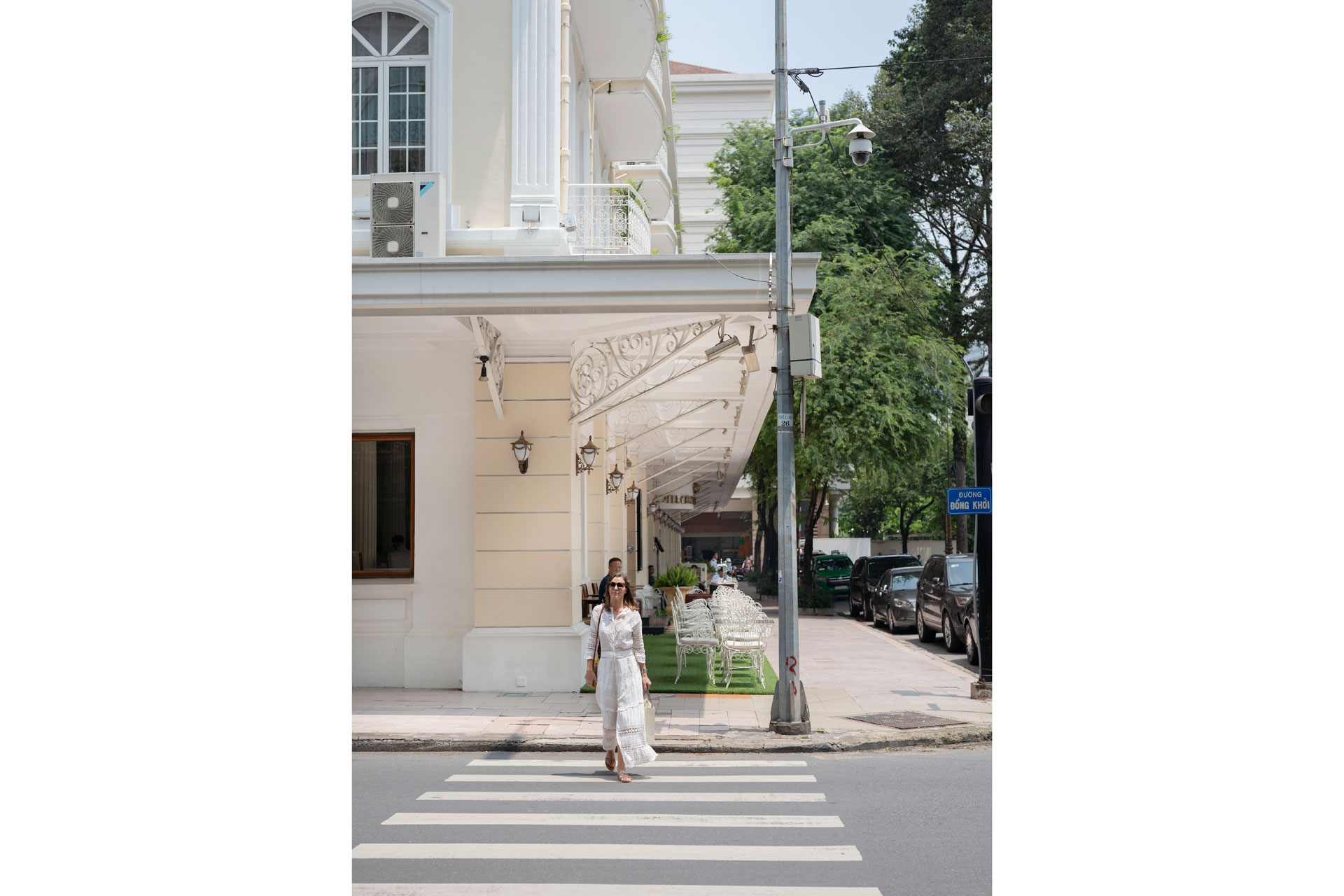 Insider Tips For Saigon
Use the river. The Saigon River meanders through the city and offers a much quicker way to get around than the scooter-filled streets. You can get a boat out to see the Cu Chi tunnels which are well worth a visit and the journey takes an hour by boat instead of three hours by car. And by night, take a boat from the city centre to dinner at The Deck restaurant. There is something magical about being on the river at dusk. The warm evening air is full of heady floral scents, the lights are twinkling all around you – plus, is there a more stylish way to arrive at dinner than by boat?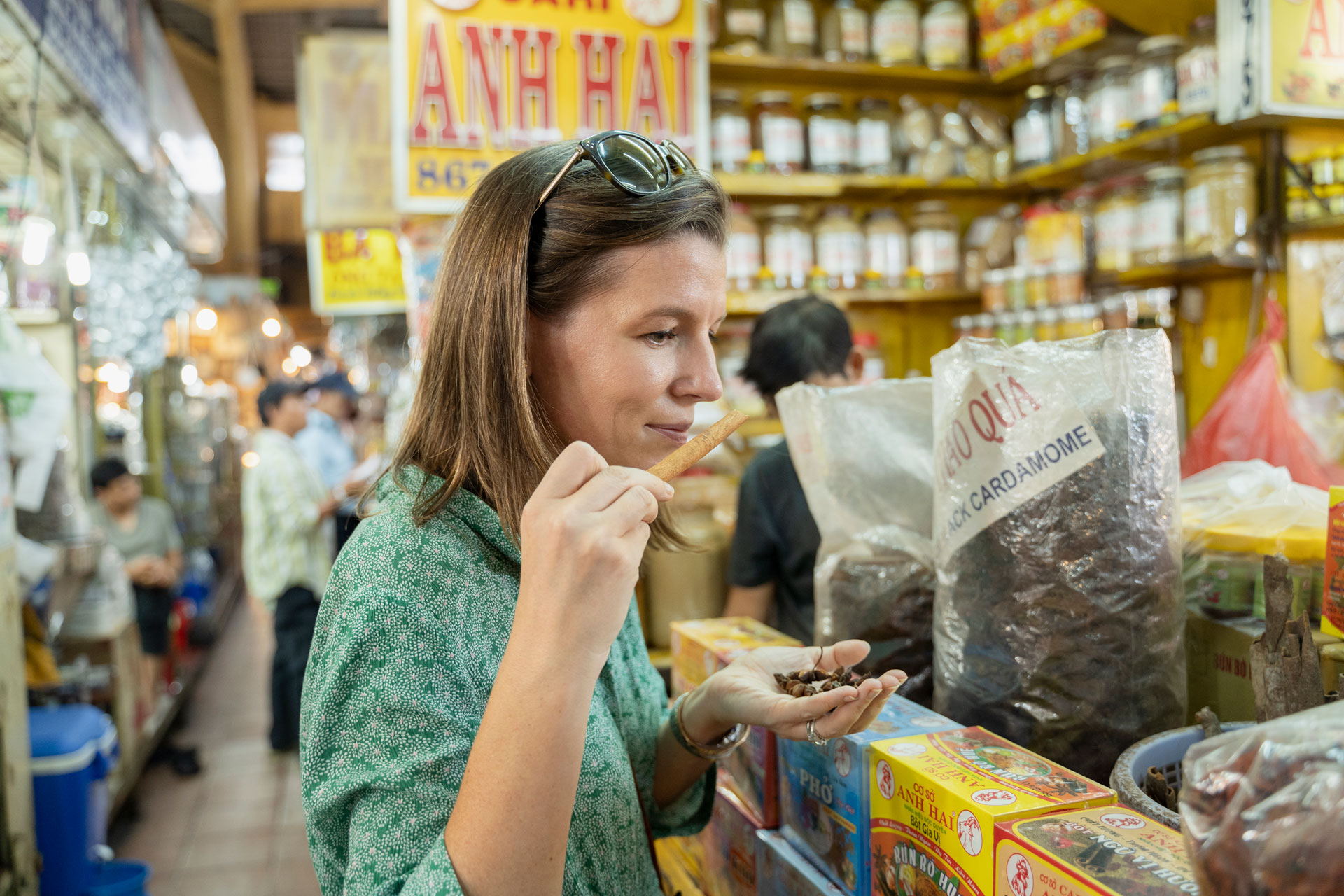 You Absolutely Must…
Go to Ben Thanh market. I'm a sucker for a market – and Ben Thanh market in the centre of Saigon is one of the best Southeast Asia has to offer. Great for rattan, ceramics, mother of pearl knick knacks and linen, it makes for a brilliant Christmas shop up. They also have a huge array of flowers and spices that are totally unique to South East Asia and have been a source of huge inspiration to me over the years. Our Agarwood & Amber, Vanille & Tabac Noir fragrances and our limited edition Christmas candle, Orange Amére & Star Anise, all found their beginnings in the baskets of herbs and spices I found here.
Just opposite Ben Thanh market there is also a small street called Antique Street which is full of little shops selling ginger jars, vintage Marelli fans, you'll be amazed what you can find.  
The Locals Wouldn't Like It If You… 
Didn't try a cup of their Vietnamese coffee. Wuite possibly the strongest coffee in the world, one cup will set you up for the day.

But They'd Love It If You…
Pulled up a little stool at a streetside cafe, and enjoyed a bowl of Pho soup the traditional way, soaking up the atmosphere of their spectacular city as you savour its intense and aromatic flavour. 
Recently, Kate worked closely with French contemporary perfumer, Maurice Roucel to create a beautiful new scent, Tuberose Absolute & Sandalwood. The new candle and diffuser will be launched for autumn 2022. cochine.co.uk