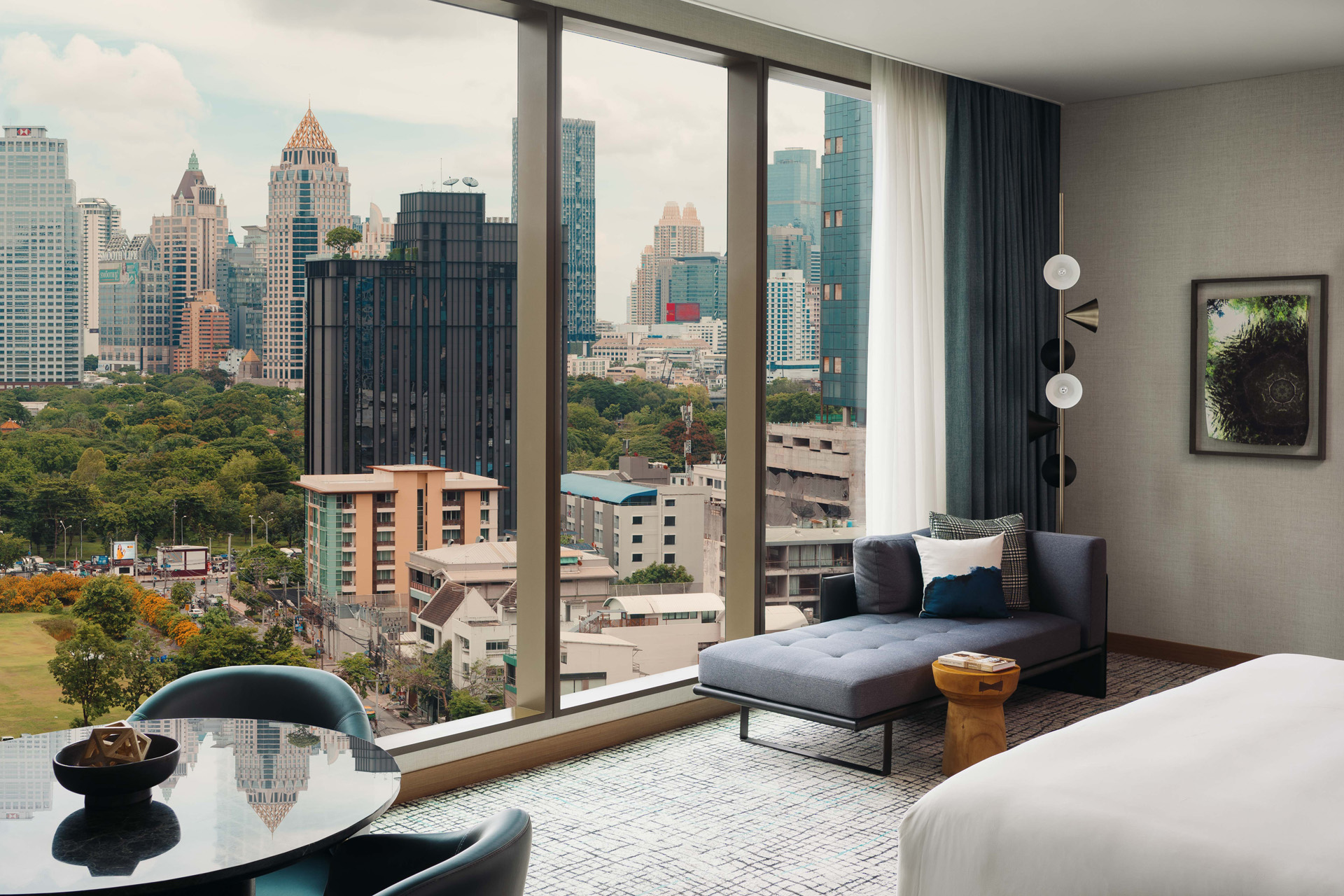 Swish City Sanctuary: Kimpton Maa-Lai Bangkok, Thailand – Hotel Review
Lauren Ho checks in to the Kimpton group's first hotel in south-east Asia
Occupying 40 floors in Bangkok's leafy Langsuan district, Kimpton Maa-Lai sets the scene for a slick city retreat, says Lauren Ho. Framed by statuesque mimosa trees, the hotel's glass façade lets the surrounding views of Lumphini Park do the talking. Despite its imposing exterior, don't expect a stiff corporate feel; this hotel is smart and cool in equal measure.
Read the C&TH Responsible Tourism Guide
Hotel Review: Kimpton Maa-Lai Bangkok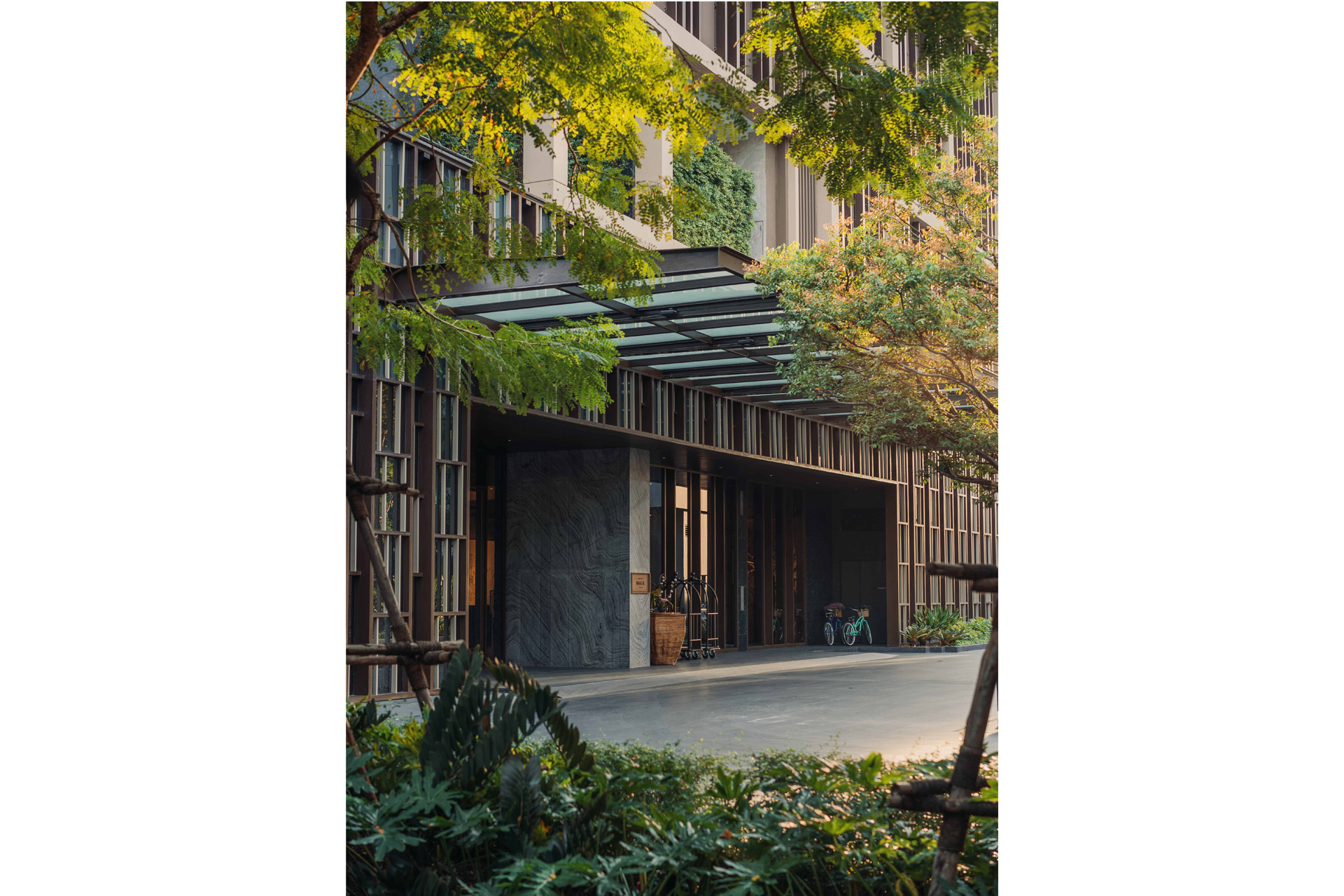 STAY
The first impression of Kimpton Maa-Lai is striking, with a low-lit, polished lobby. Soaring ceilings, raw concrete and dark wood add a dose of industrial flair, softened by contemporary local art and handwoven Thai textiles. 
Kimpton Maa-Lai's 231 rooms are all about sophisticated minimalism, dressed in subtle shades of grey and teal. Hitting the switch on the automatic curtains at sunrise feels like opening a door to the sky, as Bangkok's hazy skyline reveals itself through floor-to-ceiling windows. Wall panelling and thick carpets add sumptuous texture. Each room comes with a Vifa Helsinki sound system and silky robes by Christian Develter for Tube Gallery – not to mention yoga mats, espresso machines and a very well-stocked mini bar complete with a DIY cocktail set in selected suites. The big bathrooms are a treat: decked in white marble, with rainforest showers and fragrant bathroom amenities from local Thai brand HARNN. 
Rooms aside, Kimpton Maa-Lai also has 131 serviced apartments, if a longer stay and a little more space appeal. The cherry on top might just be the urban oasis on the third floor, which is home to an impressive infinity pool flanked with sun loungers. Unlike many of its Bangkok-based competitors, the hotel is pet-friendly and stocks a multitude of grooming kits, treats and toys.
DO
Amid this notoriously traffic-heavy metropolis, Kimpton Maa-Lai's location in Langsuan is pleasantly walkable. You're well-placed for a stroll through the creative district with its art studios, pop-up restaurants and speakeasies. Nearby, take a wander along Sukhumvit Road for a taste of Bangkok's cosmopolitan culture, or browse the extensive art collection at the Jim Thompson House museum. Shopping aficionados can get their fix in the Siam and Ratchaprasong districts.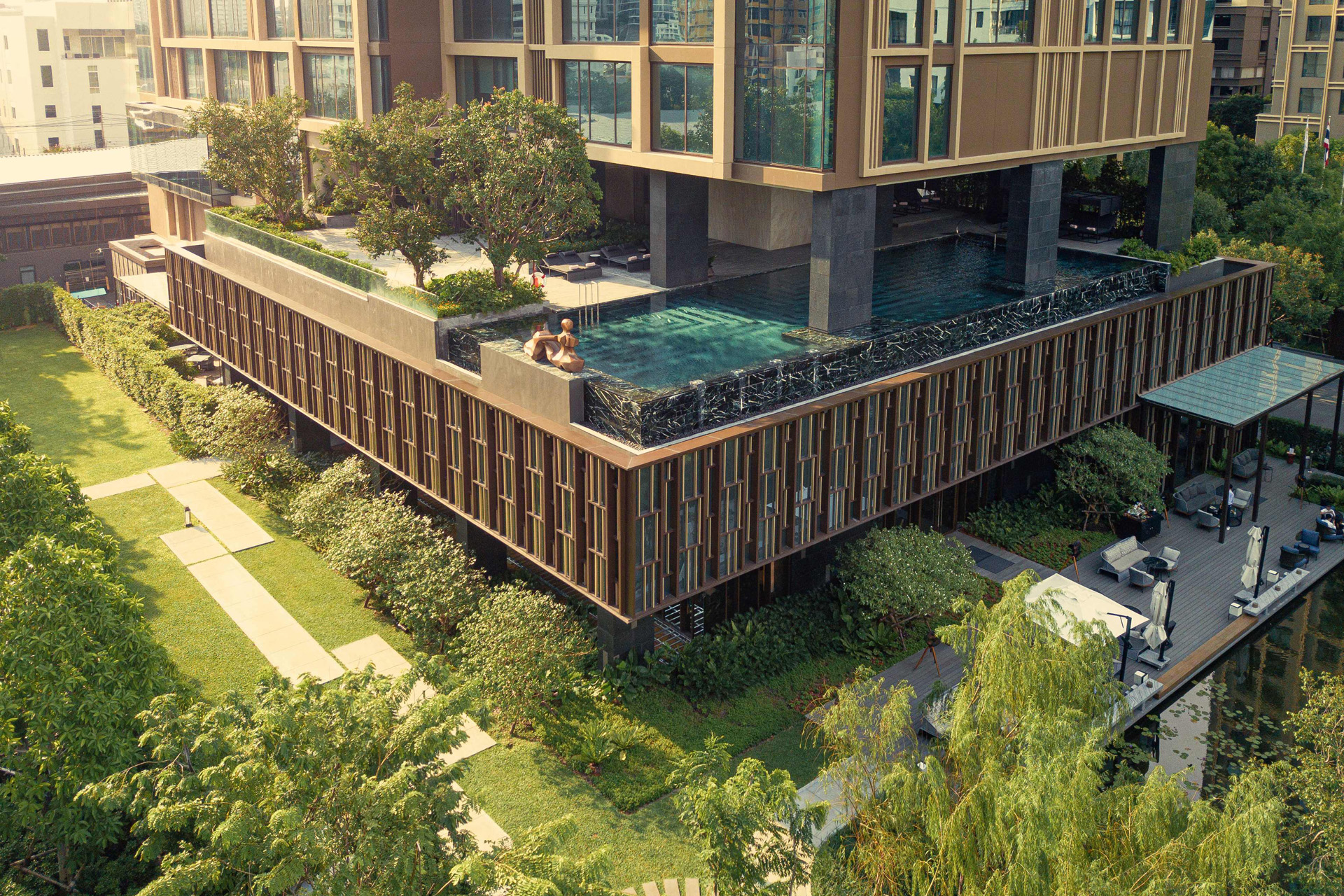 If venturing beyond the hotel's tranquil walls simply isn't on the cards, there are plenty of wellness facilities in-house. The gym is particularly impressive for a city hotel, with top-of-the-range equipment and a good choice of classes including yoga, dancing, and Muay Thai boxing. The award-winning amaranth spa promises organic local products and a holistic approach to its lengthy menu of massages, facials and more in-depth rituals – such as a programme combining private fitness sessions with skin analysis. 
Either way, don't miss Social Hour at the poolside bar, where in-house guests come to stave off the heat and sip a complimentary Aperol Spritz or Dark'n'Stormy in the late afternoon.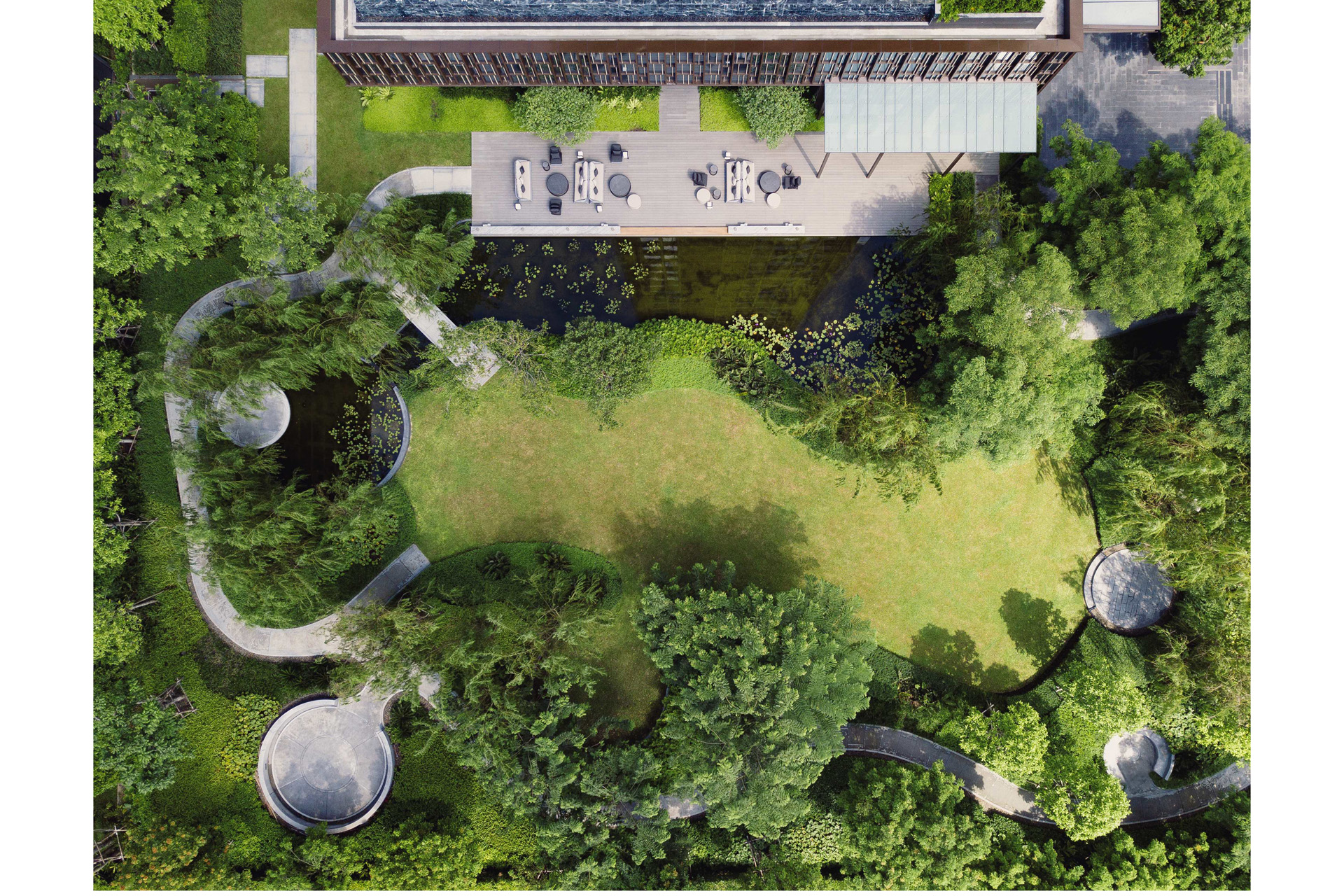 EAT
There's a good variety of international cuisine across Kimpton Maa-Lai's restaurants. Stock.Room has buffet stations for breakfast and a street food vibe for the rest of the day, with pop-up food stalls and a deli market. Located in the lobby, CRAFT is the buzzy pet-friendly café – ideal for grabbing coffee and cake while getting some work done. 
Hidden away at the back on the ground floor, intimate cocktail bar and restaurant Ms.Jigger serves up elevated Italian fare (truffle features heavily, alongside decadent dishes like foie gras tortelli with strawberry reduction and parmesan). 
For something a little more low-key, head to the 40th floor rooftop Bar.Yard. Sky bars might be a dime a dozen in Bangkok, but this one's a keeper – sipping mezcal while inhaling tacos and skewered corn feels better than ever up high, as the sky fades to peach and the city lights twinkle far below.
THE FINAL WORD
Claiming its title as the Kimpton group's first hotel in south-east Asia, Kimpton Maa-Lai comfortably straddles the line between boutique and practical. Staying here feels like retreating to a swish sanctuary far removed from the frenetic energy of Bangkok. Kimpton strives to be your 'home away from home' and, with excellent service, thoughtful comforts and a stack of style, Kimpton Maa-Lai certainly hits the mark.
BOOK IT: Rates from £207 per night, not including breakfast. kimptonmaalaibangkok.com
Featured image: Premium Room with Green Lung View at Kimpton Maa-Lai Bangkok.