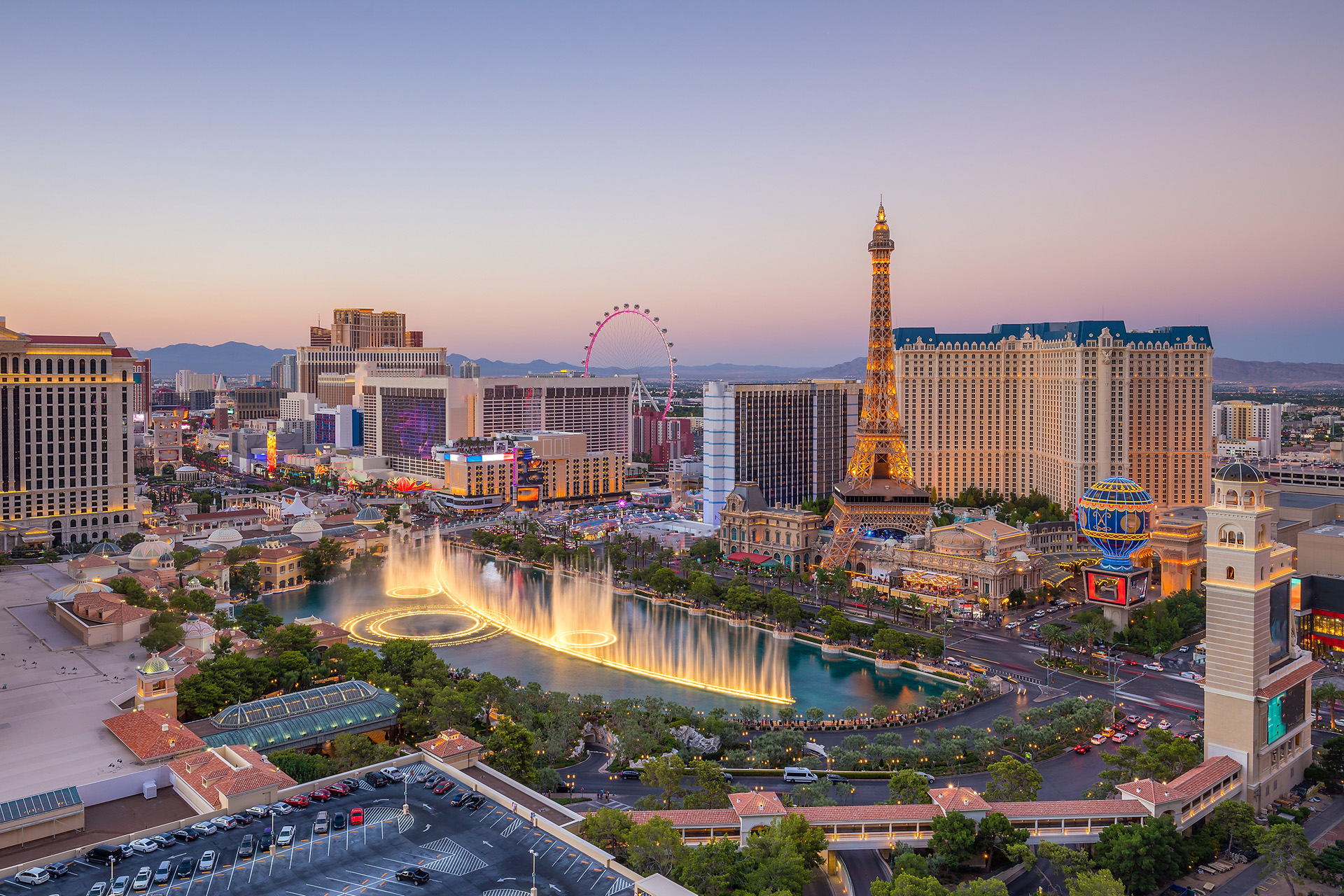 Las Vegas: Another Side Of The City
---
Anwer Bati discovers a new side of Las Vegas
Familiar from countless films, Las Vegas has many nicknames: Sin City and the Gambling Capital of the World to mention just two. But neither sinning nor gambling are actually obligatory, and you can have a great time in Vegas without doing either – unless you insist. In fact, it's a perfect short break destination, says Anwer Bati. Popular with couples, here you will discover great food, extraordinary hotels, world class entertainment, abundant luxury shopping, and many memorable attractions.
Read the C&TH Responsible Tourism Guide
The C&TH Guide To Las Vegas
When Is The Best Time To Visit Las Vegas?
Most visitors choose to visit Las Vegas in late spring and autumn. This is because Las Vegas is in the Mojave desert so, though it's pretty dry year round, it can get cold at night in winter (though it is pleasant enough and sunny during the day). However, it can get so hot, with temperatures over 40°C, in summer that exploring on foot can be arduous – though you'll find air conditioning everywhere, including taxis. 
Vegas is home to several major conventions and trade shows (the CES consumer electronics show in January, for instance), when hotels fill up – so it's worth checking dates if you want to avoid them.
Where To Stay
The city's iconic four mile long Strip is home to some of the most spectacular resort hotels on the planet. Almost all are huge, housing thousands of guests and every facility you can think of – and then some. They vary in character and luxury, but almost all of them are dominated by giant casinos on the ground floor, where people try their luck day and night, which you have to walk through to get to your room. And, in an unsentimental town where change and novelty are prized, even the most famous hotel is likely to get rebuilt or replaced.
Wynn Las Vegas & Encore Resort
The most sophisticated and luxurious hotel is undoubtedly the Wynn, along with its sister property, Encore, on the same huge site – covering 215 acres at the northern end of the Strip. Together, the hotels – founded by casino magnate Steve Wynn – cost a whopping $5.2 billion to develop. And it shows: the Wynn even has its own golf course.
Both hotels are visually striking, curved copper-coloured buildings rising to over forty floors but, though they are physically linked on the ground floor, differ noticeably in ambience and design. Service in both is highly professional.
Walking into the Wynn is rather like walking onto a theatrical set. The first thing you notice is marble floors, huge flower displays, fairy lights – and a carousel. Then you might take in the hotel's Lake of Dreams (with its waterfall) and the restaurants surrounding the casino floor.
The Wynn is in two distinct parts: the main Resort, and the all-suite tower named Wynn Tower Suites. The Wynn Tower Suites section has its own dedicated reception area and aims for an air of exclusivity, with several extras included in the price. Rooms in both sections are large and residential in feel, with huge beds, artwork on the walls, and large bathrooms with tubs and twin basins. They have floor to ceiling windows – with views of the Strip or the Las Vegas Valley. Rooms are thoughtfully equipped (they come with Amazon Echo devices and USB sockets) and laid out, and the recent redesign by interiors guru Todd-Avery Lenahan manages to create a sense of calm comfort in contrast to the frenetic city outside.
Though it has over 2000 rooms, the feeling in the newer Encore, with its smart contemporary room décor, is more boutique and restrained, with – unusual for Vegas – natural light in many of the public areas.
Both the Wynn and Encore have large pools surrounded by greenery (with well-appointed cabanas at the former) and a 'Beach Club' for partying at the latter. And both have sumptuous, award-winning spas with fitness centres. For further pampering, the hotels have hairdressing salons and the Wynn also has a barber shop.
BOOK IT: Double rooms at both the Wynn Resort and Encore Resort start at £160 per night, not including breakfast. wynnlasvegas.com
Where To Eat
The Wynn and Encore have over 20 restaurants on site, ranging from a sports bar, a pizza place, and breakfast cafes to fine dining. The latter include Sinatra and Cipriani for Italian food, Mizumi for Japanese and Michelin-starred Wing Lei, for some of the best Chinese food in town. 
For many, the highlight is smart and stylish Delilah, the beautifully designed recreation of a 1950s supper club, where chef Joshua Smith serves classic dishes featuring the finest luxury ingredients – accompanied by live entertainment. And there are any number of bars to try, particularly the Aft Cocktail Deck, outside on the Lake of Dreams.
In a similar vein to Delilah, the nearby Bellagio hotel has the Mayfair Supper Club, with a nightly cabaret and lively atmosphere, serving exemplary time honoured dishes such as Dover Sole, with the bonus of a view of the Bellagio's famous fountains – a tourist attraction in their own right where jets of water, illuminated at night, shoot up to over 400 feet in time to music.
All of the major hotels on the Strip have restaurants serving a range of cuisines. Try Estiatorio Milos at the Venetian Resort's Restaurant Row, for instance, for Greek seafood dishes – just a short walk from the Wynn. And at the Venetian's offshoot of Arizona's legendary Canyon Ranch spa, there's the Canyon Ranch Grill for health orientated options.
Further south down the Strip, try Giada at the Cromwell for lunch from an Italian-Californian menu, or the popular weekend brunch – with a view.
There is also a plethora of bars to choose from, but one of the smartest is Alle Lounge on 66, at the top of the Resorts World tower. Go for cocktails and imaginative bar food with unbeatable views of the Strip in stylish surroundings.
Of course, there are plenty of good restaurants away from the Strip. One of the best is the buzzy Esther's Kitchen, where chef James Trees serves a tempting selection of essentially Italian dishes, with pasta and pizza to the fore.
Things To Do
You shouldn't leave Las Vegas without popping in to some of the other hotels on the Strip to experience them in all their glitzy splendour – whether it's the Bellagio's extraordinary conservatory, the Venetian's recreation of Venice, Caesars Palace's evocation of ancient Rome or the Paris resort's attempt to waft you to the French capital.
And try to get to the Downtown area, the original city of Las Vegas, for a completely different ambience: low rise, full of small restaurants, everyday shops and art galleries. Downtown is also home of The Mob Museum – which, in a former courthouse, not only dramatically explores the history of the Mafia and law enforcement in Las Vegas, but also, incidentally, the history of the city. And it has a 'speakeasy' bar in the basement.
There are several tours to explore Vegas's food scene, with some of the best – including the Ultimate Steakhouse Tour – offered by Lip Smacking Foodie Tours. 
Las Vegas is synonymous with its nightlife – whether it's the many bars, often with live entertainment in the main hotels, or their nightclubs. Above all, it is the changing roster of household name acts – including Cirque du Soleil – in the city's state-of-the-art theatres which you really won't want to miss.
Vegas is only an hour's helicopter ride from one of the United States' greatest natural wonders, the Grand Canyon, and there are several companies offering a range of tours, usually including aerial views of the Strip, Lake Las Vegas and the Hoover Dam on the way. The best – including a limousine transfer to the airport – come courtesy of the long-established Papillon Helicopters.
Where To Shop
Unless you visit the boutiques of Downtown, shopping in Vegas means big ticket luxury brands. The Wynn and Encore host over 50 shops, including Prada and Louis Vuitton, and also a few lesser known European and American brands such as Cotton Citizen in elegant galleries.
But for a truly unusual shopping experience go to the Grand Canal Shoppes at the Venetian where, in a recreation of Venice's Grand Canal, the range of goods is much larger (though it includes Burberry, Jimmy Choo and Michael Kors), and you can take a break in one of the many restaurants. Even more spectacular is the ancient Roman setting of The Forum Shops, largely fashion orientated – with a huge array of leading brands including Tiffany, Versace and Brooks Brothers – at Caesars Palace.
Although many of the same luxury brands are represented at all of these malls, you'll find they tend to stock different items.
BOOK IT
Both British Airways and Virgin Atlantic fly direct to Las Vegas from London Heathrow.
For more information see visitlasvegas.com and lvcva.com.