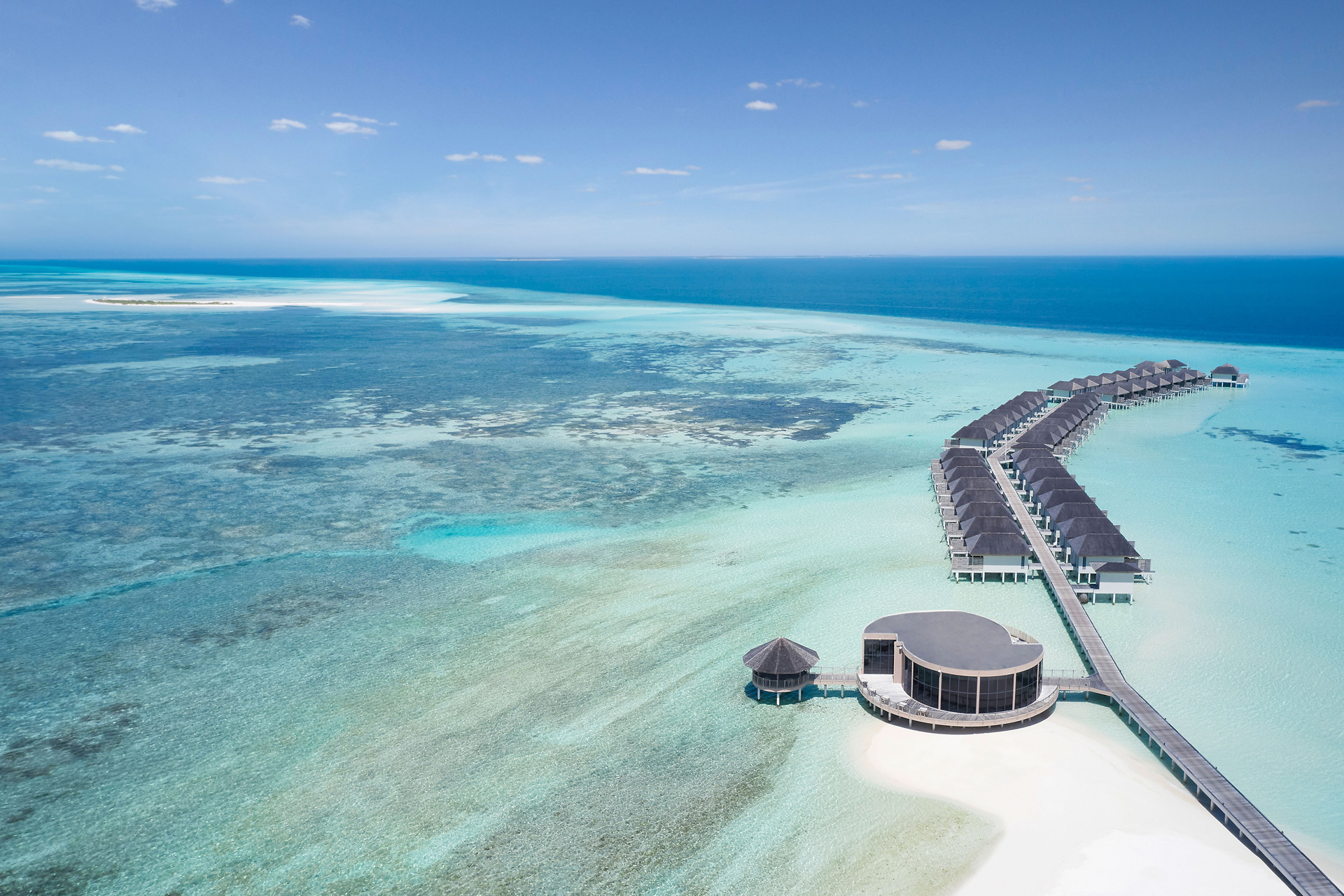 Le Méridien, Maldives: Affordable Luxury With Sustainable Flair – Hotel Review
Experience all the joys of a Maldives stay
By Teresa Levonian Cole | 2 months ago
There's nothing like a 45-minute journey by sea plane to blow away the cobwebs after half a day sitting in an A380. Flying South from Malé to Lhaviyani Atoll, home of Le Méridien Maldives, over opalescent islands floating in turquoise waters fills the heart with promise – and the anticipation of its fulfilment. But with so many luxury resorts to choose from, which one is for you? Teresa Levonian Cole reviews.
Read the C&TH Guide to Responsible Tourism
Le Méridien, Maldives: Affordable Luxury With Sustainable Flair – Hotel Review
STAY
Of the 141 villas, the majority are overwater, with a choice of sunrise or sunset views – each offering its distinct palette of hues – Impressionist to the East, Expressionist to the West.  Sitting on the netting on your balcony, suspended above floodlit water by night, you can watch grumpy groupers, barely-there pipefish and placid nurse sharks swim by, then retire to the gently lapping sound of ocean waves. With the breeze, mosquitoes are kept at bay. Given such joys, you can forgive the somewhat boxy concrete design and Pinky-and-Perky colours, and concentrate instead on the lovely slate bathroom, whose tub has 270° views of the Blue.
The Beach Villas, popular with families, are paced on powdery-white and are brushed clean each morning, with privacy ensured by sprawling vegetation. These are painted in a grown-up elephant grey, and have huge outdoor, stone bathrooms that you could happily live in, while listening to the plaintive sighs of the Asian koel birds.
The design triumph of the resort, however, is the spa – like a macramé basket hanging over the water, knotted ropes creating a wonderful interplay of light and shade, and with gorgeous organic decorative touches (such as a petrified log as a bench in the changing room) you can watch the fishy world go by through a glass panel, while face down enjoying an excellent massage – all oils organic, natch.
DO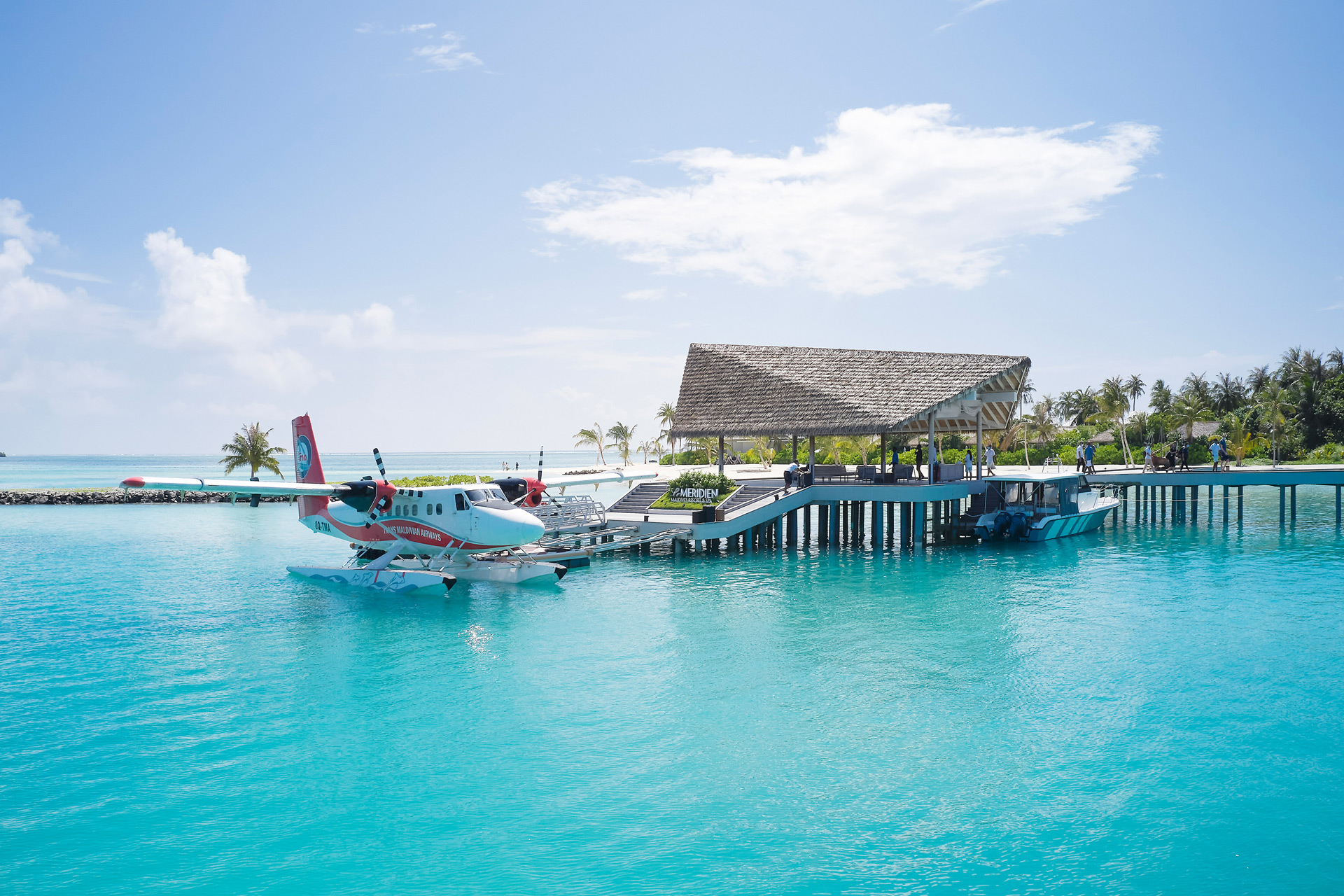 The fly-and-flop ethos of the Maldives is challenged by a wealth of options to tempt you from the beach. While we do not all choose to rise for the daily complimentary activities, such as yoga and meditation, we recommend a guided snorkel on the house reef where you can swim with lugubrious turtles, float through clouds of electric blue damsel fish, chase reef sharks and admire the results of the resort's coral restoration programme. 
Scuba diving and – unusually – mortised water sports, are available, as is both deep-sea fishing (one guest proudly showed off an enormous sailfish) and the gentler art of Maldivian line fishing. Competition among the fishing fraternity is sharp! On land, you can engage in de-stressing painting classes with a local artist and learn the secrets of making the perfect Cappuccino with the house barista.  Meantime, romantics can repair to the resort's private island a short hop away, secure in the knowledge that their children are kept entertained in the Kids Club. We won't even mention the gym.
EAT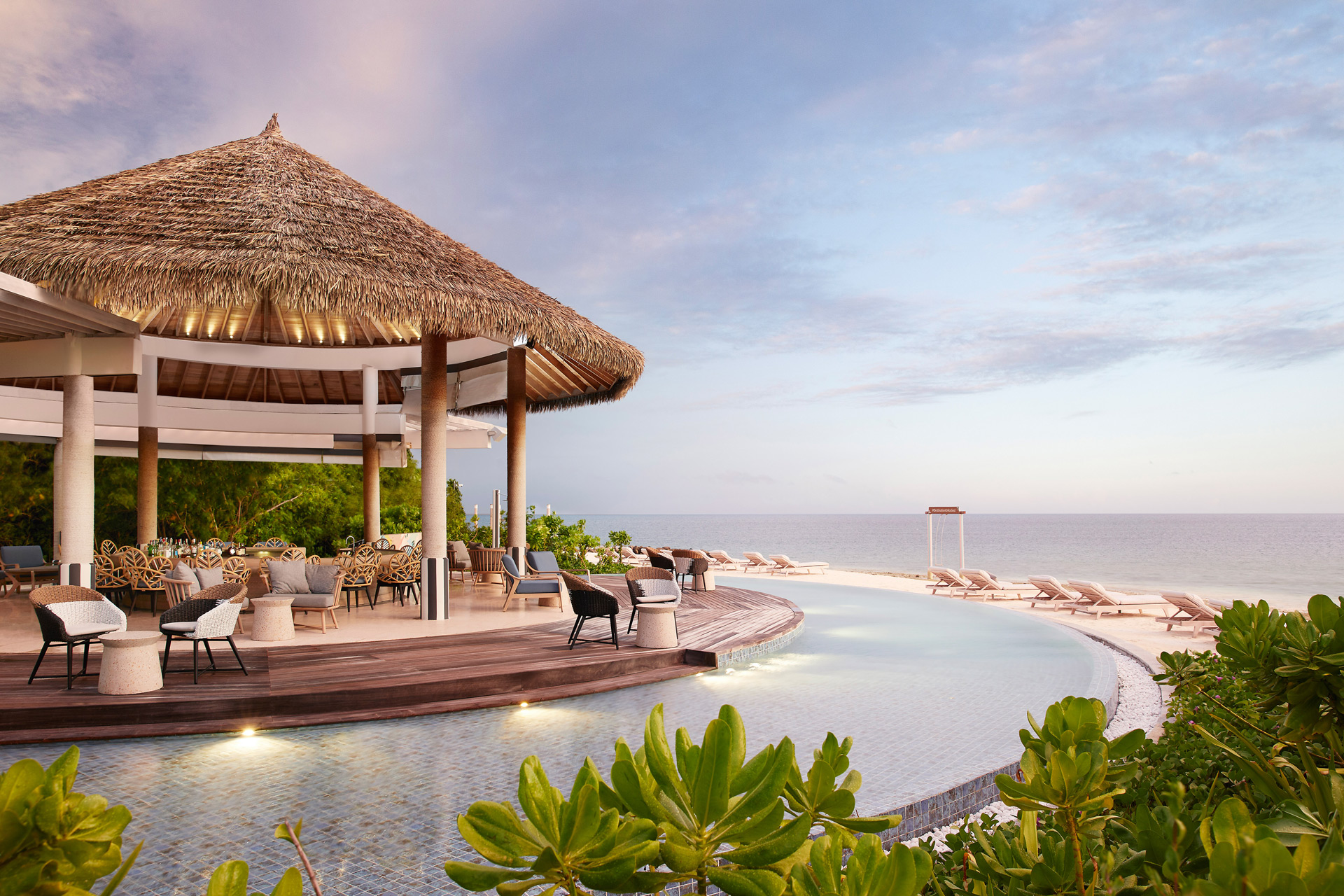 The resort is justly proud of its eco-friendly hydroponic garden, whose herbs, veggies and fruit find their way to your table, into detox juices at the café, and even into a deliciously inventive range of cocktails, making them feel almost healthy.  You can tour this 'greenhouse', then have a barbecue dinner at the private Harvest Table , in a natural gazebo on the beach. These aside, there are four restaurants to choose from, with a multinational buffet breakfast served at Turquoise (the Asian dishes are delicious, with mushroom noodle chili soup becoming an unlikely favourite!) and Velaa – situated above the pool, serving fresh-and-simple dishes, such as an excellently tangy beetroot soup and catch-of-the-day. For fine dining, opt for the overwater Japanese restaurant (make sure you book the outdoor table) which specialises in teppanyaki, but whose extensive menu also offers up such delights as hamachi flambé, with caviar, foie gras, and avocado purée – as though to say 'beat that, if you can!' 
Our favourite was the Mediterranean restaurant, Riviera, tucked away at the quiet end of the island, with a delightful Robinson Crusoe vibe. With different lunch and dinner menus, there is a huge range of appetising options, with mouth-watering black cod, and lobster paella available for dinner.  None of these was a match, however, for the fish we caught while line-fishing a couple of hours earlier.  Our Emperor fish – too large for any plate to contain, and plain-grilled to our delectation – simply stole the show.
THE FINAL WORD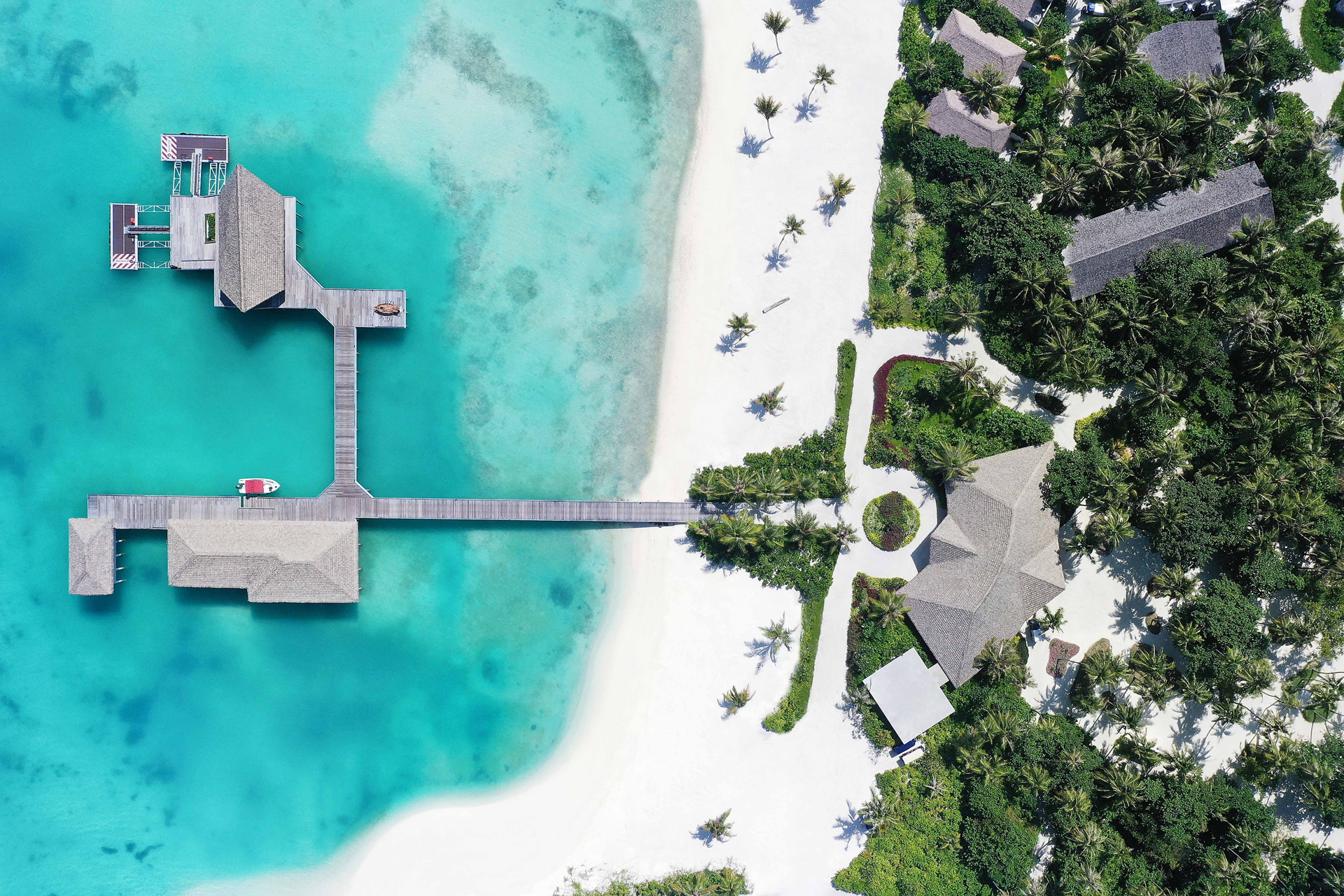 With so many über-luxe resorts to choose from in the Maldives, with stratospheric prices to match, Le Méridien is an excellent choice for affordable luxury. While its crisp, clean design might not be in the running for imaginative architectural awards, it has won a sustainability credentials (BCA Green Mark GOLDPlus Award) for its various eco-conscious programmes; and where service may not be quite as slick as elsewhere, the willingness and friendly smiles of the staff more than compensate. And, let's face it: why pay up to six times more, when all the benefits and joys of a Maldives stay are served up here, on a plate?
BOOK IT
A sunrise overwater villa, or one-bedroom beach villa, is from £307 for double occupancy, including buffet breakfast (low season).
 lhaviyani Atoll Hotel, Le Méridien Maldives Resort & Spa | Marriott Bonvoy