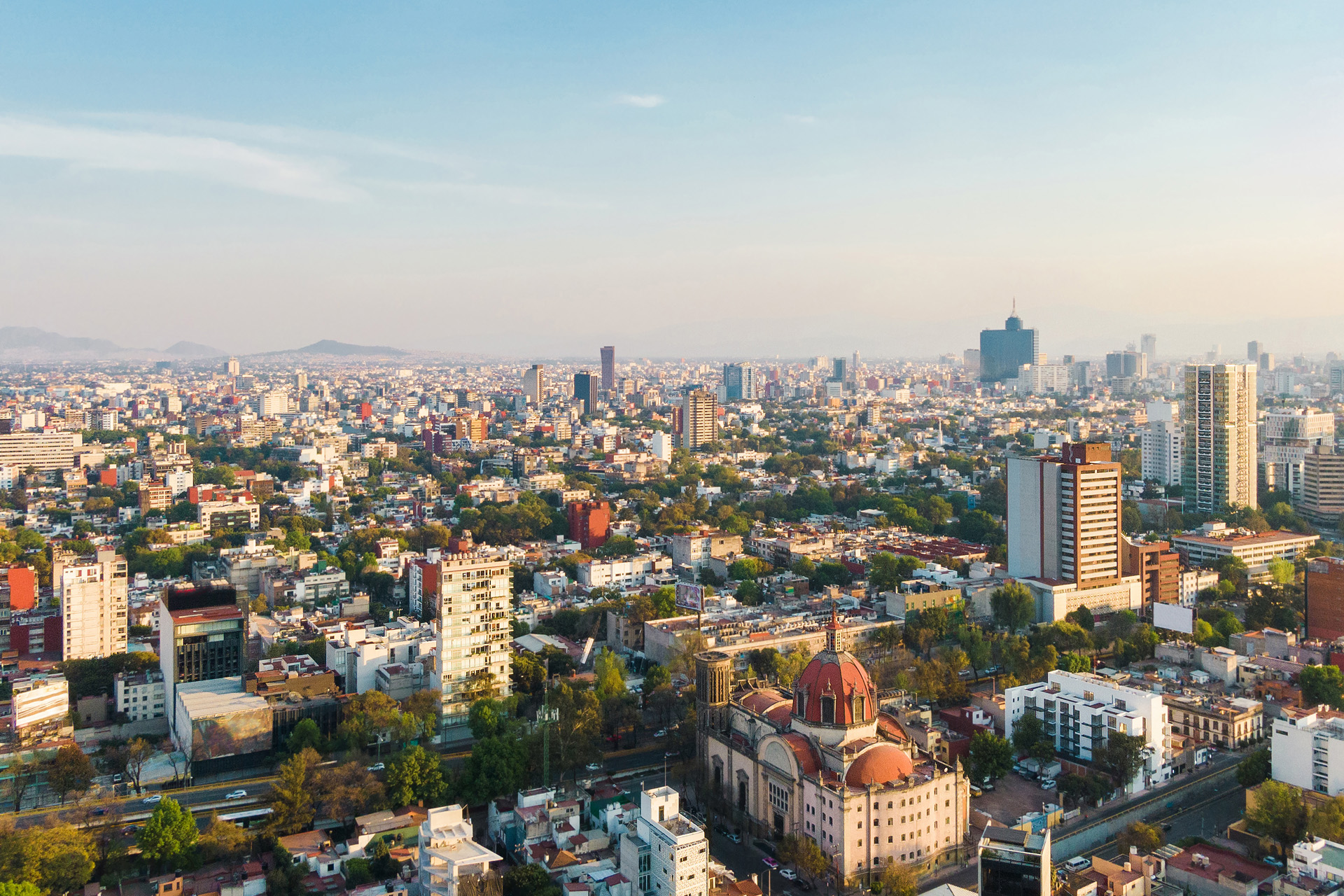 The Ultimate Guide To Mexico City
We pick out the best of the best
Where to start with Mexico City? A city of cities, it is overwhelmingly big but intoxicatingly vibrant and alive. A melting pot of indigenous tradition and European influence, each neighbourhood has its own history and story. Filled with world-class galleries and museums and jam-packed full of restaurants and bars that are consistently on the World's Best lists, Mexico City – or CDMX (Ciudad de Mexico) or DF (Distrito Federal) as it's more often called locally – is as endless as it is exciting. Alanna Ospina picks the best of the best to make the most of this magical city, whether for a weekend break or a longer adventure.
Read the C&TH Responsible Tourism Guide
The Ultimate Guide To Mexico City
STAY
La Valise Mexico City
In the uber cool neighbourhood of La Roma (immortalised in the Oscar-winning film of the same name), La Valise is a three key, 1920s townhouse hotel with three 1000 square foot suites that are as unique as they are huge. It is a neighbourhood that has seen many of modern culture's greats pass through it. Inside La Valise, bold colour patterns and art deco tiles combine with wooden floorboards and period furniture flanked with a mixture of old paintings and bursts of ingenious contemporary features – an old TV satellite is repurposed as a room divider in La Luna (meaning moon – and the room certainly takes you to astral realms). 
Breakfast is delivered to the room each morning and, for caffeine hits and small snacks, there is a great café next door. For everything else, La Roma is home to some of the hottest restaurants and bars in town – you certainly won't go hungry. lavalisecdmx.com
Orchid House
Step into this 100-year-old neoclassical mansion – on one of Mexico City's most exclusive streets, Campos Elíseos, in the chi-chi Polanco neighbourhood. Be dazzled by the grand staircase in the hotel's reception area and – you guessed it – the orchids that adorn every corner of this boutique casa. 
The beauty and complexity of this elegant flower inspired the owners of Orchid House, who created a sophisticated urban retreat in response. The 18 rooms are clean cut, bright and airy with rustic features and Mexican artwork throughout. But they still pay quiet homage to the building's illustrious past, with the floor-to-ceiling stained glass windows embraced by pink quarry stone unique to Polanco's architecture, antique tiled floors and elaborate cornicing. 
A verdant bistro and terrace provide a tasty breakfast and lunch. For everything else, from the Anthropological Museum to a highly coveted table at one of the city's Michelin starred restaurants, it is only a short walk. Nearby, Parque Gandhi is great for a jet lag busting walk or run. orchidhousehotels.com
EAT & DRINK
Hugo
Head to this chic French wine bar in La Roma for a light lunch or dinner. It is worth ordering just the side dishes alone – try the radicchio caesar, gnocchi and flor de calabaza frito (fried courgette flower). hugoelwinebar.com
Rosetta
One of CDMX's prettiest restaurants set in a colonial palace, choose to eat inside to be among the giant greenery, or opt for the pavement outside to people watch the city's well heeled. Must try dishes include taco con pipian and tagliatelle salchicha. rosetta.com.mx
Cabanna
Set on the main boulevard in the city's swankiest neighbourhood, Polanco, Cabanna serves up beautifully presented and delicious Mexican fare, including crunchy blue tuna tostadas and piles of tacos. cabanna.com.mx
Maximo Bistrot
People flock to Maximo Bistrot for its industrialist interiors, the prestige of its name and for its tasting menu. If you don't fancy a long list of courses, their à la carte menu is exceptional, and the restaurant is a cool place to sit back and enjoy a spacious modern setting. Booking essential. maximobistrot.com.mx
Páramo
This night-time haven is found at the top of steep steelwork stairs, and is where tacos and mezcalitos are the order of the day, every day. facebook.com/ParamoRoma
Botánico 
The hottest new place in Mexico City, set up by a group of friends who have created a vibey space that they would want to hang out in – a sun dappled open courtyard with tables leads inside to sweeping rooms and botanical inspired interiors. The playlist is sensational and the food is chic; it's the kind of place to get lost in for a few hours. The mussels and chips and ravioli are regular's favourites. @botanicomx
Itacate del Mar 
Entremar and Contremar continue to be two of CDMX's highest acclaimed seafood restaurants. If you haven't booked a table in time or are in the mood for something a little more low key, Itacate del Ma, in the city's main Zocaló and just next to the Cathedral, is the perfect gourmet lunch pit stop during a day's exploring. The menu packs a punch and has Chef Gabriela Camara's signature touches. itacatedelmar.com.mx
Taquería Orinoco
There truly isn't anything better than a late-night taco: corn tortillas piled high with succulent grilled meat and lashings of every sauce, finished with a squeeze of fresh lime. Orinoco is something of an institution that CDMX locals travel across the city for in the early hours, just for a bite of their famous tacos. taqueriaorinoco.com
Casa Franca
Head here for an authentic jazz experience the way it should be: dark lighting, sexy atmosphere, superlative music played by an ethereally cool and talented band. facebook.com/Lacasamerida109
DO
A City Tour With A Local
Toursbylocals, as the name suggests, curates tours of the city (of varying durations and interest areas) led by locals. If you're tight on time but big on wide-eyed energy, try the Mexico City Express Tour which will take you to the four corners of the labyrinthine cosmopolis, starting with a tour back to its roots at the Teotihuacan Pyramids – an astonishing ancient Mayan city on the outskirts of town – followed by a visit to the holy Guadalupe Shrine.
A highlight is the floating gardens of Xochimilco, an extraordinary waterway system where colourful floating boats are rented to party on with travelling Mariachi bands, and restaurants floating alongside who can be called on board at a moment's notice. The 470-acre Xochimilco wetland is also a UNESCO World Heritage Site and home to a whopping 11 per cent of the entire country's biodiversity. The tour finishes in Coyocan, Frida Kahlo's neighbourhood. 
BOOK: ToursByLocals offers the full-day Mexico City Express Tour for £442 for four people (prices vary on group size). The tour includes guiding services, private transportation and admission tickets. toursbylocals.com
Museo Frida Kahlo 
Frida's art (as well as her archetypal Mexican aesthetic and moving story) has inspired generations of people. A visit to her former home, La Casa Azul – where she lived with husband and fellow artist, Diego Riviera – is a moving tribute and intimate look into Frida's life filled with passion, pain, and beauty. The surrounding neighbourhood, Coyoacan, was and still is a haven for creatives, filled with artisanal markets and a rebellious spirit. museofridakahlo.org.mx
National Museum of Anthropology
Arguably one of the best museums in the world for its collection and setting, walk past the epic water structure (designed to represent the human connection to nature) and through the galleries. Here, learn about the evolution of man (as well as the storied history of Mexico), told through bones, artefacts, life-size recreations, artwork and jewels. A whole day could be spent here. museu.ms
Casa Estudio Leonora Carrington 
The number of female surrealists is seldom mentioned in comparison to their more publicly lauded male counterparts. Leonora Carrington was a British aristocratic debutante who left behind all airs and graces to live out her art in Mexico City. Her former home has been turned into a museum and is a dedication to her work and life that was truly lived as a surrealist. Keep an eye on the website for when it opens. casaleonoracarrington.uam.mx
Leonor
Residents of Mexico City know how to party – and will do until the early hours (truly, they're hardcore). For a night of dancing, head to buzzy nightclub Leonor in Condesa. Thursday nights are for BonBon, the city's largest gay night, where disco dancing and outrageous moves are go go go. facebook.com/leonorcondesa
BUY
Tea & Tequila
Colourful stones wrapped in gold, detailed and colourful stitchwork turned into beautiful clothing: set up by two British women, one who lives in Mexico City, the other in London, Tea & Tequila works with and supports Mexican female artisanal collectives to create exquisite and joyful clothes and jewellery. Visit their workshop to see their ever-evolving collection and take a little piece of Mexico home with you. teaandtequila.com
El Bazar Sábado
This gallery of artisans and designers in San Ángel is a Saturday gallery and market space selling traditional and contemporary design, folk art and craftmanship from stylish ceramics and colourful fabrics to artisanal gourmet goods and only-in-Mexico treasures. bazaarsabado.com
How To Get To Mexico City From The UK
Fly direct to Mexico City from London Heathrow airport, or fly with a stopover from Manchester, Edinburgh or Glasgow airport. Common stopovers include Amsterdam, Paris and Frankfurt.
Featured Image: Daytime aerial view of Mexico City (c) Getty.