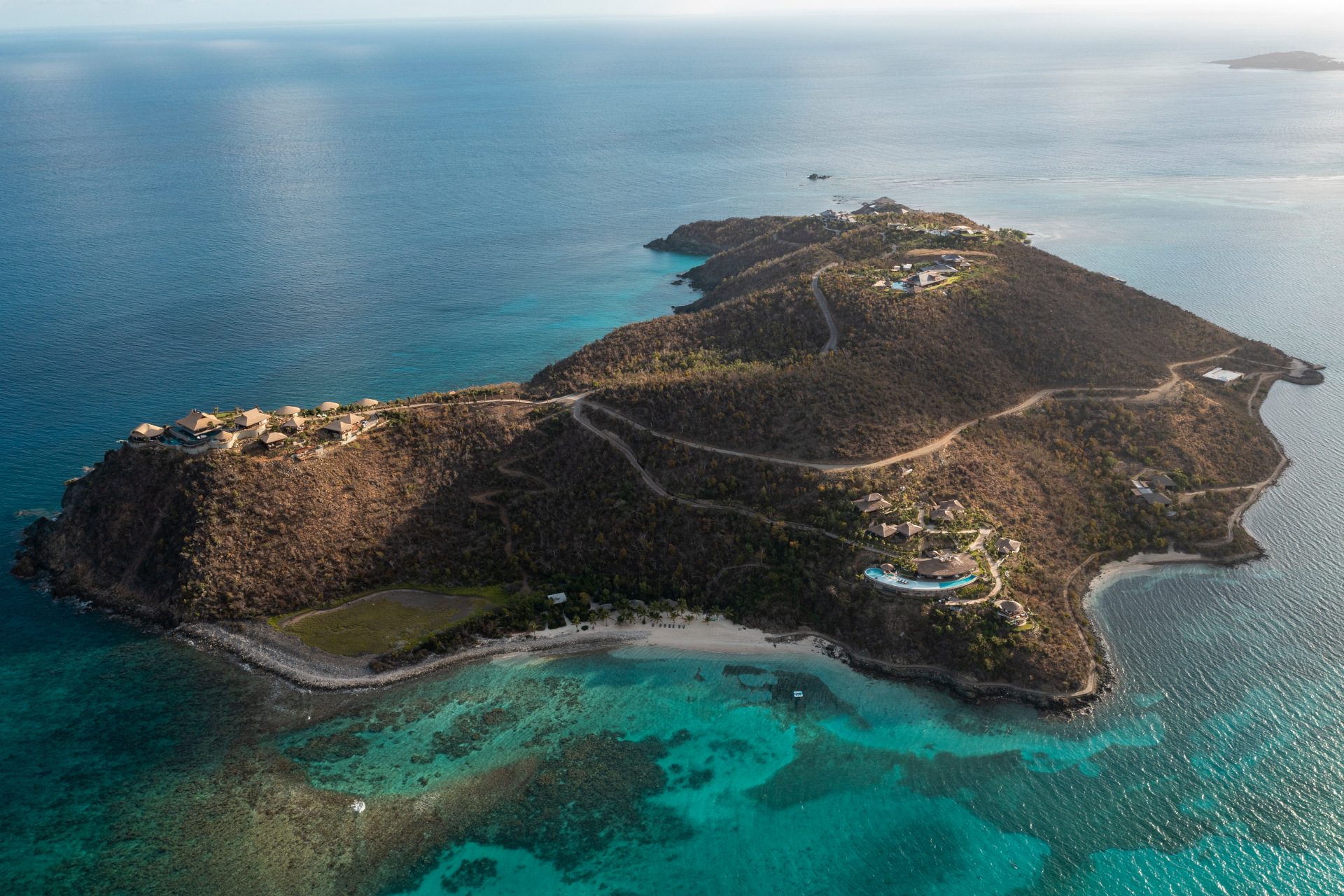 Moskito Island: Richard Branson's New Isle of Paradise
---
Set sail to this illustrious escape
Rosalyn Wikeley joins the billionaire's club at Richard Branson's latest paradise island escape
The Bucket List with Sir Richard Branson / Luxury
Moskito Island: Richard Branson's New Isle of Paradise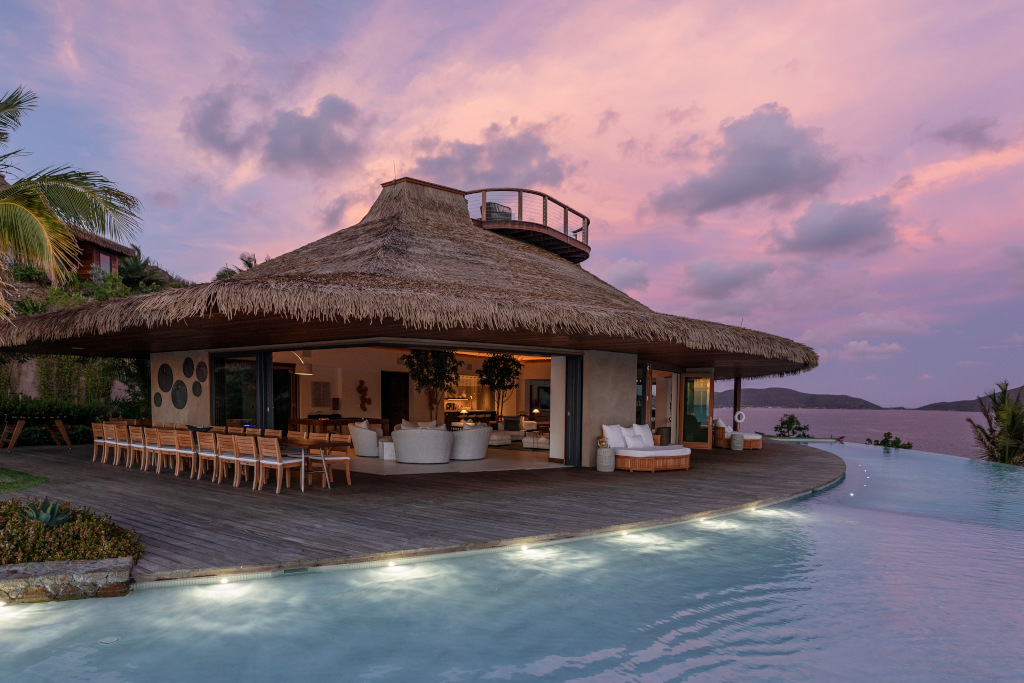 First there was Necker, now there is Moskito. At the end of last year, Richard Branson, the challenge-driven, space-loving business titan, opened his second private-island escape, set to be the hottest travel and property ticket in the British Virgin Islands.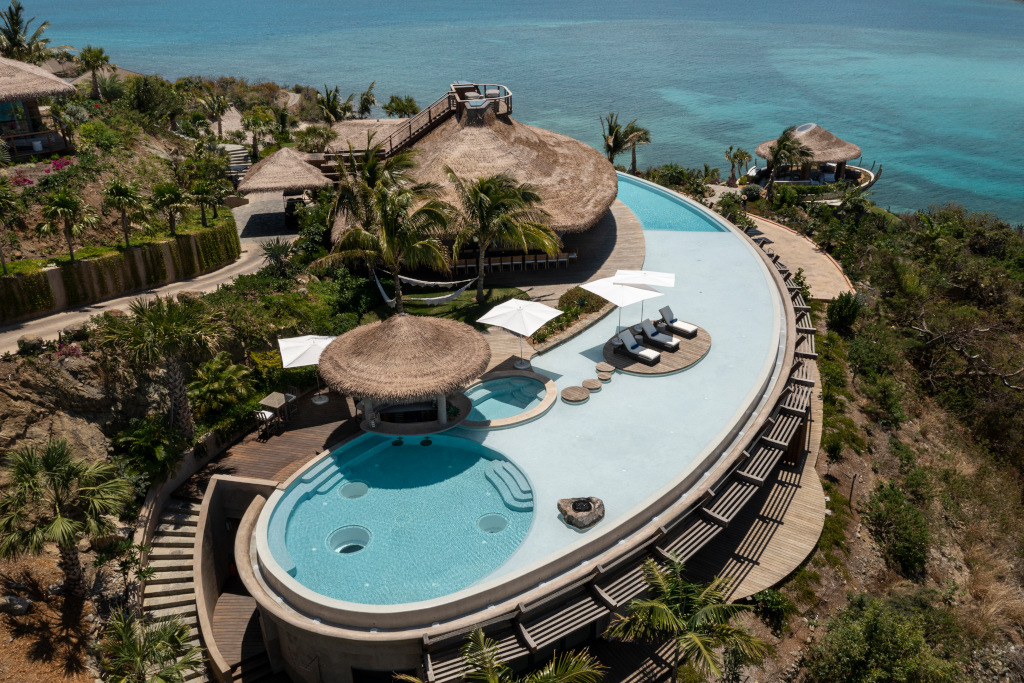 Ten private estates fold stylishly into 125 acres of dramatic topography, all framed by a tangle of palms, banana trees and wildflowers, saved by Branson from the ravages of reported high-rise hotel plans. It's a far cry from the gated-and-groomed Palm Beach-style villas carpeting too many Caribbean islands; the landscaping is gentler here, the architecture more restrained. That's not to say it's devoid of wow-factor, to which the smooth infinity pool wrapping the edge of The Point Estate's steep hillside like a cake ribbon would attest. But it's kinder on its surroundings, on the eye and generally operates in a league free of faux pillars and endless garages.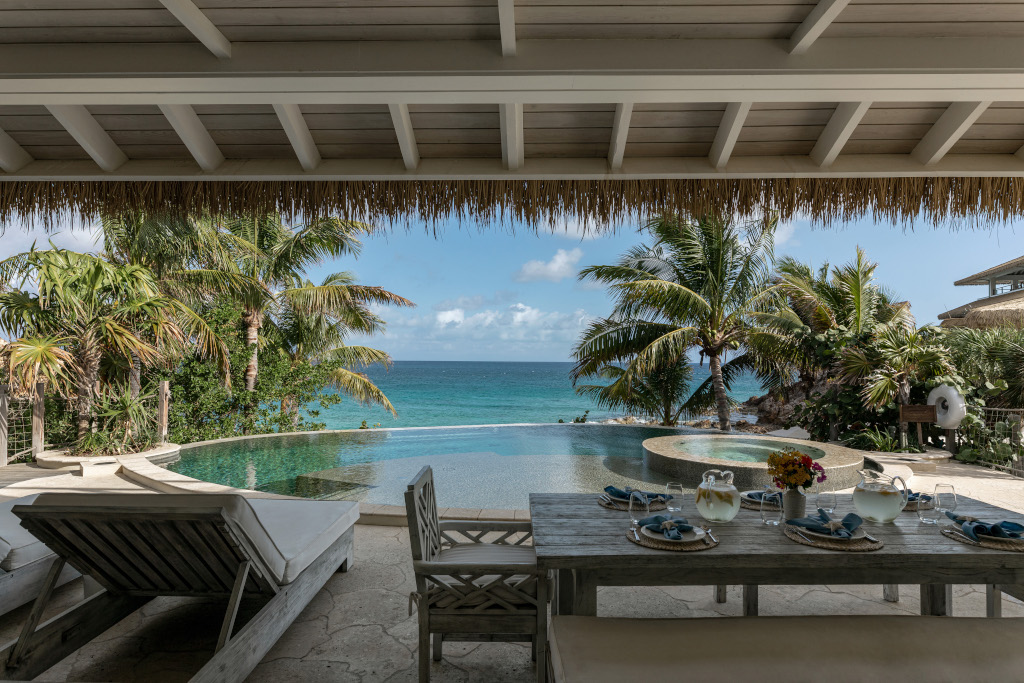 Take Branson's own estate on the northeast tip of the island, whose design was neatly summarised by his son, Sam, as 'Robinson Crusoe won the lottery'. The layout and design trace a casual, warm and family-oriented lifestyle – the same barefoot luxury Necker is known for where indoor and outdoor Balinese-inspired spaces blur into one. I am relishing a lazy morning in the Beach Villa guest house, one of 11 rooms spread across the three main villas, all of which are connected by labyrinthine wooden walkways up in the tree canopy. Giant palm leaves shift in the hot breeze, lizards dart across steps and gardeners tame rebellious thickets of green below. As a testament to island priorities, televisions are either absent or cleverly tucked away, rising reluctantly from their built-in hiding spots in furniture for the odd sports match or news update. Less covertly, like daisies straining towards the sun, the lo-fi Mangrove Villa's beds, soft loungers and pools all twist towards magnificent views of Virgin Gorda and Necker.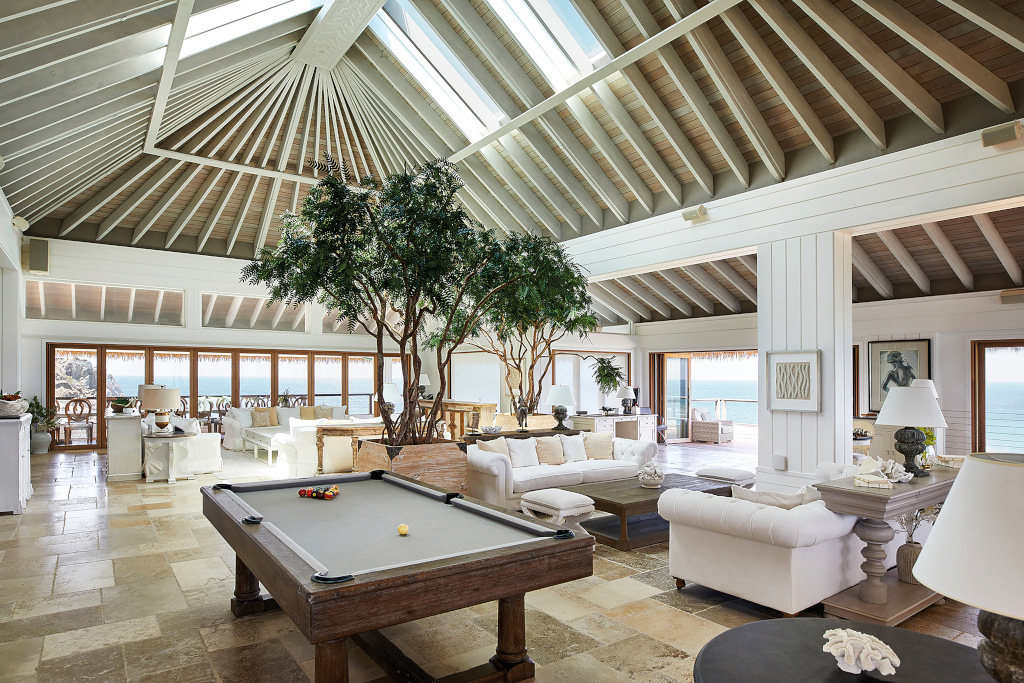 Robinson Crusoe lost his way a little up at Headland House where a pool table, bar and wrap-around infinity pool invite louche evenings in the cavernous Great Room. Here, up to 40 supper guests can debrief on the day's tennis tournaments and watersporting adventures over photogenic sharing plates of tuna carpaccio, mahi mahi and shrimp. But it's the rolling wave soundtrack, lapping the rocks below at night, breaking the glassy turquoise in the day, that spins this speck of private space into mirage zone – when the dapper beach saxophonist isn't present to serenade the lunch club at The Cove below.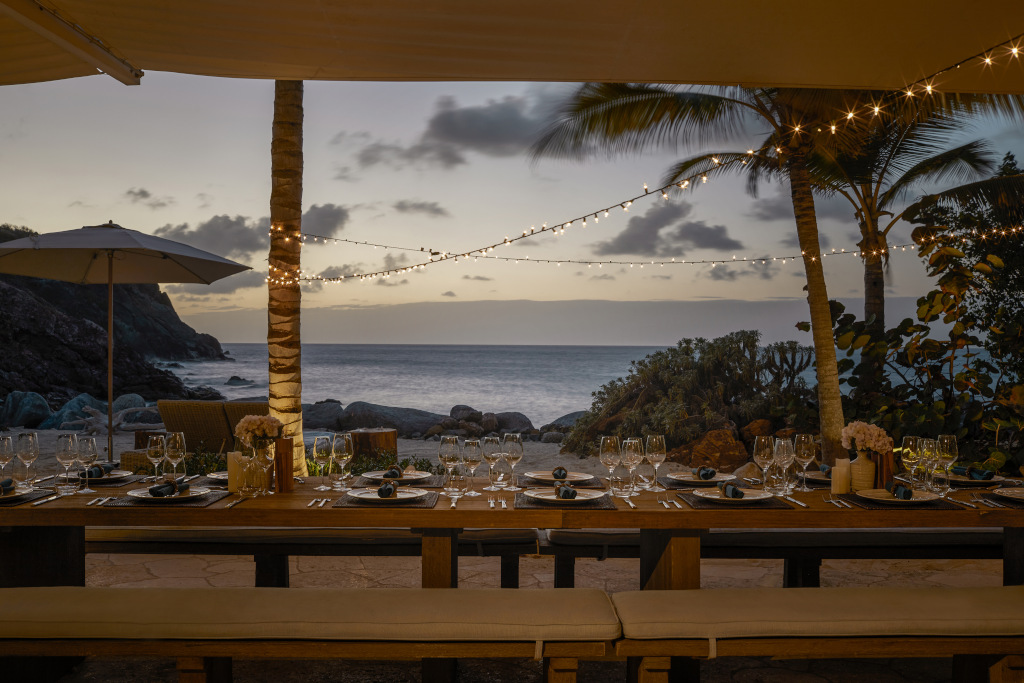 This is just one of three privately owned 'estates' on Moskito that have joined the rental programme; the other seven (some complete, some still in build stage) are a work in progress.
Our golf buggy zips across the island's undulating landscape. Contemporary structures glint in the sun, then at night reimagined Balinese hilltop villages glow like lanterns in the distance. There's no communal spa here – why bother when private estates cater perfectly to upmarket pummelling? Mine takes place in a glass cubic structure at The Oasis Estate: a sexier, more modern addition to the island's softer counterparts, cast in the shape of a yacht with pared-back interiors and smooth minimalist architecture. A polished outdoor firepit and rum-drenched statement bar in the living space set a clear party agenda. It beats me that billionaires would want to recreate a communal bar in a private home, but three negronis in and I'm wondering if a more compact version could be carved into my London abode.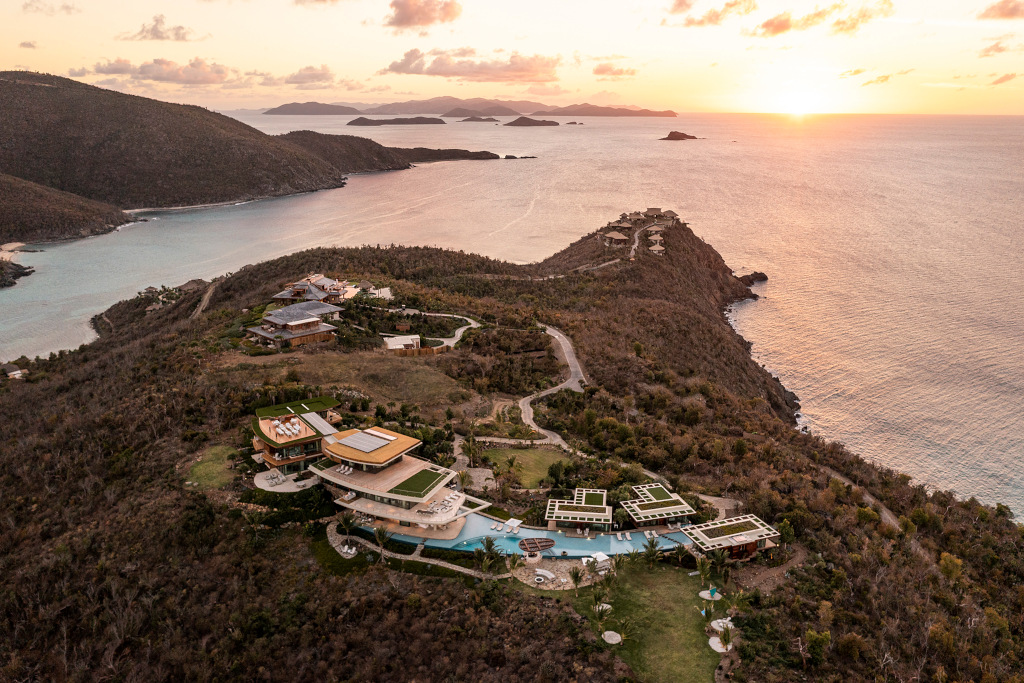 It's Moskito's hilly landscape that bestows each villa with its own expensive view over the Caribbean Sea and across to unspoilt neighbouring islands. And with its position on the island's highest peak, Oasis wins in the sunset stakes. All nine bedrooms take full advantage of this with their own yacht-style balconies – the master suite's being large enough to host a Gatsby party, with Richard's dock light twinkling in the distance.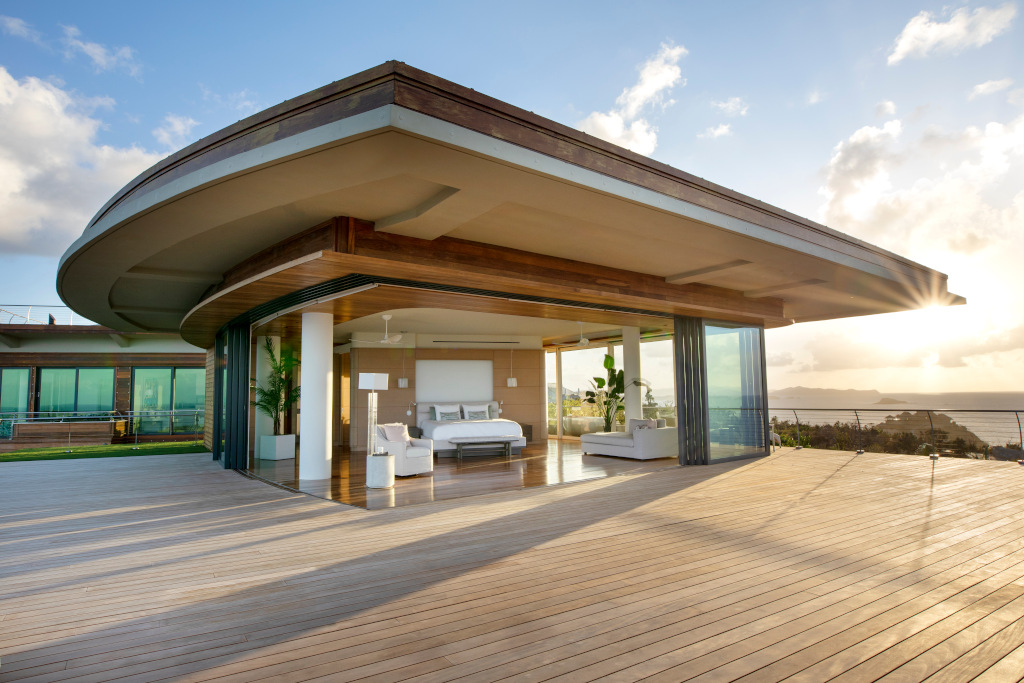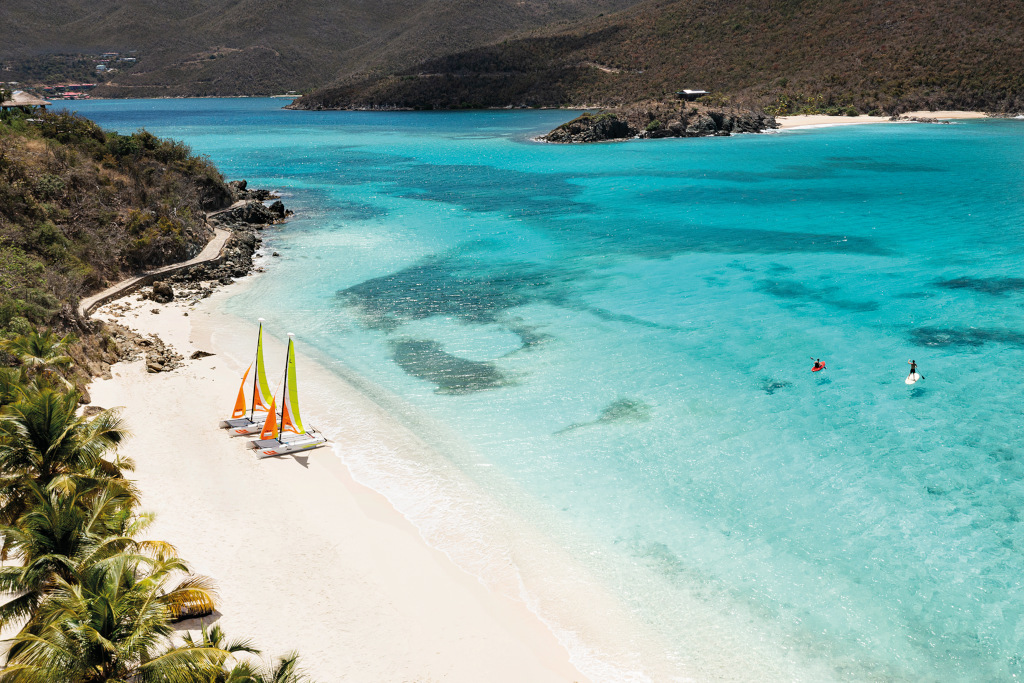 Manchioneel Beach – a small patch of perfect white sand carved out of the jungle – is a 10 -minute walk away. This is one of the island's communal areas, in the sense that guests spending upwards of $17,500 a night for exclusive use of one of the estates can sip a piña colada next to wandering home-owners, or compete with some of the Necker Strive crowd (one of Richard's many charity challenge initiatives) over a game of volleyball or slacklining. The shared areas (including a tennis pavilion peering over the island's two manicured courts, the watersports centre, the Peloton-plied gym and the Beach House) all heed John Donne's 'no man is an island entire of itself', setting a convivial, social tone – a tropical, buttoned-down Davos, perhaps.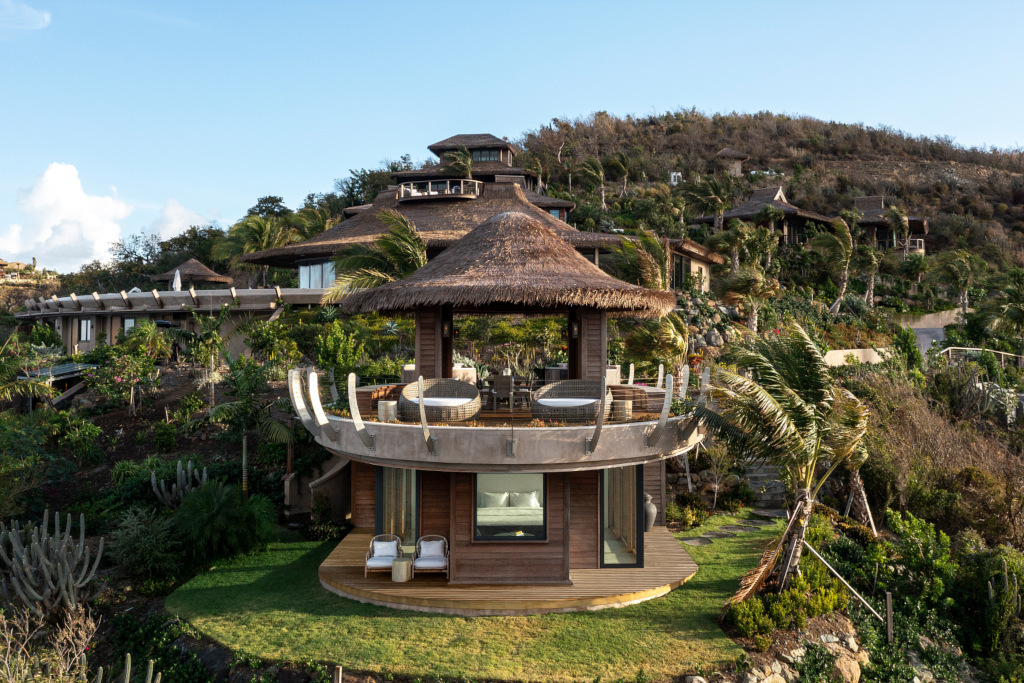 Historically, the sparse intersection of wealth and taste has worked as an excellent balm for envious onlookers, but here in The Point Estate (a scatter of subtly designed villas and suites that appear to weave into the jungly hillside) there's limited material to run with. Traditional Indonesian-style thatched roofs contrast the smooth, sinuous contemporary interiors, while glass walls send the four-poster, the cream linen sofas and the Danish chairs into the rush of tropical green outside, and an electric fan swivels with 21st-century rigour, a perfect expression of old style with modern intent. The rooms are calm, uncluttered. A small motorboat setting off on its adventure beyond is framed by exotic green and purple flowers from the outdoor shower. Its afternoon return is observed from the library viewing deck, drawing a satisfying line of beer froth across the calm water. This grade of vertigo-inducing sweeping views are usually the preserve of helicopter passengers or local pilots. To casually observe them over a bowl of fresh Caribbean fruit or from an afternoon soak in the hot tub is both euphoric and simply ludicrous.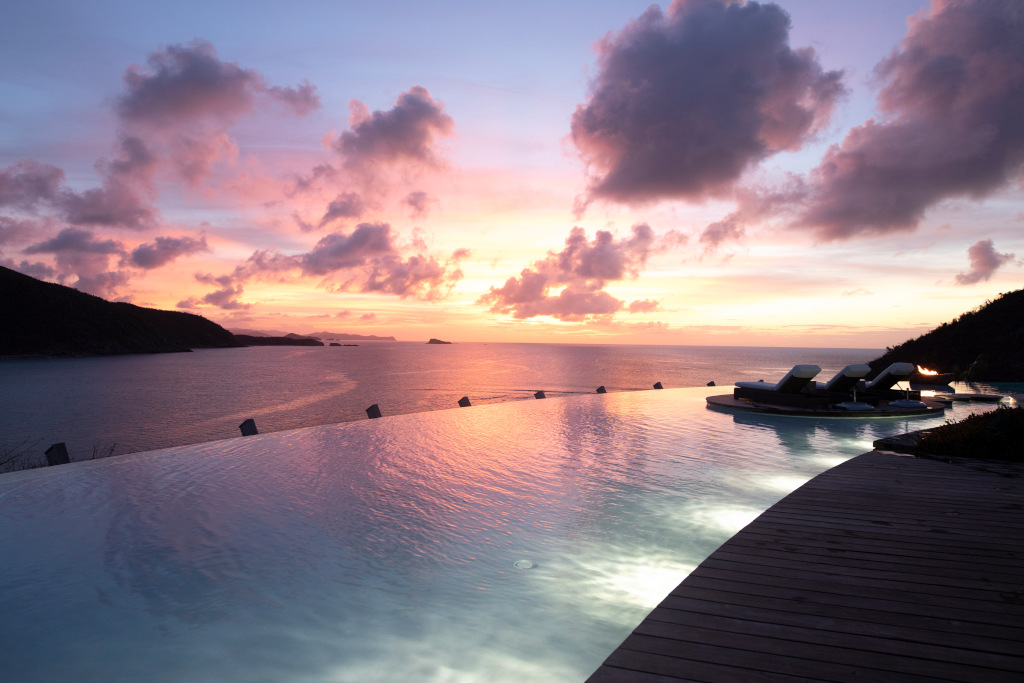 But perhaps these two ingredients simmer into reality for the billionaires populating this luscious island. And a few weeks of it can now be bought, for no small sum of course, but a drop in the Caribbean Sea for these private island players.
BOOK IT: From $17,500 per night during low-season, based on a four-night minimum stay at The Point Estate for up to 16 guests. Rates include a dedicated Estate Manager, private chef and a dedicated team of staff. As well as all meals, drinks, watersports, and a personalised itinerary from start to finish.
+44 (0)800 716 919. moskitoisland.virgin.com
READ MORE: The Best Hotels in Blissful St Barths / The Best Resorts in the Maldives / The Best Resorts In Thailand