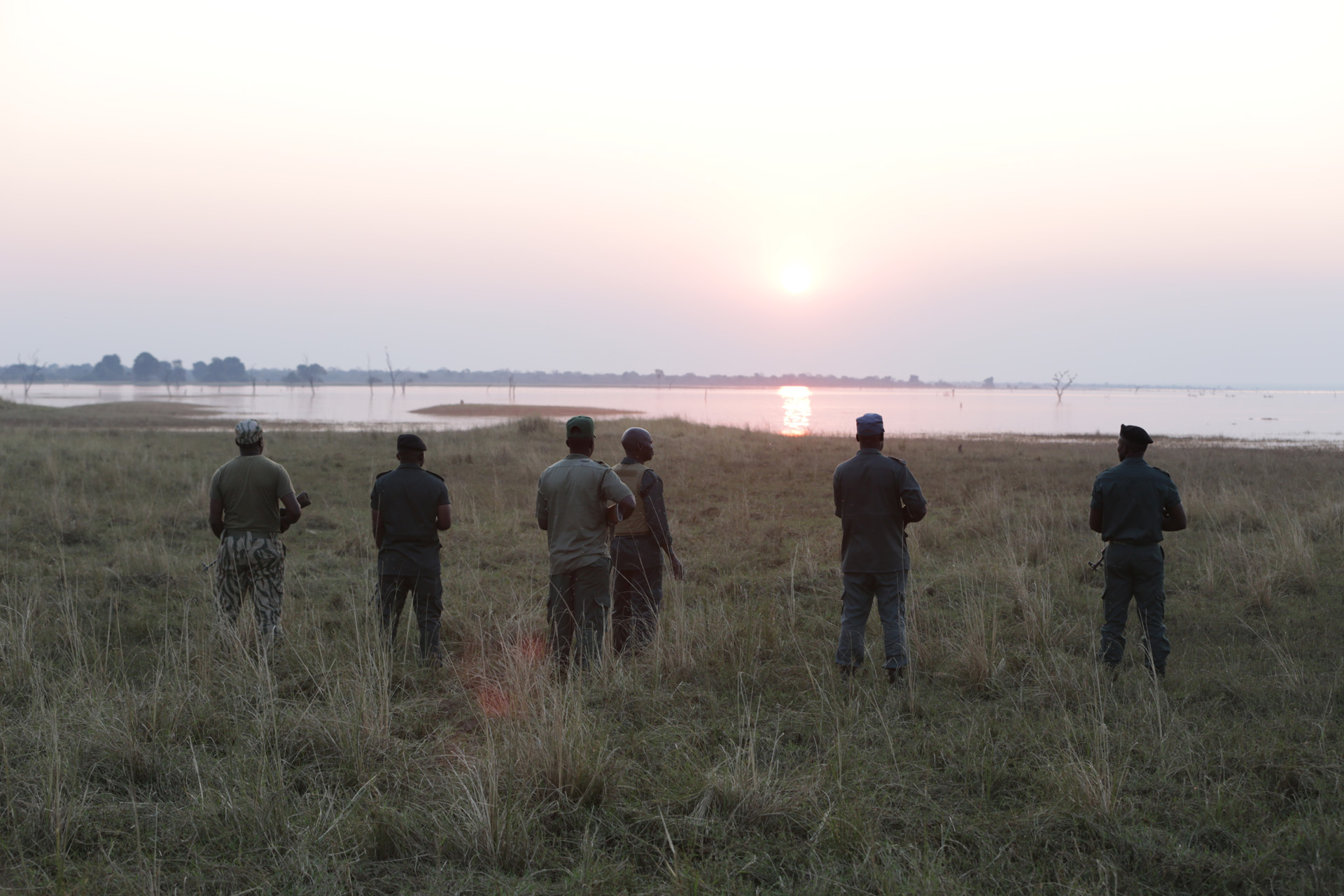 Tusk's Ranger of the Year: Q&A With Neddy Mulimo
---
Neddy Mulimo is a Senior Ranger at the Specialist Anti Poaching Unit in Mumbwa, Zambia
The winner of the prestigious Tusk Conservation Awards' Ranger of the Year prize is the admirable Neddy Mulimo, Ranger Support Manager with Game Rangers International, based at Musa Field Headquarters alongside one of the Specialist Anti Poaching Units (SAPU) in Mumbwa, Zambia. We sat down with Neddy ahead of the awards' 10th annual ceremony, which will take place at London's Hampton Court Palace on Tuesday 1 November 2022.
Read the C&TH Guide to Responsible Tourism
Wildlife and nature conservation is vital in our battle to preserve the welfare of our planet. Unfortunately, poaching is rife across the globe, but especially in Africa where diverse wildlife thrived for millennia before humans started to intervene. The Tusk Conservation Award for Ranger of the Year, sponsored by the Nick Maughan Foundation, gives international recognition to the wildlife rangers who face extreme danger everyday in order to protect Africa's threatened wildlife. 'Extreme danger' is not used lightly: in 2021 alone, 100 African wildlife rangers were killed in the line of duty.
Neddy Mulimo – Support Ranger at Game Rangers International – is the incredible ranger recognised by Tusk this year, and named as their Ranger of the Year. Based in Zambia, Neddy has worked for over 35 years protecting wildlife, making great personal sacrifices to do so, including putting his safety on the line facing armed poachers during night patrols and multiple fights with malaria. In fact, Neddy was so instrumental in combatting serious levels of poaching and increasing arrests when posted to the Blue Lagoon National Park that his long-term nickname is 'Neddy of Blue Lagoon'.
But Neddy also has community at his heart: he has worked tirelessly over decades to improve ranger tactics and working conditions, mentor young rangers, and build strong relationships with surrounding communities.
The Chief Executive of Tusk, Charlie Mayhew MBE, said upon Neddy's win: 'Neddy is a truly exceptional ranger. For 36 years he has dedicated his life to conservation, and it shows in the passion and drive with which he does his job. We're delighted to be able to thank Neddy for his endless dedication to the conservation of Africa's wildlife with this award.'
TV adventurer and Tusk ambassador, Bear Grylls, added: 'Through my ambassadorial role and involvement with the Tusk Wildlife Ranger Challenge, I have seen first-hand how Africa's rangers put their lives on the line in defence of wildlife, despite resources stretched to the extreme. Neddy Mulimo is an inspiration, both to rangers across Africa, and to every one of us that values the natural world.'
Nick Maughan – founder of the Nick Maughan Foundation, which sponsored the 2022 Ranger of the Year award – said: 'Neddy's dedication to wildlife conservation has been essential in protecting some of Zambia's most endangered species, including the endemic Kafue Lechwe. The respect he commands amongst his peers is testament to the work he has done over the years with passion and humility. Thank you Neddy, for your dedication and commitment to preserving wildlife for generations to come.'
Q&A With Tusk's Conservation Ranger Of The Year, Neddy Mulimo
What inspired you to start working in wildlife conservation?
When I was a boy, I studied conservation topics at both primary and secondary levels.  This made me develop an interest in conserving nature and it soon became my passion. 
How large is your team?
There are five Anti-Poaching Units, with a total number of 100 officers conducting patrols on both land and on water. Lake Itezhi Tezhi is a hot spot for illegal fishing and for illegal entry into Kafue National Park.
One of the reasons Tusk highlighted when naming you Ranger of the Year was that you've played a large role in improving ranger tactics and working conditions. Can you tell me a bit more about that?  
I am involved in planning our monthly deployment strategy and I also debrief each team when they return from deployment. The debrief is when I can assess what the Rangers have achieved and what risks are still present. This also helps me understand what the Rangers need to be able to do their job. I am also responsible for impact knowledge or field statistics according to time of the year and the type of environment that is being patrolled. This includes any expected encounters with wildlife or wildlife crime. 
What do you believe is the best way to combat poaching?
The best way to combat poaching is through community engagement, through sensitisation and the formation of conservation groups in schools.
What is the most incredible wildlife encounter you have had?
The most incredible encounter I witnessed was a buffalo in Kafue National Park.  It was severely wounded and still had a snare attached to its front left leg. This had a big impact on me. 
What can people do to help the conservation cause from afar?
What everyone can do to help to reduce poaching is by supporting the NGOs who are working with the governments to empower the Anti-Poaching Units on the ground. Game Rangers International supports government-employed wildlife rangers through the provision of kit, logistical support, communications and welfare for them and their families. There aren't enough rangers and there isn't enough funding for rangers, so any help that can be given will help us to save the wildlife and wild spaces.
Is there a message you have to tourists looking to visit Zambia?
Tourists looking to visit Zambia are most welcome. Zambia is a very friendly country, and we encourage them to visit our 20 National Parks – Kafue National Park in particular. My message is:
Only take part in organised safaris who have an experienced tour guide, and work with an armed escort for your safety. 

If you see any wild animals, keep a safe distance from them. Always treat all animals as wild animals – even the ones that look placid can pose a threat. 

Be sure to visit the Wildlife Discovery Centre in Lusaka National Park where you will see our Elephant Nursery – young elephants who have been orphaned through wildlife crime. The centre gives lots of information about wildlife rangers, crime, and human-wildlife coexistence as well as the work we are doing with the communities.

GRI and many other organisations rely on donations and support from tourists and volunteers. When you are in Zambia, keep an eye out for those organisations who are trying to help and support them where you can. 
What motivates you to continue in this field despite the danger?
What motivates me to continue is my interest – my passion for wildlife. I also know that with my many years of experience, it is important that I continue to support wildlife rangers to do their best.
Mr Neddy Mulimo is a Ranger Support Manager with Game Rangers International, a non-government agency that empowers rangers and local communities to support nature.
Featured image (c) Giraffe Creatives.