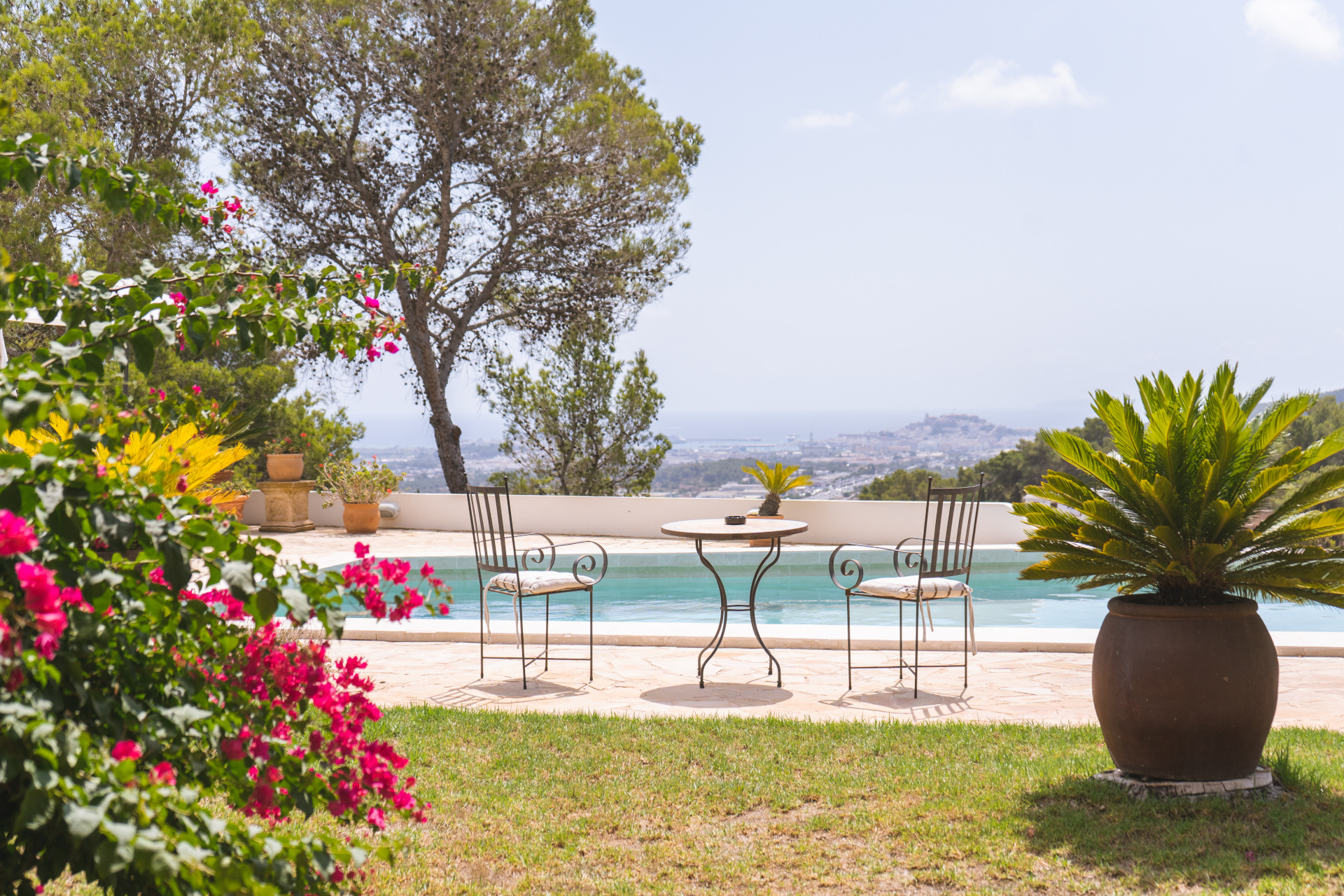 The (Non-Clubbing) Guide To Ibiza
What to do in Ibiza when you're not clubbing
By Kim Pearson | 2 years ago
If you thought Ibiza was all about the super clubs, it's time to think again. There may not have been many big parties on the White Isle this summer, but there was no less fun. If you're planning few days in the Balaerics to put that spring back in your step, here's what to do in Ibiza when you can't go clubbing.
The Chilled Guide To Ibiza
EAT
Aiyanna
Aiyanna is an effortlessly-cool beach restaurant set off the tourist track in Calo Nova Bay. Offering a modern take on healthy food, the menu offers fresh seafood, zesty salads and seasonal greens picked from the restaurant's own gardens. Aiyanna offers more than just amazing good. Entertainment is provided in the form of local artists and performances from musicians as well as pop-up food trucks with local artisan cuisine. From sunrise to sunset you can sit back, relax and soak up the panoramic views of the Med while the friendly team keep the cuisine and cocktails flowing. aiyannaibiza.com
Villa Mercedes
This romantically lit, villa-style restaurant is the perfect setting for a date night, though the restaurant is family friendly and happy to accommodate larger groups too. Overlooking the marina, Villa Mercedes is owned by the Mambo Group meaning they pull in some big name live DJs. If you're a steak lover, you won't be disappointed by the perfectly cooked filet mignon complimented by a Super Tuscan from the wine list. Looking for something lighter? Why not opt for a few sharing plates. Choose from old favourites like Iberico ham with pan con tomate, or try the mussels with fennel and yucaballs with avocado, jalapeños and spicy mayo. villamercedesibiza.com
IT Ibiza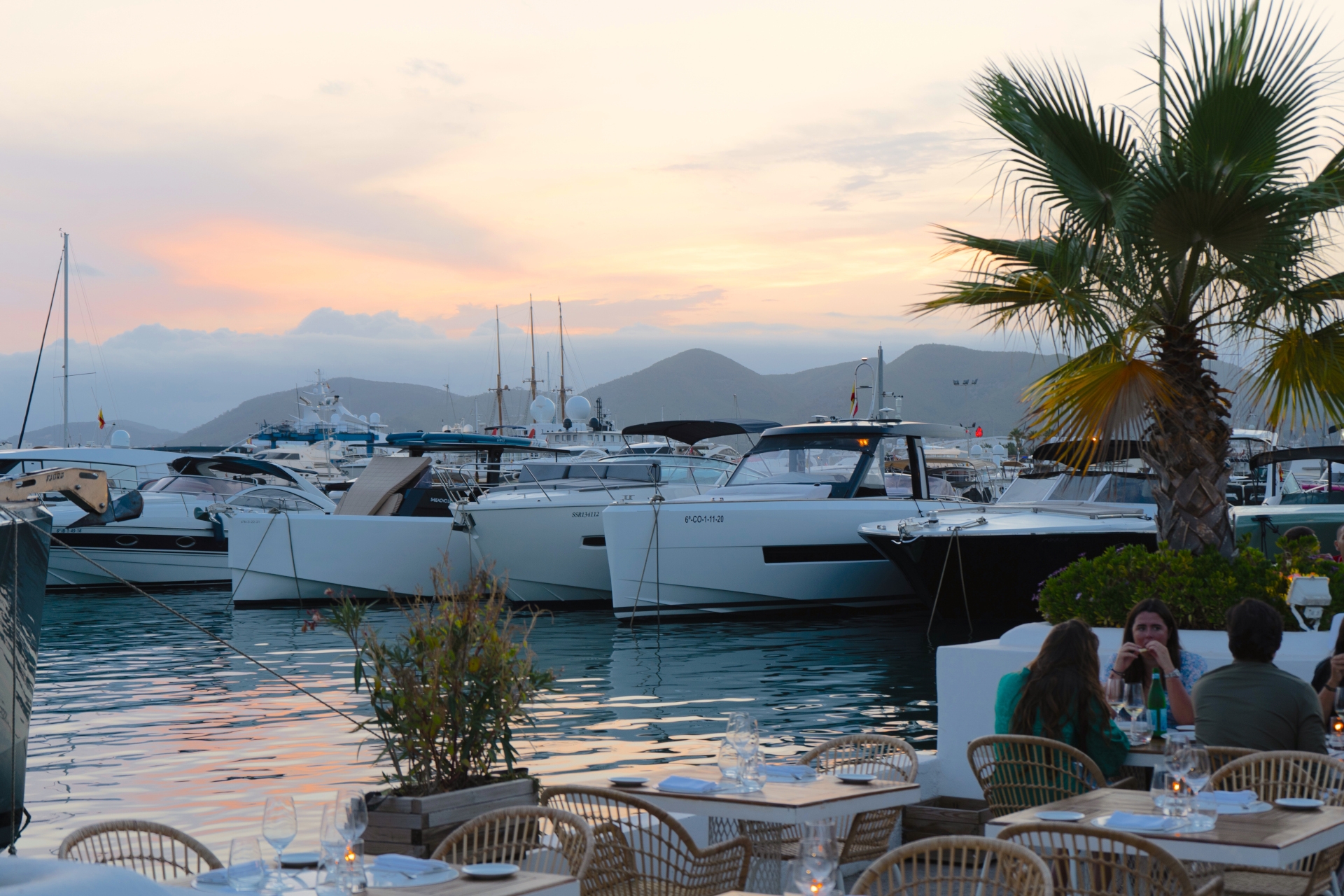 If you're looking for a party atmosphere without the crowd of people, book yourself into IT Ibiza. Enjoy the live DJ and upbeat atmosphere while you dine. Located in Marina Botafoch, IT Ibiza features an enticing Mediterranean menu designed by two Michelin-Starred chef Nino Di Costanzo. Request a table on the terrace for wonderful views of the marina and the ancient beauty of Dalt Villa. If you fancy a more low key evening in at your accommodation, contact the team at IT to arrange a delicious dinner delivery to your door. itrestaurants.com
Tapas Ibiza
No visit to the Balearics is complete without at least one tapas dinner. If you're seeking good quality local fare, look no further than Tapas Ibiza. This low key, hidden gem is a favourite spot amongst locals and those in the know. It provides traditional plates like patatas bravas, pardon peppers and calamari as well as dishes with an international twist, such as Peruvian chicken and Greek salad. Be sure to try out their signature, highly sought after dish 'Popeye' – minced beef and spinach with cream, parmesan and black pepper. tapasibiza.com
CHILL
Blue Marlin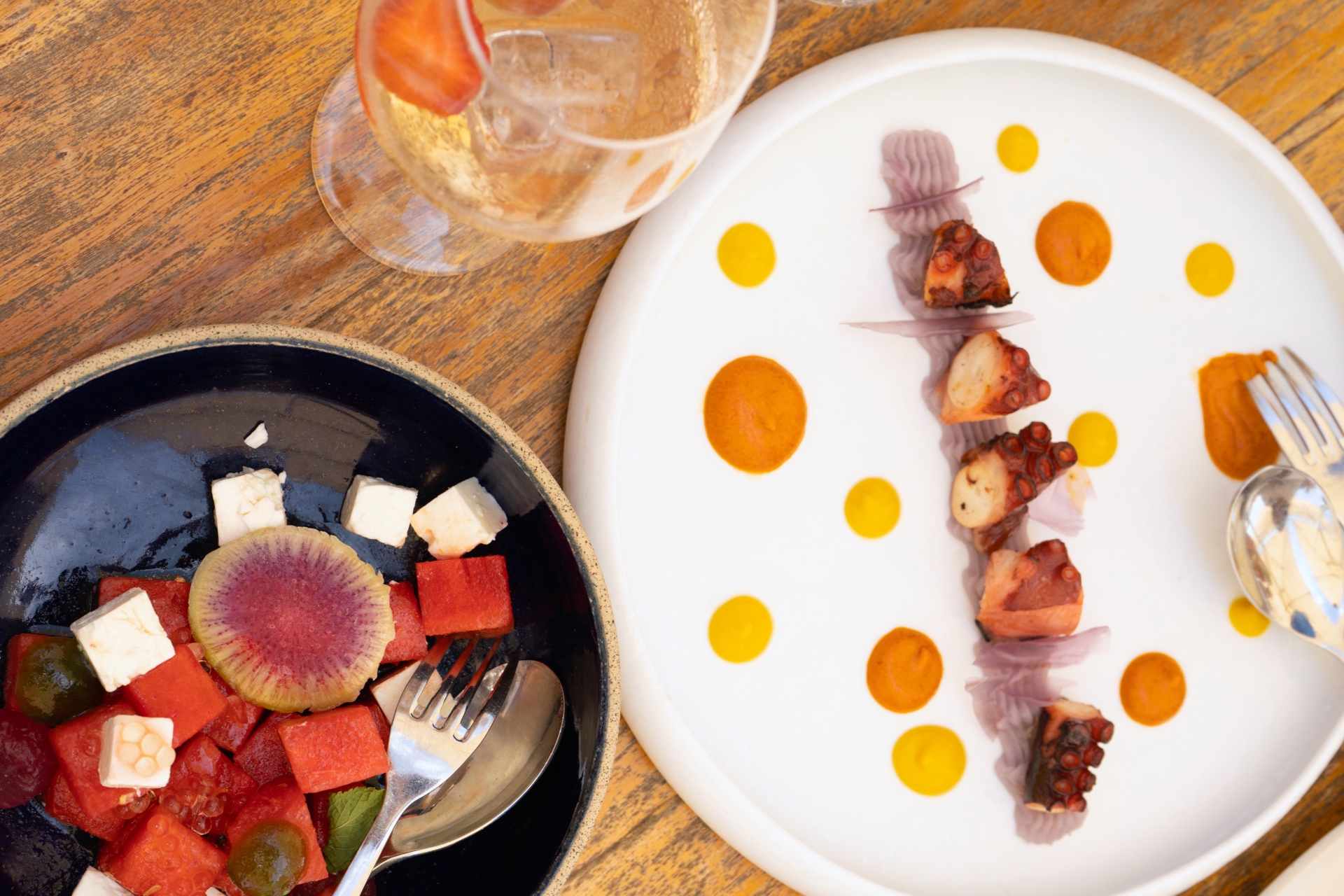 You'd be hard pressed to find anywhere that epitomises Ibiza more than Blue Marlin. Glamorous guests: check. DJs playing soulful house music: check. Mouth-watering seafood: check. Views of the glistening turquoise, super-yacht-sprinkled sea: check. Blue Marlin has it all. Start your sophisticated beach day with lunch – try a fresh starter of citrus-marinated prawns with mango and avocado or Italian burrata, local tomatoes, crunchy seeds and basil pearls. For your main, 'La pesca del día' (fish of the day) never fails to disappoint. Team it with a mixture of sides such as quinoa salad, Ibizan tomatoes and green beans. Don't miss out on the Champagne sangria, freshly prepared at your table. Book yourself a beach bed, sit back with a glass of rosé or a cocktail (we highly recommend the Freezing Berry – fresh raspberry and lime with a subtle tequila kick) and enjoy some quality time with your favourite people. If you're looking for somewhere special to celebrate a birthday, anniversary, or simply the return of freedom, you need look no further than Blue Marlin. bluemarlinibiza.com
GLAM-UP
Feel Good Ibiza
Stuck in a rut with your make up? Fancy trying out a different do? Where better to experiment with a new look than Ibiza. Feel Good Ibiza offer professional, in-hotel hair and makeup services so that you can sit back and relax with a glass of bubbly while someone else beautifies you. Not sure what look you're after? Find inspiration in their website look book or speak to your Feel Good make up artist to create something unique together. feelgoodibiza.co.uk
SEE THE SIGHTS
Dalt Villa
Take a wander around Dalt Villa to experience Ibiza old town, with it's cobbled streets, quaint restaurants and glam boutiques.
Time & Space Sculpture
Looking for a spot to watch the sun set? The impressive Time & Space sculpture is the perfect location to watch the sun disappear behind the Mediterranean sea. Installed by the owner of Cirque du Soleil, it is often referred to as 'the Stonehenge of Ibiza' and 'the solar clock'. The 13 pillar monument forms a Fibonacci sequence and can be found at the cliffs of Cala Llentia in the south west of the island.
SHOP
Agora Ibiza
Founded by fashion editors Tiffany Darke and Daniela Agnelli, Agora is described as a 'live magazine concept'. It really does feel less like a shop and more as though you've stepped into a page from a glossy magazine. With luxury and sustainability at the heart of the brand's ethos, Agora offers glamorous, sequin adorned beach cover-ups, colour therapy sunglasses, boho chic home furnishings and more. Agora is located at Six Senses in northern Ibiza overlooking the turquoise waters of Xarraca bay. instagram.com
THE INSIDER
VIP Ibiza Concierge
Let's be honest, travel these day is not without an added layer (or six) of admin to contend with. If it feels as though getting away requires jumping through one too many hoops, consider putting your trip in the hands of the professionals. Leading concierge company, VIP Ibiza, was founded by James Forham with the intention of bringing 'the best of the best of Ibiza' to his discerning clients. With an impressive list of celebrity clientele, VIP Ibiza will ensure your every need is taken care of. From luxury airport transfers and the most exquisite accommodation on the island, to super yacht bookings and table reservations at the most sought after restaurants, James's little black book of contacts ensures his guests are very well taken care of. vipibiza.co
MORE GUIDES
Pigalle Area Guide: Paris' Coolest District / The Insider's Guide to Northern Ireland with Jeremy Taylor