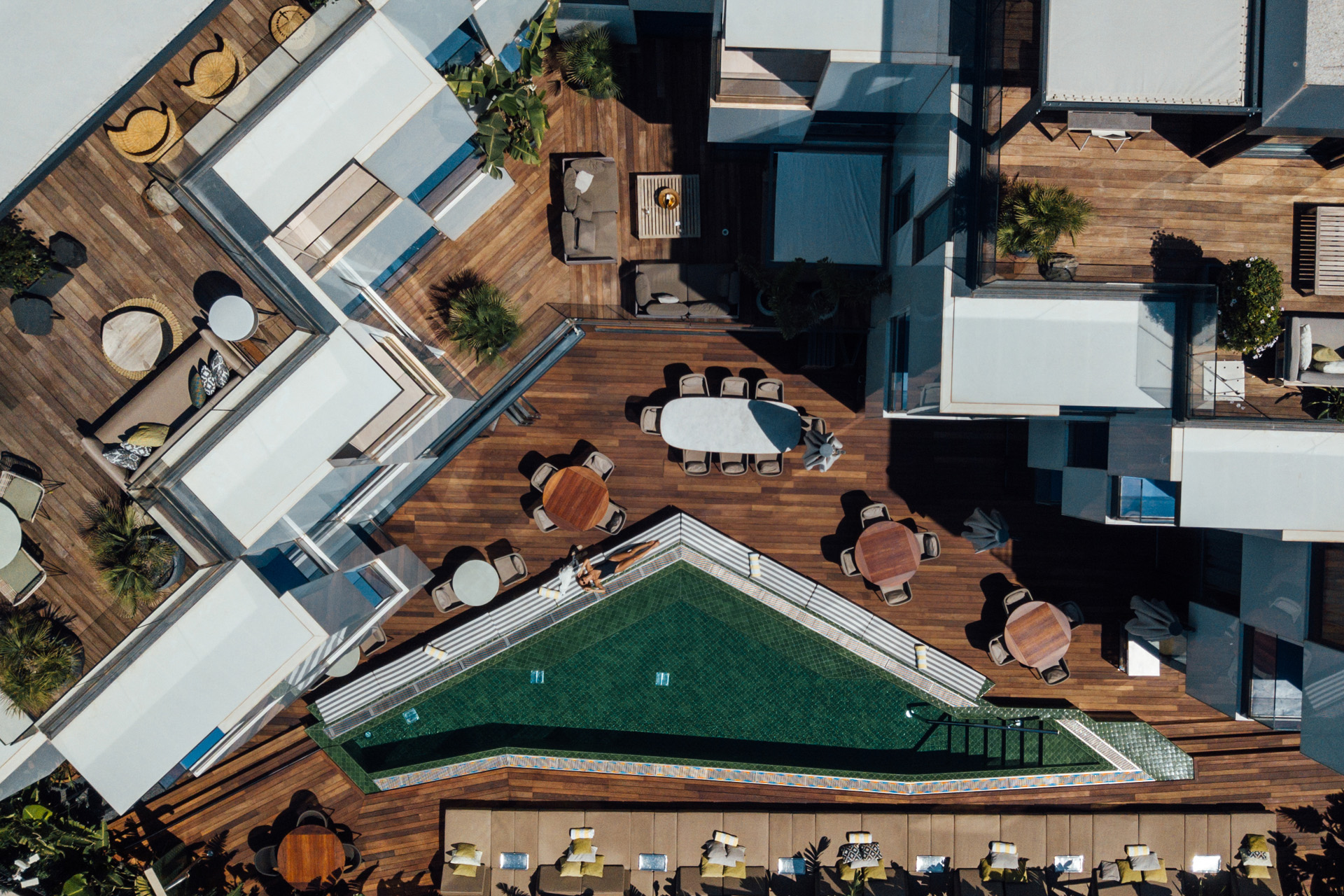 Step Inside The Hottest Hotel In The Balearics: Sir Joan, Ibiza – Review
From its slick poolside restaurant to its supermodel good looks, this cool Ibizan has it all
By Sofia Tindall | 2 months ago
While ostentatious shows of wealth might pass muster in Monaco or Marbella, Ibiza plays by its own set of rules. Here, luxury is the loose-fitting, low-maintenance kind that you flop into like a deep sun lounger. And if you're going to do it properly, it might as well be poolside at Sir Joan. While it may be the smallest sibling in the uber-hip Sircle Collection's portfolio, what it lacks in size it more than makes up for in substance. Step in to discover why…
Read the C&TH Guide to Responsible Tourism
Hotel Review: Sir Joan, Ibiza
STAY
Location is the first clue of what to expect from a stay here. Sandwiched between the flash superyachts of the marina and artfully distressed bohemia of Old Town, this was a hotel destined to unite Ibiza's wealthiest clichés with its creative, carefree spirit.
It's not an easy ask – but one that with its impeccable design credentials and knack for curating a playful yet grown-up vibe, Sircle is more than up to. Step one? Design that feels expensive yet effortless. This base is covered by Tel Avivian design powerhouse Baronowitz + Kronenberg whose sweeping, angular spaces usher you in over the citrus-scented threshold. Layered on top are plush oceanic hues, dashes of tobacco and caramel leather and rippling hammered metal; a sculptural bar is suspended in the centre of it all like piece of modern art. Moving upstairs, 38 rooms (plus two plush penthouses) boast equally crisp design with acres of yacht wood, artfully sliding doors, concealing and revealing bathrooms, moodily-lit wardrobes and waterfall showers.
As with all hotels of a certain persuasion, service also feels like a seamless magic trick. One moment I'm sweaty, clattering along with my luggage with 17 unanswered emails swimming around my head. Then, poof: sat outside on the oasis-like terrace, drink in hand, overlooking the chicest emerald-green tiled pool I've ever laid eyes on. All that's left to do is switch off notifications, and let my troubles melt away on a pile of Sir Joan's lemon sherbet-striped cushions.
EAT
Never missing a beat, when it comes to dining, Sircle hands the reins over to cutting-edge concept restauranteurs, The Entourage Group. Its star performer? Izakaya, the open-air restaurant where a fusion of Japanese-Peruvian cuisine gets the Ibiza treatment. Cue a breezy medley of laidback dishes like ceviche and shareable sashimi platters, elevated by smash-hit ingredients like Japanese Wagyu, crunchy octopus and yellowtail tuna.
Daytime dining scores just as highly thanks to The Butcher, the group's 'haute fast-food' concept already established in Berlin, Manchester and The Hague. Billed as a high-end burger bar, the focus here is elevated comfort food made with the freshest ingredients. Highlights include nachos piled with guacamole and sour cream, prime Aberdeen Angus beef burgers and 'the best Bloody Burger in town' (ironically: vegetarian). My personal serving suggestion? Direct to the poolside, under a silver dome, with one of Sir Joan's sublime lychee martinis on the side. Bon appétit.
DO
To do or not to do, that is the question. Breakfast, served until 12pm, is all the excuse I need for a long lie-in, and most guests don't usually make an appearance until after midday (owing most likely to Sir Joan's location a stone's throw from some of the most famous music venues in the world).
But if you'll insist on peeling yourself away from your bed or sunbed for any reason other than partying, it should only be to hop aboard the Sir Boat. With room for 10 guests, this impressive vessel can be hired privately to take you on a day jaunt around Ibiza's rugged coast and coves, stopping off at the island of Formentera along the way for a long, lazy lunch overlooking mottled turquoise waters.
The less carbon- (and cost-) intensive option is to take a short stroll to the catamaran, which docks five minutes from the hotel and operates daily crossings. There's also a fleet of sunshine yellow bikes available to explore the local bohemian charms of Old Town, where you'll find designer and independent shops, quaint cocktail bars, and an ancient fortress perched high up above it all with the best views money (and a fair bit of sweat from the hike up) can buy.
THE FINAL WORD
A stay at Sir Joan feels a little like being a guest at a party where the music is always good, the mood always upbeat and the crowd perennially stylish. Check out (and my Uber) arrives much quicker than I'd like. But the good news? With locations in Barcelona, Amsterdam, Hamburg and Berlin, each inspired by the unique spirit of their locations, there's plenty more Sircle to explore beyond the White Isle.
BOOK IT
Weekday rates for a double room start from €390 in low season, €600 in high season. sirclecollection.com