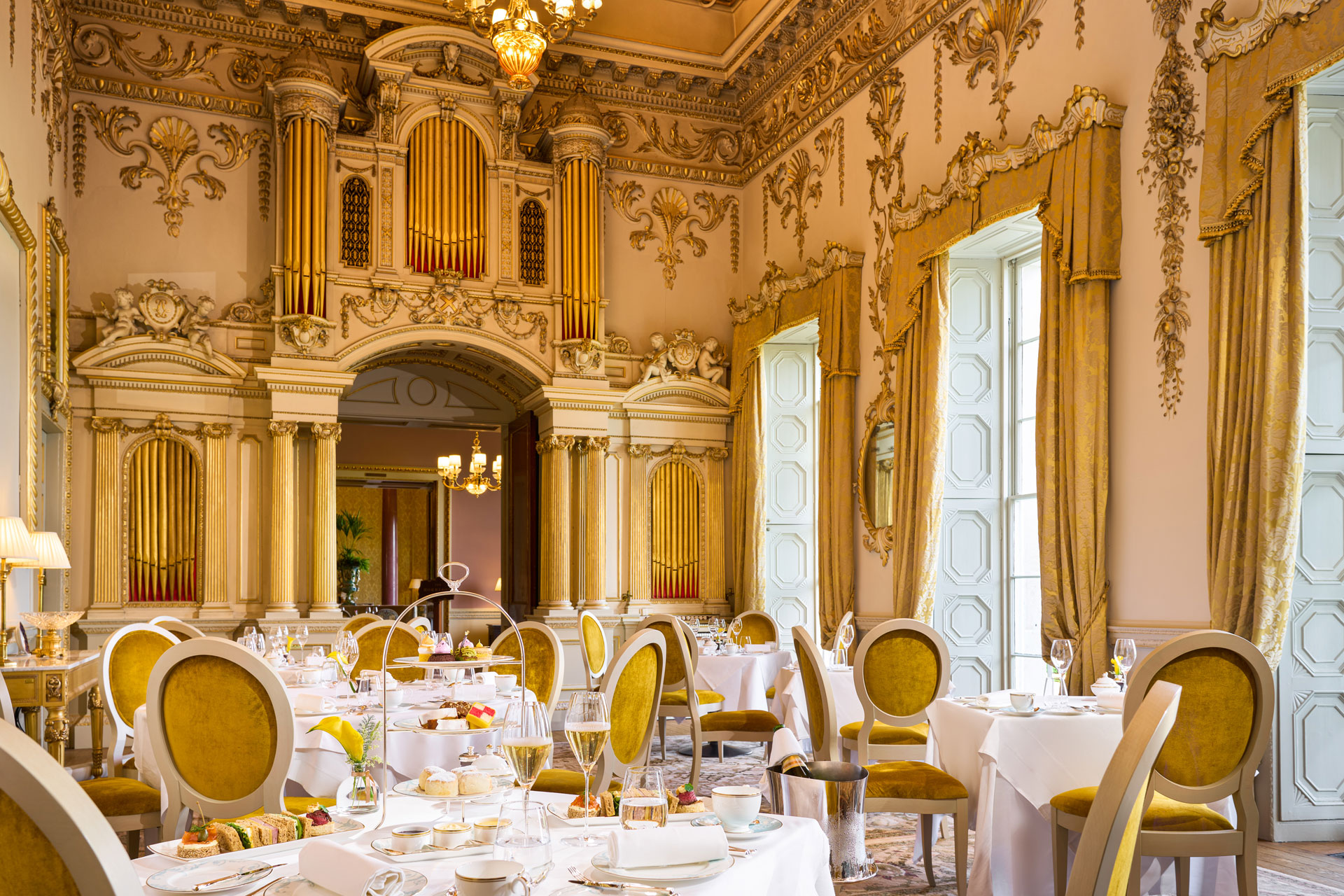 Review: Carton House, Ireland
---
Come for the history, stay for the food
Got the blues from completing Season 2 of Bridgerton embarrassingly early? Let a stay at Carton House be your tonic, writes Charlotte Rickards. 
Review: Carton House, A Fairmont Managed Hotel, Ireland
STAY
Have you ever wondered how it would feel to wake up as a Queen? Well, you can't get much closer to living up this dream when you're a guest at the Victoria Suite at Carton House, since it's where Queen Victoria once stayed. With a window that looks out onto a rose garden, coiffed lawn and sprawling parkland, even the most humble of you will have a bit of regal energy rubbed off on you by the end of your stay.
But if that isn't historically romantic enough for you, rest assured, the suite comes with a freestanding bath, your own living room pampered with pink Victoriana lemonades and Marie Antoinette-esque macaroons upon arrival. The walls too wink with mentions of its Queenly stature (see contemporary twists of Queen Victoria mashed up portraits), as well as original Victorian gossip newspapers hung about the place.
The Best History Podcasts to Listen to Right Now
But before you start thinking: am I going to be sleeping in a historically accurate mausoleum for the night? – The Fairmount Managed Hotel's take on interiors for a Grade listed estate is far more luxe Bridgerton than say, the BBC's version of Pride and Prejudice. So you don't have to worry, all the usual contemporary decadent amenities are on hand (Le Labo products in the bathroom, a superlatively comfortable bed, the list goes on).
DO
It's only since June last year that Carton House decided to make the main house a place for guests to stay and relax (with 18 rooms available) which previously had only really been used for weddings. So anyone staying in the main house is free to roam around and experience what it's like staying at a grand estate with all its nooks, crannies and idiosyncrasies. You can also expect to learn many intriguing anecdotes that the staff will reel off to you in delight.
But it's really up to you how you curate the tempo of your stay. For lovers of high-octane pursuits, you'll want to start your day with a run (or cycle, Carton House has the most gorgeous old school bikes you can use) around the thousand plus arced estate parkland, featuring follies (charming Gothic Revival towers you often see with estates of this era), and a river boathouse.
And if you're feeling extra adventurous, there's fishing, falconry, and also horse riding on the Irish coast you can organise with Carton House. Then, of course, it goes without saying that if you're into golfing, this really is the place for you. Many guests will dedicate the whole weekend to golf here because of its reputation (it's home to two championship golf courses).
But if you simply want to be a vegetable and luxuriate amongst regal surroundings (we don't blame you), you won't be short of options. Lounge with a novel in hand in the decadent Mallaghan Room. Ask the hotel for a picnic to be organised and let the sun hit your face as you languish on the grounds. Then as dusk starts to crawl in, why not book a treatment at their spa (go for the Rose Restore Treatment) to make sure keep your jaw unclenched and shoulders relaxed before dinner.
EAT
I overheard one of the staff say that people come here for the history, and then stay for the food. And it's only when you try it out for yourself you start to see why. For a more formal, more demure culinary experience, you'll want to head to The Morrison Room. Their tasting menu takes influences from Japan and France, that's wrapped together by seasonal Irish cuisine (so expect dishes like Irish lobster dumplings). There's a bit of a homespun nature-first angle, where you'll have dishes presented on white minimalistic log plinths, which look rather beautiful. The Morrison Room also does an aesthetically pleasing afternoon tea that isn't one to miss for milestone events.
For a more laidback buzzy night; amongst the clamour of the chefs, head to Kathleen's Kitchen, which do a nice spin on Mediterranean food. There are also lots of pockets of private dining and drinking spaces you can organise with Carton House, like its whiskey library and an octagonal room that's for wine and cheese tasting.
FINAL WORD
For lovers of Bridgerton, the National Trust, or simply anyone aesthetically inclined, consider Carton House your ultimate respite from the modern world. The best part? It's only a 20-minute taxi drive from Dublin airport.
SEE MORE: