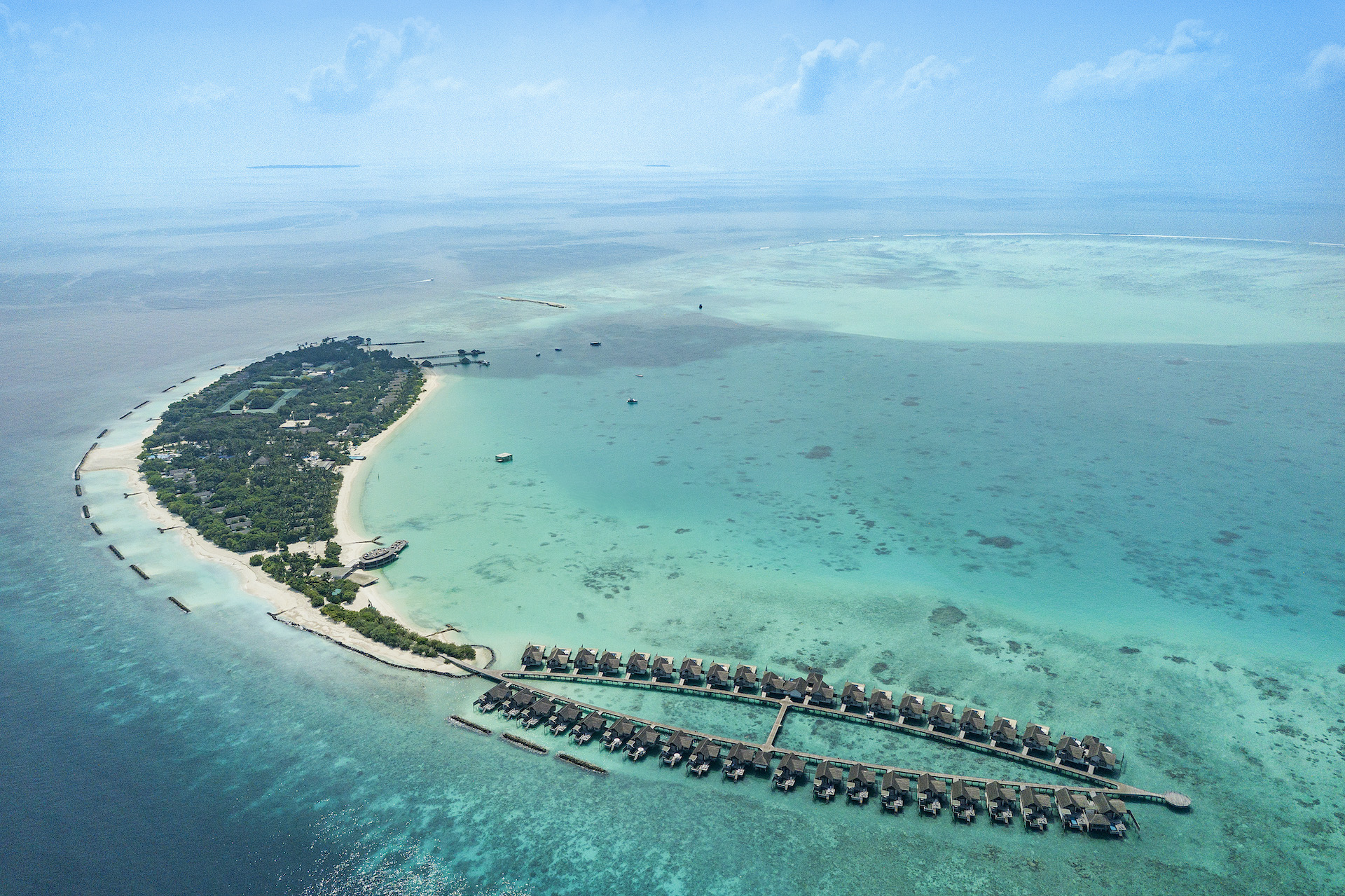 Review: Fairmont Maldives
---
A slice of paradise, working towards a more sustainable future
Secreted away on one of Maldives' furthest flung atolls, the picturesque island of Sirru Fen Fushi (which translates as 'Secret Water Island' in the local language) hosts Fairmont Maldives, an unforgettable luxury villa resort that's working to save the ocean, too.
Review: Fairmont Maldives
STAY
My first glimpse of Fairmont Maldives came with a soundtrack of whirring propellers, as the red-and-white Trans Maldivian seaplane emerged from the clouds and circled an azure teardrop of colour in the middle of the inky blue Indian Ocean.
As we descended, the pilot's bare foot guiding us into a turquoise lagoon, I started to make out the island's pearly white sand, fringed with luscious green palms and dense mangroves. With a splash the seaplane touched down, taxiing through the waves towards a wooden jetty where the island's staff were lined up to welcome us with Maldivian drumming and an ice-cold glass of Veuve Clicquot.
Here, I was introduced to my butler, who whisked me into an electric buggy, and off down sandy, shaded paths to reach my villa. There are several options to choose from at Fairmont Maldives, from sun-kissed beach cabins to tranquil tented jungle homes and idyllic over-water bungalows.
My one-bedroom sunset beach villa was just a hop and a skip from the sparkling, bathwater-warm ocean, the ivory sand dotted with exploring hermit crabs. Inside, the cloud-like super-king bed was adorned with an intricate decorative net, hung from the traditional Maldivian thatched roof. The cool marble floor lead back into matching dressing rooms-cum-bathrooms, with a separate walk-in shower and loo. A door at the back revealed a secret garden, with a huge bathtub and shower, for luxurious (and totally private) al-fresco bathing under the shade of the palm trees.
Throughout all the villas on the island, the interiors are inspired by traditional Maldivian design, crafts and textiles, capturing the area's distinctive local spirit. Outside, a plunge pool looked through a gap in the mangroves straight onto the Indian Ocean. As soon as I arrived, I swapped my Vans for bare feet and flip flops, and didn't put them on again until the plane home.
DO 
The purpose of our visit was to learn about Fairmont Maldives' new Sustainability Lab, launched to tackle both the region and the planet's growing plastic crisis.
Experts claim that by 2050, there will be more plastic in the ocean than fish. In a bid to fully recycle all the plastic waste generated by the resort and its surrounding communities, the Sustainability Lab, led by the resort's resident marine biologist Samuel Dixon, will turn waste from the ocean into bespoke souvenirs and unique products, as well as educating guests about marine conservation and climate change, and empowering local communities to care for Maldives' delicate underwater environment. Eventually, the Sustainability Lab hopes to become a recycling centre for the whole atoll, creating a workable solution to the logistically difficult subject of waste in this far-flung region.
Alongside this, the resort, which is also Green Globe-certified (a global leader in sustainable tourism), is working to become zero waste, implementing methods to reduce, reuse, recycle and upcycle its rubbish, while inspiring others both locally and globally to help secure a better future for oceans and the communities who live alongside them.
In practice, this meant visiting the lab, where Sam and his team shred plastic waste, melt it down, and remould it into tables, chairs, picture frames – you name it, they can make it. There was also the opportunity to make bracelets and keyrings from a ghost net the team had recently rescued from the sea. These are vast fishing nets that have either been discarded or have broken loose from boats, which then float through the oceans and destroy any sea life in their path.
Outside the lab, there was also the chance to snorkel and discover the island's incredible home reef – there we had the unforgettable experience of swimming alongside turtles, sharks, rays and dolphins in the wild.
On the opposite site of the island, in the lagoon, is the Coralarium, a man-made structure that acts as an artificial reef, encouraging local marine life to make it a home. It features a series of underwater sculptures by British environmentalist and eco-artist, Jason deCaires Taylor, designed to imitate the ethereal formation of coral colonies. Each one of the soaring sculptures is constructed of more than 500 ceramic 'starfish', which are specifically designed to attract a variety of fish and crustaceans.
The Sustainability Lab is just one branch of the hotel's growing Save the Ocean programme, which also encompasses reef conservation and protection, and an educational campaign targeted towards both guests and the local community. 
EAT
The small island of Sirru Fen Fushi is home to four restaurants, each with their unique identity and menu. We started every day with breakfast at Raha Market, the resort's dining hub; here you can select from a variety of traditional Maldivian dishes as well as world foods. There's also beautiful Onu Onu, an open-air bar with a thatched roof created by Balinese artisans, where you can watch the sunset with a pina colada in your hand. Azure offers another spectacular sea-front dining experience, with a seafood menu stuffed with octopus, lobster and king prawns.
And, finally, for one special meal, there was also Kata, Fairmont's signature Japanese restaurant that is built over the water and celebrates the glorious array of seafood that comes from the ocean around the island. Here, we ate sushi and sashimi washed down with more champagne, and watched the reef sharks feeding in the water below.   
THE FINAL WORD
Whether you stay for a week, a fortnight or a month, visiting Fairmont Maldives is a transformational experience. From its quietly luxurious villas to its first-class food, it certainly didn't disappoint, but what really made it stand head and shoulders above its resort neighbours was the warmth and passion of its staff, and its clear-sighted determination to tackle the region's pollution and protect it for future generations. A gem of a hotel, in a paradisiacal location.
BOOK
Seven nights at Fairmont Maldives staying in a Beach Villa on a half board basis, starts from £6,799 per couple. The cost includes return flights from London Heathrow with Emirates Airlines and includes Sea Plane Transfers with Trans Maldivian Airways. For further details see luxtripper.co.uk or call 020 4538 2013
READ MORE
Hot New Hotels 2022: International Openings / The World's Most Luxurious Destination Spas