As scenic as some airport transfers are, there are surely few that can lay claim to driving past lounging leopards and towering giraffes – yet this is what guests can almost certainly expect when they're collected from tiny Skukuza airport, gateway to South Africa's Greater Kruger National Park, en route to their accommodation at Sabi Sabi Private Game Reserve… By Sarah Rodrigues
48 Hours in South Africa's Winelands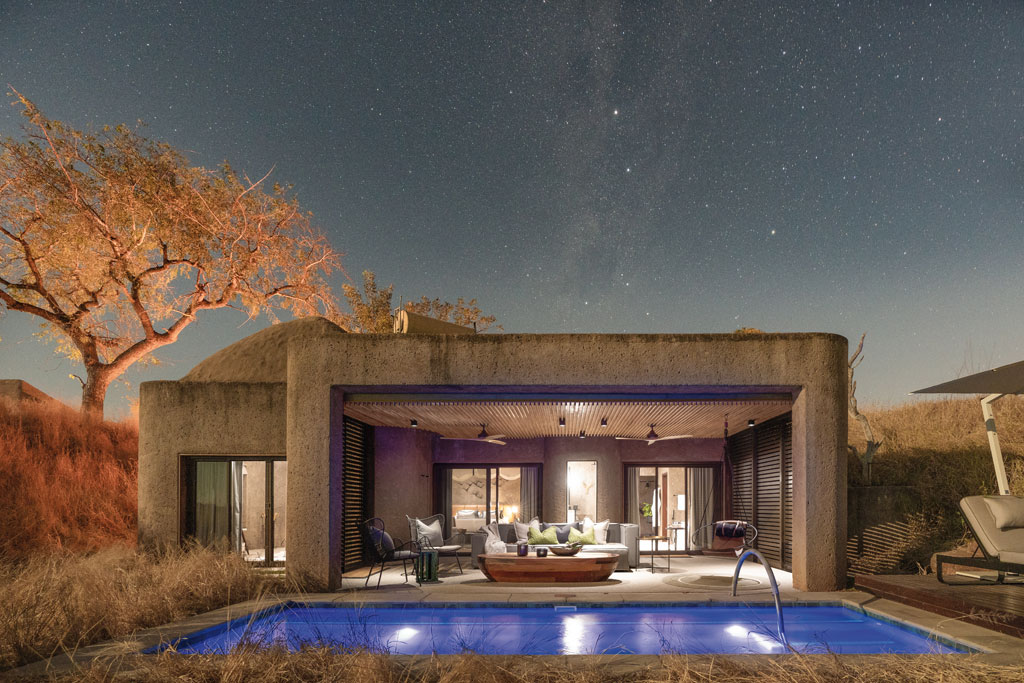 Four Decades of Conservation
The ease with which animals move in and around the 60,000-hectare reserve is testament to Sabi Sabi's sustained commitment to conservation and to preserving an environment in which the animals feel relaxed and unthreatened. This is carried out in a multitude of ways – from the strict controls that prevent more than a certain number of safari vehicles viewing certain creatures (and even then, only from a respectful distance) to the absence of fencing, which permits wildlife to stroll through the accommodation's grounds, and necessitates ranger escort after dark. Investment is also placed into anti-poaching units, which have contributed to a dramatic decline in the killing and maiming of rhinos in the area, as well as into the education and training of the local Shangaan communities, from which many of the staff are drawn.
Accommodation
Four lodges make up the accommodation at Sabi Sabi: guests can choose from dreamy, evocative Selati Camp, where colonial artefacts and vintage elements recall a bygone era, or the lively openness of Bush Lodge, a firm favourite with families. Little Bush Camp, with its six secluded lodges, is ideal for small groups and private hire, while Earth Lodge has recently been refurbished for the first time since it opened in 2001.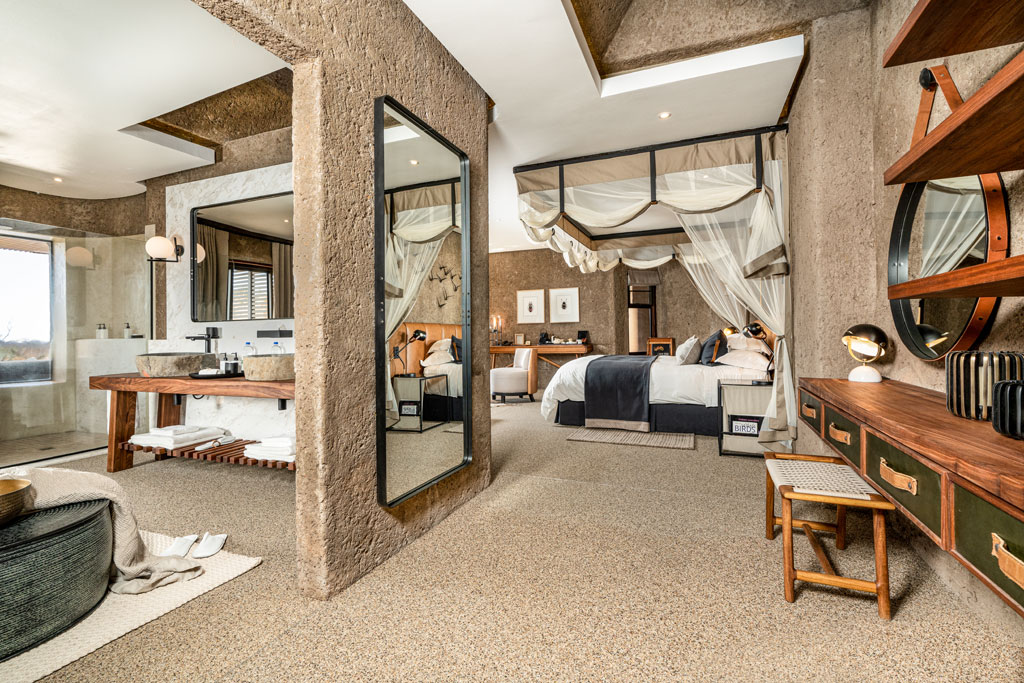 Built literally into the landscape, it's a marvel of unobtrusive design, combining swoon-worthy luxury with a sense of oneness with nature. The grass cleared for construction has been mixed into the earthen walls, giving it a speckled and tactile appearance, against which dark wood, cool ceramics, sumptuous textiles, opulent highlights and found objects create a feast for the eyes. A series of sliding doors flood the room with natural light, giving way to the private pool and deck area, beyond which lies a vast and wild landscape, complete with a watering hole at which animals can frequently be seen drinking and bathing.
Morning
The days begin early, with a 5.30am wake-up call that gathers guests around a spread of beverages and pastries – fuel for the three-hour-long morning safari. Open vehicles are manned by a field guide and spotter, whose eagle-eyed ability to hone in on far-distant wildlife brings the bushveld to life, even when elephants aren't casually crossing the road in front of the truck – which they frequently are. Cooperation between guides means that if an exciting spot is made, radio communication ensures that other guests, in other vehicles, are informed – with the resulting dash to the site nicknamed a "Ferrari Safari." This, in turn, fosters a spirit of camaraderie between guests, and animated conversation characterises the return to the Lodge for a full breakfast.
Afternoon
The hours until the afternoon safari are one's own – to relax by one's pool, work out in the gym, to indulge with a massage or skin treatment at the lodge's Amani Spa, or to sit over a long lunch, accompanied by snuffling warthogs, sporting tragic mullets and kneeling, oddly prayer like, on bended front knees as they graze. If a creative mood strikes – as well it might, in such surroundings – each room is equipped with artists' materials – and if inhibition overcomes inspiration, a well-stocked in-room bar should help to unleash the muse.
Evening
Reconvene in front of a High Tea spread before setting out on the evening safari: the cooler morning and evening hours are when wildlife is most active. At least once during a stay, guests are treated to a walking safari, on which they examine tracks, markings and scat, in order to understand more about the environment they're temporarily inhabiting – and about the creatures who inhabit it full-time. Expect a stop for a sundowner, during which the front of the vehicle folds out to become a bar, and guests can watch evening staining the sky from pink and orange, to red and purple, with a long, cold (the staff even have ice cubes) spirit in hand.
In the darkness on the way back to Earth Lodge, the spotter's torch beam swings in wide arcs, picking out the gleam of a nocturnal eye, or the savage curl of a snake in a tree. Returning to the Lodge, guests can choose to head straight to the bar (where gin and tonic is served, very literally, from a tap) or return to the room to freshen up in the vast shower or tub, before dining under the stars at the outdoor boma (South African barbecue area) or in the atmospheric wine cellar, in which a collection of over 6,000 bottles of wine is held.
Book it:
From (R21,900 (approx. £1,207) per person, per night, based on two people sharing at Earth Lodge, including twice-daily safaris, meals and transfers. sabisabi.com
MORE TRAVEL:
The Best Hotels in Africa / Top Travel Trends of 2020 / The C&TH Guide to the Best Resorts in The Maldives
See more images of Sabi Sabi Safari in our image gallery, below.
---