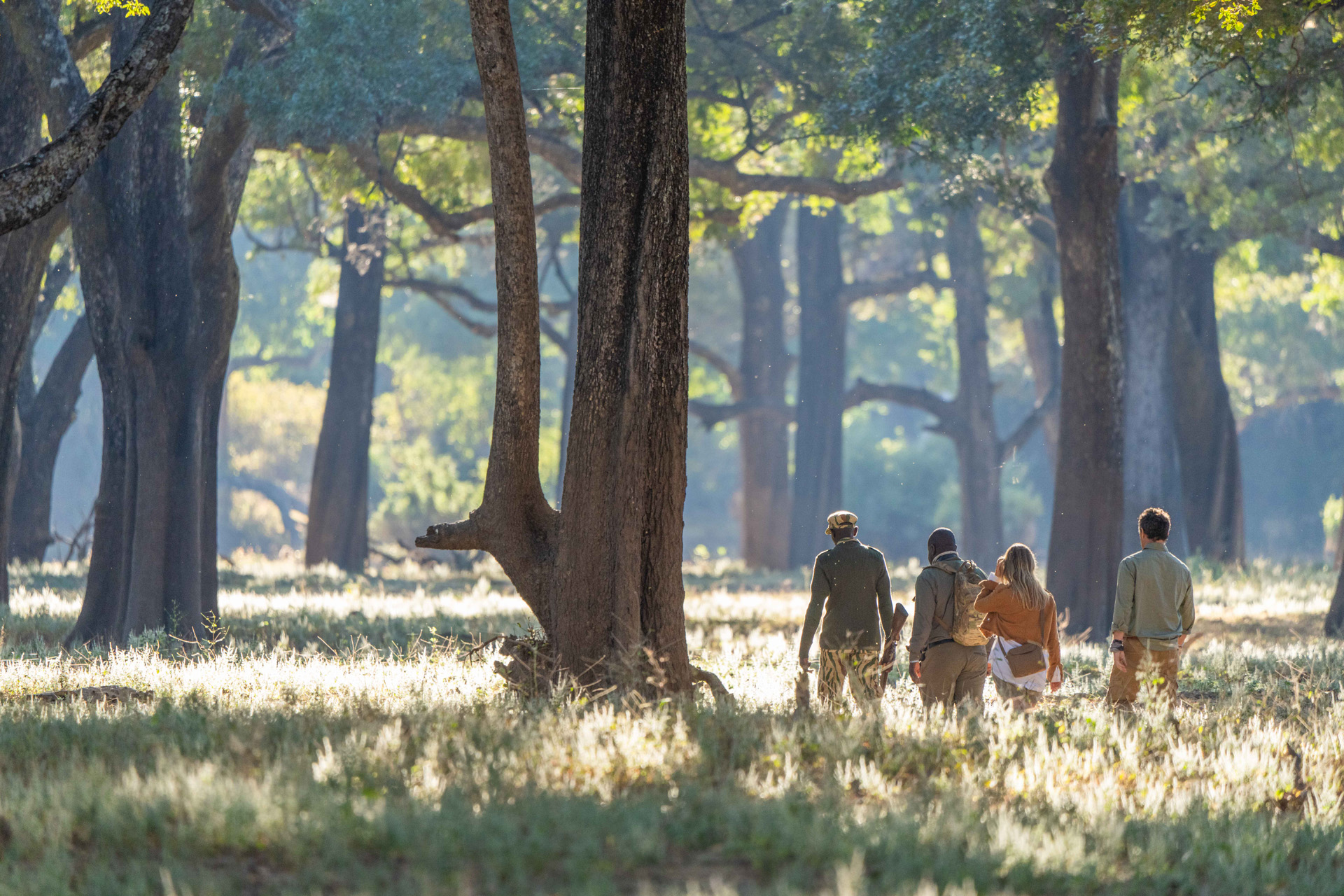 A Walk On The Wild Side In Zambia's South Luangwa National Park
'A game drive is like looking at the pictures in a beautiful book, and a bush walk is when you read the words'
Camilla Hewitt travels to three Time + Tide camps in South Luangwa National Park to explore the incredible Zambia landscape with their seasoned guides.
Read the C&TH Guide to Responsible Tourism
A Walk On The Wild Side In Zambia's South Luangwa National Park
As you cross the Luangwa River into the South Luangwa National Park, you leave civilisation behind and enter one of Africa's last undisturbed natural wilderness areas – and one of the best places in the world to see leopards. Famed as the birthplace of the walking safari, Time + Tide encourages visitors to embrace that tradition and follow in the footsteps of conservation pioneer and innovator of the concept, Norman Carr. The park, which stretches over 9,000 square kilometres and is home to over 60 mammal species and 450 bird species, rivals the continent's most renowned safari sites with its diversity and density of wildlife.
STAY
As we approach the ebony-canopied Mchenja camp, where a troop of yellow baboons stands guard, we are greeted by the warmth of the waving team. Mchenja, like all Time + Tide bush camps, is entirely solar powered in order to have as minimal an impact on the environment as possible. Each of the tented rooms overlook the river, where the water lures plenty of wildlife within viewing distance. 
From my grass walled retreat, a family of hippos steal the show. Preferring a long bath during the day, they wallow beneath the surface, protecting their skin from the sun. After dark, they emerge onto the riverbank to graze on the grass that is still lush from the last rains. The proximity of these territorial giants is a little unsettling at first but, by the end of our week in South Luangwa, their daily commute feels almost familiar.
Our next stop, Kakuli bush camp, is a touch more luxurious than Mchenja. Swinging seats on each porch provide a peaceful spot to watch the broad stretch of river, a passtime referred to by guides as 'home safari'. In the stillness, the sound of bellowing hippos travels like fog horns, echoing into the distance. It is the watering hole at Kakuli that makes this camp even more set up for home safari. The lagoon can be seen from the terraced dining area, and a wildlife hide beneath it offers an up-close look at visitors that include elephants, warthogs, and waterbucks stopping by for a drink.
On our third evening in South Luangwa, we venture out for Time + Tide's signature Sleepout, a temporary camp set up on the dry Luwi riverbed. Before we settle into our warm bedroll, covered only by a mosquito net, we see hyenas crossing the sand in search of food and hear the distant roar of a lion. In the darkness, our heightened awareness amplifies every susurration of the bush. As the sunrise stirs us from our sleep, we recount tales of shooting stars while we tuck into a full English breakfast cooked over the campfire.
Our final stay at Chinzombo, Time + Tide's flagship property, is perhaps a gentle ease back into civilisation. With six tents as opposed to five, it is the first time we have been in the company of other guests. Having said that, the luxuriously spacious accommodations offer absolute privacy. Constructed from canvas, timber, and reed, the beautifully appointed tents have been accented with leather and raw linen. Each stretches out onto a shaded verandah with a plunge pool and a choice of loungers or sofas, where we while away our last afternoon on the river.
EAT
As safari days start at 5.30 am, Time + Tide provides a light breakfast for those of us with an early appetite. A more substantial brunch is ready on our return to camp at 11.30 and, after a short pause, we regroup again for afternoon tea and cake. Dinner is served after our evening game drive. Over the course of the week, we tuck into tilapia served with couscous, lentil dahl, beef stroganoff, and ice cream flavoured with the fruits that grow in the region: mango, tamarind and coconut. 
On the night we spend out in the bush, the culinary team cooks a more traditional meal over the campfire. This is an opportunity for us to sample Zambia's staple food, nshima, a thick porridge made from ground maize. Served with a choice of beef, chicken, or pork sausages, a tomato sauce, and wilted spinach, the nshima is torn up by hand and used to scoop its accompaniments.
DO
Each day begins with a 5.30 am wake-up call, an early start to ensure we are walking while the heat from the sun is still manageable and while the soft light gently pours over the landscape. Stepping out into the wilderness with Charles, our Time + Tide guide, we quickly warm to his storytelling, an animated character capable of conjuring up visions of the termite queen and her soldiers constructing their monumental mounds. 
On our first walk, Charles identifies ancient ebony, leadwood, and tamarind trees, recalling the many reasons why each species is essential to both animal and human life in South Luangwa. While most seasoned safari-goers doing game drives may recall the 'big five', a walk with Time + Tide introduces the 'green five', which includes rhino thistle and the leopard orchid. Every now and then, Charles crouches down to the earth to point out the highway of prints and their orientation – a collection of clues he weaves together to explain the workings of Zambia's wildlife. It is this attention to detail that safeguards us from the vulnerability of being on foot. No tell-tale mark goes undetected by guides working in the African bush and, even as amateurs, we begin to piece together the evidence in each scene we step into.
Returning to the lodge by late morning, there is ample time for an afternoon siesta before nature calls once again. As the sun slowly begins to dip, we head out on an evening game drive. Charles informs us that the animals have become habituated to the trucks moving their way around the park, making close encounters possible. Endemic to Zambia, a Thornicroft giraffe shading from the sun allows us to take in her gentle nature from just metres away, while the more flighty impala and boku spring into action as soon as we approach.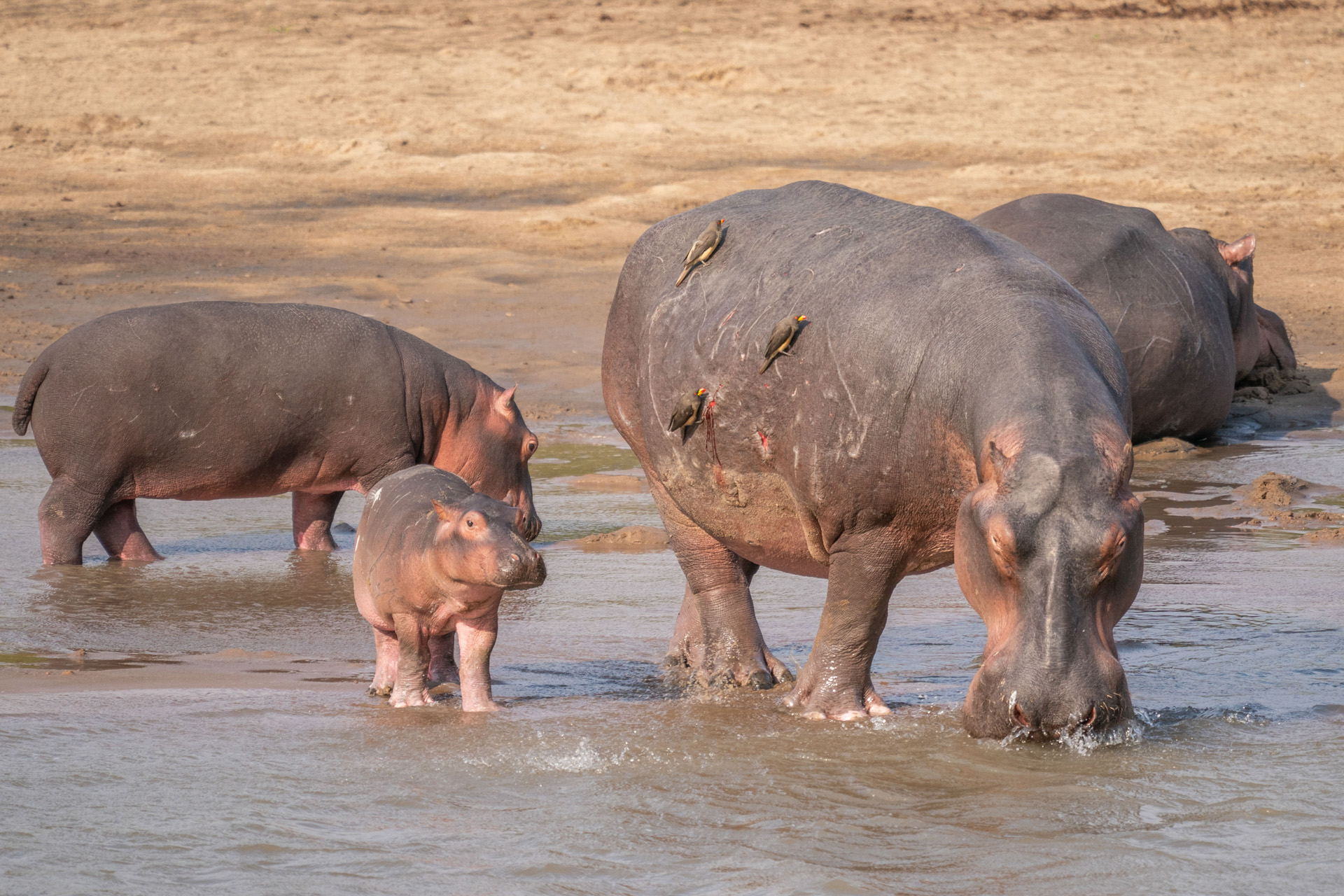 After a pitstop on the riverbank to soak in the red and orange glow that signals the start of South Luangwa's nightlife, we are alerted by the bark of baboons that big predators are on the prowl. Before long, we find a pair of leopard siblings lying lazily in the grass while their mother is out hunting for dinner. Not fazed by our presence, we are treated to an intimate encounter, made possible by the distinct lack of other vehicles in the park. As we make our way back to camp, we catch up with a male lion on the banks of the river, getting a glimpse of its powerful physique silhouetted against the moonlit sky. That night, as I slept with one eye open, a deep guttural growl reverberated around camp – a reminder that these territorial creatures wear the crown.
The next few days follow the same format, although each feels distinctly different due to the unpredictable nature of being in the bush. On walking safaris, we observe branches heavy with messy weaver bird nests, spot giant kingfishers poised on the riverbanks, and watch bright green flocks of Lilian's lovebirds take flight between shrubs. Charles regularly passes around medicinal plants for us to identify: wild mint that was used to ease congestion during COVID times, and flowers from the scrambled egg tree capable of soothing the stomach. 
As darkness falls, we see a two-week-old hippo trotting beside its mother, a hyena carrying her cub to the safety of a new den, and a female leopard silently stalking impala, which rely on their sense of smell to detect their predator after the sun has set. Watching on as the stories unfold, the circle of life and fight for survival are evident everywhere we go.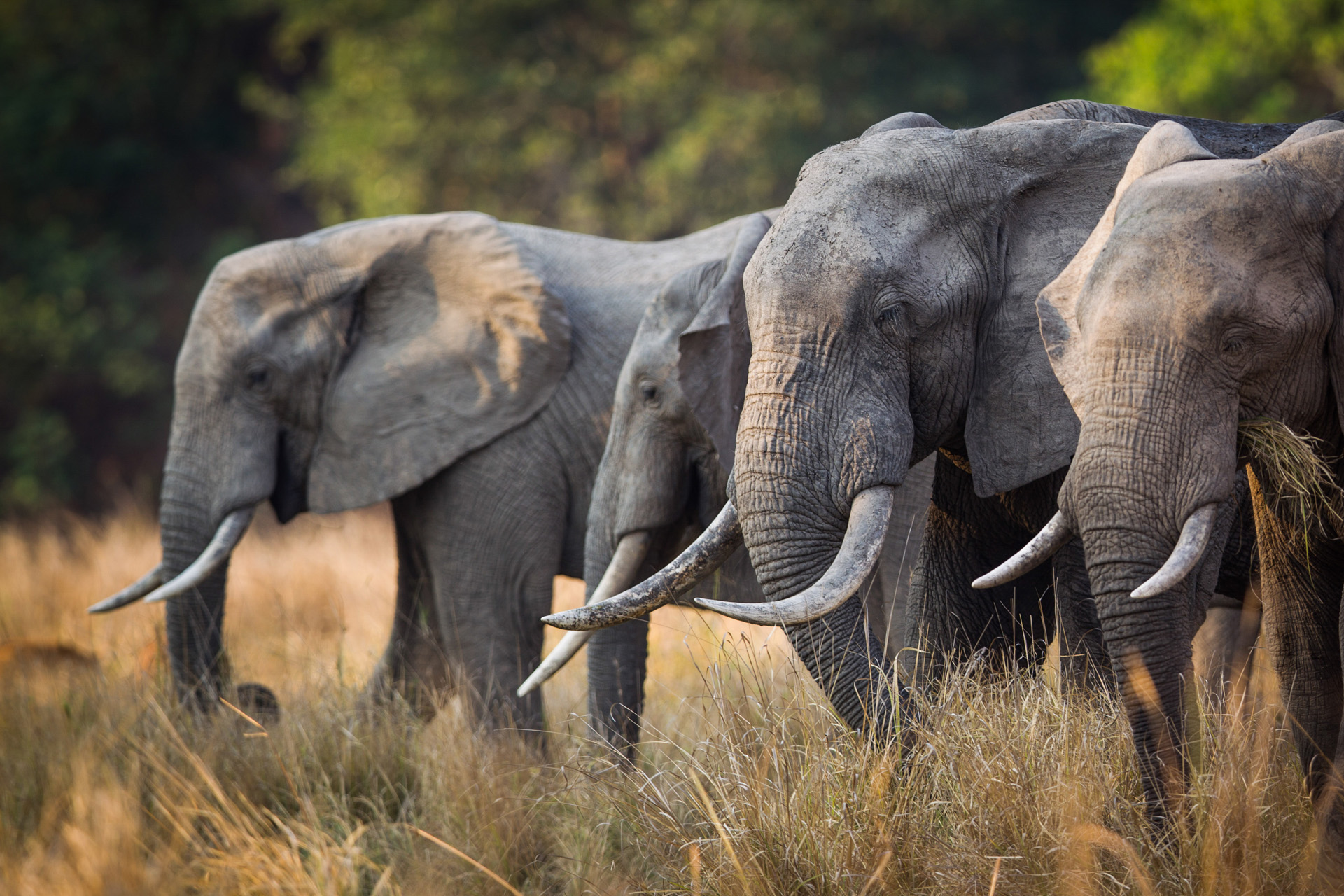 The only real break in our routine comes in the form of a visit to see the work of the Time + Tide Foundation. As the philanthropic arm of the Time + Tide tourism company, the foundation facilitates educational and economic opportunities for the most marginalised residents living in the local communities, namely children with special needs, pre-adolescent girls, and women without formal education. Our excursion takes us to Yosefe Primary School, where the foundation has funded the construction of classrooms, teacher houses and salaries, a library, and a borehole. Every guest who stays with Time + Tide contributes to the work of the foundation and also to Conservation South Luangwa, which is dedicated to protecting the wildlife we have come to see.
FINAL WORD
'A game drive is like looking at the pictures in a beautiful book, and a bush walk is when you read the words,' says Aubrey Njobvu, a Time + Tide Safari Guide. Our trip to South Luangwa with Time + Tide told the whole story of Zambia's natural wilderness and its inhabitants – and, at a time when climate change and conservation should be taking centre stage, it was encouraging to experience their dedication and desire to not disrupt the order of life in this vibrant area of African bush.
BOOK IT
Rainbow offers a seven-night trip across Time + Tide's South Luangwa camps, including two nights at each Mchenja, Kakuli, and Chinzombo, as well as a one night Signature Sleepout experience. Rates from £9,095pp, based on two sharing on a full board basis throughout, including all international and internal flights, inter-camp transfers and park fees.
ENQUIRE: rainbowtours.co.uk / 0208 131 3658