Tim Lott fails to find his desert-based digital detox transformational but he does have a high old time? Read his guide here…
Arizona Musing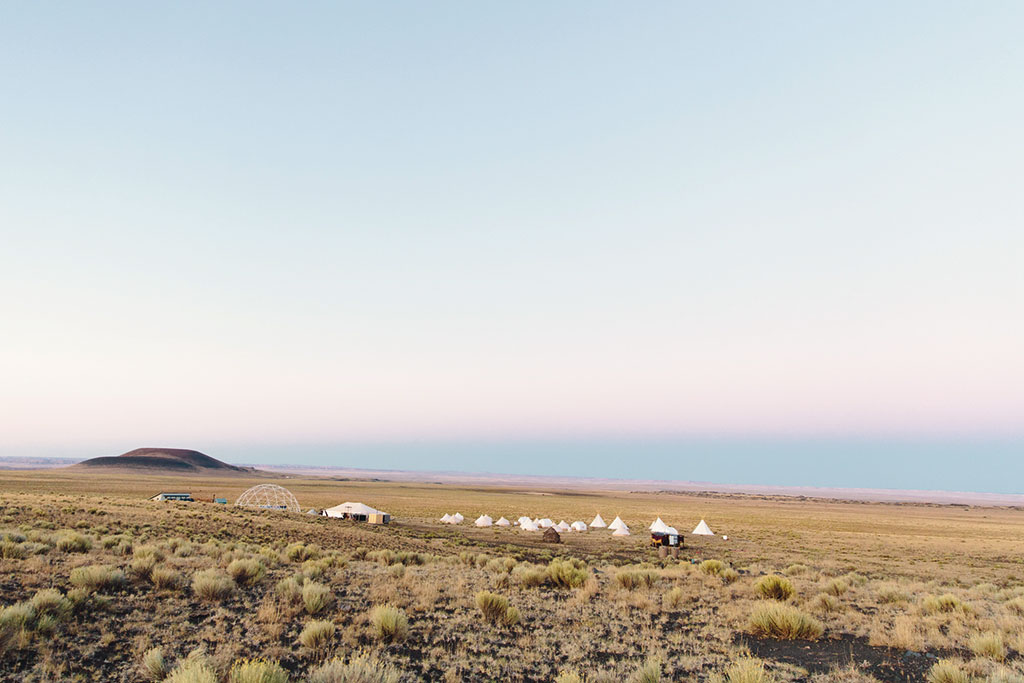 I have always been a bit of a sucker for wellness retreats – which, statistically at least, makes me quite unusual for a man. The overwhelming majority of those who take wellness holidays are women and the men who do go are often in tow with their partners. 
I have been massaged, reiki-ied, acupunctured and yoga'd from Hoxton to the Himalayas and have been made countless promises about transformation, restoration, healing and spiritual cleansing.
Most of these promises have proved to be largely hollow, but this has not stopped me going on the retreats, simply because 1) I live in hope, and 2) I enjoy the extraordinary level of positivity and cheerfulness that these retreats always seem to generate. However, my trip to Restival in the Arizona desert was my first visit to a 'wellness festival' (a sort of al fresco retreat crossed with a hippy holiday camp).
In The Wilderness
Founded by the entrepreneur Caroline Jones a few years ago, Restival is a moveable feast of tranquility and rest. Previously they held events in the Sahara desert – now it has relocated to a ranch a few miles outside Flagstaff, Arizona.  I was attracted to the idea only marginally by the wellness aspect – you don't have to cross the Atlantic to get your aura tweaked – but more by the location in the heart of wilderness.
Then there is the possibility of immersing yourself in the native culture (in this case, Navajo), and the sheer relief of being away from the internet and satellite phone signals – the site was off-grid. And then there is the luxury tent, with double bed and private bathroom and shower (I'm getting a bit too old to do the Glastonbury camping in mud thing).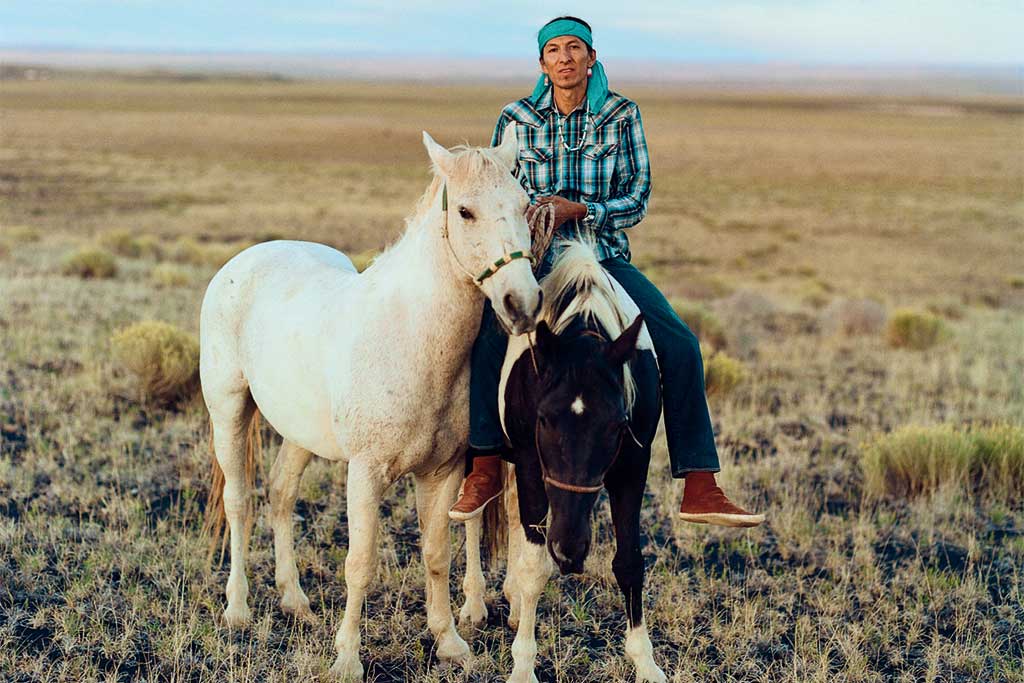 I missed the opening ceremony, but arrived on the second day of the five-day festival to hear the address given by presiding life coach Annie Loyd, who welcomes us with her confident proclamation – 'transformation WILL happen'. I can't remember much of the rest of her speech but it used a lot of the vocabulary that is customary within wellness culture – 'flow', 'grounded', 'healing', 'space', 'clarity' and, above all, dealing with 'traumas, anxieties, griefs and past lives'.
My problem was really that I didn't particularly have any problems, either spiritual or physical, that I thought I needed to deal with. Such 'issues' tend to be mandatory in these spaces – a lot of the people attending seemed to have suffered damage of some kind or another. 'Relationship issues, loss of loved ones' and 'trauma' were high on the advertised healing agenda; I didn't tick any of the boxes. But still, I was determined to enjoy myself, even if I didn't expect to emerge onto a higher plane with all my psychic wounds – should I be able to locate them – cauterised.
Tipi, or not Tipi?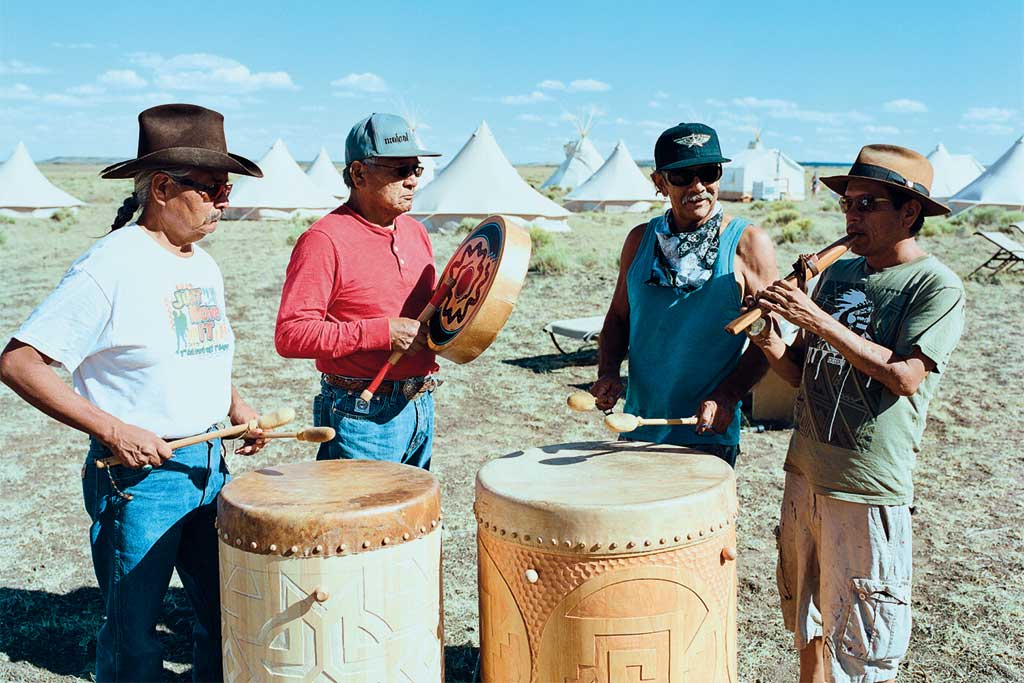 The experience wasn't always easy. Part of this was down to bad luck – a wind whipped up as soon as I arrived and didn't abate for several days, which meant that not only was peace and quiet hard to come by, but using the purely outdoor common space could easily turn into a bit of an ordeal. Sleeping could also be a problem for all the comfort of my tipi, since it got chilly at night and even the extra blanket didn't really do the trick.
However, the site itself is striking, even romantic. There is an open-sided tented area for communal eating (the food was outstanding, organic and, of course, catering for 21st-century allergies, intolerances and general all-round veganism) and hanging around with other guests. Up on a hill there was a small temple made out of reclaimed materials with faux stained glass windows forged from keys, pebbles, mirrors and beads, and an exterior largely constructed from old hubcaps, the tops of oil cans and car numberplates. Here you could do kundalini yoga and, at dawn, 'sound immersions' (i.e. recorded avant-garde music) to greet the sunrise.
Under The Stars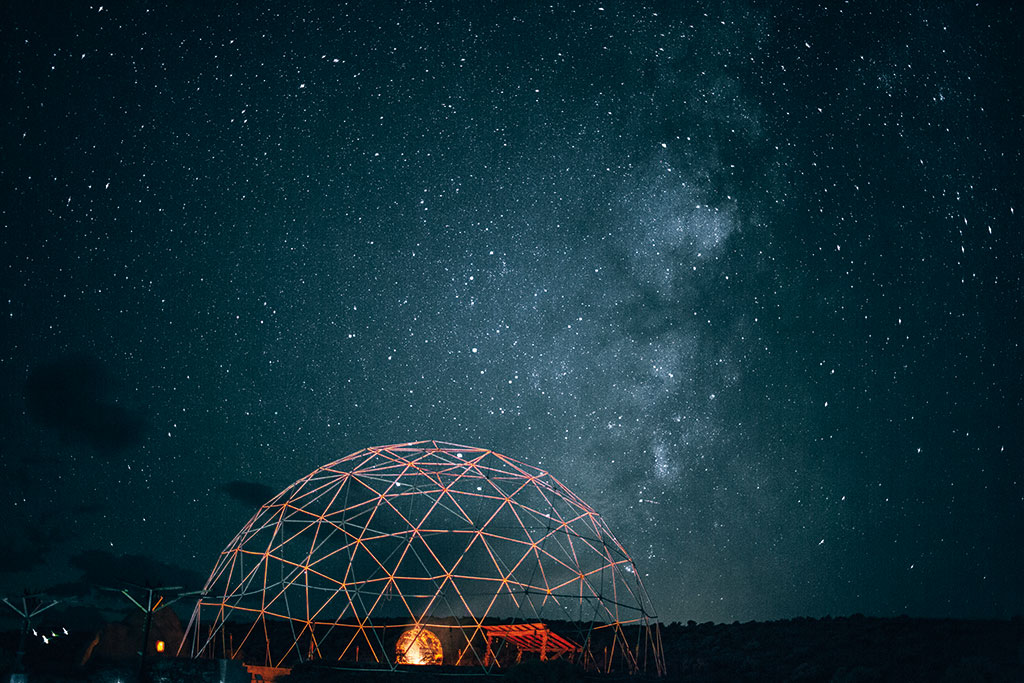 There was a podgy little round Navajo traditional dwelling – a 'hogan' – where we gathered for meetings and lessons on native culture. Also, a Navajo sweat lodge (of which more later). And for the evening there was an open arena, enclosed within the skeleton of a geodesic dome, at the centre of which – at night – was a vast bonfire.
Pillars of fire also greeted you as you entered the arena after dark (the setup was taken from the Burning Man festival which takes place next door in Nevada). There is a Gaudì-esque consultation room – the 'Gnome Dome' – a number of bright painted shipping containers that host the staff and four individual spas in the only permanent buildings on site. There was also a psychedelic bus straight out of the 'Electric Kool-Aid Acid Tests'.
But still, I was determined to enjoy myself, even if I didn't expect to emerge onto a higher plane with all my psychic wounds – should I be able to locate them – cauterised
The investment in the five-day break is largely justified by the location – in the black scrubby desert with a site of distant mesas. It was a powerful kick to be under suc  a vista of stars – you don't see constellations or horizons like that in north-west London (even though it was hard not to laugh at the vocal and excitable UFO spotters that were convinced Mars was a flying saucer).
The warmth and friendliness of everyone I met – you couldn't really walk more than ten yards without being hugged – made a pleasant sociable and soothing background to the individual treatments and experiences that were laid on. Also it was small and intimate with only around 65 guests, so it was easy to make connections.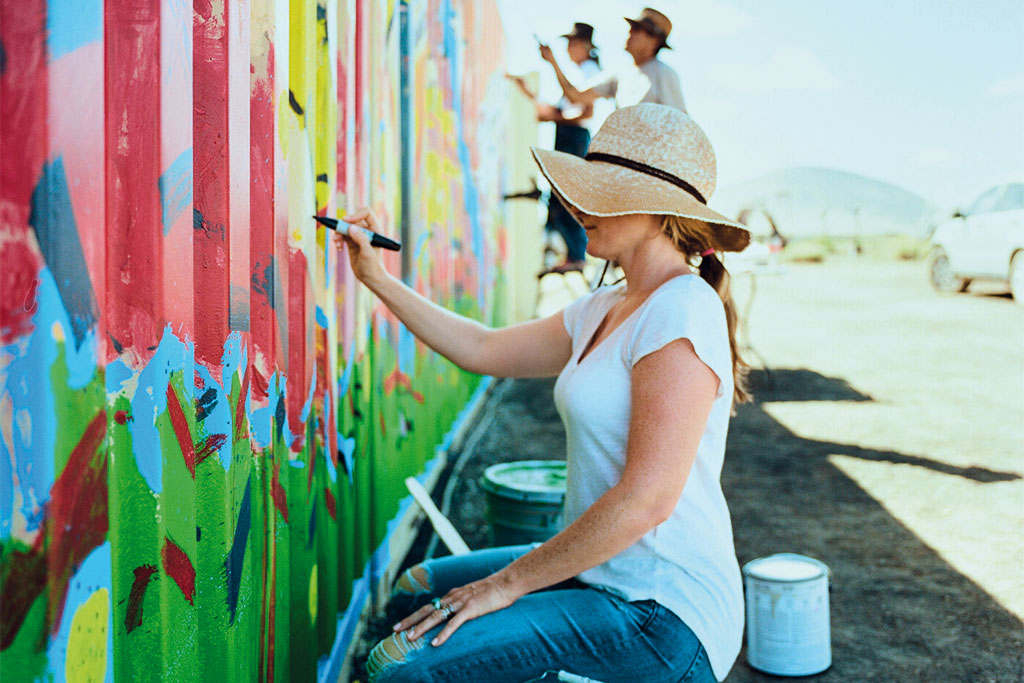 The treatments and practitioners varied in quality. I had a tarot reading that was so wildly and consistently inaccurate it reduced me to helpless giggles, which, to the great credit of the clairvoyant,
she joined in with quite happily. One of the spa rooms could only be described as tawdry, with low ceilings and insufficient privacy (only a curtain separated me from the client being tortured – I mean treated – in the adjacent space).
The Navajo teachings of local tribesman Thomas Walker – and we were treated to a fair number of these – were very long on delivery and fairly short on content. Likewise the (equally overlong) talk from the Navajo NASA astronomer David Begay, which sent me into a relaxation mode so deep I fell asleep. And a comedy routine from a 'native mask maker' was simply so embarrassing I had to escape back to my tent. The evening entertainment, incidentally, which includes music, talks and dancing is what distinguishes it from a retreat and edges it into the category of 'festival'.
But there were some real high points. I have never had the experience of a Navajo sweat lodge before, but it was basically a tent filled with burning logs, and six naked men. The temperature was at times unbearable, but there was genuine sharing among the men taking part, some of them breaking down into tears as they 'spoke their truth'. It was, for me, one of the high points of the week.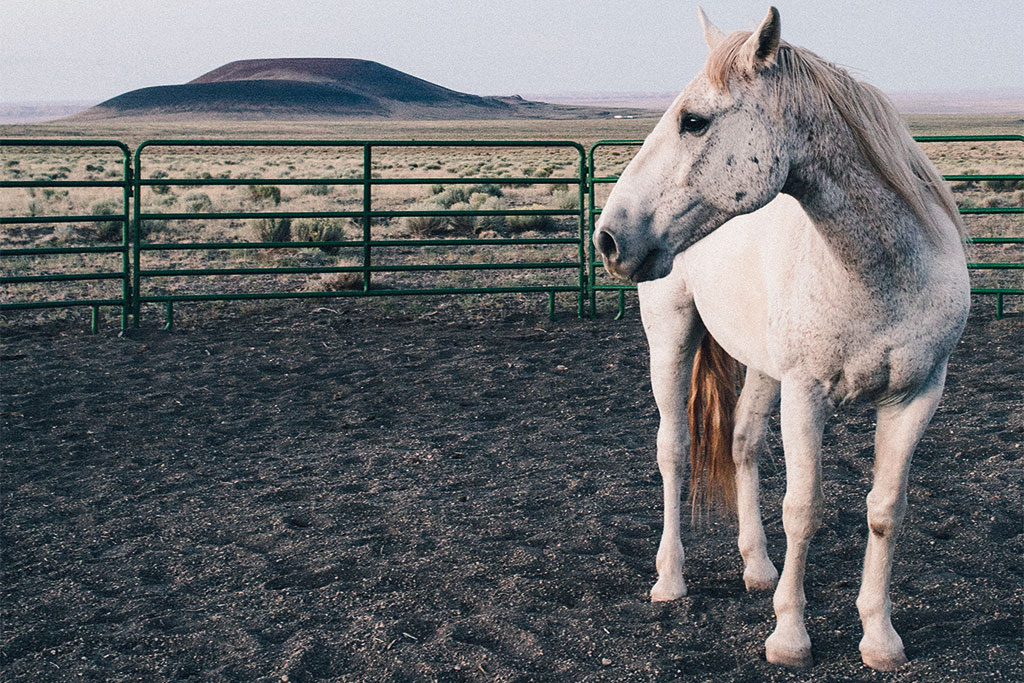 The other zenith came on the final night. We had already met members of the Benally Navajo family – on the second night they gave a performance, while Clayson, the son, gave demonstrations of horse whispering during the week and his sister, Jeneda, practised Navajo bone setting, a procedure which she had practiced on me earlier in the week (not as painful as it sounds).
But then, at the end of the festival, the young and beautiful siblings joined with their nonagenarian father and did a sort of Navajo-cum-punk-band performance (with attendant fire dancers) that was so energetic, original and exciting – and surprising – it made it worth the price of the ticket alone. By the time the evening was over, I was genuinely transformed, at least until the next morning.
Admittedly by this time someone had (finally) passed me a funny smelling cigarette, which did seem to assist the transformative experience somewhat. But the farewell concert – combined with a genuine heartfelt tribute to the much-loved founder, Caroline Jones – made it a night to remember. And did more than compensate for some of the experiences I would be happy enough to forget. 
Book It
Five nights from £1,950 for a sharing Navajo tipi, all-inclusive, except for spa treatments. restivalglobal.com
MORE TRAVEL: The C&TH Guide to Cambodia | The C&TH Guide to Greek Island Hopping | The Best Hotels & Chalets for Skiing 2017 | Bali on a Bike
---