The lush Winelands of South Africa are a must to explore, says Caroline Phillips…
The South African Winelands: A Guide
The mountainous territory inland of Cape Town — known as the 'Boland' or 'Uplands' — boasts sandstone peaks, verdant rolling hills and beautiful valleys. It's dotted with over 200 vineyards, producing globally renowned bottles. The Winelands area and its historic towns – Stellenbosch, Paarl, Tulbagh and Franschhoek, the self-styled culinary capital of South Africa – are known for a high concentration of stunning accommodation, from historical Cape Dutch through to sleek and contemporary. Its restaurants are among the world's best, stellar eateries serving inventive farm and forage-to-fork cuisine.
Prices can raise a local eyebrow, but with the rand now so low, it's easy on the European purse, while the wine tastings and meals will satisfy the most pernickety of gourmands. For teetotallers, there's plenty to do without tastings or even getting within sniffing distance of a grande bouffe. If you don't have time to make it to the Uplands, the first-rate vineyards and suburbs of the Mother City (as Cape Town is known) beckon.
Babylonstoren Farm
A mere 45-minute drive from Cape Town, you're already in oenophiliac heaven at Babylonstoren, with the Simonsberg, Du Toitskloof and Franschhoek mountains as a celestial backdrop. Urban-style rustic authenticity in the Garden of Eden's little sister is what this place is all about. Hotfoot it to the newly-opened Fynbos Cottages — open-plan, Cape Dutch-style living with gleaming-white interiors, plus a well-stocked kitchen in a glass cube. Sit by a hearty roaring fire with a glass of the estate's red vino while snacking on farm-made biltong, or chill on your patio to watch the sun set over vineyards, lakes and mountains. One of the oldest Cape Dutch farms, it has beehives, a prickly pear maze, myrtle-hedged paths, a vineyard producing eight wines and the glorious Puff Adder Walk, plus 300 varieties of fruit, veg, herbs flowers, all of which which end up, freshly plucked, in the kitchens.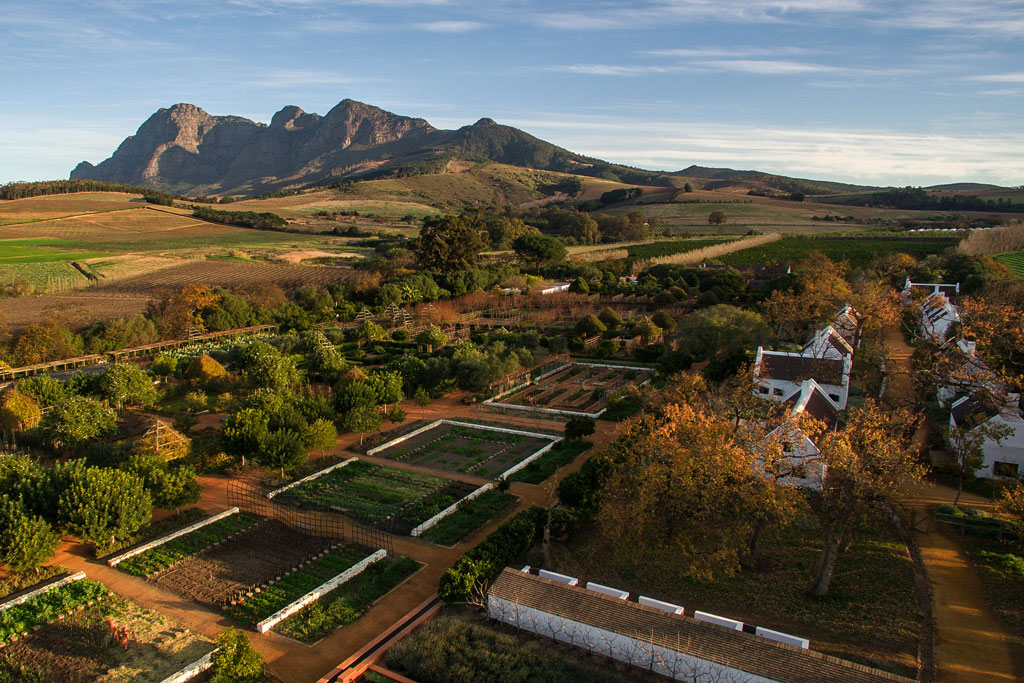 Go to Babel for smoked trout and salad with rose geranium and nasturtium dressing, followed by cow-size steaks, The Bakery for antipasti, and the pretty Greenhouse for wholesome veggie soup and wood-fired bread in wooden picnic boxes. When you're done with the foodie nirvana and cottage-candy, self-drive a golf buggy to visit its Tasting Room and Wine Cellar for sips of wine, amble past lavender to The Factory (for olfactory bliss and blending your own bath salts or body scrubs) or wander on paths of peach pip 'gravel' to the charming potting shed. Then, cycle past tangerine groves to explore the new Spice Garden, with its banana trees and tropical fish pond. From here, it's just a few wine barrels end-to-end (or a 25-minute drive) to Franschhoek.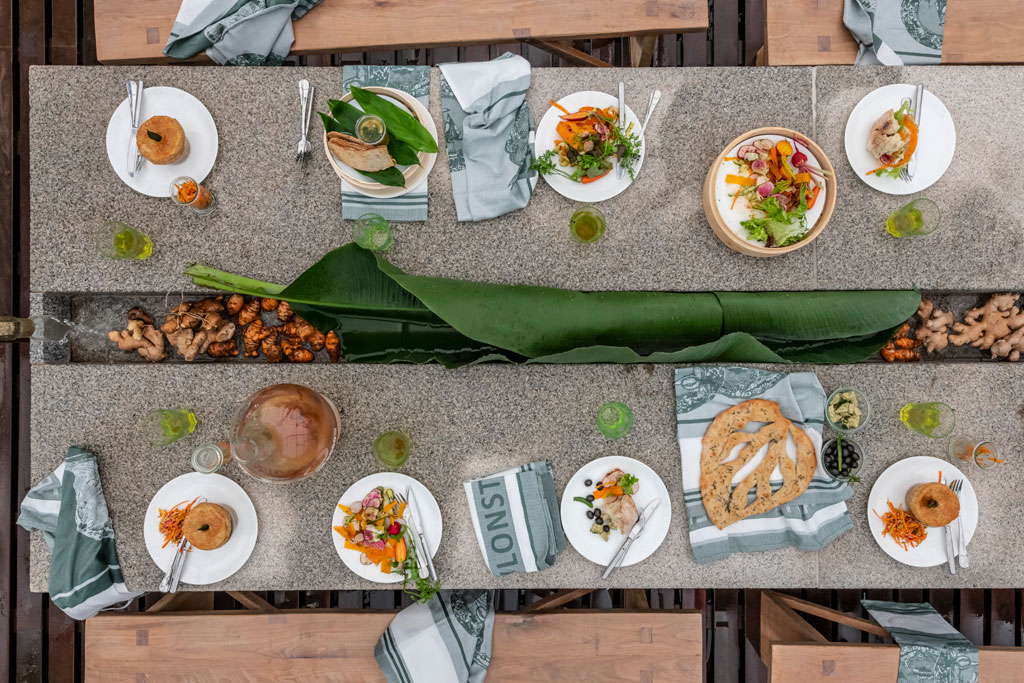 BOOK IT
Room rates at the Babylonstoren Estate start from R6600 per night for a Farmhouse Suite for two throughout low season. Visit babylonstoren.com to view all rates, room types and to book.
The Franschhoek Valley
Afrikaans for 'French Corner', Franschhoek is a place of yet more sybaritic delights and Disney-style perfection in its main drag. It's the smallest and prettiest of the Wineland towns, with white-painted homesteads dating back to the 1800s and some topping views; the French influence dates back to its settlement by Huguenots fleeing from religious persecution in the late 17th century. The town's teeny and idiosyncratic first South African Perfume Museum (did you know that 1st century Romans put scent on their pets?) and fascinating Huguenot Memorial Museum should be on your tick list, after you're done with gallery visits and samplings at the Belgian chocolatier.
The immaculate Grande Provence Wine Estate on the northern perimeter of the town dates back to 1694; its eatery, The Restaurant, frequently bags a place in South Africa's top 10. Then just spin a top and choose whether to eat first at the Chef's Warehouse, the Orangerie, La Petite Ferme or La Petite Colombe – all tip-top choices. Indian billionaire Analjit Singh has just made the valley his home-away-from-home, now owning three hotels, an award-winning wine business and five restaurants, including Marigold, Franschhoek's first Indian eatery.
One of the best places to stay is La Residence, a favourite of Elton John, who planted the flaming red jacaranda trees (and prefers the Maharani Suite). It's on a 30-acre estate bursting with Jerusalem artichokes, grapes to pomegranates. The hotel offers warm, personalised service from the start, with a handful of megawatt-smiling staff assembling to greet you outside the door.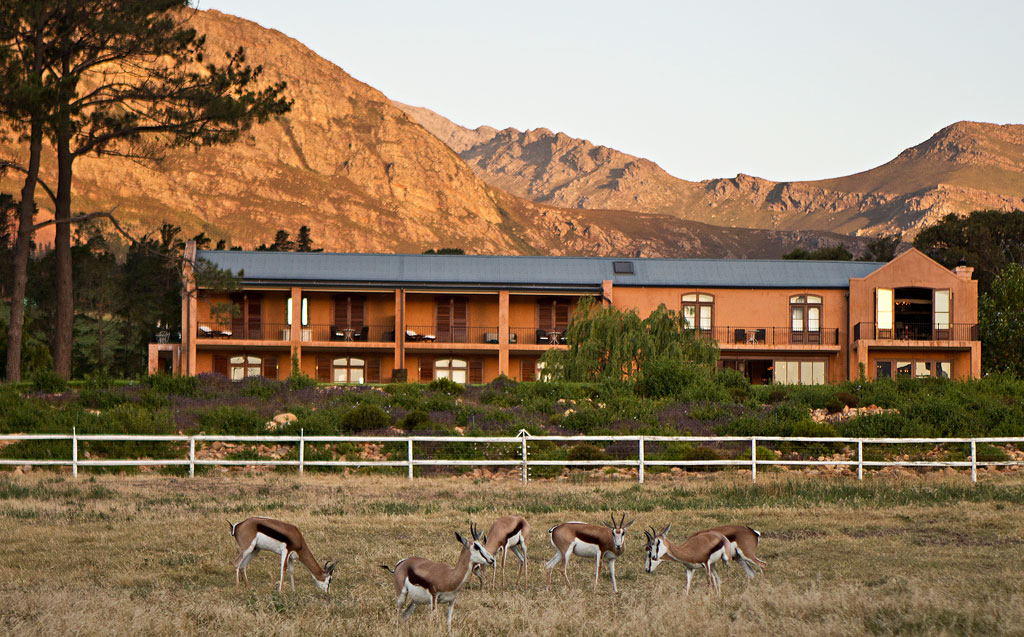 All 11 individually decorated suites (plus five family-friendly private villas) feature bathrooms big enough to land a helicopter, and balconies, patios or gardens overlooking the surrounding mountains in, with scenic views of olive groves, plum orchards and vineyards. The rooms are bursting with a bold mix of objets d'art, antiques and more chandeliers than Murano – a delicious riot of colour, gilded mirrors and painted furniture that will have your inner minimalist squawking.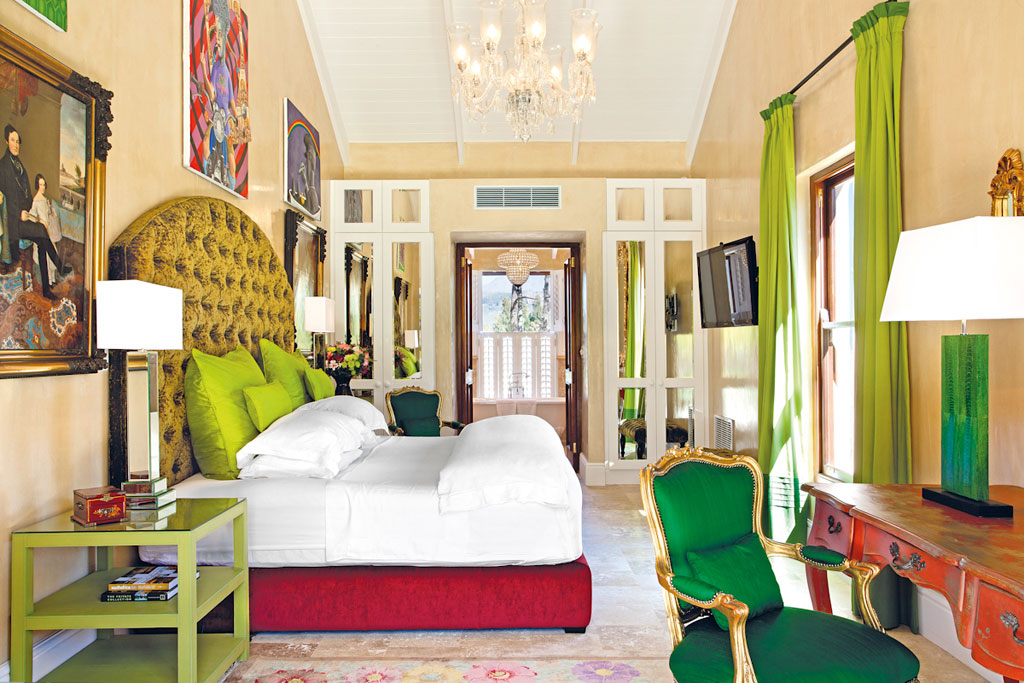 It's a brilliant base from which to explore the local wineries. But it's likely you may not wish to leave its poolside or glorious baronial-style dining room with groaning (500-lb) crystal chandelier (and where they create a personalised menus for you and brekkie includes pickled baby fennel, marinated artichokes and vegan cheese balls). If you do tear yourself away, spin a bottle and then go on a heli tour of up to 40 local wine estates starting with  Stony Brook, La Motte, Athonij Rupert, and Boschendal…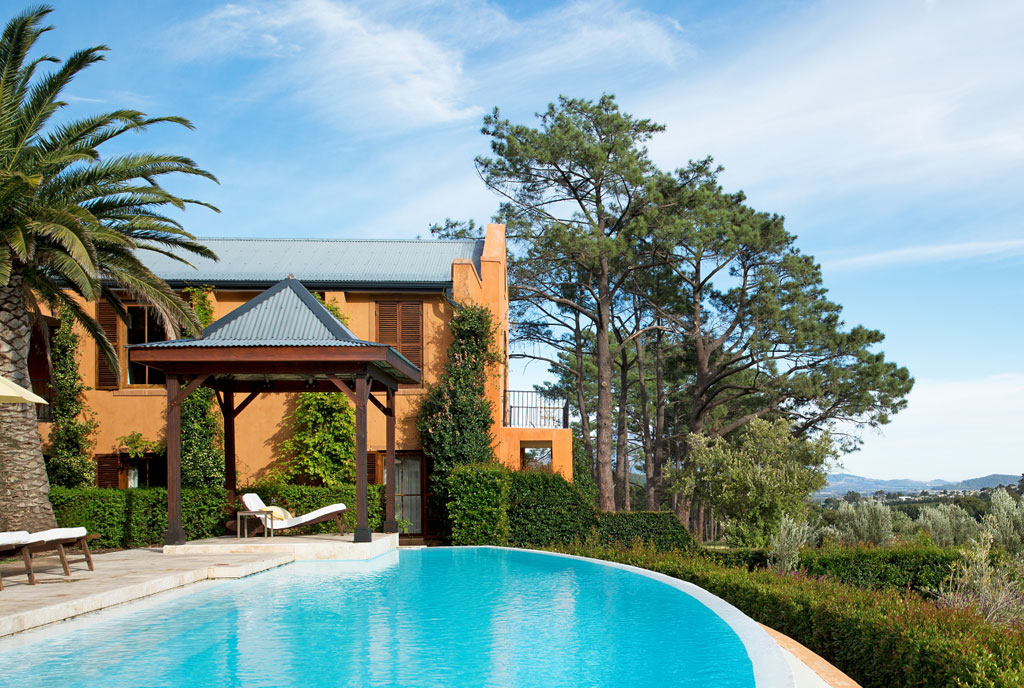 TIP
Wine Tours: Half day or Full day tours in the Stellenbosch & Franschhoek area; helicopter trip in various areas; horseback riding
Art Galleries
Golfing at Pearl Valley Golf Course
Cycling & Hiking
Only a short trip from Franschhoek is Stellenbosch— South Africa's second oldest town, and the tourist capital of the Winelands. It's a winner with its wealth of impressive Dutch Cape architecture, buzzy university town vibe and boast stately avenues. From here you can go to the Lanzerac Wine Estate, then drive out to the estates of Delaire Graaf. Owned by billionaire gem and diamond dealer Laurence Graff, it's built on a rise overlooking the Simonsberg and Drakenstein mountains and boasts a jaw-droppingly sophisticated winery building and 54 acres-estate known for its full-bodied reds. Don't miss Indochine, its Asian themed restaurant, for views over the winelands, elegant service and dishes presented as prettily as flowers.
Constantia
If you don't actually have time to leave Cape Town, there's Constantia —South Africa's oldest wine growing region —in its Southern suburbs. Klein Constantia is one of the most beautiful wine estates in the Cape. Wander around gardens filled with wild agapanthus, protea and humming birds, picking your way past beautifully fanned-out vines covering 358 acres – but keep an eye out for baboons. Nip into its pricey but excellent shop for wine-based accessories and its Vin de Constance, the highest rated in the country and one of the top three desert wines in the world.  Stay at the nearby 4-star Vineyard Hotel, a Cape Town institution making a modest return to its winemaking roots – its first vines were planted in 1658.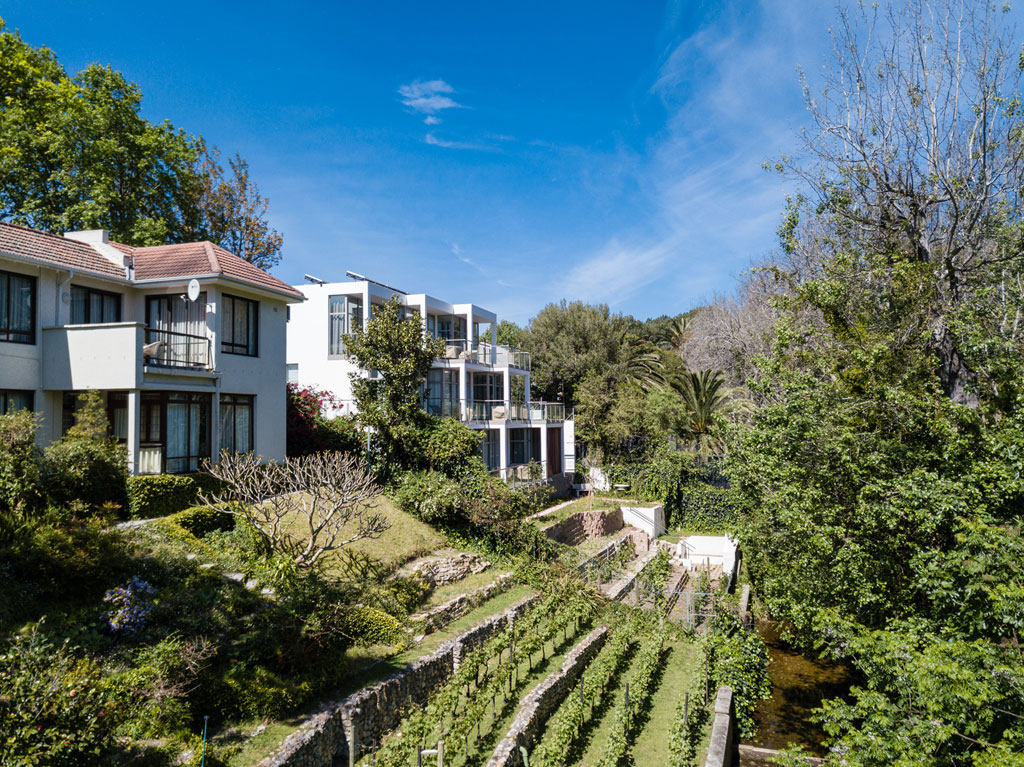 Weekly complimentary tastings of local wines from Simsonig (the first French-style bubbly makers) to Meerlust (a hit with former Vineyard resident Lady Ann Barnard on her visit, 200 years ago) are held in the garden lounge. Stay at the hotel for its distinctive style — including decorative artefacts such as a vintage copper consommé pot large enough to fit a crocodile and 11 tortoises ambling around its garden. Book one of its contemporary hotel-apartments with Table Mountain looming in front of every window. Then breakfast on artisanal cheese to homemade muesli and wild mushroom and spinach ragout.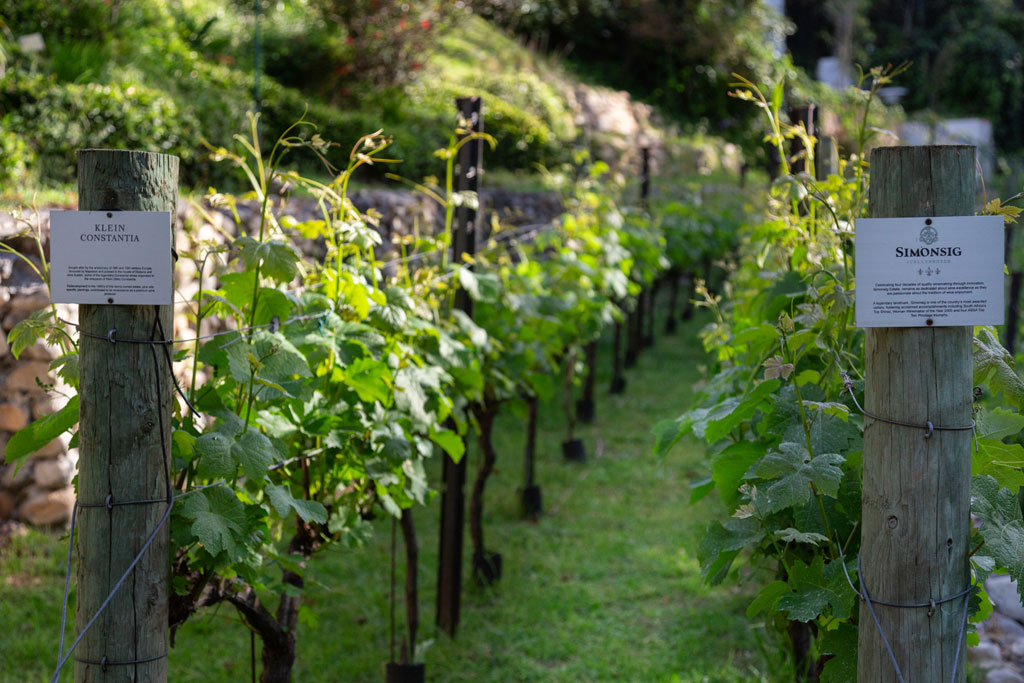 BOOK IT
Rooms at the Vineyard Hotel start from R5000 (around £275 per night). Please call 021 657 4500 or visit vineyard.co.za
For more information on travelling to Cape Town, visit capetown.travel
Stanford Valley Guest Farm
Stanford Valley is situated just two hours from Cape Town and is the ultimate alternative to Stellenboch for those who want to experience 'the real South Africa' . The Manor provides an excellent base for those wishing to explore the Stanford Wine Route or Hemel en Aarde (Heaven and Earth) Valley wine region.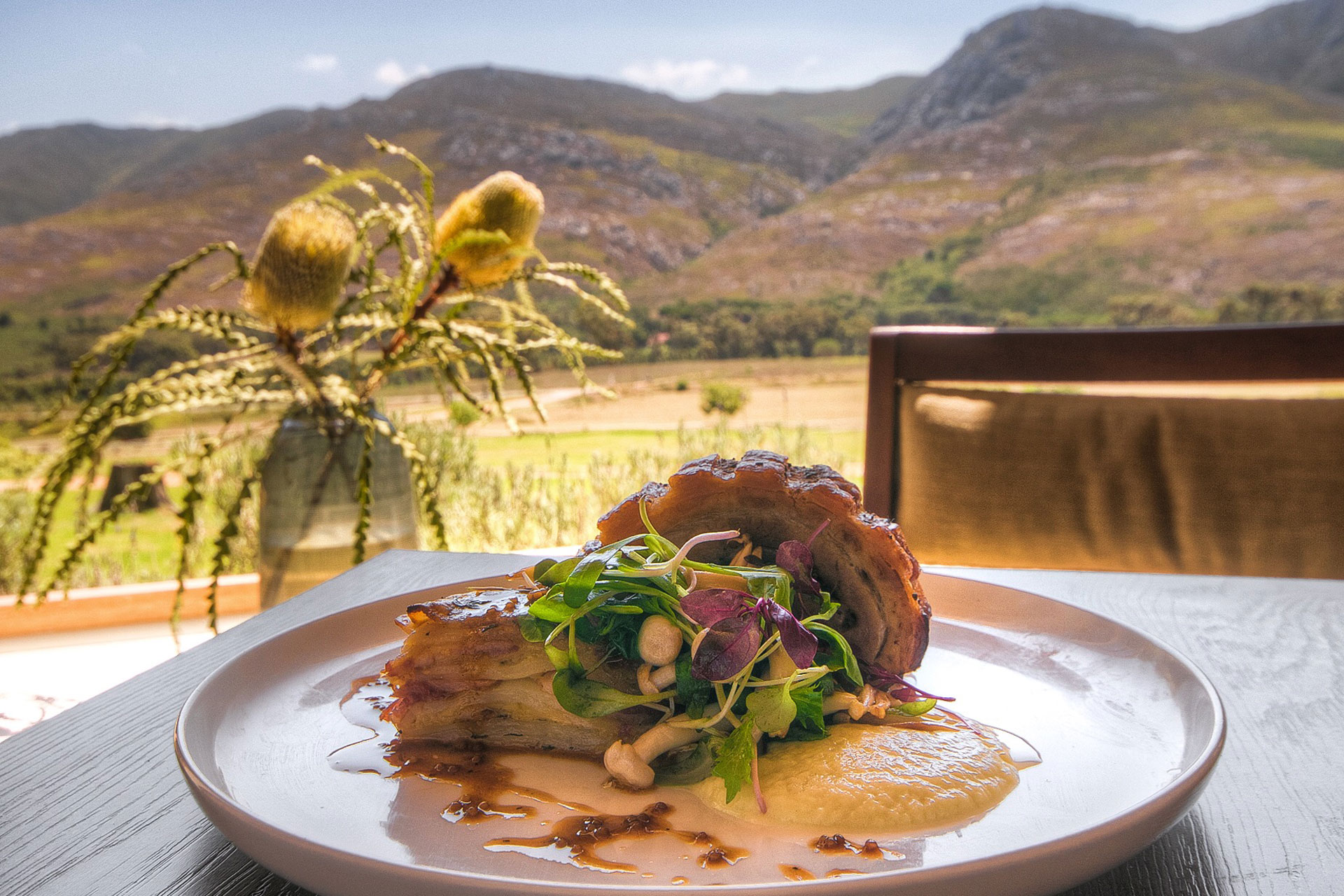 The manor offers fun for all the family. Go swimming in dam, take a hike amongst the 'fynbos' or cycle the Southern Pass Trail which connects a number of local farms. 10k, 28k or 56k routes are available, depending on how adventurous you're feeling.
Cape Agulus – the southern most point of Africa – is an easy day trip from Stanford Valley Guest Farm. Stop off for a beer tasting at Frasers Folly Brewery or wine tastings at Black Oyster Catcher and Strandveld wineries.
Chef Janine ensures stomachs are kept happy by providing the ultimate comfort food. Her wholesome dishes are based on seasonal, local produce. Enjoy delicious meals in the open front restaurant offering stunning views of the fernkloof mountain range in the background and paddocks of horses in the foreground. The health conscious are also well catered for. The bar not only offers a range of excellent local wines and spirits, they also provide alcohol-free gin and tonics, cider and boozeless 'spirits' made with South African botanicals.
The female-led team ensure the Manor House maintains a homely yet elegant feel, with carefully curated artwork and furniture. The tranquil, nurturing energy of Stanford Manor is something you'll feel the moment you set food in the House.  Be warned, you may not want to leave.
BOOK IT
Bed and breakfast starts at R1450.00 (around £60, depending on exchange rate) per night. stanfordvalley.co.za
READ MORE: 48 Hours in Cape Town | 48 Hours in Berlin | Top Travel Trends for 2019
---