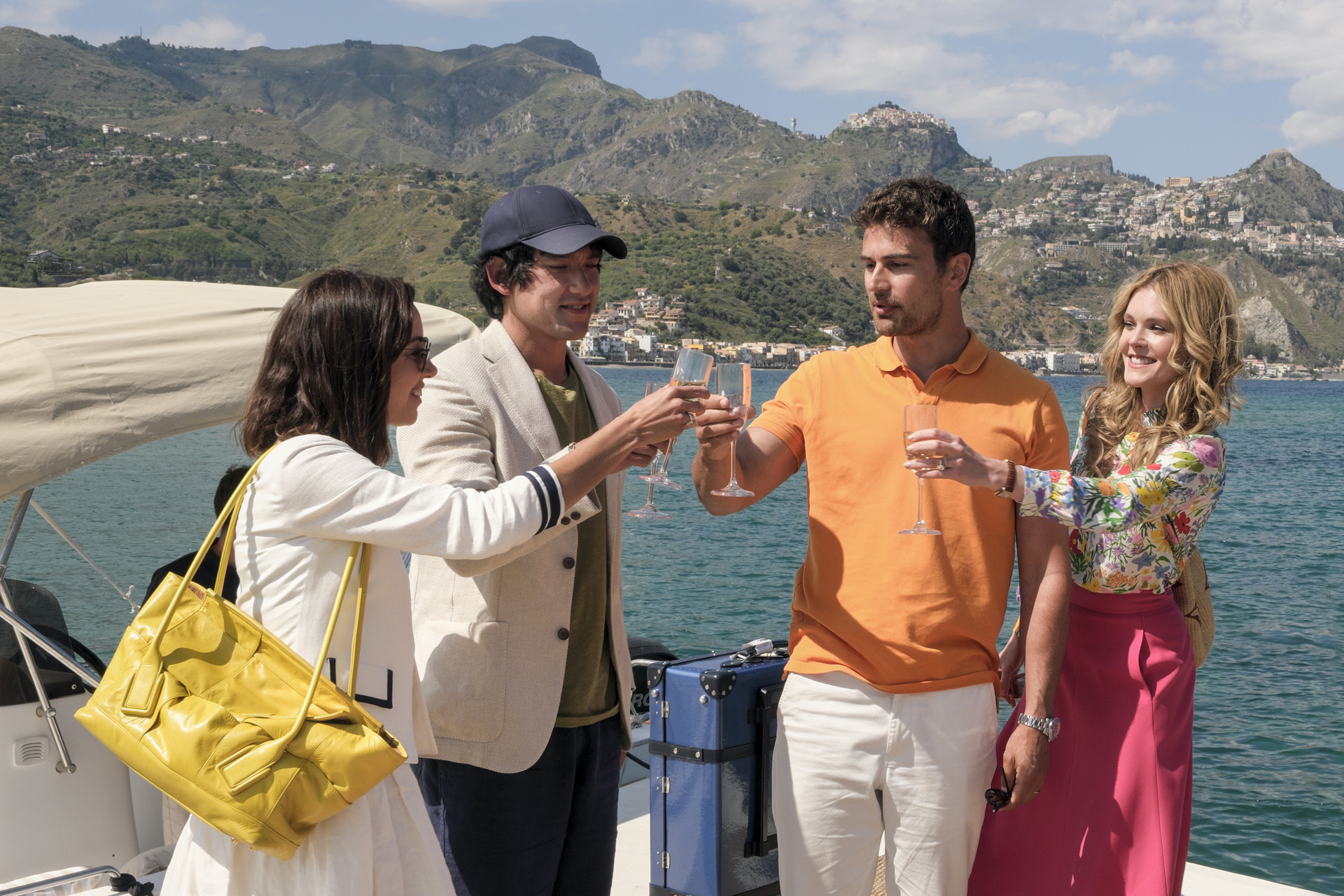 Where Was The White Lotus Filmed? (& Can You Visit?)
---
Inside the sun soaked HBO show
It just scooped up the 2023 Golden Globe for Best Limited or Anthology Series or Television Film, so if you haven't watched Mike White's magnificent The White Lotus yet, it's about time you hopped on board. The second season, which aired weekly at the end of 2022, helped Jennifer Coolidge to secure her first ever Golden Globe, for Best Supporting Performance in a Limited or Anthology Series or Television Film, after being nominated for the same award for the first season. (And she delivered an emotional and hilarious acceptance speech to boot). With a whole new star-studded cast (except Coolidge, who reprised her role as Tanya), season 2 saw a new sun-soaked setting, and a new series of (unfortunate?) events. If you're anything like us at Country & Town House, though, there's one question left unanswered: where was The White Lotus filmed? And, more importantly, can you visit? 
Read the C&TH Responsible Tourism Guide
Where Was The White Lotus Filmed? (& Can You Visit?)
Where Is The White Lotus Filmed?
Season 1 of The White Lotus was filmed and set in Hawaii, and season 2 was filmed and set in Sicily, Italy. Both seasons of The White Lotus are set predominantly in a luxury hotel resort: in season one (Hawaii), the hotel is the Four Seasons Resort Maui at Wailea; in season two (Sicily), the San Domenico Palace, Taormina, A Four Seasons Hotel serves as the show's filming location.
From one White Lotus to another, and from one Four Seasons to another: just as season two's resort is supposed to be run by the same team as season one's hotel – hence why Tanya returns (she loves a White Lotus hotel) – both season one and two's real life hotels are operated by Four Seasons.
While the singular setting appears pretty purposeful when watching – The White Lotus has been likened to an upper-class, American version of the British TV series, Benidorm – the use of one primary setting is rooted in 2020's Covid restrictions. Filmed from October to December 2020, season one's cast and crew were completely isolated during filming, with a singular location used in order to avoid any cross contamination.
The White Lotus team completely took over the Four Seasons Resort Maui at Wailea, using many of the stunning suites, swimming pools, and even the nearby beach as filming locations. In season two, however, fewer pandemic restrictions means there are a few more filming locations to take note of.
San Domenico Palace, Taormina, A Four Seasons Hotel
Situated high on the rocks on Sicily's north east coast, most of the action of season two of The White Lotus takes place in the expansive San Domenico Palace – once a 15th century monastery, now a luxury resort in the Four Seasons group after a careful 2021 refurbishment. There's 111 rooms, suites and speciality suites, a spa, a fine-dining restaurant, ancient courtyards and gardens, and a beautiful infinity pool – a scene stealer in The White Lotus.
With views of the Ionian Sea, Mount Etna and an ancient amphitheatre, and in close proximity to the Isola Bella nature reserve, this isn't the San Domenico's on-screen debut. Fans of Michelangelo Antonioni might recognise the hotel from the ending of his 1960 classic, L'Avventura – or others might recognise it from 1988's The Big Blue. In the second episode, Tanya (Coolidge) even expresses that, in her dream day in Italy, she would look like Monica Vitti — leading star of L'Avventura — and proceeds to dress like her while she and Greg (Jon Gries) traverse the town's winding roads on a Vespa. The hotel has also hosted an array of famous faces over the years, including Oscar Wilde, Audrey Hepburn, and Edward VII.
STAY: fourseasons.com
Taormina
With the resort sprawling across a cliff in the small town, The White Lotus features snippets of Taormina, an ancient beach destination with roots traced back to before Ancient Greece's first Sicily colony of 734 BCE. With pretty beaches accessible by aerial tramway, visiting Taormina is a way to experience the White Lotus magic if you don't want to check in for the night.
Noto
Moving to Sicily's south east, fans of Cyrano (2021) might recognise the baroque Noto, which is ventured to on a day trip in season two. And, throwing it back to Antonioni, a L'Avventura scene was shot here, too. Head here for gorgeous cathedrals, pretty balconies, limestone piazzas, and a sprinkling of movie magic.
Palermo
Towards the end of Daphne and Harper's Noto day trip, Daphne takes Harper to a beautiful Italian palazzo and reveals that she has booked the pair a surprise night. The palazzo is Villa Tasca, in reality located in Palermo, situated in the north-west of the island, almost the exact opposite side to south-easterly Noto. If you'd like to live like the uber rich, you're in luck: Villa Tasca is now listed on Airbnb, welcoming visitors for minimum three-night stays. Read all about it here. 
Cefalù
Another Sicilian town, another day trip: hotel guests also venture to the medieval Cefalù with its Norman cathedral and popular beach. With a year-round population of 14,000, the tourism here is hard to miss: the tiny town attracts millions of visitors every year from across Sicily, Italy, and Europe. If you pay it a visit yourself, you might recognise the Piazza Marina from The White Lotus.
Can You Stay In The Hotel From Season One Of The White Lotus?
Yes: the Four Seasons Resort Maui at Wailea is available to book. Set across 15 acres, there are 380 guest rooms and suites, three pools, three restaurants (including Wolfgang Puck's Spago), three golf courses, a spa and even an art museum.
How to stay in The Palm Suite
One of season one's crucial tensions is the honeymooners' dissatisfaction with their bedroom – in particular, Shane (Jake Lacy). The Palm Suite is one of the resort's Elite Oceanfront Suites, and it was completely redecorated for The White Lotus (although it wasn't painted).
How to stay in The Pineapple Suite
If you'd like to get one over on Shane, who longs to rest his head in the premiere Pineapple Suite, you'll want to look for the Lokelani Presidential Suite. At 4,500 square feet, with three bedrooms, five bathrooms and two living rooms, it is the largest suite in the resort, and in the entirety of Hawaii for that matter. Again, it was redecorated for The White Lotus, with plenty of pineapples thrown in for good measure.
How to stay in The Hibiscus Suite
Less conflicted by the size of her room, Tanya (Jennifer Coolidge) stays in the Hibiscus Suite – one of the Four Seasons' Oceanfront Prime Suites. Again, it was redecorated for the show.
How to stay in The Tradewinds Suite
The Mossbacher family, again, are less conflicted by the size of their suite – other than the sartorial Olivia (Sydney Sweeney) insisting that her younger brother, Quinn (Fred Hechinger), sleep in the galley kitchen. In reality, the Maile Presidential Suite is much larger than The White Lotus gives it credit for, with three bedrooms, four bathrooms, and its own sauna.
WATCH
Stream The White Lotus in the UK with Now, or purchase the series via Prime Video. In the US, stream The White Lotus on HBO Max or Hulu.
Featured image: (L-R) Aubrey Plaza, Will Sharpe, Theo James and Meghann Fahey in season two of The White Lotus.  All images courtesy of Warner Media.