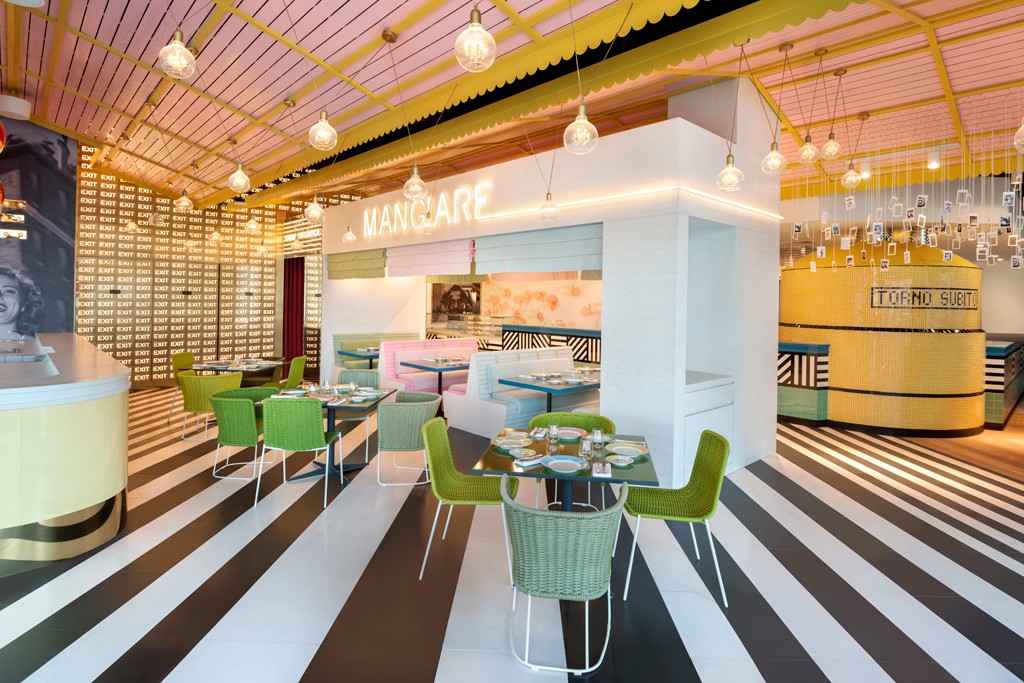 A New Take on Detox: W Dubai The Palm Review
Start off 2020 with a Detox – Retox – Repeat programme for the best of both
Dubai is better known for its luxury and excess rather than as a destination for wellness holidays. But in a land where anything is possible, the City of Gold are challenging the idea that health and hedonism must be mutually exclusive. We sent nutritionist Kim Pearson to W Dubai – The Palm to review their 'Detox – Retox – Repeat' concept and establish whether it's possible for the two to truly coexist.
Detox, Retox, Repeat at W Dubai – The Palm
The moment you set foot inside W Dubai – The Palm, it's clear that this is a hotel with a difference. With its vibrant, contemporary décor you could be anywhere in the world, were it not for the grand high ceilings and gold embellishments synonymous with Dubai. The numerous windows lining the atrium walls represent the desire of many of the region's residents to see, but not be seen. Dubai is a party hub for visitors from more conservative neighbouring countries, many of whom like to party in the comfort of their own private suites.
Detox Retox Repeat
So how did the hotel become known for their unique combination of health and hedonism? General Manager Anne explains that the team noticed an increasing trend for visitors to party during the day, indulging in all you can eat and drink brunches, then get up the next morning to work out and enjoy a healthy breakfast before doing it all again. As a result, W Dubai – The Palm introduced their 'Detox – Retox – Repeat' concept, offering a unique combination of Vegas-style pool parties and a Miami-inspired cocktail bar alongside as a wide range of health and fitness offerings for holidaymakers who wish to counterbalance their hedonistic pursuits.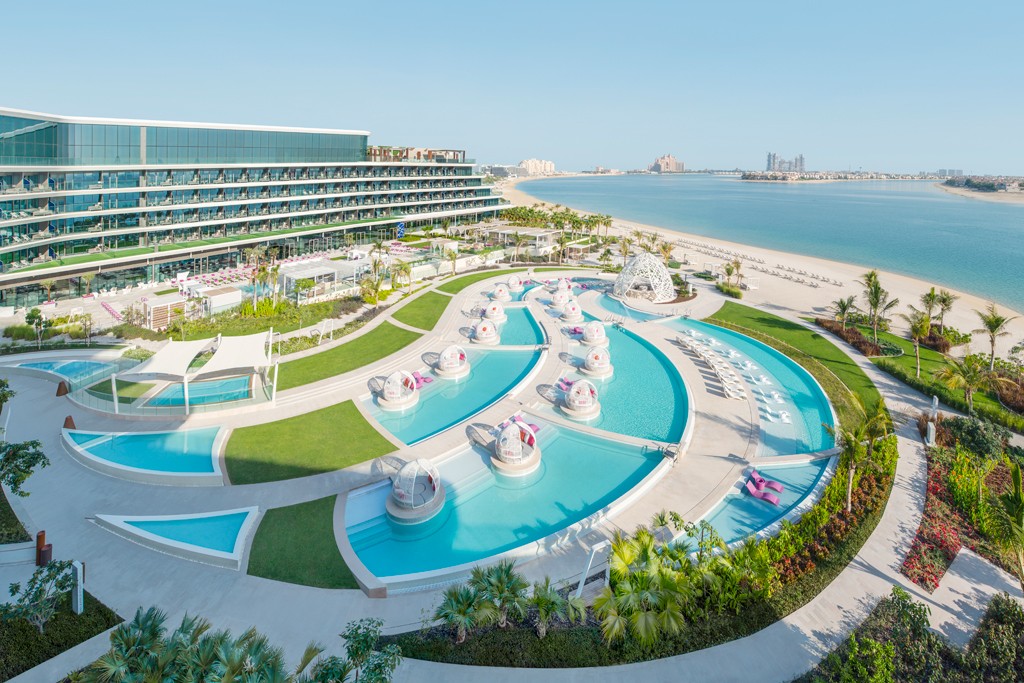 Away Spa
A classic example of this dual offering can be found at the hotel's Away Spa. The spa's menu lists an array of cleansing treatments from a hammam steam to detox massages and facials. Alternatively, if you're gearing up for a retox, get your nails manicured and your makeup touched-up in time for your next party. The spa's food and drinks menu offers quinoa bowls alongside manchego flatbreads and cucumber mojitos depending on whether you're in detox or retox mode.
Fitness
Fit, the hotel's 24/7 gym, offers everything from classic weight machines to quirky kettle bells in the shape of monkeys heads, speed ropes and boxing bags to treadmills and stationary bikes overlooking the WET Deck (the hotel's party hub) and views of Palm Jumeriah. Add to this a comprehensive timetable of workout classes and one thing is for sure, working out at W Dubai – The Palm is about as fun as fitness gets.
Refuel
Morning workout done? It's time to refuel at Liv. Breakfasts are something to behold at The Palm. Detoxing? Order a green tea, then head to the egg station. Pile up your plate with tasty vegetable dishes, salads and pickles accompanied by traditional hummus and bean dips then finish off with a platter of fresh fruit. Retoxing? Your options are endless – from pastries, cakes, sweets and a doughnut board to a full English and fluffy pancakes with a large range of DIY toppings.
Akira Back, the hotel's Asian restaurant stays consistent with this theme offering a range classics sushi and sashimi dishes you might expect alongside seven salad options and a full vegan menu. Akira, the executive chef after whom the restaurant is named, took an active interest in healthy eating after losing 60kg himself following a largely plant-based diet.
The sleek New York style décor at Akira Back features a unique pillar that could be easily missed by the less observant. This pillar was damaged during construction but the pillar was used regardless, the broken corner covered up with beautiful pieces of mismatched Japanese ceramic. In Japanese, this form of art is known as 'wabi sabi' – a world view in which the beauty of imperfection is appreciated. A concept entirely fitting for this unique hotel.
Whether you're visiting for frivolity, fitness or a combination of both, The Palm offers everything you could wish for. Health and hedonism coexist seamlessly throughout to deliver a rejuvenating holiday with a difference.
BOOK: marriott.co.uk