Where Was Love Actually Filmed? (& Can You Visit?)
Time to relive a Christmas classic
It's getting cold out there, which means it's almost Christmas time. Fancy getting into the spirit with a festive flick? Love Actually is one of the most popular Christmas films, glimpsing into the lives of eight loosely connected London couples in the frantic leadup to Christmas. But where was Love Actually filmed? Go one step further in mustering up the festive vibes with a trip to some of the recognisable filming locations, from Juliet's mews to a stroll along the South Bank. Here are the top spots to know.
Read the C&TH Guide to Responsible Tourism
Where Was Love Actually Filmed?
Love Actually was filmed on location in London, across real houses, shops and landmarks. That said, while Jamie's (Colin Firth) secluded writing retreat in France was filmed on location across the Channel, the same cannot be said for Colin's (Kris Marshall) Wisconsin scenes, which employ movie magic and sets to craft the US without transporting production across the Atlantic.
The film follows a web of characters who are subtly linked to one another but live scattered across the city, going about their lives in the 2003 festive season in their own way. The film is bookended by heartfelt scenes at Heathrow Airport, with Hugh Grant's character voicing that 'love, actually, is all around us' and can be seen in the slightest of ways. Between that, plenty of filming locations pop up across the British capital, from Oxford Street to Shoreditch, City Hall to Notting Hill.
Love Actually Filming Locations
St. Luke's Mews
This quaint, pretty residential street attracts plenty of visitors for its picturesque quality, but also because it is recognisible from one of Love Actually's most infamous scenes: Mark's declaration of love for Juliet on her doorstep with cue cards and boombox, while her husband (and his best friend) sits just inside). You can find the street just off All Saint's Road in Notting Hill – and you can rewatch the notorious scene below.
Grosvenor Chapel
Peter (Chiwetel Ejiofor) and Juliet (Keira Knightly) marry at the beginning of the film in Grosvenor Chapel on South Audley Street, a stone's throw from Hyde Park. The gorgeous, columned space hosts regular music concerts – but don't expect them to be as elaborate or surprising as Peter and Juliet's brass rendition of 'All You Need Is Love'.
Westminster Boating Base
The wedding reception, meanwhile, was filmed at the riverside venue, Westminster Boating Base. This scene is perhaps most notable for Colin (Kris Marshall) offending the caterer before he departs for Wisconsin, USA.
The OXO Tower
When Mark gives Juliet the wedding video, the pair are at his apartment in the OXO Tower wharf complex; a lucky, artsy man indeed.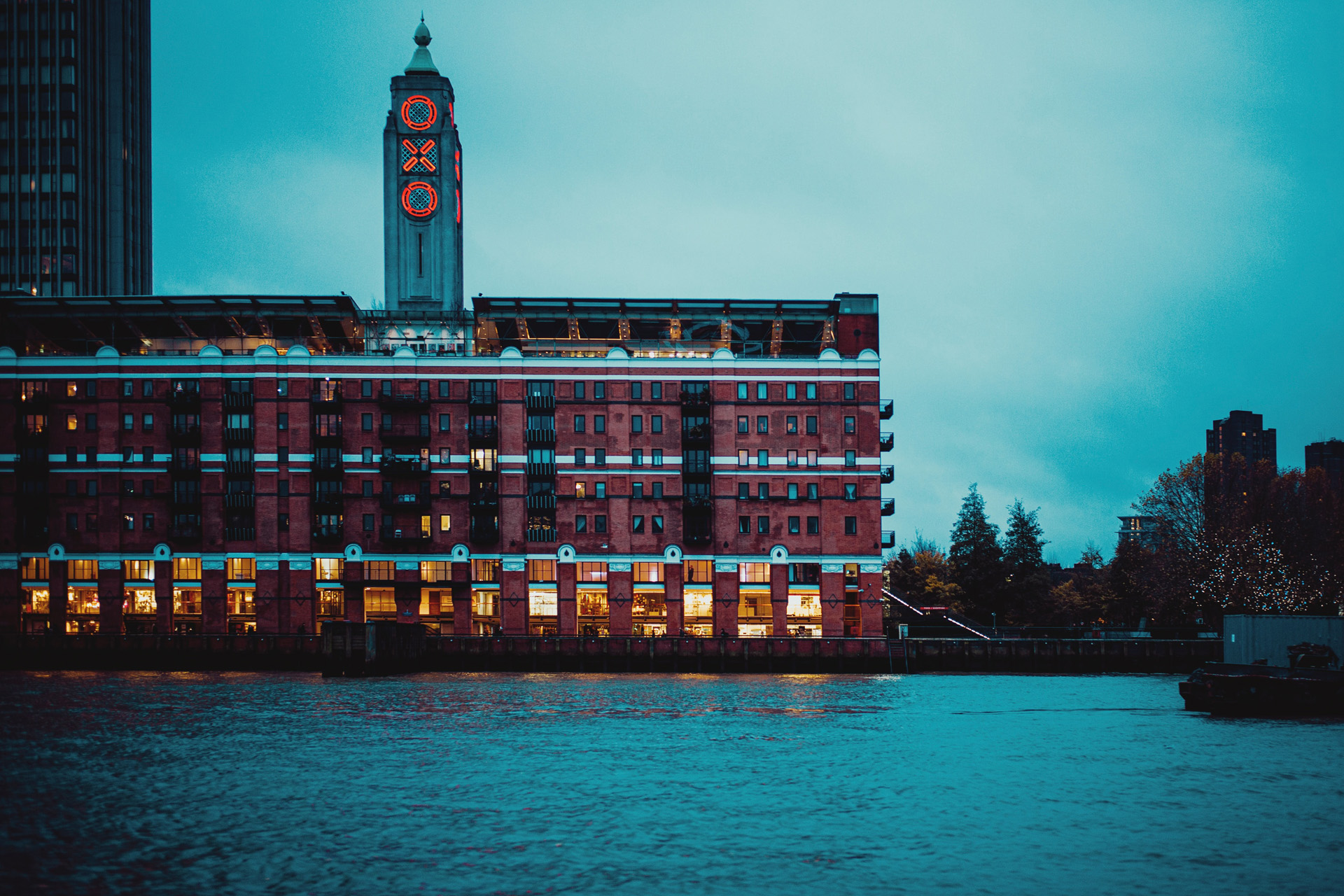 Heathrow Airport
Love Actually opens and closes at London's largest and most iconic airport, Heathrow, with warm, fuzzy scenes of people hugging and expressing affection in small but significant ways, overlaid by Hugh Grant waxing lyrical on the ubiquitousness of love.
'Whenever I get gloomy with the state of the world, I think about the arrivals gate at Heathrow Airport,' he says. 'General opinion's starting to make out that we live in a world of hatred and greed, but I don't see that. It seems to me that love is everywhere. Often, it's not particularly dignified or newsworthy, but it's always there – fathers and sons, mothers and daughters, husbands and wives, boyfriends, girlfriends, old friends. When the planes hit the Twin Towers, as far as I know, none of the phone calls from the people on board were messages of hate or revenge – they were all messages of love. If you look for it, I've got a sneaky feeling love, actually is all around.'
The shots of airport goers were shot documentary style – so they're all natural and genuine expressions of affection.
Selfridges, Oxford Street
Harry (Alan Rickman) meets up with his wife Karen (Emma Thompson) to go Christmas shopping, and the two end up in Selfridges. This is where Harry furtively purchases a necklace for Mia – the flirtatious woman from work – while Rowan Atkinson's shop assistant character stresses him out by wrapping the present painstakingly and elaborately. Before that, the couple meet at St Christopher's Place, a cute shopping piazza behind Selfridges.
Shoreditch
Harry (Alan Rickman) and Sarah (Laura Linney) both work for Fairtrade Ltd, which was filmed at Shoreditch's EMA House on the corner of Tabernacle Street and Clere Street.
St Paul's Church, Clapham
This small parish church is where a distraught widowed Daniel (Liam Neeson) attends the funeral of his wife, along with his young stepson, Sam (Thomas Brodie-Sangster).
Gabriel's Wharf
When Daniel and Sam have their riverside heart-to-heart – and Daniel discovers that the young Sam is in love with a girl at school – they sit on a section of the River Thames' South Bank called Gabriel's Wharf. In particular, they sit on a bench in front of the Riviera Restaurant – though the benches have been slightly moved since filming.
City Hall
Billy Mack's record company's office is the real City Hall, the London Assembly Building on the South Bank. His recording studio, however, was filmed at Westway Studios in Notting Hill.
Turnham Green
In West London, Blenheim Road in Turnham Green is home to writer Jamie Bennett (Colin Firth), who discovers his girlfriend conducting an affair with his brother, before he swiftly flees to France.
Vidauban
After discovering his girlfriend in flagrante, Jamie travels to the south of France to a small lakeside cottage where he can disconnect with the world and get to work writing his novel. Here he meets and bonds with Aurelia (Lucia Moniz), a Portuguese cleaner who doesn't speak a word of English. The real cottage is in a small town called Vidauban. Plus, the lake that Jamie's book pages have to be rescued from is a private lake at the back of the house.
Marseille
People often ask 'where was Love Actually filmed in Portugal?'. The answer? It isn't. Those ostensibly Portuguese scenes (featuring so many Portuguese speakers, you natural assumption is that this is a Portuguese town) towards the film's end are actually filmed in Marseille, France. So why is everyone speaking Portuguese in Marseille? That's a question for another article (the short answer is migration). Regardless, Jamie ultimately goes to the south of France to declare his love for Aurelia, despite neither speaking the other's language. In the film, we see both the airport and a restaurant called Le Bar de la Marine at the Old Port.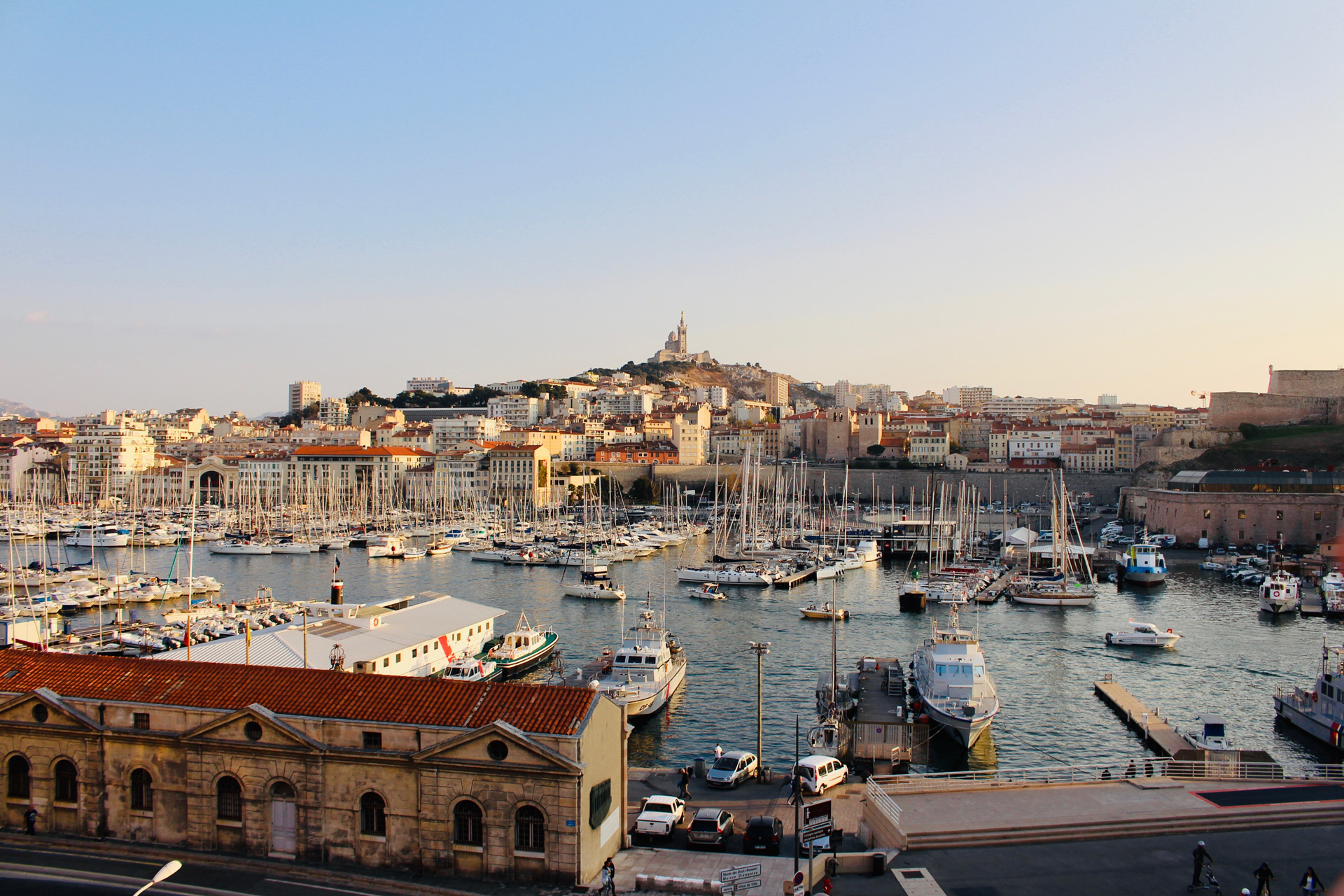 Herne Hill
Natalie may claim to be from 'the dodgy end of Wandsworth', but her home was filmed on Poplar Road in Herne Hill. To get there, the PM leaves Number 10 and is driven across Chelsea's Albert Bridge, dressed for the evening with bright shining lights.
10 Downing Street
While Richard Curtis secured a whole host of big name filming locations for Love Actually, he sadly could not get time alone with 10 Downing Street. Instead, Hugh Grant's dancing scenes – as well as the other scenes at the PM's residence – were filmed at Shepperton Studios.
Opening Montage
In the opening montage, these bonus locations can be spotted:
South Molton Street: This is the shopping street hung with festive lights. The real street is close to Bond Street in the West End.
Somerset House: The central Courtyard of this iconic London destination can be spotted early on, too, bedecked with its winter skating rink.
Trafalgar Square: Every year, Norway gifts the UK with a giant spruce, which we set up in Trafalgar Square – and it gets a cameo in Love Actually.
WATCH
Love Actually is available to stream on Prime Video from £3.49.