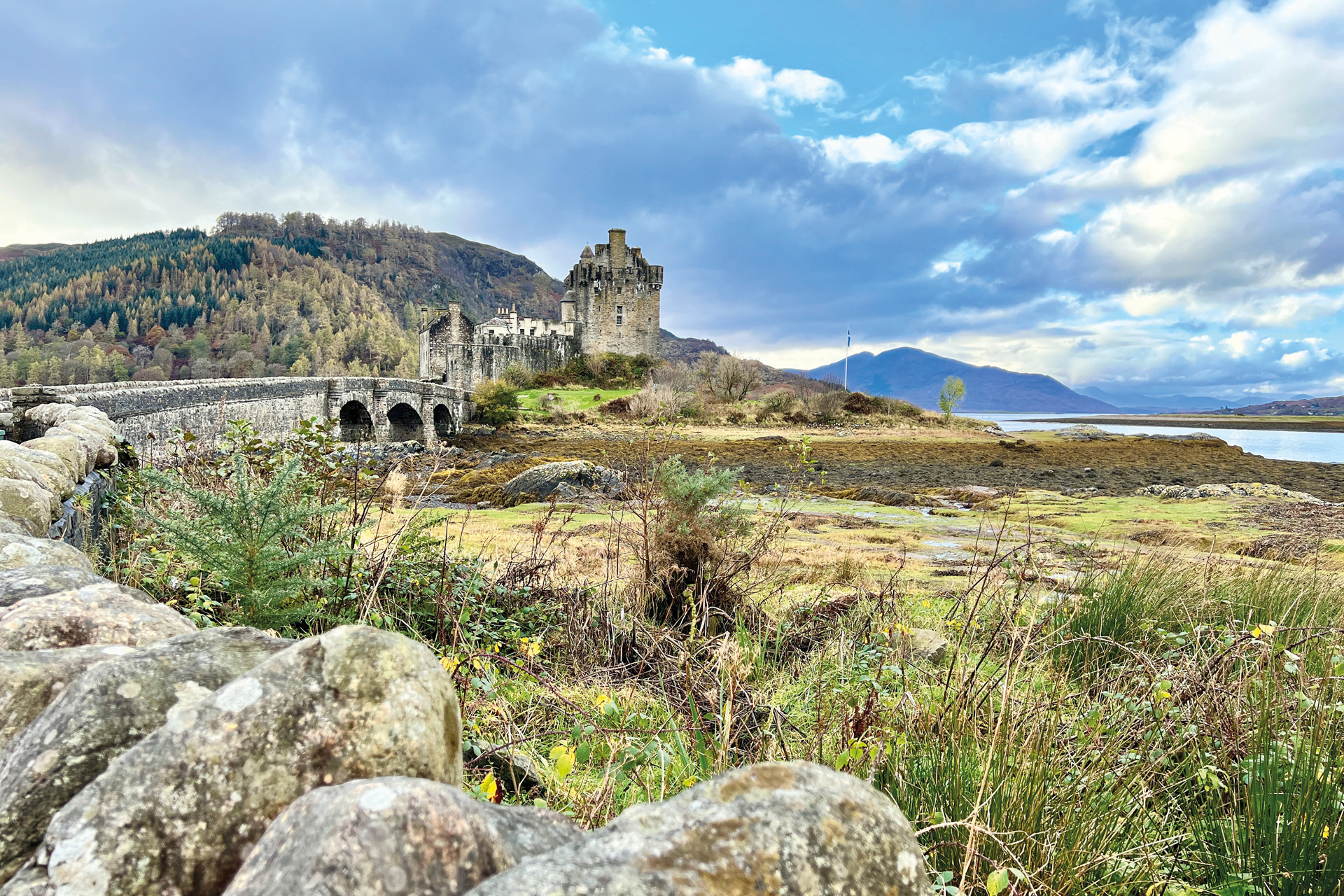 Wilderness Scotland: Exploring A Greener Side Of Scotland
---
Lisa Young embarks on a luxurious yet sustainable tour with Wilderness Scotland
Lisa Young takes a low-impact tour of the Highlands with Wilderness Scotland, finding local wines and innovative cuisine along the way.
Read the C&TH Responsible Tourism Guide
Wilderness Scotland: Exploring A Greener Side Of Scotland
At first glance, the appeal of a sauna in a converted horse box on the edge of Loch na Dal, Isle of Skye, in the rain, may not be obvious. A sauna is typically enjoyed in the calming comfort of a spa.
Yet inside the warm horse box sauna, handcrafted with carefully sourced materials and heated by a Finnish wood-fired stove, it was not hard to reach a state of meditative calm.
However, when cool-down time came, the thought of leaving the protected warm space and plunging into the cold loch was unappealing. We tripped our way to the water's edge, stepping cautiously and breathing slowly, trying not to think about it, then surrendered ourselves to the bracing waters.
It had been a grey November day when we arrived in Scotland a few days earlier, rolling into Perth station from London Euston on the Caledonian Sleeper train, a fun, comfortable and lower-impact way of reaching the Highlands. 
We were on a five-day, intricately crafted trip of contrasts, guided by specialist Wilderness Scotland (and its partners), staying at an inspiring range of historic castles and luxury hotels, and enjoying gourmet dining and adventure experiences, while connecting with nature in Perthshire and on the Isle of Skye. Wilderness Scotland is committed to sustainable tourism and its goal is to achieve true net-zero status by the end of 2030.
Working with carbon consultants eCollective, Wilderness Scotland has developed one of the world's first carbon labelling schemes for travel. It can measure not only the carbon impact of its entire business, but also each trip, allowing travellers to make carbon-conscious travel decisions.
Our first night was spent at Murrayshall Country Estate, where fabulous views of the Perthshire landscape blend with golf greens and ancient woodland walking trails. The estate's Eòlas restaurant (meaning 'experience' in Gaelic) offers fine dining and innovative Highland cuisine from a larder of Perthshire's finest ingredients. It is more than enough to tempt any foodie through their door.
A new masterplan was recently announced that will provide a viable, ecologically sound future for the estate, ensuring its resiliency for decades to come. Plans include introducing more outdoor pursuits, a sports ground, camping grounds (including a glamping pod), new lodges, plus a café, spa and leisure facilities.
At nearby Cairn O'Mohr, a characterful award-winning winery, we sampled excellent fruit wines, blossom-scented sparkling wines, ciders and bourtree (elderberry) juices on the winery tour. All the ingredients are foraged or produced within a 16-mile radius of the winery. Locals can be seen dropping off huge bags of home-grown apples to be used in the production of the winery's unusual yet delicious beverages. The fun surroundings are colourful, creative and down to earth, and we were taken aback by the wealth of gourmet and flavoursome food available in its café, the generous portions using locally grown produce, and served by friendly and attentive staff.
In the village of Grandtully, we experienced a private chocolate tasting session with world-renowned master chocolatier Iain Burnett, aka the Highland Chocolatier. Iain's clients include Albert Roux, Gordon Ramsay and British Airways First. He uses only natural ingredients to create his famous unique Velvet Truffles, leaving out the usual artificial preservatives and additives to create a luxurious ganache. Iain sources a sustainable rare cocoa from the island of São Tomé and combines this with fresh cream from local herds of Scottish Friesians, local heather honey, and fruit infused with natural spices, to create his mouth-watering flavours and textures.
We drove to Scotland's west coast through film-worthy Highland landscapes and atmospheric glens, past glass-plated lochs and one of the most iconic sights in Scotland – 13th century Eilean Donan Castle – before driving for ten minutes 'over the sea to Skye' by bridge, to our home for the next few days, Kinloch Lodge.
This is where the aforementioned horse box sauna has its home, towed to Kinloch Lodge from Findhorn Bay, east of Inverness, by its creator, Rupert Hutchinson, co-founder of certified B Corp sustainability consultancy Living Alive. 'The premise of Living Alive is getting people into the outdoors and really facilitating spaces for personal, meaningful experiences outside,' says Rupert.
'The sauna is one of our tools for nature connection; it's an amazing thing to be able to put this on the back of the van and drive it to the most extraordinarily remote place, giving people access to the wild, while feeling warm and comfortable. It's not so much about running a mobile sauna business, it's about incorporating it into experiences in the outdoors and that's very much related to our business.'
Kinloch Lodge sits on the shore of Loch na Dal at the foot of Kinloch Hill. It was originally a farm, then a shooting lodge for the Macdonald family, until their home was opened as a family-run hotel in 1972 by Godfrey Macdonald (8th Baron Macdonald of Sleat) and his wife, Lady Claire. Today, it is run by their daughter, our friendly host, Isabella Macdonald.
The charming, rustic hotel combines the relaxed comfort of Highland hospitality with delectable, award-winning food, whisky on tap, and super king-size beds. Surrounded by mirror-still lochs and soaring mountains, it is also a gateway for exploring the outstanding natural landscape of Skye.
When darkness fell, we retreated to the lodge's intimate sitting room where, perched on brightly upholstered antique furniture, and under the gaze of historic Macdonald ancestral portraits, we sipped on creatively crafted pre-dinner cocktails.
The cosy restaurant embodies all that is best about Scottish produce and sources all its food from, or near, Skye. Dishes include Skye venison loin, organic Perthshire duck, Drumfearn mussels, Hebridean salmon and Lochalsh crab.
The following morning rain clouds threatened, but that didn't dampen our enthusiasm to join the Skye Ghillie, aka Mitchell Partridge, an experienced guide, for an off-the-beaten track foraging experience, learning how to live off the land and reconnect with nature.
On Loch na Dal's rugged shoreline we waited patiently for a sea otter known to frequent the area. It was a no-show, but we did spot seals and birds of prey. Roe and red deer, porpoises, white-tailed and golden eagles are spotted regularly around the lodge.
We scrambled through nearby ancient Kinloch Forest in search of plants and, specifically, wild edible chanterelle and saffron milk cap mushrooms. Various wild plants were pointed out, some so poisonous they would kill a human in minutes if ingested. We collected a pile of orange-coloured chanterelles and our ghillie soon had a small fire going, using birch bark ignited with traditional flint and steel. From his backpack he produced a small pan and butter, and proceeded to fry the soft, sweet-tasting foraged food.
On our last day on Skye, we joined John MacRae of the John Muir Trust at the base of Blà Bheinn, overlooking Loch Slapin, where the Cuillin Range dominates the wild and rugged landscape. Wilderness Scotland is a supporter of the John Muir Trust, and its donations go towards protecting and maintaining this popular hiking area, as well as wild land and peatland restoration, hiking trail maintenance and tree planting.
The John Muir Trust is a charity dedicated to the conservation, protection and restoration of the UK's wild places. John Muir (1838-1914) is the Scots-born founder of the modern conservation movement. In 2021, the Trust launched a world-leading idea for a carbon emissions land tax in Scotland. With the climate crisis, this has become ever more urgent work.
Scotland's fresh air and dramatic scenery are a tonic for the soul, whatever the weather. From castles to saunas, chocolate tasting to foraging, wild swimming to distillery tours and gin tasting, travelling with Wilderness Scotland and its partners is the perfect way to explore the best of luxury Scotland – and doing so sustainably.
BOOK IT 
Wilderness Scotland offers five-night itineraries from £4,000pp, including accommodation, transportation within the itinerary, a guide, activities and all meals. wildernessscotland.com 
For further information on Luxury Scotland hotels, visit luxuryscotland.co.uk 
For more sustainable trips to Scotland, visit visitscotland.com 
Featured image: Eilean Donan Castle in Scotland © Lisa Young.