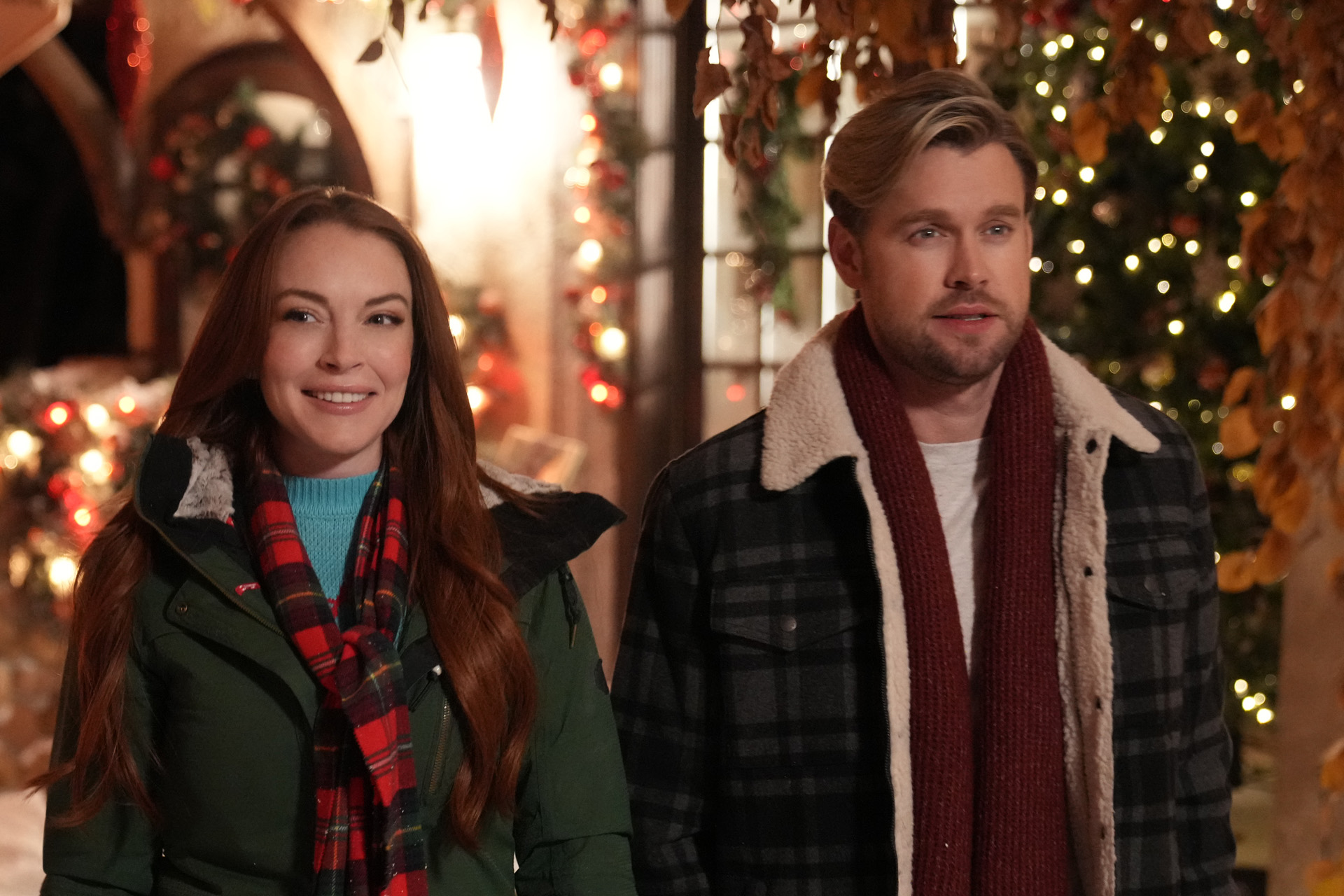 The Best Christmas Movies On Netflix 2022
---
From The Holiday to Arthur Christmas
With Christmas just around the corner, there's nothing better than cosying up on the sofa, watching feel-good films with a hot chocotini (or two), to get you in the festive mood. Take refuge from the dark cold nights and binge-watch the best Christmas movies on Netflix right now – from romantic classics to brand-new festive themed flicks – we have you covered.  
Best Christmas Movies to Watch on Netflix Right Now
Falling for Christmas
Christmas With You
Klaus
The Christmas Chronicles
Nativity!
The Princess Switch
A Christmas Prince
The Knight Before Christmas
Holiday in the Wild
A Very Murray Christmas
Holidate
Falling For Christmas
New for 2022 is Lindsay Lohan's first flick as part of her new multi-picture deal with Netflix. Cheese and Lohan fans, this one's for you – if you don't identify with either of those categories, maybe skip this one. Falling for Christmas follows Sierra, a spoiled heiress who bumps her head in a skiing accident, leading her to lose her memory. Discovered in the snow by Jake (Chord Overstreet), a local lodge owner, with no name or address, she stays in his accommodation until her memory returns.
Christmas With You
Another newbie for 2022, Christmas With You follows Angelina, a pop star looking to escape her day-to-day life. When she decides to grant a young fan's wish in a small New York town, she finds new inspiration to revitalise her career but also, of course, a shot at true love.
Klaus
Klaus is a Netflix original festive film that was nominated for an Academy Award and won a BAFTA for Best Animated Film – and it's easy to see why. Klaus is a modern twist on the classic story of Santa Claus, featuring Jesper the selfish postman who works on a lonely island near the Arctic Circle, and who sparks an unlikely friendship with a mysterious toymaker, Klaus. Together they attempt to melt an age-old feud and bring joy to the miserable town of Smeerensburg.
The Christmas Chronicles
An American Christmas comedy directed by Clay Kaytis, with Kurt Russell starring as Santa Claus himself, The Christmas Chronicles is a tale of two siblings, Kate and Teddy Piece, who plan to catch Father Christmas on camera but end up on an unexpected journey filled with plenty of twists and turns along the way. There's also a second instalment, The Christmas Chronicles 2, so you can binge-watch to your heart's content.
Nativity!
A Christmas classic, Nativity is available to stream on Netflix this Christmas. Starring Martin Freeman and Ashley Jensen in leading roles, the film follows teacher Paul (Freeman) who impulsively lies to his rival that Hollywood are coming to watch his school's Christmas nativity – and then he runs with it.
The Princess Switch
Although as cheesy as the synopsis suggests, The Princess Switch is at the top of our Christmas guilty pleasures. Starring Vanessa Hudgens who plays the role of Stacey (a gifted baker who is trying to make a name for herself) and also her doppelgänger Lady Margaret Delacourt Dutchess of Montenaro. After bumping into each other accidentally, the pair swap lives, with Stacey falling for the irresistible Prince Edward of Belgravia, while the Princess falling for Stacey's best friend Kevin. What could possibly go wrong? There's two follow-up films – Switched Again and Romancing the Star – so cosy down and get watching.
A Christmas Prince
Taking place in the same universe as The Princess Switch is another Netflix original festive flick, A Christmas Prince (along with its sequels The Royal Wedding and The Royal Baby). The first instalment follows Amber, a budding young journalist who is lucky enough to sent abroad  to Aldovia (a fictional European country qua The Princess Diaries) to get the scoop on a young prince poised to be king.
The Knight Before Christmas
Who knew Vanessa Hudgens was the queen of Christmas films? In The Knight Before Christmas, she plays Brooke, a disillusioned teacher who meets Sir Cole, a medieval knight who has been transported to the present day.
Holiday in the Wild
A heart-warming Christmas rom-com starring Sex and the City's Kristen Davis, who is brutally jilted by her husband right before their second honeymoon. Embarking on a solo safari to Africa, Kate finds a potential romance with an elephant conservationist (Rob Lowe). A sunny alternative to the usual festive romance.
A Very Murray Christmas
Fans of Bill Murray are in luck, with his variety Christmas show special that features cameos from Sofia Coppola, Amy Poehler, Chris Rock, Miley Cyrus, George Clooney and many more. Packed with songs and surrealist comedy, the festive film sees Murray meeting the wide range of A-List celebrities while trapped in New York City's Carlyle Hotel during a winter snowstorm. An alternative option for those who prefer the less-traditional Christmas movies.
Holidate
Another Netflix original Christmas movie, Holidate was released in 2020, and is a great festive film for rom-com lovers who aren't always on board with the Christmas cringe. Emma Roberts plays Sloane, a young woman pressured by her family about her non-existent love life during the holidays. Inspired by her wild aunt (Kristen Chenoweth), Sloane agrees to be Australian actor Luke Bracey's 'holidate' – a partner you bring along to family-filled events during the holidays (but without any romance or potential future).
Featured Image: Falling For Christmas (L-R) Lindsay Lohan as Sierra, Chord Overstreet as Jake in Falling For Christmas. Cr. Scott Everett White/Netflix © 2022