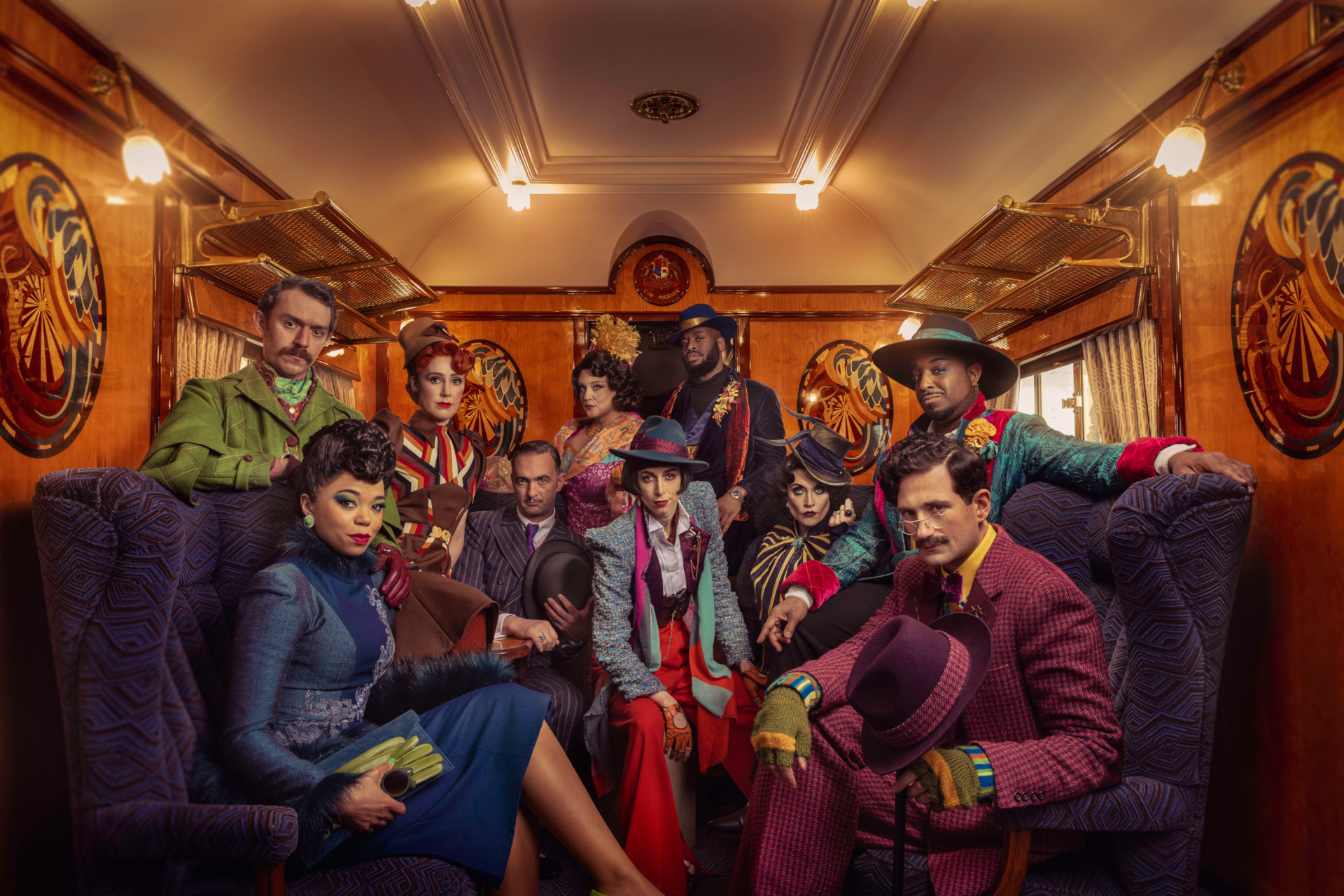 Review: British Pullman's 'Dead On Time' Murder Mystery Experience
---
We've fancied ourself a great sleuth at one point or another; maybe you can find lost items at the drop of a hat, maybe you've correctly guessed a TV show plot twist (much to the annoyance of your friends) or maybe you even once figured out who was nicking the biscuits from the family barrel. Either way, we all like playing detective when given the opportunity. That's why we jumped at the chance of trying out the new murder mystery experience, 'Dead On Time', that was being hosted by British Pullman, a Belmond Train, and Private Drama Events. A tough case to crack, but that only adds to the thrill, says Charlie Colville.
Everything You Need To Know About British Pullman's New Locomotive Murder Mystery
Review: British Pullman's 'Dead On Time' Murder Mystery Experience
Victoria station is one of the busiest spots in London – especially at 9am on a Tuesday, when commuters find themselves rushing through the station to get to work (or simply fleeing across the country for a much-needed break). It inevitably seems quite odd, then, to find a slice of slow travel – and time travel, at that – tucked away on Platform 2. This is where the infamous British Pullman train service awaits. An impressive recreation of the past, British Pullman is comprised of glossy cream and brown carriages emblazoned with the train's name in gold lettering. A peek inside one of the windows will offer glimpses of antique lamps, ornately set tables with vases of flowers and plush armchair-like seats in Art Deco patterns.
But really, a sneak peek through the window doesn't do British Pullman any proper justice; hop on board and prepared to be wowed. We were lucky enough to call Cygnus our base for the journey. This is a gorgeous carriage decked out in shades of green and pink, with panelled walls decorated with glossy wooden sunsets. If you can, try and book one of the snug cabins at either end of the carriage, which give you a little more privacy (as well as an uninterrupted view of the décor and rolling countryside out the window). This polished glamour comes at the hand of renowned filmmaker Wes Anderson, who put together the new design in 2021. Cygnus, which was originally reserved for use by royalty and visiting Heads of State, was one of the carriages used in the special Festival of Britain rake in 1951 – making it a very fitting setting for the events we were about to witness.
The reason we're really here is to solve a crime: someone who was meant to be on the train has been found murdered, and it's up to us to figure out who did it. But what kind of murder mystery would it be without some classic British charm? We're taken back in time with the help of Private Drama Events to 1951, where a group of eccentric characters have just spent the last few days at the Festival of Britain and are now on their way out of the UK capital. One of them is the alleged killer.
While you settle in with a glass of champagne, take the time to browse through the Festival of Britain's South Bank Exhibition Guide which has been placed neatly at your table. Use it to set the scene of the case and find clues for what happened (or become terribly confused, like we did), while the suspects, dressed in their finest attire, make their way up and down the carriages to chat with guests and help them get on the killer's trail (or off it – like I said, terribly confused). This is the perfect opportunity to get to know the characters in all their splendour: gossip with socialite Catarina Ione, talk culture with artist Danny Zena, accept some Capebol tablets from Dr Bobby Cygnus and pick the brain of multi-million magnate Ivan Perseus to help you solve the case. The time is ticking, so we had to get cracking as soon as we got onboard.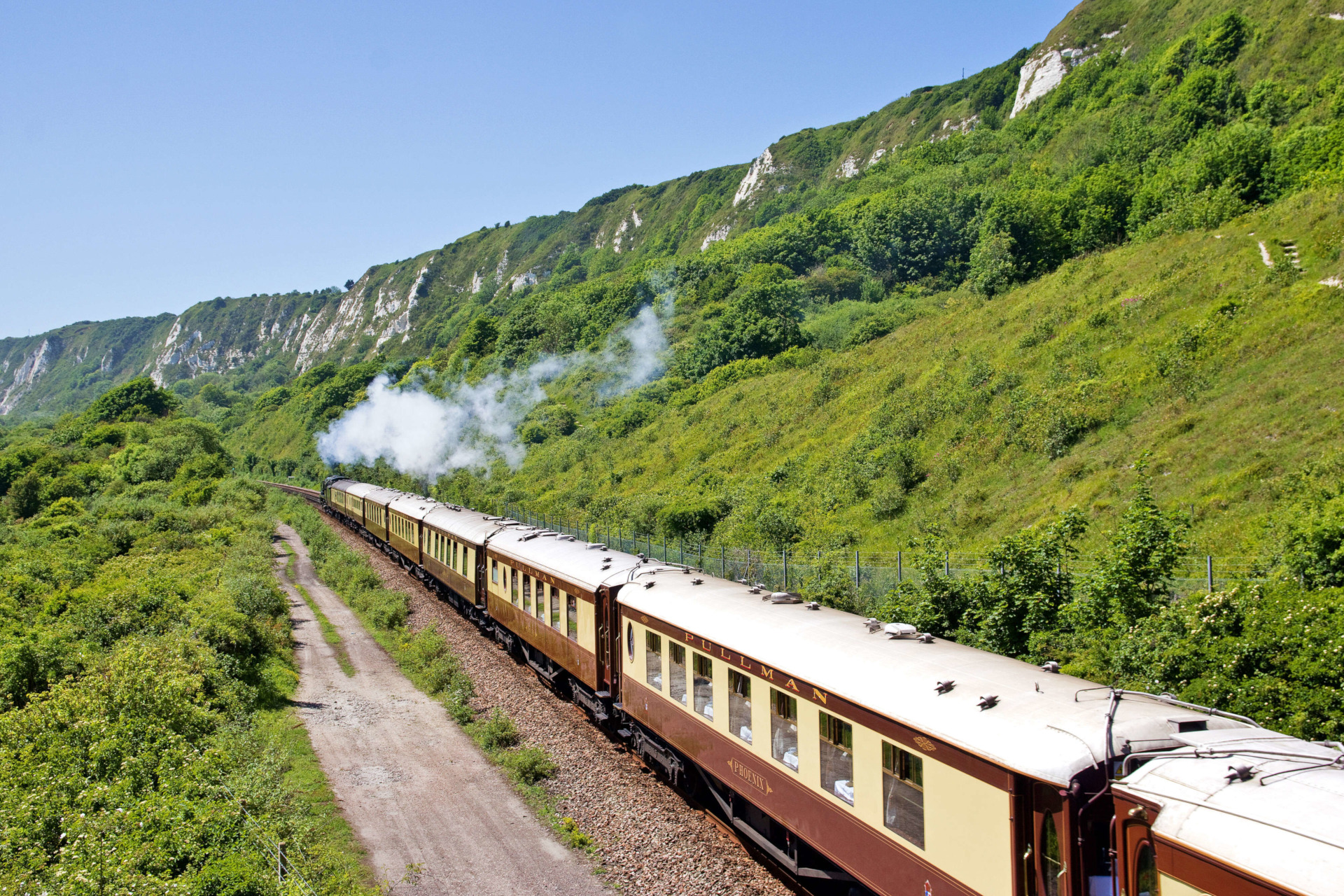 The only thing tempting enough to distract us from our investigation was the food. Sequestered in our little cabin, we were treated to our own private dining affair, with the waiters popping in to deliver steaming plates of food to the table. Five courses may seem a little excessive, but with around five hours to whittle away onboard the team are able to put enough distance between each course that find yourself once again eager to sink your teeth into the meal in front of you.
Many of the ingredients used in the British Pullman kitchen on this occasion come from the rolling hills of Kent – with others sourced from further afield in the UK – and a quick chat with the all-knowing waiter handing over your plate will let you know exactly where each part of the dish heralds. From Cornish haddock rissole served on a bed of nasturtium and Cheltenham beetroot soup (poured artfully into your bowl despite the haphazard swaying of the carriage) to Romney salt marsh lamb with braised potatoes and a heaping board of British cheeses, chutneys and crackers, the menu is a love letter to the British countryside. It only got better with dessert; a rhubarb and vanilla roulade (a very Instagrammable 'pink cake' that tasted just as good as it looked).
Dessert was followed by the big reveal. Guests gathered in the middle of the carriage, notebooks in hand, to listen in on one of the actors as they unwound the case. Expect drama, expect laughs and even expect the occasional huff from those that almost had it. Our first hunch was correct, ironically, but we'd spent so much time digging for clues in the wrong place (and following many a dead end – do not trust the waiters) that we just missed the mark. Nevertheless, the ending reveal was spectacular, and after the excitement we were led back to our seats where a steaming cup of tea awaited us as we trundled our way back into Victoria. Case closed.
FINAL WORD
Where better to solve a murder than an old-fashioned train? Pull on your best Sherlock cap (or Poirot moustache), sink into the plush seats onboard and let yourself be whisked away on one of the most thrilling immersive experiences running right now. And as for who did it – book yourself a seat on the next train and you'll find out…
BOOK
Tickets start at £540 per person and include a five-course meal and a bottle of wine for every two people. You can book your ticket today via belmond.com
Featured image: Private Drama Events, The Other Richard