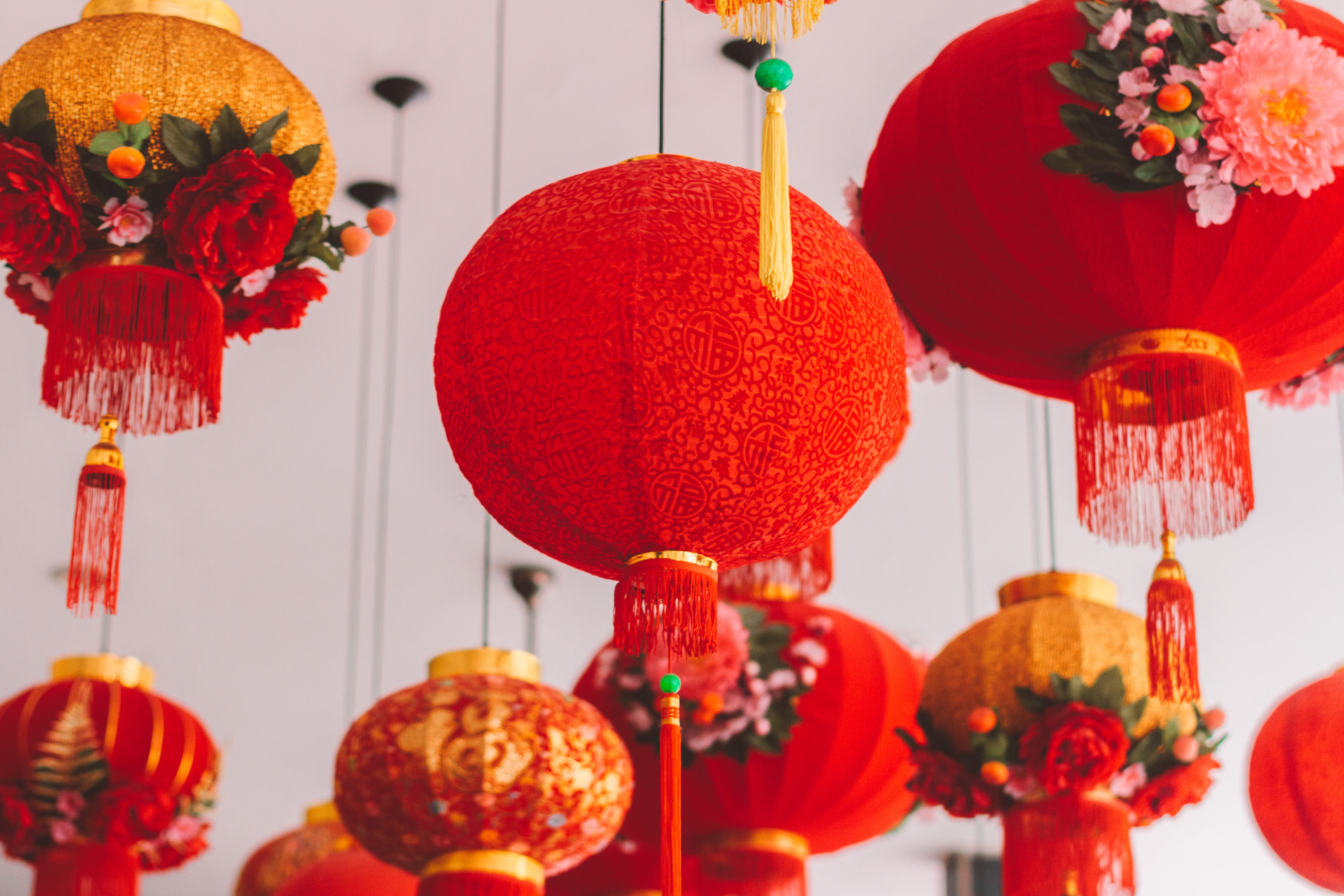 How to Celebrate Chinese New Year 2022: Year of the Tiger
---
Make the Year of the Tiger worthwhile from the offset
Are we ready to celebrate the Lunar New Year in style? This year, we welcome the Year of the Tiger in the UK on Tuesday 1 February. The symbol of power and lordliness in Chinese culture, tigers are often associated with bravery – an attribute that many of us want to tap into this year. Celebrate Chinese New Year in a way you won't soon forget, with some help from our guide below…
How to Celebrate Chinese New Year 2022: Year of the Tiger
Food & Drink
Limited edition cocktails and tiger-themed desserts await at The Ivy Asia, St Paul's this February, as the restaurant starts the Lunar New Year off with a bang. Inspired by the king of beasts, the new cocktail menu features creations like King of the Mountain (Wyborowa Vodka, Akashi-Tai Umeshu Plum Sake, raspberries and lime juice), Tiger's Bite (Grey Goose Vanilla Vodka, honey, elderflower and lime juice) and Lunar Harmony (Hibiki Harmony Japanese Whisky, Cocchi di Torino Vermouth, Mancino Cherry Blossom Vermouth, Campari and chocolate bitters). For dessert, settle for nothing less than THE TIGER, a chocolate mousse brownie with toasted coconut ice cream and chocolate pearls. Live entertainment from lion and dragon dancers will also take place throughout select evenings. Available 1 February – 15 March 2022.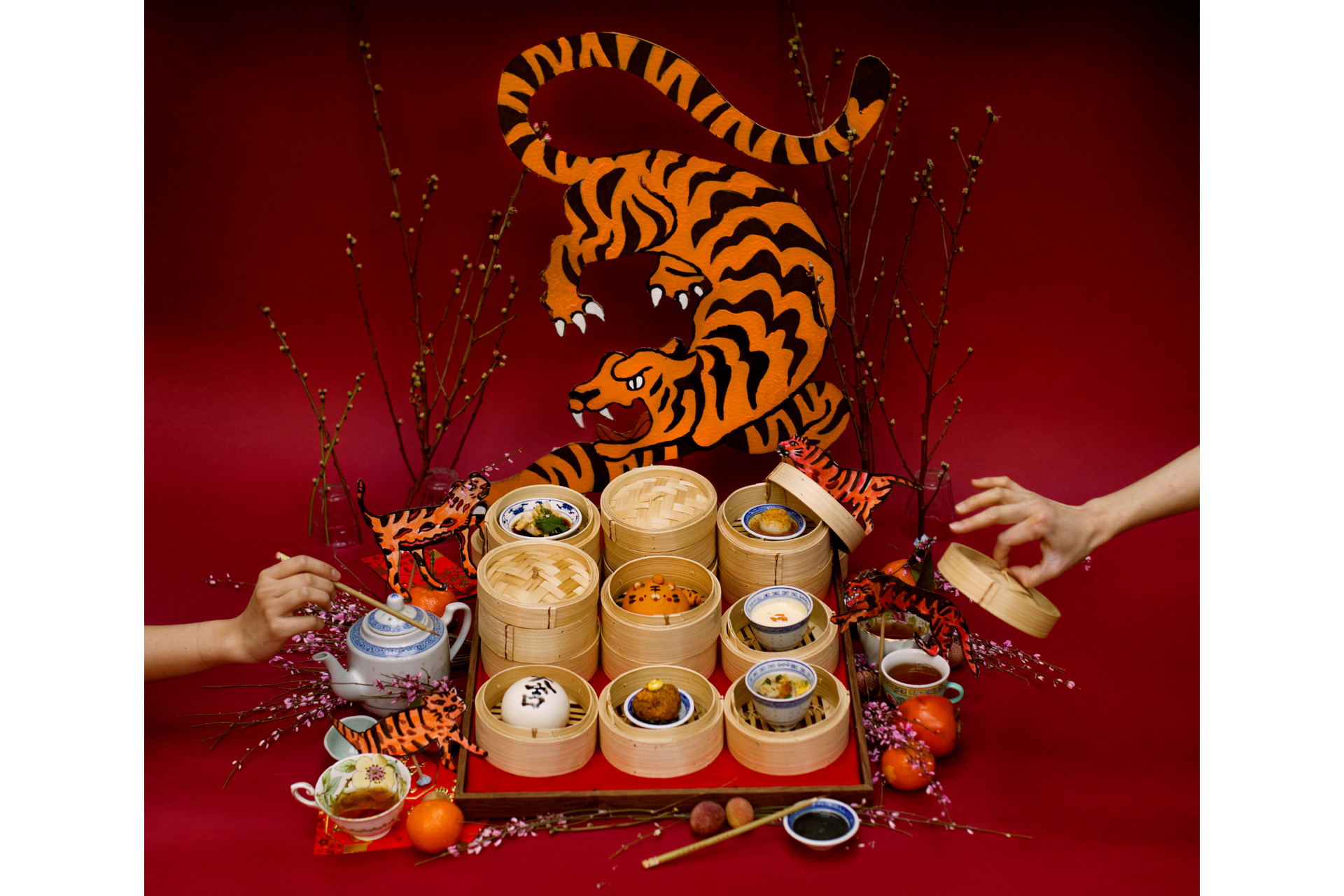 Chinatown favourite Bun House will be serving up the 'Tiger Who Came For Tea and Buns' menu this Chinese New Year, which will be a new take on the classic afternoon tea. Featuring a selection of the restaurant's popular themed buns as well as smaller sweet and savoury snacks and traditional Chinese teas, the menu promises the perfect blend of British and Chinese tradition. Highlights include the savoury Tiger Bun (complete with tail), a chestnut and white chocolate bun accompanied by a mini calligraphy brush and condensed milk ink, and a twist on the classic scone: a sesame mille feuille with delicate sheets of crisp sesame pastry, layered with clotted cream and spiced plum jam. Available 1 – 27 February, £36 per person with a minimum of two guests per booking. Book here.
Mayfair's luxury Asian restaurant Park Chinois is partnering with Hennessy X.O. this Chinese New Year to create a brand new menu. This eight dish specials menu will bring the essence of 1930s Shanghai to London, offering guests the chance to try twisted staples like stir-fried Australian wagyu beef with taro, steamed wild sea bass with bottarga and XO sauce, baked sweet rice tart with gold leaf and a traditional whole suckling pig. Each dish is paired with a bespoke cocktail by Hennessy X.O., with highlights including the Tigre d'O – Hennessy X.O., sherry vermouth, homemade cascara syrup, chocolate and coffee bitters garnished with a gold-dusted chocolate tuile – and La Nouvelle – Hennessy X.O. cognac, peach, rhubarb and champagne. The in-house entertainment will also be a must-see for those celebrating: a Wishing Tree will take centre stage in the reception, and a traditional lion dance will take place as guests dine at their tables. Staying at home? Park Chinois will also be offering a delivery and collection service throughout the celebration period. Available 28 January – 6 February 2022, £125 per person.
Andrew Wong, of two Michelin star restaurant A.Wong in Pimlico, has created a new evening menu which harks back to ancient imperial banqueting. The five-course menu, inspired by Wong's research with food anthropologist Dr Mukta Das, is based on the Confucian ritual of grouping in fives and the popularity Qing dynasty banqueting. Each course allows guests to experience Chinese cuisine by sharing dishes and enjoying what is presented as a collection – think seared black lamb, cherry smoked Peking duck and cod with fermented chilli and scalded Chinese chives. A vegetarian version of the banquet, featuring Char Sui soy, stuffed morels and grilled leeks, will also be on offer. Available from Tuesday 1 February 2022, £135 per person with a minimum of two guests per booking.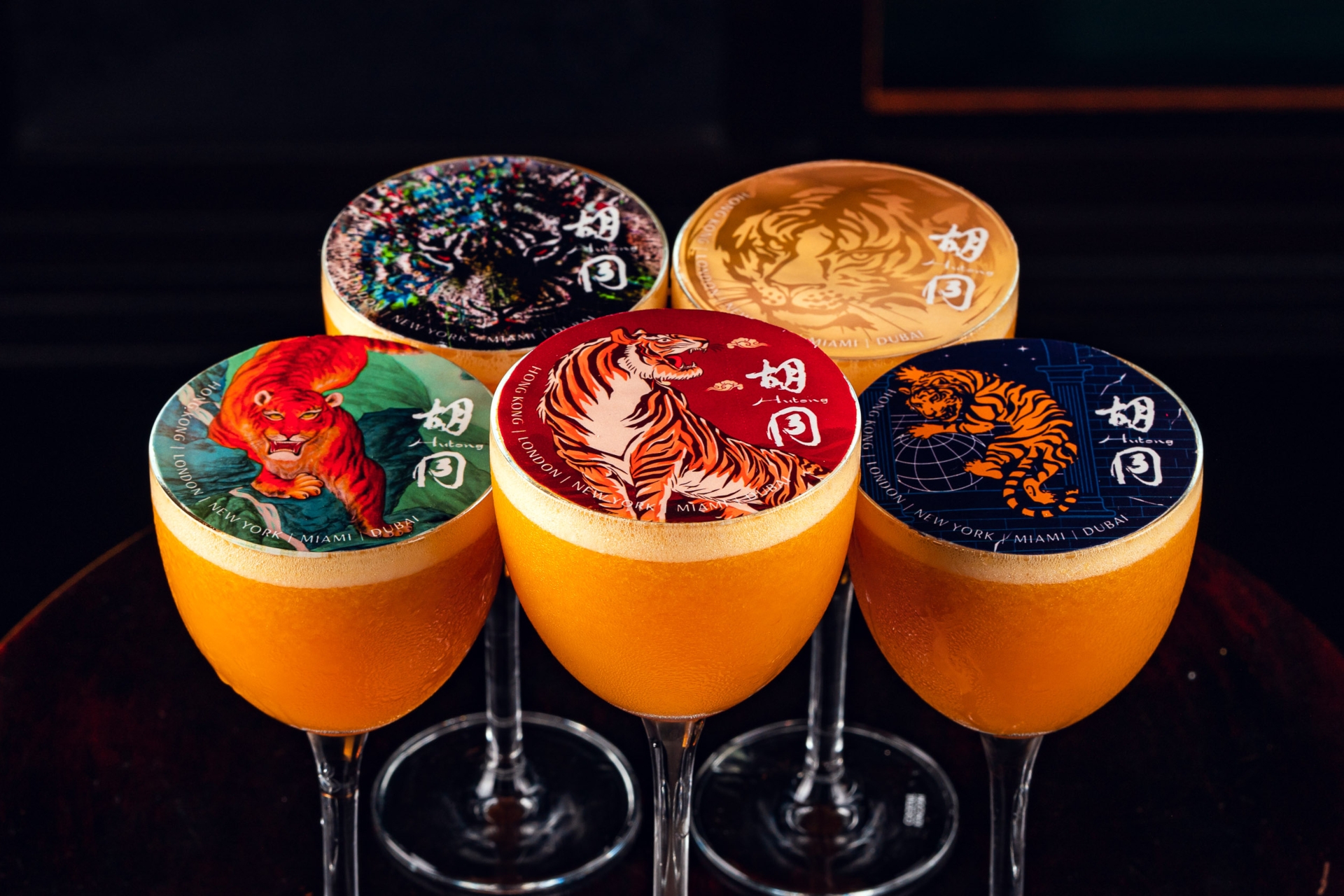 Guests are invited to bring in the Lunar New Year at The Shard's Hutong restaurant, where they will find a brand new five-course 'Year of the Tiger' menu as part of the celebrations. Dishes include the traditional Lo Hei (撈起) salad – a prosperity-bringing meal eaten at Chinese New Year – alongside Hutong's famous roasted Peking duck with homemade pancakes and Hoisin sauce. Lion dancers and a Chinese calligrapher will also perform throughout the evening, and guests can even try a special cocktail inspired by the Year of Tiger at the Shanghai Bar. 'Year of the Tiger' menu available 1 February 2022, £125 per person.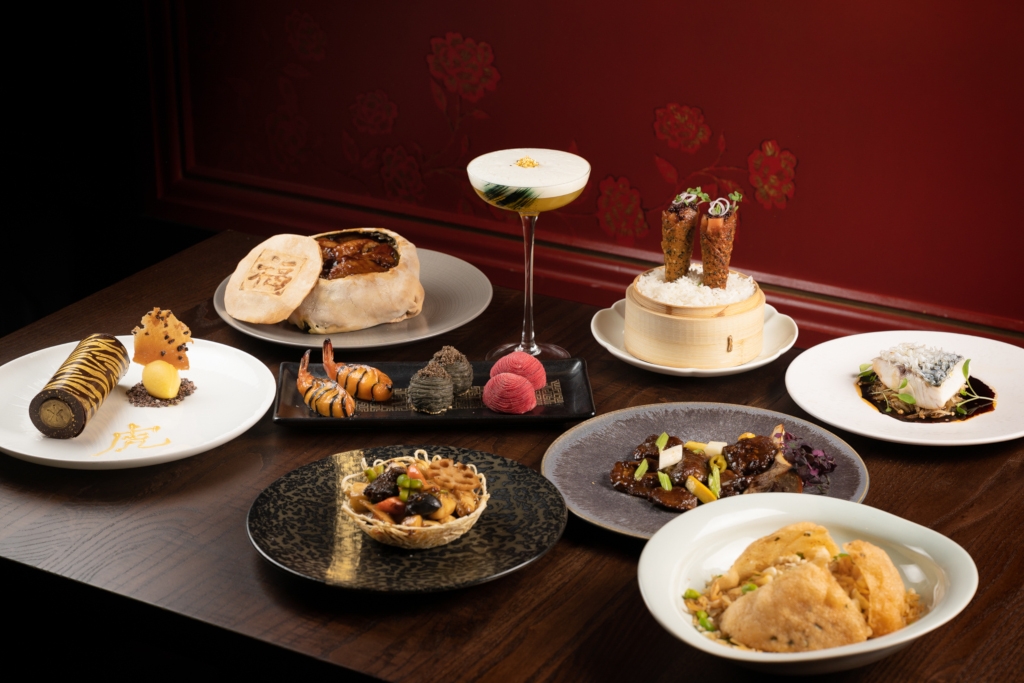 London's Chinese dining hotspot Hakkasan will be welcoming the Year of the Tiger with a special edition menu. Think salmon crudo, salt crust fortune baked chicken, orange dark chocolate firecracker and mandarin sorbet, and cocktails created in partnership with Belvedere vodka. To bring in Chinese New Year, Hakkasan's restaurants will be adorned with tiger-inspired decorations and staff will be dressed sustainably sourced tiger-themed attire sourced by Bay Garnett. Chinese New Year menu available 18 January – 15 February 2022, £118 per person.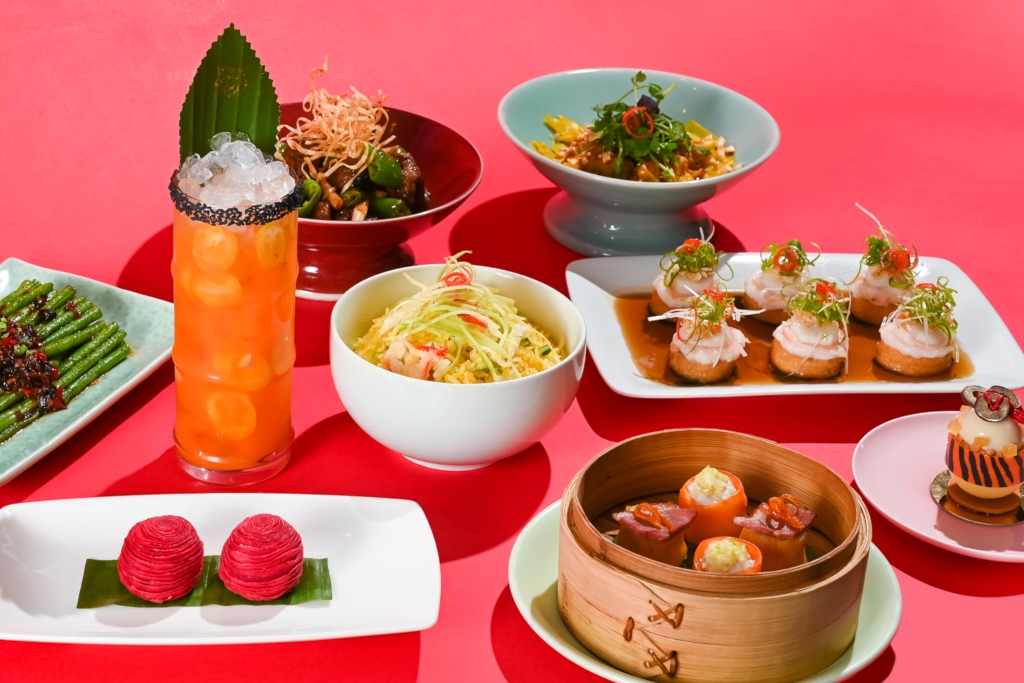 Renowned dim sum tea house Yauatcha has created a limited-edition menu for the festivities, with dishes like Hao Yùn lucky dim sum, Szechuan-style rib eye beef with pan-seared green chilli pepper and pineapple tarts (did you know pineapple was a Chinese symbol of wealth and prosperity?) taking centre stage. Start the evening with a Hŭ Highball cocktail, spend the evening filling your boots, and make sure to take in the tiger tails, paws and jungle canopy decorating the restaurant before you go. Chinese New Year menu available 18 January – 15 February 2022.
Pan Pacific London's Orchid Lounge will be debuting the Year of the Tiger Kopi Tiam Afternoon Tea just in time for this year's celebrations. Created by Executive Pastry Chef Cherish Finden and Executive Chef Lorraine Sinclair, the new afternoon tea menu features luck-infused treats like a Mandarin Orange (made up of Mandarin orange mousse, marmalade and tiger sponge), Sesame Teapot (black sesame, yuzu and cheesecake), Fire Cracker (Pandan, mango and kalamansi, coconut dacquoise) and a Chocolate Purse (67% Guanaco, gula malaka sponge and Lime Namalaka). A sweet start to the new year that you won't want to miss. Available 7 January – 28 February 2022, £72 per person.
Events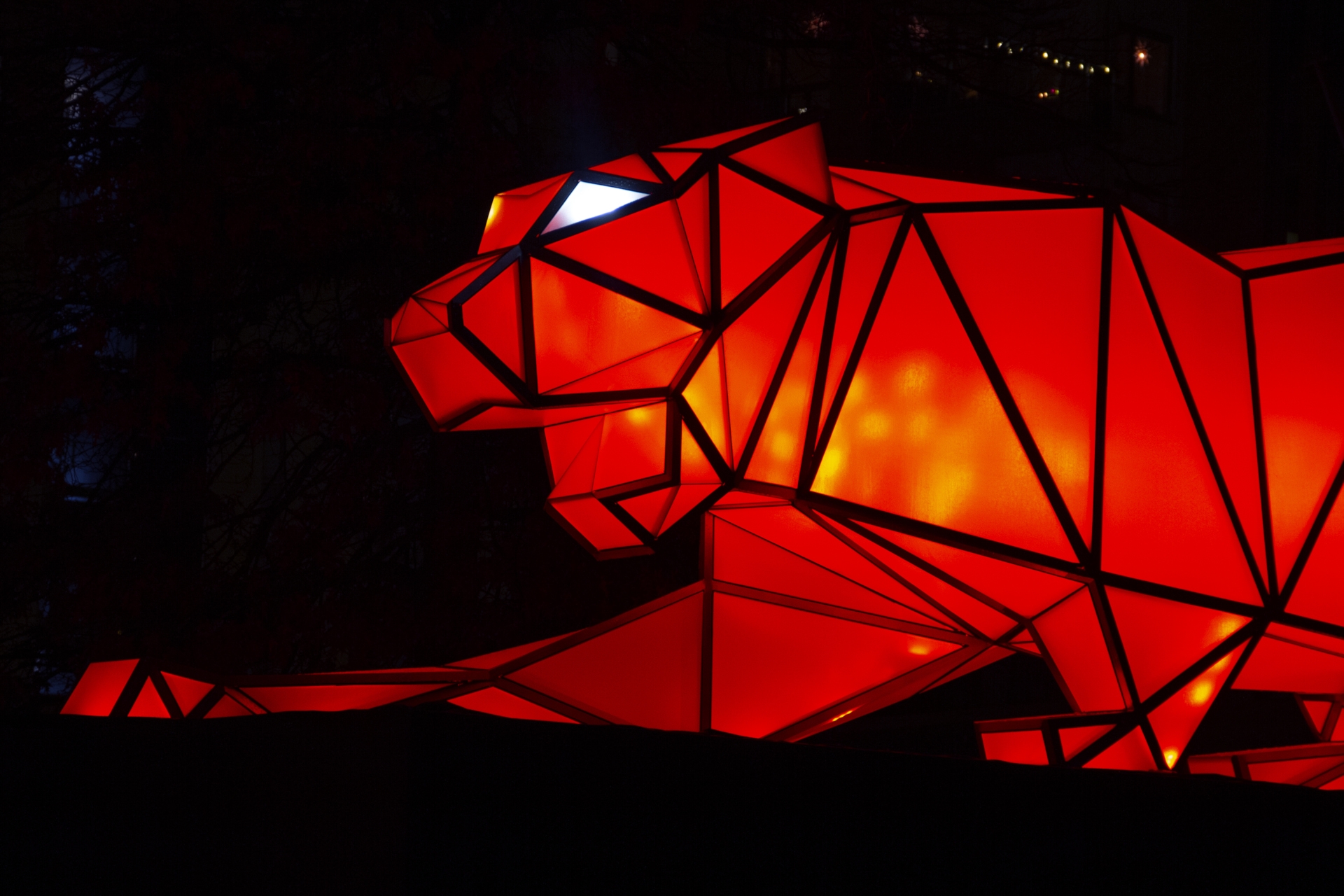 Previously shown in Australia to celebrate Chinese New Year in 2010, Laboratory for Visionary Architecture's (LAVA) Digital Origami Tigers will be making a reappearance at Battersea Power Station for its second Year of the Tiger festivities. Made of recycled materials and low energy LED lights, the giant tigers combine ancient methods of lantern making with cutting-edge design and technology to put on a spectacular show where East meets West. The tigers will be on show as part of Battersea Power Station's 2022 Light Festival. 13th January – 27th February 2022.
London's street celebrations might be cancelled, but it's not the only city in the UK where you can have a good party. Manchester is welcoming the Year of the Tiger with packed itinerary of fun events in its local Chinatown. Think live performances, workshops, food, stalls and even a funfair. To make the deal sweeter, there will be an illuminated dragon, traditional lion dances, Chinese acrobatics, singing, poem reading and Kungfu. 6 February 2022.
After two years of absence, Liverpool will be bringing back its live Chinese New Year celebrations. Home to Europe's oldest Chinese community, the city promises a whole week of fun in-person events spanning 3D projections, fire performances, artwork, dance and live music. Commissioned by Culture Liverpool, the new additions will run alongside the more traditional celebrations – think dragon, unicorn and Lucky Man parades, firecracker displays, family workshops, Tai Chi demonstrations, fairgrounds and food stalls. 6 February 2022.
Shopping