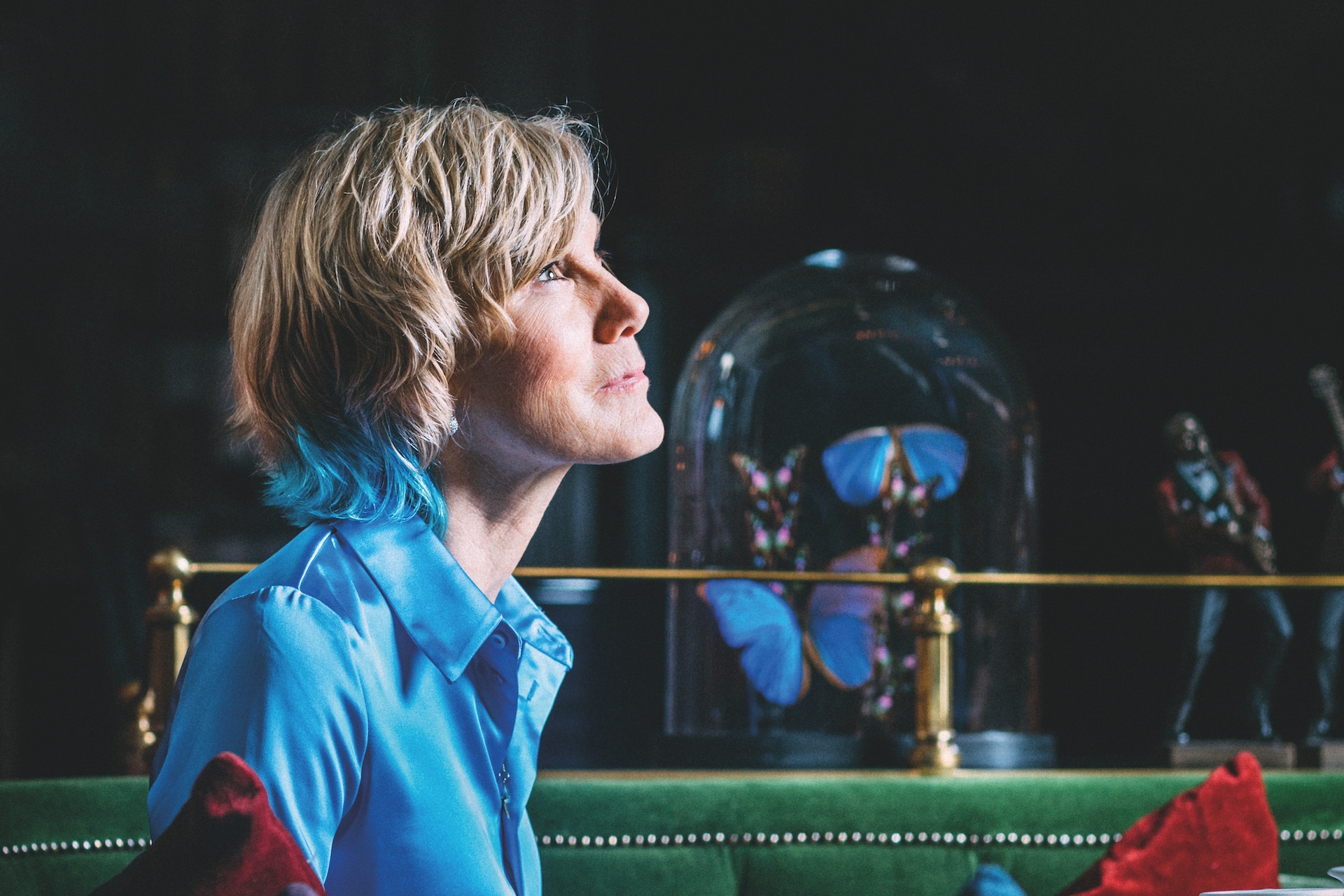 Conversations at Scarfes Bar: Sian Sutherland
Is this the end of plastic?
Charlotte Metcalf meets Sian Sutherland, co-founder of A Plastic Planet and the woman fighting for a plastic-free world.
Photo by Alexandra Dao
Sian Sutherland at Scarfes Bar
Sian Sutherland arrives in an immaculate, lustrous shirt that matches her hair and confesses she'd cycled to work in a sweatshirt emblazoned with 'Chaos', before remembering our meeting. She ran down Oxford Street, hurriedly buying the shirt on the way, a purchase she's naturally squeamish about, given the shocking amount of microplastics that our garments shed daily.
Few people know as much about plastic as Sian, co-founder of A Plastic Planet – and now much more besides. Banning plastic is her all-consuming cause and her solution-driven rhetoric is attracting more followers daily. She laughs when I ask what triggered her activism, 'You mean what set me off to being the most unlikely eco-warrior on the planet?'
She was a serial entrepreneur, first opening her eponymous, Michelin-starred Soho restaurant, then running a brand agency and founding pregnancy skincare brand Mama Mio. By 2016 she was a mother of two 6'5" boys, busy, happy and successful, when she was asked to advise on distributing the documentary A Plastic Ocean.
'Bear in mind this was before Blue Planet 2,' says Sian. 'We held a screening at the Notting Hill Electric and practically had to bribe people to come. David Attenborough attended, which of course helped, but watching it en masse, we realised guilt, fear and blame don't stir people to positive action. The "recycling" obsession is just consumerism's fig leaf, a distraction from what's really needed, which is to turn the plastic tap right off.' And so, with co-founder Frederikke Magnussen, A Plastic Planet was born.
Its first project was to call on supermarkets to create a plastic-free aisle. For a year there was a sluggish response. Then Blue Planet 2 aired. Eighty million downloaded it, slowing down China's internet. 'Boom! The cork was out of the bottle,' says Sian. 'Attenborough had finally pointed to man's negative impact on nature.' In February 2018 the world's first plastic free aisle opened in Ekoplaza, Amsterdam. 
'There's not an inch of our planet not infected by plastic and every bit ever produced, unless burned, still exists. Yet plastic production will triple by 2040. We need more bans to create a vacuum for the green shoots of innovation to flourish.'
This is a tall order but Sian's first step would be banning all variants of polyester: 'Without it fast fashion can't exist. Then fashion could revert to being about beautiful craft. We wear the average garment four times before chucking it and the West exports 20 million items of clothing every week to Accra in Ghana where 40 per cent is burnt. Even the once pristine Atacama Desert in Chile has become a polluted fast-fashion graveyard. Forget 2050 or even 2030! We have just five years to instigate dramatic action. Plastic is the gateway to hyper-consumption, which causes climate change, so we absolutely must ban it.'
A Plastic Planet's newest venture is PlasticFree, the world's first materials and system solutions platform, empowering 160 million creatives worldwide. Already luminaries like Thomas Heatherwick, Tom Dixon, David Chipperfield and Aric Chen have joined its council. 'Plastic is not a pollution issue but a design issue,' Sian insists. 'So, we're going to be very active at global events, like London Design Biennale. We shouldn't blame the public for succumbing to plastic as it's almost impossible to avoid. Designers must create without it and government must mandate that industry phases it out.'
What can replace it? 'Materials that do good, not just less bad,' she says, 'like Natural Fiber Welding (NFW), that enables nature's nutrients to be moulded and shaped like plastic but then returned to nature as nutrients. BMW plans to use it to replace its leather interiors.'
Sian's solutionist arguments are now persuading governments, industry and manufacturers globally. She's just flown back from launching PlasticFree in New York. What about the impact of her air miles? 'I have to travel to collaborate effectively and I can't be impactful without focus, so my singular mission is banning plastic. If the plastics industry was a country, it'd be the fifth largest emitter of greenhouse gases and yet the Trump administration greenlit 42 new plastic manufacturing facilities. Besides, the aviation industry uses 2.5 per cent of our greenhouse gas emissions budget, while the sneaker industry uses 1.4 per cent with the 26 billion pairs it makes annually. Everyone talks about planes, not sneakers, but imagine if all sneakers were plastic-free?' She tells me about 'The Degenerate', the world's first nutrient-based sneaker that can be ground up and fed into soil. 'Create plastic-free sneakers and we progress to removing plastic from buildings.'
'We can achieve fast systemic change if we aim for a plastic-free world,' Sian continues. 'That word, "sustainable", isn't good enough – sustaining our status quo will be disastrous. The plastic crisis has given us a firm tap on the shoulder, waking us up to urgent action. Fortunately, I've never worked with such inspiring, brilliant people. Everything I've ever done has built me to do what I'm doing now.'
Find out more at aplasticplanet.com; plasticfree.com